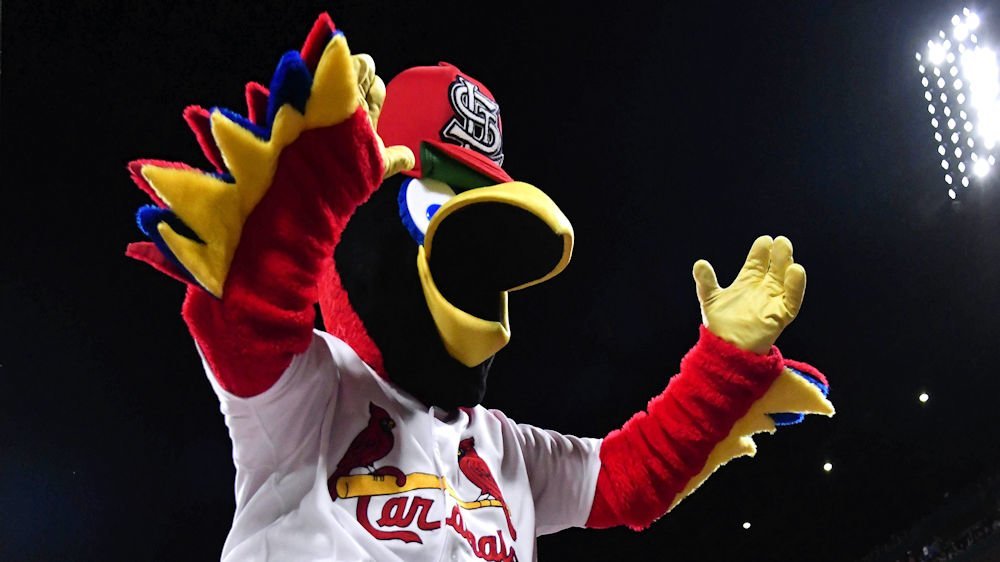 | | |
| --- | --- |
| Cards outlast Cubs, Chicago eyeing Kimbrel, Gonzalez reports to Iowa, Rizzo in 8th place | |
---
Next Game: Friday, 1:15 PM CDT: Cubs @ Cardinals. LHP Cole Hamels (4-1, 4.02 ERA) vs RHP Adam Wainwright (4-4, 4.82 ERA).
CUBS NEWS AND NOTES:
Saturday's Game Recap:
Friday's game was a good baseball game, the results notwithstanding, but the Cubs needed to get back on track, as they continue to dodge bullets in the standings, with the Brewers also losing. Last night, it was Jose Quintana's turn to try to get the Cubs back to their winning ways, as he faced off against righty, Jack Flaherty.
The Cubs jumped out to an early lead, on Anthony Rizzo's homer in the first, but Paul Goldschmidt answered with a solo shot of his own in the bottom of the inning. Jason Heyward put the Cubs up 2-1 on his homer, but by the bottom of the third, St Louis had tied it at two, before Mother Nature stepped in in the bottom of the fifth.
After a lengthy delay (3 hours, 37 minutes to be exact), play resumed, with both starters out, Tyler Chatwood got the nod for Chicago, while Gant climbed the hill for the Birds. Chatty would get through the fifth, but the Cards would tag him for three runs in the sixth. Batting tight back, the Cubs answered with a pair in the seventh to bring the game to within one.
Going into the bottom of the eighth, the Cubs trailed 5-4, with Kyle Ryan on the mound. With two outs, Dexter Fowler and Harrison Bader went back-to-back with solo-shots, putting the game out of reach for the Cubs. Final score: Cubs 4; Cardinals-7. With the loss, the Cubs relinquished control of first place in the NLC to Milwaukee.

Cubs/Angels Probable Pitchers: Monday: LHP Jon Lester (3-4, 3.59 ERA) vs RHP Trevor Cahill (2-5, 6.92 ERA).
Cubs/Rockies Probable Pitchers: Tuesday: RHP Kyle Hendricks (5-4, 3.09 ERA) vs LHP Kyle Freeland (2-6, 7.13 ERA). Wednesday: RHP Yu Darvish (2-3, 5.02 ERA) vs RHP German Marquez (6-2, 3.48 ERA). Thursday: LHP Jose Quintana (4-4, 3.73 ERA) vs RHP Jon Gray (4-4, 4.52 ERA).
Rizzo on the move: With Anthony Rizzo's home run last night, he now has 205 as a Cub and is in sole possession of 8th place for most homers in franchise history.
.@ARizzo44 likes St. Louis just the way it is.#TeamRizzo pic.twitter.com/4nqnZxDdGx

— Chicago Cubs (@Cubs) June 1, 2019
Cubs' update: Pedro Strop is scheduled for another rehab start in Iowa today, joined by the Cubs' latest acquisition, outfielder, Carlos Gonzalez. If I were a gambling man, I'd bet that you'll see Gonzalez in Chicago by no later than the end of this week.
Cubs/Kimbrel? With the MLB Draft next week, teams will no longer lose a compensatory draft pick by signing MLB's most eligible closer, Craig Kimbrel, and the Cubs are reportedly showing interest. Unfortunately, Ben Zobrist remains absent, and because he's not paid for the time away, the Cubs are accruing money each day, making the possibility of Kimbrel more of a possibility. Ken Rosenthal (The Athletic) says the "Cubs are doing background work on Kimbrel and trying to figure out whether such a move would be financially viable."
Keep swinging: "My motto was always to keep swinging. Whether I was in a slump or feeling badly or having trouble off the field, the only thing to do was keep swinging." -Hank Aaron
Our litigious world: ESPN 1000 posted a poll asking if MLB should be held legally liable for injuries suffered by fans as the result of foul balls. As of the time that I first saw the poll yesterday morning, an unbelievable 51% said that they should.
Should #MLB be legally responsible for fan's injuries suffered by foul balls?

— ESPN 1000 (@ESPN1000) June 1, 2019
Even more disconcerting to me, Len Kasper said in Friday night's game that Albert Almora Jr. had reached out to the family of the child who was struck with the foul ball, "…but they requested privacy." I can already see what their next move is likely to be.
Best ejection ever: This absolutely speaks for itself…
12 years ago today, Phil Wellman was just a tiny bit upset about getting ejected.

(via MiLB) pic.twitter.com/UAkrqug3ZX

— Cut4 (@Cut4) June 1, 2019
Cub Birthdays: Celebrating yesterday, were ex-Cubs Carlos Zambrano (38), Randy Hundley (77), and posthumously, Jim McKnight (83), Joel Newkirk (123), Harry McChesney (139), Bill Eagan (150), and George Decker (153).
Wishing a happy birthday to Big Z! pic.twitter.com/CqNsZlLlPh

— Chicago Cubs (@Cubs) June 1, 2019
NL CENTRAL SCHEDULE (May 26 – June 1, 2019)
(Wins are in green, losses in red)

NL CENTRAL SCOREBOARD/STANDINGS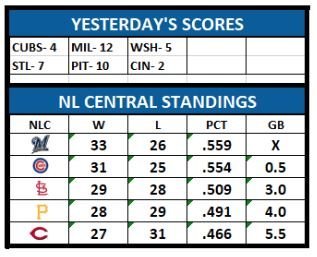 Upgrade Your Account
Unlock premium boards and exclusive features (e.g. ad-free) by upgrading your account today.
Upgrade Now

Tags: Cubs Baseball
,
Anthony Rizzo
,
Cole Hamels
,
Jose Quintana
,
Jason Heyward
,
Tyler Chatwood
,
Kyle Ryan
,
Dexter Fowler
,
,
Trevor Cahill
,
Kyle Hendricks
,
Yu Darvish
,
Pedro Strop
,
Ben Zobrist
,
Albert Almora Jr