| | |
| --- | --- |
| Commentary: Descalso is certainly no Ben Zobrist | |
---
| | | |
| --- | --- | --- |
| Wednesday, May 29, 2019, 4:24 PM | | |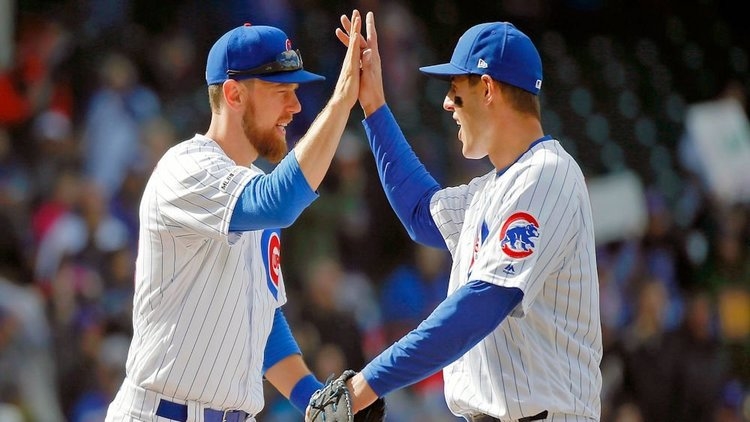 Descalso's batting average is now down to a shocking .194, and his OPS has fallen to under .600. He's batting just .094 in May, which is not what the Cubs bargained for.
I had a bad feeling that when news broke of Ben Zobrist's impending divorce, that at the very least, he'd be done for the season. Recently Joe Maddon expressed similar concerns, stating, "I have to think that way, absolutely," and added that the Cubs must "mentally be prepared" that his season is over. Maddon said that even if Zo does return, that "it's going to take him a while to get back up to speed."
In the interim, the Cubs have been using Daniel Descalso, ad nauseum.
Descalso was brought aboard over the winter to replace Daniel Murphy, who, through free-agency, landed a deal with the Rockies. Much like Murphy, Descalso's job was to provide veteran leadership and short-term defensive stability, while jump-starting the Cubs' offense. While Descalso got off to a good start in 2019, he's now become more of a liability than an asset.
No one can blame Zo for his on-field struggles in 2019, especially now that the reason behind them has become transparently clear, but this was a situation where Descalso needed to step-up the most, but instead, he failed miserably. Descalso's batting average is now down to a shocking .194, and his OPS has fallen to under .600. With limited power (2 HR, five doubles, one triple in 146 at-bats) and virtually no speed on the bases, he's lent nothing substantial to the Cubs in terms of offense, yet Maddon, perhaps out of desperation at this point, continues to rely heavily on him to produce.
While Descalso managed to populate a very respectable slash-line of .263/.349/.408 (.708 OPS), with both of his homers, all five of his doubles and 11 RBI for March and April, he's plummeted in May. After 60 at-bats this month, Descalso is batting just .094, with an OBP of .169 and a slugging percentage of just .132. Having dropped by better than 61%, Descalso's OPS for May now stands at .302.
Descalso was never intended to be an everyday player, and his fielding is showing just why that is. Despite only racking up only a pair of errors, so far, in 2019, Descalso has faltered in key defensive opportunities, most recently when he failed to catch a ball during a run-down, which ended up costing the Cubs a run. Although he's managed, for the most part, to dodge the error-fairy, hardly a game goes by anymore that the once clutch Danny D isn't muffing a play in one form or another.
Adding insult to injury, Descalso now posts an offensive WAR (oWAR) of -0.5, and a defensive WAR (dWAR) of negative 0.4, which is hardly what the Cubs bargained for when he was signed. According to the numbers, Descalso now carries the dubious distinction of being the Cubs worst player this season, both offensively and defensively. No one could have foreseen Zo's unfortunate situation coming, but it's not like Descalso is some rookie who was just thrust into the mix and anointed a leader.
More than anything people want Ben Zobrist to recover mentally from the blow that was dealt to him when his wife (Julianna) filed for divorce earlier this month. People yearn to see him become the happy-go-lucky guy that he was just eight months ago, whether or not that includes a life filled with baseball. For now, though, baseball is both understandably and justifiably second in Ben's life, despite the Cubs' hoping for a happy and healthy reunion with him.
Ben may have wobbled on the field at times, but he never fell. There were times that he may have bent, but he never broke. He wasn't overly vocal on the field or in the public eye, yet he never seemed to fail at leading in the clubhouse. Although his age may have precluded him some from the flashy Albert Almora Jr. or Jason Heyward style catches, he committed few errors. Before this year, seldom did an at bat lead to a strikeout, nor did he fail to produce clutch hits.
There's no doubt that Daniel Descalso is doing his best, but his best just isn't good enough at this point. With the recent pitching struggles that have affected just about everyone except Tyler Chatwood, the Cubs need to be able to rely on their offense to produce mass quantities of runs, to mitigate the shelling they're taking inning after inning, but Descalso can't seem to deliver. In short, Daniel Descalso is no Ben Zobrist and the what the Cubs need in their lineups, especially now, is Ben.