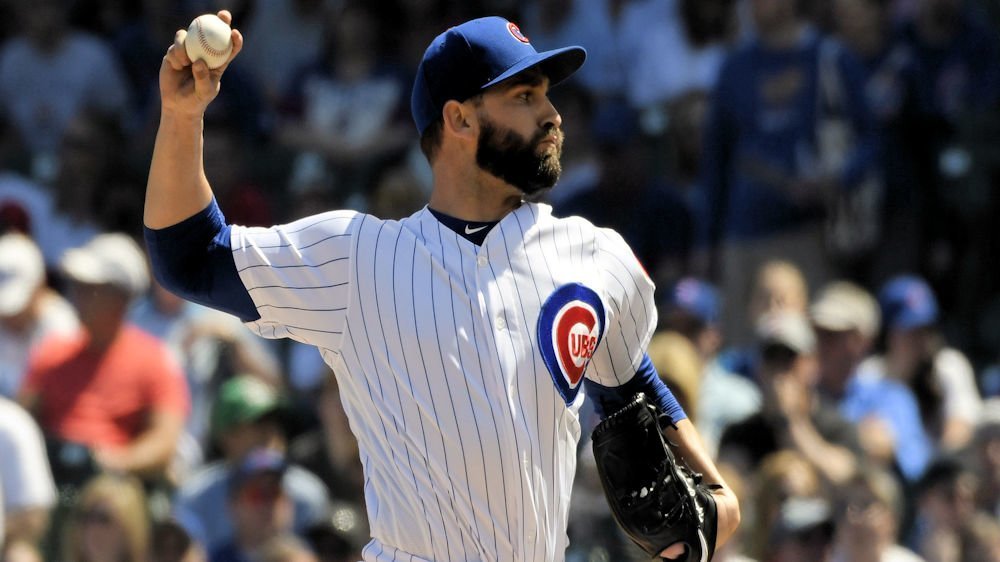 | | |
| --- | --- |
| Commentary: Fans need to see Darvish and Chatwood for what they are | |
---
| | | |
| --- | --- | --- |
| Monday, April 22, 2019, 4:09 PM | | |
Every day I read more and more comments about Yu Darvish and Tyler Chatwood, proclaiming how each is beyond terrible. Neither had been phenomenal this year (before yesterday), I'll concede that, but people seem to be expecting Darvish to win 20 games and a Cy Young this year, while Chatwood is expected to hurl out of the pen with a 1.60 ERA. Neither of those are happening, folks.
It's foolish to compare them to guys like Cole Hamels or Craig Kimbrel, but that's what people seem to want to do. For two guys who struggled as badly as they did last year, it's only fair to compare them to what they are in 2019 vs. what they were in 2018. Fans also need to bear in mind that just about all of the rotation and bullpen have struggled, at least a little, to some degree this season.
Let's start with Tyler Chatwood. After hammering him for almost all of last season in my commentaries, I vowed to give him a clean slate this season. I've stuck to my word, defending Chatwood's improvements since his first spring training game of 2019, and man, I've taken a beating for it.
For a guy who "doesn't sugarcoat" things, you sure are trying to convince somebody that Chatwood isn't complete garbage.

— Jacob West (@jacobwest87) April 21, 2019
That was tweeted to me before yesterday's game. Take that, you naysayers! Chatwood was brilliant on Sunday, no ifs, and or buts about it. He went 6.0 scoreless innings on 71 pitches, walked two and gave up a pair of singles and struck out three. Not a single D-Back made it safely to second base under his watch, and if it had not been for Pedro Strop giving up game-tying, solo home run in the ninth, Chatwood would have received the win. The MLB average of pitches per inning is around 15, and Chatwood was averaging just under 11 per inning.
Tyler Chatwood collects six Easter eggs.

Powered by @Biofreeze. pic.twitter.com/HHiqKOW4uc

— Chicago Cubs (@Cubs) April 22, 2019
I did some checking (you know I can't resist stats)… Chatwood's start on Sunday was arguably the second-best start (and perhaps the single best) of any Cubs pitcher this season. Case and point: Any game in which a starter gave up a run automatically ranks beneath Chatwood's start, as he went six-scoreless, so that eliminates games 1-9, 11, 13-15 and 19, leaving games 10, 12 and 16-18.
In Game 10 (vs. PIT), Jon Lester only allowed three hits and one walk, but he did so in 2 innings, making a start worse than Chatwood's based on proportioning the stats (Lester's numbers would equate to 9 hits and three walks over six innings). In Game 12 (vs. PIT), Jose Quintana allowed four hits and one walk, which would be one more baserunner allowed than Chatwood's four. Game 16 (vs. MIA): Q, again, went 7.0 scoreless innings but gave up six hits. Game 17 (vs. MIA) would constitute the best start of the season, as Cole Hamels went 7.0 scoreless innings, gave up three hits, and walked no one. If you want to split hairs, Hamels' Game 17 start required 97 pitches for seven frames, as opposed to Chatwood's 71 pitches for six innings. Finally, in Game 18 (vs. ARI), Hendricks gave up three hits and two walks, which was one more hit than Chatwood allowed. Look, I'm not about to tell you that Chatty is better than any of the Cubs' rotation, perhaps save for Yu Darvish, all I'm saying is that his start on Sunday was something to behold, especially when considering his outings last year.
Tyler Chatwood wants to be back in the rotation, and his outing yesterday stated his case reasonably eloquently. Barring injury to another teammate, his odds of rejoining the rotation are next to nil, at least for this season, but who knows what'll happen in 2020. Hamels will be a free-agent again, as will Jose Quintana, and the likelihood of the Cubs retaining both of them is slim.
There is one other scenario that could earn Chatty a starting spot again this season though; if Darvish fails to improve and continues to underperform, the Cubs could feasibly swap Darvish for Chatwood in the rotation, leaving Darvish to work out of the pen. I suggested six months ago (before they traded Drew Smyly) that the Cubs may be smart in using Darvish out of the pen to minimize the risk of reinjury while maximizing his potential; people looked at me like I had a third eye.
Since we're on the subject, let's talk a little about Yu Darvish. Guys, give him a break already- at least for the time being. He's had a handful of starts this year, and not all of them have been pretty, but until his last start, he'd shown small improvements each week. Consider that the Cubs paid him $25M last year to start a total of 8 games (40.0 total innings), so just the fact that he's healthy and pitching is a plus. OK, so he's had two really bad starts out of five, but hey, Kyle Hendricks has had just one good start out of four this season, and nobody's complaining.
In 2019, Darvish has now pitched 22.2 innings in five starts and has faced a total of 105 batters. He's allowed 21 hits (20% of batters faced) and given 15 earned runs (ERA 5.96) while striking out 25 (23.8% of batters faced). The walks (18 total) are what's making his stats ugly, as they account for 17% of the batters faced, and the six home runs aren't doing his stats any favors either.
Look at the accomplishments though (as I said, baby steps): Darvish gave up seven walks in his first start of the year; he's given up a total of 11 in four starts since then. While he struck out only 10 in his first three starts combined, he's fanned a total of 15 in his last two outings. His first two starts totaled 6.2 innings, while his previous three have totaled 16.0 innings. He's making progress, maybe not as fast as people would like to see, but progress, nonetheless.
Darvish appeared to be in some psychological shell last year, and his attitude and self-esteem seemed weak. This year he's been more friendly with the fans and media and has ditched his interpreter for the sake of transparency. You'll see him smile, both on the mound and in the dugout, as compared to last year when he spent a good majority of time hiding in the clubhouse. Keeping his self-esteem up is key to his success and getting "boos" rather than "Yu-s" isn't going to help matters.
You'd think Chatwood would have undoubtedly silenced some of his critics on Sunday, but maybe not, as people will write it off as a fluke, an Easter miracle, or some other bunch of horse manure, rather than to accept the fact that the guy pitched his butt off and should've earned some kudos from even the harshest critics. As for Yu, only time will tell, but he certainly needs a few strong starts if he's ever going to win the fans over.