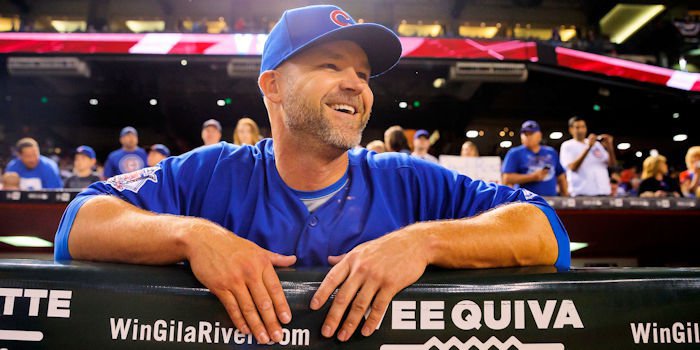 | | |
| --- | --- |
| Commentary: Five things I'd like to see from David Ross in 2020 | |
---
Despite a decline in performance over the last three years, filling Joe Maddon's shoes won't be an easy task, especially for a first-time manager. There was something to be said of Joe's laissez-faire ways, as he somehow always managed to bring calm to the roughest of seas. Joe had a circus at spring training last year, complete with clowns, magicians, and a dunk tank, but is that what the Cubs needed to begin a six-month march toward September? Not hardly, as they were all sitting at home watching the NL Wild Card game this year.
I always seemed to have a very self-conflicted, love-hate relationship with Maddon, which is why I recently described him as "one of the best-worst managers" the Cubs have ever had. The Maddon Era has ended, and now it's David Ross' turn. I'm far more excited than scared, as I will enter this next season, grading the manager as much or more than I do the team. I'll cut Ross some slack, as I believe 2020 to be a season more focused on regrouping than charging for a pennant, but with a little luck, a lot of hard work and some serious roster changes made by Theo, I think the Rossy and the Cubs can do both.
Maddon won a total of 471 games over his five-year tenure with the Cubs, making his average season worth 94 wins. Can Ross accomplish this task in his first year as the team's skipper? That's a pretty high standard, but I do believe that the team will exceed the 84 wins that they (under) achieved in 2019 under Maddon's direction.
I do believe that there are five key things that Ross needs to change and/or focus on:
#5: Consistency in the batting orders
Joe Maddon's batting order de jour was anybody's guess. One day Anthony Rizzo is batting cleanup, the next day, he's the leadoff man. Albert Almora Jr. (who, in my book will be traded this winter) spent his time floating through the batting order anywhere from first to ninth; this doesn't work, Dave.
Maddon's madness was brilliant on some levels, as he sought to find the order that produced runs, but he never stuck with the ones that did. This was a consistent theme for the last three seasons, but it has to stop. Show Javier Baez that he's the number-five man, then let him learn his role in that position in the batting order. If Jason Heyward starts batting .350 as the number-eight man, then leave Heyward in that spot and learn how to cultivate productivity around him.
The leadoff man has been an issue ever since Dexter Fowler packed for St. Louis, but this team has a leadoff man within it. Mookie Betts would be an excellent acquisition, but don't plan on him; the same could be said for 20 other potential trade targets and free agents. Work with what you have, starting now, then rework the plan as players come and go, but whatever you do, don't wait until spring training to begin developing the plan. Rizzo's always ready to lead off.
Whatever becomes the plan on Opening Day is the plan you must stick with, at least for a while. Give these guys the consistency that they deserve, then watch it pay dividends. You were a player once, Dave, - run the ship like you wanted it ran.
#4: Don't fall prey to the matchup game
This may come as a surprise to some, but playing the matchup game with your bullpen isn't always the best strategy. It's been a while since I looked at the numbers, but the lefty-righty, righty-lefty matchups didn't yield a significant enough advantage to make it worthwhile to burn through the bullpen. This is a recipe for prematurely tired arms, as Joe Maddon saw down the stretch.
The three-batter rule will change a lot of this, and the Cubs' landscape may also change to compensate for it, but don't rely on only lefties for a heavily left-handed opponent – put the best guys out there, then let them do their thing.
#3: Establish the running game
Yes, I said establish the running game, and yes, I know this isn't football. The Cubs are by no means the fastest team in MLB, but they do have some speed. The problem is, Maddon never wanted to test those waters, and it cost the team time and time again when weak ground balls led to double plays.
Getting that runner to second will mean advancing him to third on a fly ball to the right, as opposed to leaving him standing at first with one away. Don't let these guys sit idle. Use guys like Baez to taunt the pitchers. Get in their heads, gets them out of sorts, then exploit every mistake, both on the bases and at the plate.
#2: Minimize the platooning
Much like the pitching matchups, platooning the players day in and day out is going to cost both offensive inefficiencies as well as defensive struggles. People have complained for two years about Almora, Ian Happ and Kyle Schwarber not being consistent at the plate, but the fact remains that they can't get at-bats if they aren't on the lineup card.
This isn't Little League. Whatever player you bench – even if it's for a week – is still getting paid. Field your best nine. Period. If Ian Happ isn't hitting, then don't have him fielding, no matter which hand the opponent's pitcher is throwing with. Play the guys who show consistency both in the field and at the plate. When a slump comes along, changes will be necessitated, but don't turn the lineup upside down to compensate for one weak bat.
#1: Reestablish the hunger
Rossy, you were the guy that they carried off the field in 2016; how did that feel? It was the last game you would ever play, and you walked away with a World Series ring. Somewhere along the line, this group has since fallen victim to complacency. Only a third of the team remains from that November night in 2016, but you'd think the newer guys would want to win it just as badly.
You have an aura about you, Dave – and the infectious smile doesn't hide the intensity in your eyes; that's a look that this team hasn't seen in three years. Make them hungry. Make them want to win again. Make them know that "Try not to suck" isn't an option. Make them know that winning can be fun, but that they'll have to be grinding for those Ws. Finally, make them understand that Cubs' Nation isn't expecting much – neither from you or them – and that there are only 162 chances to prove them all wrong.
Godspeed, Dave.

Upgrade Your Account
Unlock premium boards and exclusive features (e.g. ad-free) by upgrading your account today.
Upgrade Now