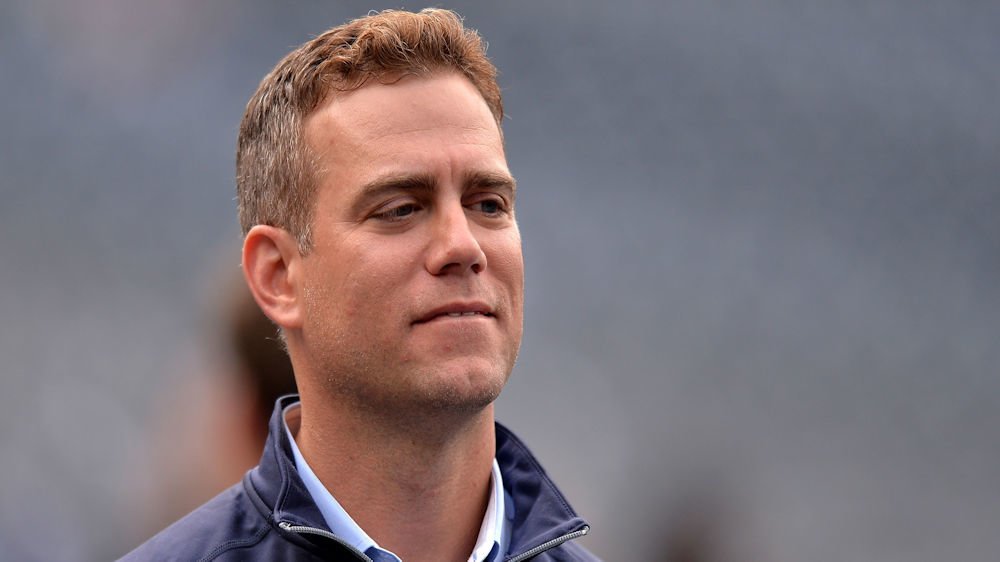 | | |
| --- | --- |
| Commentary: Has the Cubs trade deadline focus shifted? | |
---
| | | |
| --- | --- | --- |
| Monday, July 29, 2019, 7:26 PM | | |
These Cubs have had the same problem all year; not getting all of the components to work in sync, and that is undoubtedly leaving Theo Epstein to scratch his head to the point of gaining a bald spot at this point. The Cubs' upper-echelon have pounded their chests, stating that they needed a second-baseman (aka backup shortstop), a solid leadoff guy, and (previously) lefty relievers, yet they're looking at Madison Bumgarner (a starter) and closer, Ken Giles- more on Giles later- but for now, I'm a little stumped.
Kyle Ryan has suddenly become somewhat of a beast out of the bullpen, and with the addition of Derek Holland, the Cubs may have found the answers to their lefty-reliever crisis sooner (and cheaper) than expected. The problem is, even before that crisis was cured, the righties in the pen have started to meltdown. Brandon Kintzler has been giving up hits and runs- something that he hasn't done all year, Brad Brach remains questionable, and we won't even start a dialogue on Pedro Strop and his recent belly-flops.
As the trade deadline draws closer and closer (expires at Wednesday at 3PM Central), the Cubs, reportedly ready to make a big splash, have done little more than to cause faint ripples in the water. Derek Holland's arrival was huge but hardly enough, and their first acquisition of the summer, Craig Kimbrel, can't even find steady work as the Cubs' closer.
The Cubs made a valid (though failed) attempt to get Eric Sogard, and it would appear that San Francisco has done a 180 and decided not to sell off relievers, Tony Watson and Will Smith. I don't think it's unfair to assume that diminished trade value on the Cubs side of potential deals may be hindering progress, and, thus far, Theo has been reluctant to strip the Cubs' farm system (thank God).
I follow this time of the year closely, but at this point, I'm all but lost. Signing Kimbrel was a smart move, and Holland has done well so far, but as the clock ticks, I'm finding it harder and harder to keep up with the changing mindsets in the offices at Wrigley.
While they were willing to off-load a disgruntled Mike Montgomery to the Royals, they've now found themselves looking to unload Martin Maldonado. Monty's trade counterpart may very well have even less worth (trade value) than Montgomery did, so how Theo plans to unload him is beyond me. Package him, I suppose, as that's the only way to scrub the guys who underperform, without totally eating the salary.
Addison Russell was a late scratch in Sunday's Iowa Cubs game, allegedly because "his equipment didn't show up," but that makes no sense, as the manager (Peavey) would have known Russell had no equipment before writing the lineup card. I still think Russell may be traded, but all of a sudden, there doesn't appear to be many (if any) teams that the Cubs are actively talking to.
Rumors have surfaced that the Cubs and Orioles were having a dialogue about Jonathan Villar, but reports coming out of Baltimore say they don't feel that a trade is going to occur.
Then there are the reports that say the Cubs are one of a handful of teams vying for Blue Jays' closer, Ken Giles. The 28 (almost 29) year-old, righty closer has a 1.54 ERA, and he is controllable, leading me to believe that he could fit in as a setup man for Kimbrel, but that will undoubtedly spell trouble for either Brandon Kintzler, Steve Cishek or Strop. Hmm.
I've heard more and more rumors lately, saying the Cubs' focus could even go a completely different direction, as the market awaits the possibility (gasp) that they could become sellers and not buyers. This would be bad. Period.
I can't ever recall seeing a team, who's hanging on the fringe of first place, start selling off players, two-thirds of the way through a season. Ladies and gentlemen, if Theo and company decide to have a fire sale, it isn't going to be pretty. I'm sure you could live without seeing Brad Brach or Randy Rosario on the roster, but when teams sell, they don't auction off their worn-out, hand-me-downs to other teams, they gut the core- the very thing Theo Epstein said they were going to keep together (and by the way, if this happens, the farm-system isn't safe either).
What intrigues me, is that (1) They don't seem to want to buy (perhaps based on limited trade value), (2) It makes no sense to sell, and (3) the talk about Joe Maddon's future has grown eerily quiet. Many said the weeks coming out of the All-Star break would be some of Maddon's most crucial games, yet the Cubs have gone 9-6 since the break-in part due to a fantastic homestand which saw the Cubs go 7-2- but since leaving Wrigley Field, the Cubs have posted a 2-4 record in series with the Giants and Brewers.
For all of the uncertainty, one thing is clear; this team, configured as it is, will not advance very far (if at all) in the playoffs. One day to go, Theo, please do something to help.