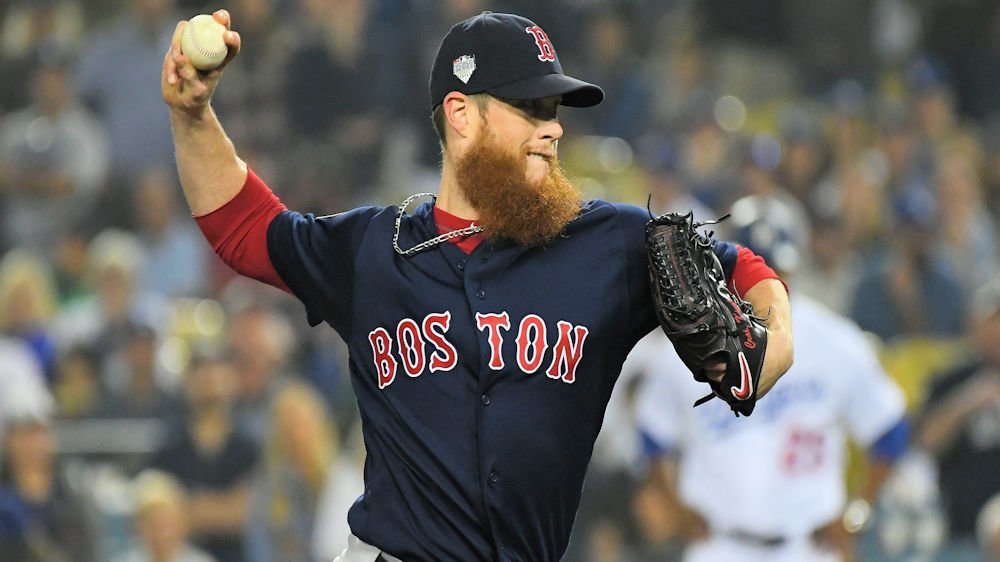 | | |
| --- | --- |
| Commentary: Should Cubs go after Craig Kimbrel? | |
---
After the way last season ended, generating offense was regarded as the main priority for what the 2019 Chicago Cubs needed to fix if they wanted to play baseball in late October. Ten games in, the offense has historically answered the bell. They have put up double digits run totals in 5 of their first ten games, something that has not been done in the last 100 seasons.
Despite the offensive output, the Cubs flag still flies second to the bottom at Wrigley with a 3-7 record. The problem, as anyone who follows the game knows, you can't win if you can't pitch.
The Cubs bullpen has struggled immensely, and that has Cubs fans asking a lot of questions. Is it time to panic? Can they get outs in big moments or is this going to be a season-long struggle? Are their answers in the bullpen currently or do they need help from the outside? Like maybe an unemployed closer fresh off a World Series Championship?
The good news is the Cubs bullpen saw an uptick in their last two performances. They pitched five scoreless innings on Sunday against the Milwaukee Brewers and then tossed seven scoreless innings Monday after relieving an injured Jon Lester. Even with those performances, however, the Cubs still sit dead last in combined team ERA. While that isn't all on the bullpen as the starters have not been terrific either, it's an obvious reason for concern. The Cubs have five pitchers sitting in their bullpen with ERA above 7.00, and that's not including Carl Edwards Jr., who was demoted to Iowa after posting a dismal 32.40 ERA in 4 appearances.
Brad Brach, newly acquired via free agency, has looked sharp to this point and Brandon Kintzler has had mostly solid outings despite a rough performance in the series opener in Milwaukee. Pedro Strop has not quite been himself yet, but that is to expected after he spent much of the offseason rehabbing from a hamstring injury suffered late last season. Strop will be fine as the season goes on the and Cubs should expect him to get better as he pitches more and gets reacclimated. Steve Cishek has been up and down so far. He has been a very consistent pitcher in his career and will come out of his slump to be a solid option late in games.
Beyond that, however, Joe Maddon's lineup card doesn't have many guys to go to right now. We will see if Allan Webster and Kyle Ryan can make an impact, but too many pitchers seem to have lost the ability to throw quality strikes. Tyler Chatwood has looked similar to last season, and Randy Rosario needs to find the stuff that made him a very promising young lefty. It's clear the Cubs bullpen needs some help; it's just a matter of figuring out the solution.
Even with all the struggles, they have had the Cubs bullpen can be still be salvaged. Hopefully, the home opener proves to be what the Cubs needed, and the pitchers continue to improve after pitching off a familiar mound. And oh, by the way, Craig Kimbrel is still a free agent.
A frugal winter led to the Cubs missing out on big names like Zack Britton, Adam Ottavino and Andrew Miller but they still have a chance to make a splash with a big signing.
Kimbrel gives them a proven closer to sure up the back end of their bullpen. The former Rookie of the Year has been in the MLB since 2010 and accumulated seven all-star appearances, 333 saves, been top-10 in Cy Young voting five times, and holds a 1.91 career ERA with a WHIP of 0.92 as well as a staggering 14.7 K/9. Kimbrel was the closer for the World Series Champion Red Sox last season although he struggled throughout their playoff run. Kimbrel's agent referred to him as the "greatest closer of all time" and has demanded a contract similar to the five year/$86 million deal given to Aroldis Chapman after the 2016 season. No team has bit on Kimbrel for that price, and it is unlikely he will reach that.
Milwaukee seems the most interested at this point as they look for a replacement for reliever Corey Knebel who will miss this entire season. It is also possible the Red Sox will eventually look into bringing him back as they try to right the ship after a poor start. With Kimbrel's value dropping as he continues to miss time, he could become more motivated to take a short term a deal, offering the perfect time for the Cubs to make a push at the 30-year-old right-hander.
It is probably unlikely that the Cubs do add Kimbrel and even if that happens, he won't be ready to pitch for a while. If the Cubs bullpen is going to straighten itself out it will most likely have to answer questions internally. The good news is closer Brandon Morrow is scheduled to return sometime in May which will give the team a huge boost. Morrow can lock down the 9th inning and shorten games for the Cubs. Last year he posted a 1.47 ERA with 22 saves before injuring his elbow. Anything close to this season will be a massive step in the right direction.
The other keys for this bullpen are getting back Mike Montgomery and Carl Edwards Jr. Montgomery has been the swiss army knife of the Cubs, doing everything from starting games to closing out championships. He was getting lit up early before being placed on the injured list. When healthy, Montgomery can be the versatile lefty the Cubs desperately need.
Carl Edwards Jr. may have the best stuff on the team but has struggled with losing the strike zone. The demotion to Iowa will give him a chance to fine tune his mechanics and get back to blowing away opposing hitters. He has the talent to be a closer; he needs to make the best of his time in the minors and get back renewed and ready to go. If Edwards is pitching to his potential, he gives the Cubs a trio of Edwards, Strop, and Morrow to finish off games. Throw Kimbrel into the mix, and they've got themselves a very intimidating bullpen. So hold on Cubs fans, this week has been rocky, but the potential is there. If they decide to invest in Kimbrel, then that would help, but either way, the bullpen's success will be reliant on healthy arms and performing at peak levels which we have already seen.

Upgrade Your Account
Unlock premium boards and exclusive features (e.g. ad-free) by upgrading your account today.
Upgrade Now

Tags: Cubs Baseball
,
,
Brandon Kintzler
,
Pedro Strop
,
Steve Cishek
,
Kyle Ryan
,
Tyler Chatwood
,
Randy Rosario
,
Aroldis Chapman
,
Brandon Morrow
,
Mike Montgomery
,
Joe Maddon