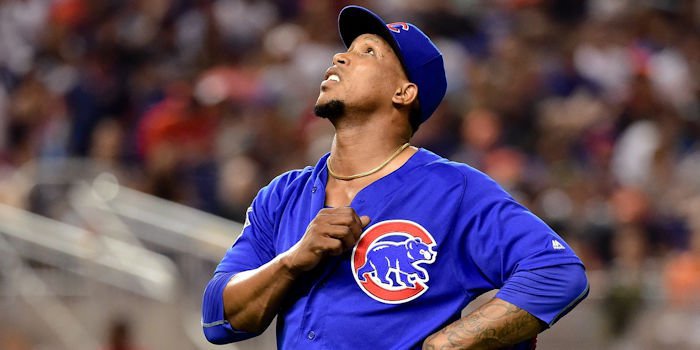 | | |
| --- | --- |
| Commentary: Should Maddon have let Strop bat? | |
---
The final score in Washington DC yesterday afternoon was Cubs-4, Nationals-3, but did the Cubs really win?
The ballgame was tied at three after the ninth inning, and the Cubs began to rally in the top of the tenth. The North Siders had already plated a run in their part of the frame, and the bases were loaded with just one out. Having gotten the Cubs out of a jam in the bottom of the ninth, Pedro Strop traded his glove and cap for a helmet and bat, then took his place in the batter's box.
After taking a ferocious rip at a fastball, Strop settled back in the box, awaiting another pitch to hit. On a 2-2 count, he made hard contact on a ground ball to third which started the inning-ending 5-3 double-play; but it ended more than that. As Strop lunged for first base, trying to beat out the relay throw, he appeared to come down wrong on the bag and started limping immediately.
Diagnosis? Pulled left hamstring. Expected duration of lost playing time? A minimum of two weeks.
With Brandon Morrow unlikely to return this regular season, the last thing the Cubs could afford to do yesterday was lose the Strop as their closer.
Immediately following the injury, the social media geniuses began calling for Joe Maddon's job; sit down, people, Maddon wasn't left with much of a choice.
First, by my count, Schwarber was the only position player left on the bench, and he was out with back tightness; La Stella, Zobrist, Almora, Gore, and Contreras had all already pinch-hit. Above and beyond all else, Strop had looked good on the mound in the ninth and having him bat was the only way to get him back on the bump to save it for the Cubs in the tenth.
Whether you blame Joe Maddon or not, the question remains as to just how the Cubs are going to close out the season without a closer, while fighting to retain first place in the division.
Carl Edwards, Jr. has become undependable as of late, especially with runners on base. Brandon Kintzler has the experience, but has struggled as a Cub until recently. Randy Rosario has been "iffy" in tight situations, and Justin Wilson just hasn't made it back into the circle of trust yet. No one on earth would trust Tyler Chatwood, Jaime' Garcia or Brian Duensing with a tight game on the line and Alec Mills, Dillon Maples and James Norwood all lack experience.
By process of elimination, Joe Maddon is left with either Steve Cishek or Jesse Chavez to serve as "Brandon Morrow 3.0."
Cishek has been a little rough lately and has had some control issues. His pitch velocity remains in the mid to upper 90s, but he seems to be hanging too many pitches over the plate lately. Batters suddenly seem to be reading his side-arm delivery better than they have all season, and as a result, scattered hits and even a few long balls have been the result.
I think Jesse Chavez is the right man for the job. Chavez has the experience, and he remains in control under pressure. He can go two to three innings if need be, and he seems to have the right mindset. Jim Hickey and Willson Contreras may have words of wisdom during mound visits, but it's blatantly apparent that Chavez has already assessed the situation and is making the appropriate mental changes.
For the next couple of weeks, the Cubs are going to need to get depth out of the starting rotation to minimize the use of the bullpen. I seldom question Maddon's decisions, but I think he pulled Montgomery out an inning too early yesterday. Hamels, Lester, Quintana, and Hendricks, have all been going five-plus and that's precisely what the Cubs need from the starters.
Run support is going to be key, as you don't need a closer when you're up by four to five runs. Bryant is doing well since his return from the DL and Javy's bat seems to have been woken up again, but Murphy and Contreras have got to climb out of their respective slumps if the Cubs are to tally runs.
I'd like to think that this upcoming series with the Reds would serve as an opportunity to build confidence and allow the offense to be reinvigorated, but we all know how Cincinnati has played Chicago this season.
The Reds have been playing good ball over the last week, splitting a four-game set with San Diego, then taking two of three from Los Angeles, while outscoring their opponents 41-36 over their last seven games.
"Hollywood" Cole Hamels takes the mound tonight against Matt Harvey. Game time is 7:05 PM central time.

Upgrade Your Account
Unlock premium boards and exclusive features (e.g. ad-free) by upgrading your account today.
Upgrade Now

Tags: Cubs Baseball
,
Pedro Strop
,
Brandon Morrow
,
Justin Wilson
,
Tyler Chatwood
,
Brian Duensing
,
Alec Mills
,
Steve Cishek
,
Willson Contreras
,
Joe Maddon
,
Jim Hickey