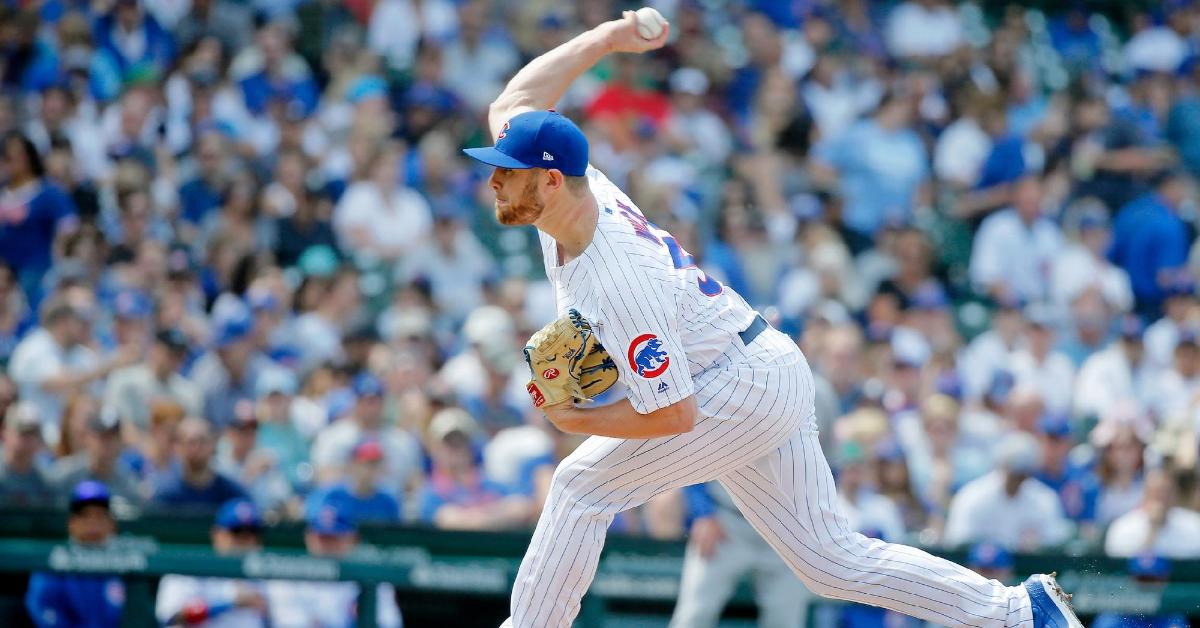 | | |
| --- | --- |
| Commentary: Should Rowan Wick be closing until Kimbrel heals? | |
---
| | | |
| --- | --- | --- |
| Monday, August 12, 2019, 1:33 PM | | |
At this point in the season, it is no secret as to what the Cubs consistent weakest link has been. With the offense going through some recent struggles more pressure has been put on a pitching staff that has struggled in the pen, especially during the late innings. With a revolving door of arms continue to filter through AAA, the Cubs have tried many different combinations that at times worked but never in the way they had hoped in the bullpen.
After signing Craig Kimbrel in late June, the Cubs were hopeful that his arrival would allow them to piece the bullpen puzzle together in hopes of getting him the ball more frequently. Except for Brandon Kintzler and Kyle Ryan, the Cubs bullpen has been a mess all season and now with Kimbrel on the shelf the back innings could become a problem at the most crucial part of the season.
The closer issue has not been a one-season issue as the Cubs have been struggling to fill that void since last year. After forking out 21 million dollars to Brandon Morrow the previous offseason, the Cubs saw what he could do going 21-23 in saves and posting a sub 1.6 ERA through 3-plus months last season. Then the injury bug bit him in July of last season, and he has yet to throw a pitch since.
As 2019 started, the Cubs knew Morrow would be on the mend but had full confidence he would return later this season. That allowed them to stay in house by going with Pedro Strop as the team's temporary closer. Although it may not have been a fully supported decision from every Cubs fan, Strop certainly earned that job as he went 12-14 filling in for Morrow last season posting a career-best ERA in the process. However, Strop never was able to recover from a spring training hamstring injury as he has been a shell of what he was in the past.
With Strop not living up to what the Cubs expected of him, Chicago has been forced to go with a closer by committee most of the season with Strop and Cishek each picking up nine saves this season (10th for Strop on Sunday). The problem has been that none of these two players have been lights out at any point and have become a liability late in games. That is precisely why the Cubs went out and got Kimbrel whom despite a few hiccups along the way has started to pitch much better as he looks to get back to his previous All-Star form.
Now with Kimbrel and Cishek on the shelf, the Cubs are forced to use Strop in the ninth inning again, but should they? Not only is he coming off his second IL stint of the season but what has he done to ensure confidence from Maddon consistently this season? If I had my choice, Kintzler would be the closer while Kimbrel is out as he has undoubtedly earned his payday this year. The only problem with my preference is that Kintzler is also on the IL leaving Strop as the default option.
One name that I keep bringing myself to is Rowan Wick as I think he has done more than enough to earn the temporary closer role until Kimbrel returns. The former catcher converted to pitcher has one of the weirdest release points we have seen as he pitches like a catcher. Armed with a 95-97 MPH heater, 86 MPH change and a devastating 78 MPH 12-6 curve, Wick has three plus pitches that he is starting to put on full display.
After struggling a bit in his first call-up of the season, Wick went back to AAA and became their most dominating reliever in the process. In 27 total games for AAA Iowa, Wick was 1-0 with a 1.80 ERA and six saves in 35 innings of work. What stood out the most was his command as he walked just nine batters all season to go with 44 strikeouts for Iowa. Given the league and some of the parks he played in, those are impressive numbers which earned him a call back to the bigs in late July.
Since returning to Chicago, Wick has continued to dominate hitters bringing the question as to should he be the man getting the ball with the game on the line in the ninth for the time being. In 14 games on the north side compiling 15 2/3 innings, Wick is 2-0 with a sparkling 1.72 ERA His command hasn't been as crisp as he has walked seven hitters and punched out 19, but since his return, he has pitched in seven total games with just 2BB and 10K.
What those recent splits show me is that not only has he figured out how to command all his pitches, but he also knows how to mix things up on hitters keeping him on their toes throughout their at-bats. With the way Wick has pitched this season especially as of late, why not give him a chance in the closer's role for the time being. I mean, what is the worst that could happen? More blown saves, which is something that Strop, Cishek, Kimbrel, and others have already encountered this season.
The way I see it, Wick has earned a more trusted role in the bullpen and rightfully so. With a unique windup and explosive pitches, he also has the stuff to be a late-game reliever which could neutralize opponents' bats down the stretch. If you give him a chance and he does well, you just made your pen a whole lot better. I am not saying leave him in that role once Kimbrel comes back but should he go 5-5 and look dominate throughout, the Cubs may have found their eighth-inning guy down the stretch which would make the bullpen better as a whole.
As the season ends and the bullpen injuries continuing to mount, now is not the time to put on a band-aid and hope for the best. The Cubs need to be putting their best pitchers in critical situations, and right now, Wick has been their most dominating reliever and needs to start being trusted in high leverage situations.