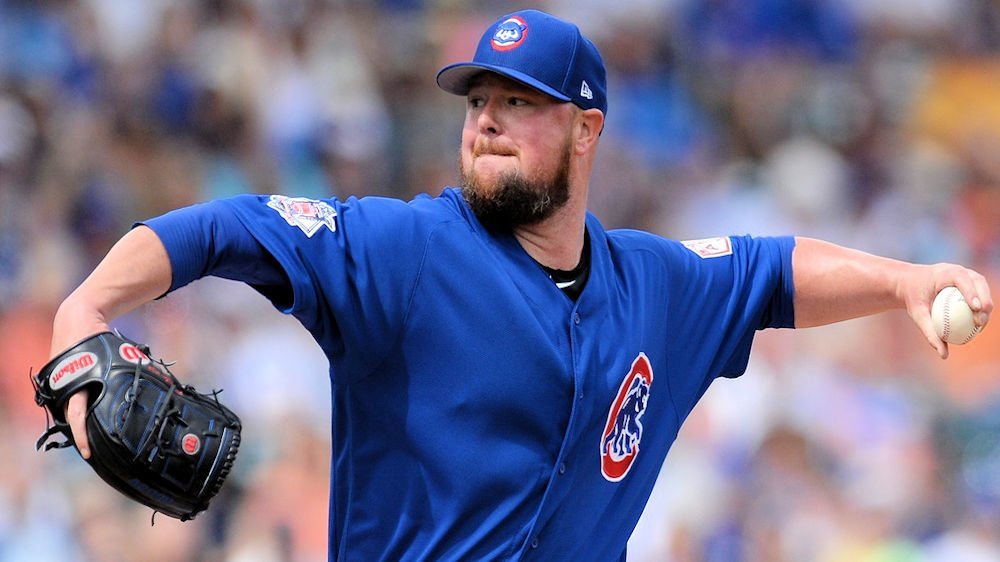 | | |
| --- | --- |
| Commentary: The Cubs X-Factor | |
---
The Cubs continue to climb the standings and separate themselves from the less talented Cardinals and Brewers; however, to prove that they are serious contenders they must prove that they can win on the road. An 11 run output against the Cub-killing Reds is a great start, and winning today against a perennial Cy Young candidate would be a huge plus.
The Cubs take on Trever Bauer and send Yu Darvish to the bump tonight. After talking with numerous people, it truly seems like Yu Darvish is the key to the Cubs' success. Having Darvish pitching as well as he has been, with an ERA around three since July began, the Cubs' rotation is a lot better.
It is no secret that you need offense to win baseball games, but it can also not be overlooked that the key to winning a World Series is dominant starting pitching. The Cubs need their rotation, one through five, to not only pitch well but to stay healthy down the stretch of the season, giving this team a legitimate shot at capturing their second ring in four seasons.
Jon Lester is due for one clunker every season. And although he called himself the rotation's "weakest link" Lester has pitched admirably this season, to the tune of a 9-8 record and a sub 4 ERA before his last start. Lester has given up 14 earned runs in August already, which is more than his total in July. Lester has been Mr. Consistency in his Cubs tenure, and him finding that will be key for the Cubs down the stretch.
Jon Lester has done this - almost exactly around now - every year w/ the #Cubs.

8/06/19: 4.0 IP, 10H, 9ER, 3BB, 6Ks
7/20/18: 3.0 IP, 7H, 8ER, 5BB, 1K
8/11/18: 3.2 IP, 10H, 8ER, 1BB, 5Ks
8/17/17: 1.2IP, 7H, 7ER, 1BB, 0Ks
7/3/16: 1.1 IP, 8ER, 1BB, 2Ks
8/19/15: 2.2IP, 7ER, 3BB, 4Ks

— Michael Cerami (@Michael_Cerami) August 7, 2019
Cole Hamels is back from the injured list and returning to health, which is coming at the exact right time for the injury-plagued Cubs. Hamels has yet to break 80 pitches or five innings since his return, but having him back is good enough for the Cubs right now. The Cubs have won both games Cole has started since his injury. Besides these two most recent starts, Hamels has been the Cubs' best starter.
Hamels might have become an all-star in 2019 if it wasn't for his injury, and he is undoubtedly earning every penny of his 20 million dollar contract. This season, Hamels has a 3.09 ERA in 19 starts, with six wins to go with that. Getting Hamels back to full-strength and pitching the way he was before his injury will be most important from the lefty and for the Cubs as the season winds down.
Kyle Hendricks has been massively important for the Cubs this season. The professor leads the Cubs' pitching staff in WAR but only has an 8-8 .500% win record. However, his team-best 3.06 ERA is what earned him a contract extension before this season and is keeping Theo and Jed Hoyer looking like geniuses. Hendricks has not given up more than two runs in a start since June. Hendrick's leads the Cubs in ERA, WHIP and has the only complete game of the season. Keeping up the run of success for Hendo is precisely what the Cubs need as the playoffs approach.
Jose Quintana has not been an ace in his Cubs tenure, but he coincidentally has not been bad. He has earned the "W" in 6 of his last seven starts, bringing his record to a team-best 10-7. Quintana's 4.23 ERA is currently good for third-best on the team as well. Quintana has also been the team's best innings eater. Since his last loss, Quintana has only given up 17 runs across 40+ innings. The quiet reliability from Quintana's game is precisely what the Cubbies need for their playoff run.
The wild card of the rotation is Yu Darvish. According to Joe Maddon, Darvish is pithing "as well as anybody" in the league right now. Darvish has had the best month of any starter aside from maybe Hendricks. Darvish leads the Cubs in strikeouts, and his WHIP is better than Lester and Quintana. Darvish has been a workhorse for the Cubs as well, starting 23 games on the year. Darvish has only walked two batters since July began, which has been critical in his success because his batting average against is a team-best .219. Darvish continuing to command his pitches and lowering his season ERA is just what the Doctor ordered for the Cubs pitching staff.
The Cubs have the fifth-best ERA in all of baseball, second in the NL behind the Dodgers. Riding the wave of consistency that the starting pitching has provided this season is why the Cubs are in first place. Many would argue that the Cubs' injury plagues bullpen and inconsistent offense especially with runners in scoring position is the biggest X-factor down the stretch. But I am a firm believer that starting pitching wins World Series, so the Cubs starting rotation slowly returning to health, consistency, and dominance is the biggest X-factor for the Cubs to make a deep run into October.

Upgrade Your Account
Unlock premium boards and exclusive features (e.g. ad-free) by upgrading your account today.
Upgrade Now