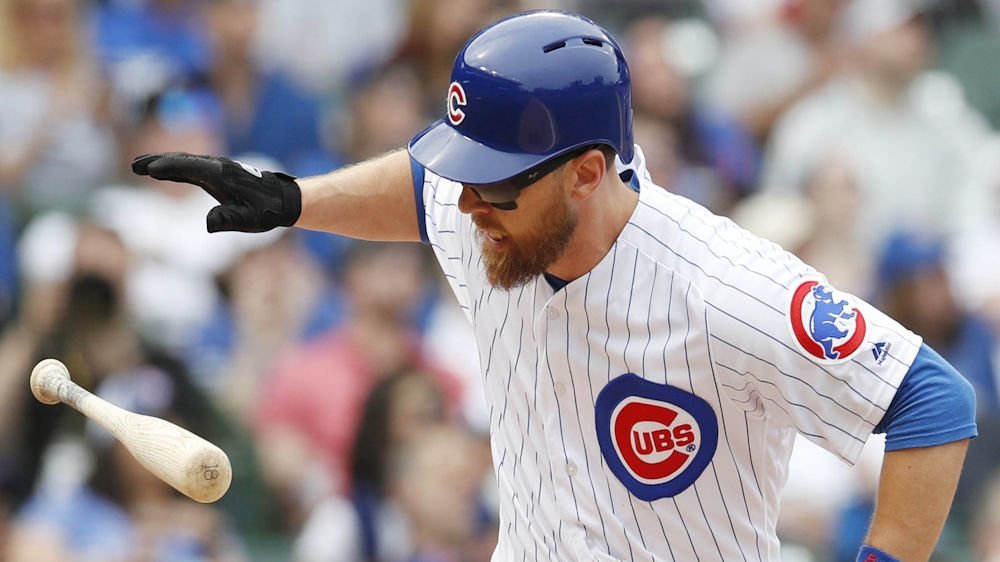 | | |
| --- | --- |
| Commentary: Watching the Cubs shouldn't be a chore | |
---
At this point, I'm not sure who needs a day off worse; the Cubs or me. Unlike most of you who get to watch the game and then forget about it, I get to watch it and then relive it when I sit down to write. Some days, like today, that's not a pleasurable experience.
The Cubs were held to just three hits last night (Bote, Rizzo, La Stella) in what would be another weak offensive showing that saw many, weak ground balls that never cleared the infield. In a collectively lousy team effort, the Cubs' bats went all of 3 for 29 (.103), in the 9-0 blowout.
It frustrates me endlessly when a team of this caliber can't seem to scratch out more than four hits, much less a run, against a team whose 35-79 record is tied for the worst in Major-League Baseball.
Not that the pitching was any better last night.
After getting out of the first inning on only six pitches, Jose Quintana would once again be rocked over the next 5.1 innings, finally allowing five runs before being replaced by Tyler Chatwood. Not that the game wasn't already lost, but true to form, Chatwood did his part to seal the Cubs' fate by allowing an additional four runs in just one-and-two-thirds innings.
With the ongoing problems, it's not like Joe Maddon can bench a guy who's underperforming, as the issues seem systemic. Addison Russell, Ian Happ, Albert Almora Jr. and Kyle Schwarber continue to slump, with Victor Caratini and Jason Heyward not trailing far behind. Tommy La Stella and Anthony Rizzo have somehow been neutralized, leaving the brunt of the offense on the shoulders of Javier Baez, David Bote, Willson Contreras and Ben Zobrist.
As long as we're pulling out all the stops, Happ seems to be going through the motions, rather than playing the game, Russell continues to accrue errors, and if I could see just one or two more Cubs ground into double-plays, my life would seem complete.
Stop trying to sell me on the fact that the Cubs have the best record in the National League, as that honor belonged to the Mets earlier this season, and look where they are now. Quit telling me about how Chicago is a second-half team, as we're now almost half-way through the second half, and they're not playing any better than they did in the first half.
I've stood by this team through good seasons and bad, and despite my griping, I'll continue to do so. I'm not holding out hope for much of a post-season though, as I can't see this team progressing past the NLDS with the way they've been playing. Some days watching this club seems like a real chore, and it just shouldn't be that way.
I'll wait patiently as the Cubs get ready to host the Nationals tomorrow, but in the meantime, I'm taking some aspirin for a headache and going to bed.

Tags: Cubs Baseball
,
Jose Quintana
,
Tyler Chatwood
,
Addison Russell
,
Ian Happ
,
Albert Almora Jr
,
Kyle Schwarber
,
Victor Caratini
,
Jason Heyward
,
Tommy La Stella
,
Anthony Rizzo
,
,
Willson Contreras
,
Ben Zobrist
,
Joe Maddon