| | |
| --- | --- |
| Commentary: What the Hell happened? | |
---
| | | |
| --- | --- | --- |
| Thursday, October 4, 2018, 6:05 PM | | |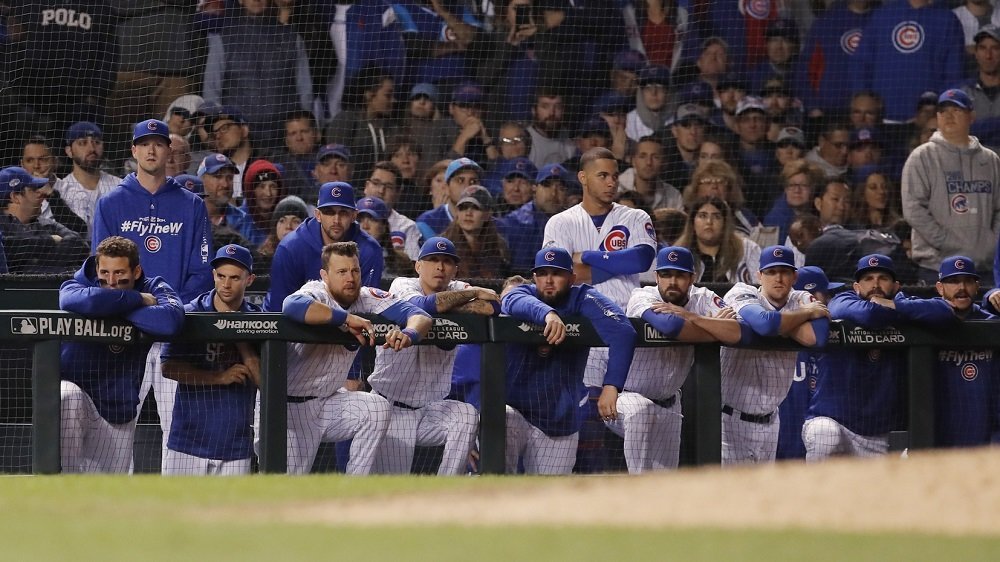 As I mentioned the other day, I wanted to take some time to collect my thoughts and try to see through unclouded eyes what exactly went wrong for the 2018 Chicago Cubs. My thoughts are collected, and my eyes are still partly cloudy, but that could be the onset of glaucoma, so I'm going to charge ahead anyway.
My coworker Ken Allison is putting together a smashing five-part, in-depth, recap, and projection elsewhere on this site. I would highly suggest you take a minute to read it as he has thought much harder about all this than I plan on doing here.
I'm not one to dwell on woulda, shoulda, coulda so looking back is not my usual thing to do but in this case, it seemed important to give it some perspective so we all can make sense of this year.
In my opinion, there were roughly seven things that created the ultimate ending for this season. At least three of them were apparent very early in the season and not addressed. The rest just kind of crept up on the team and before you could say, Paul Popovich, it was too late.
None of these are meant to excuse the organization for its failure to reach their goal of a world series, but they do need to be pointed out to start the process of correcting them going forward.
First, injuries to Yu Darvish and Brandon Morrow were gigantic. It is hard to lose 20% of your starting pitching, and your closer, and not have to chase your tail the rest of the year. Throw in extended injuries during the year to Kris Bryant, Jason Heyward, Kyle Schwarber, Addison Russell, Pedro Strop, and others and it is actually shocking they did as well as they did. I also believe we will find out that Willson Contreras and Javy Baez played with significant injuries all year. I believe Baez has an issue with his hip for sure.
Second, this year the bench was not nearly as deep as in previous years. Other than Tommy LaStella for half the year, the bench was maybe as weak as its ever been in the Joe Maddon era. It left Maddon with no moves too many times throughout 2018 and cost the Cubs at least six victories.
Third, as Theo Epstein pointed out in his press conference, the hitting this year was not acceptable. Not only did their home runs go down, but they lost the ability to hit the other way which they did consistently in 2016 and 2017. Throw in an alarming trend in baseball over the past 10 years of players not knowing how to, or willing to, bunt runners along and you don't give yourself the chance to drive in runs. Situational hitting was MIA on this team, this year.
Fourth, was an underappreciated drain of energy brought on by the ongoing Addison Russel drama for most of the season and later the addition of Daniel Murphy and his whole issue with LGBTQ. This stuff can be pushed aside when you have a veteran team and/or are winning consistently. This team had neither this year and too much wasted time and energy was brought about by both.
Fifth was the collapse of the bullpen in key times throughout the season. It seems like they were getting on a roll and then all hell breaks loose. Maddon's insistence on running out guys that are clearly having trouble is a constant head scratcher along with his overusing guys all season. There was not one guy left in the pen at the end of the year that didn't fall into one of these two categories.
Sixth is coaching. There is just no way to sugarcoat this, Chili Davis was not the answer for this team and he needs to go before the start of spring training next year. Yes, the players have to take their share of credit for the failures pointed out earlier, but the coach needs to have their confidence in order to effect change and he clearly does not have that.
I will say the same for Jim Hickey. To my old, untrained eye, the pitchers just never looked right all year. I am not smart enough to know if it was preparation or execution, but I know when it doesn't look right, and it didn't. Players had that glazed look in their eyes when he visited them on the mound and nothing improved when he left. He needs to be replaced too.
Joe Maddon is not going anywhere, at least not right now, but he is clearly going to be on a shorter leash in 2019 and if he continues to not have his team playing the way that Theo wants them to play, look for his early exit next year.
Which brings me to the seventh and final piece to this puzzle. The weather and MLB did the Cubs no favors with the schedule they had this year. It was like they were trying to test them or something. Cross region road trips, rainouts, and 40 games in 41 days at the end of an exhausting year were just not right for any team to have to deal with. The players never really complained but you know it had to hurt them. You need a day to recover every once in a while, and they just didn't get that at the end and it cost them.
So, there is my two cents worth. Please read Ken Allison's recap and projection for more insight. Use this to talk among yourselves and feel free to quote me as you choose. I'll be popping up occasionally this winter with more things for you to share, hate, or ignore.

Tags: Cubs Baseball
,
Yu Darvish
,
Brandon Morrow
,
,
Jason Heyward
,
Kyle Schwarber
,
Addison Russell
,
Pedro Strop
,
Willson Contreras
,
Joe Maddon
,
Theo Epstein
,
Chili Davis
,
Jim Hickey