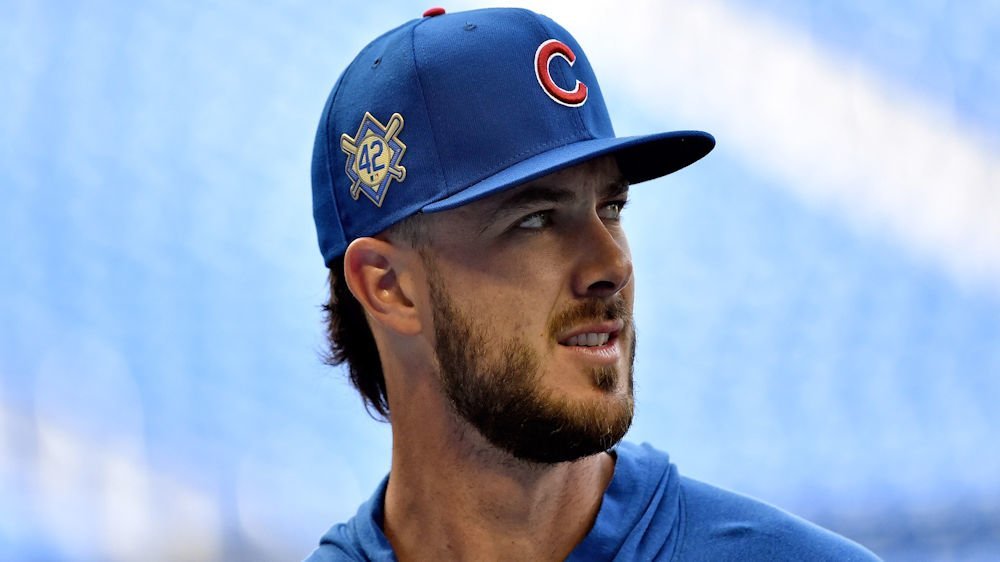 | | |
| --- | --- |
| Cubs News and Notes: 72 games left, Kris Bryant's BP-bombs, David Ortiz update, more | |
---
| | | |
| --- | --- | --- |
| Friday, July 12, 2019, 8:13 AM | | |
Next Game: Today, 1:20 PM CDT: Pirates at Cubs. RHP Yu Darvish (2-4, 5.01 ERA) vs. RHP Chris Archer (3-6, 5.49 ERA).
Today's Game Preview:
The "summer vacation" of baseball has now officially ended for the Cubs, as they begin a new homestand with their divisional rivals, the Pittsburgh Pirates. Last time around was ugly, as the Pirates bounced the Cubs pitching around like a pinball.
While other teams are starting to dabble in trades, as they anticipate the looming deadline, Theo and Company have laid low, uttering only promises of changes to come.
CUBS NEWS AND NOTES:
Yesterday was an extremely slow news day for the Cubs, but it should probably be the last of the quiet before the storm. Between trades, releases and a manager whose career may hang in the balance, the next few weeks should prove to be pretty exciting for all of us.
Cubs/Pirates Probable Pitchers Saturday, 1:20 PM: LHP Jon Lester (8-6, 3.72 ERA) vs RHP Jordan Lyles (5-5, 4.36 ERA). Sunday, 1:20 PM: LHP Jose Quintana (6-7, 4.19 ERA) vs. RHP Trevor Williams (3-2, 4.54 ERA).
Hard to believe: This season has flown by so far, and the North-Siders have just 72 games left to prove themselves. While the Cubbies are tough at home, they need to improve tremendously against their division rivals, and if the road record doesn't improve, they may as well hang it up now.
Theo better get busy: On two separate occasions in the last eight months, the Cubs have been tied to Giants reliever, Will Smith- just one problem, so have other teams. Among those teams were the Cardinals and reports now say that the Red Birds may be getting ready to take another serious stab at obtaining Smith. The Cardinals are playing .500 ball (44-44) and they sit on the fringe of being buyers or sellers. Paul Goldschmidt signing there didn't hurt the Cubs much, but the eventually one of these opportunities is going to pan out for St. Louis.
Moneyball. pic.twitter.com/yoWHhqFFci

— Cut4 (@Cut4) July 12, 2019
Take me to the river: It's never been uncommon for a gigantic home run to splash in the river outside of PNC Park in Pittsburgh, but homers landing in the Chicago River? Kris Bryant took some batting practice today, smack-dab in the middle of downtown Chicago, and some of his blasts were splashing down in the Chicago River.
Raise your hand if this is how you'd like to spend your Thursday ??#SummerTimeChi with @KrisBryant_23 & @redbull pic.twitter.com/Us9iWAnT9J

— Cubs Talk (@NBCSCubs) July 11, 2019
Is Joe's future "cooked"? I continue to stand by my theory that whenever he leaves the Cubs, and for whatever reason, Joe Maddon will retire from baseball to pursue a life as a restauranteur. Joe seems to have immersed himself in Maddon's Post, and I see him all over social media promoting it. The restaurant appears to be doing well, and it's never been a secret as to his passion for fine food and wine.
Thank you @venuereport for checking us out....gonna try to get to The Flamingo Room after today's workout.... Pierogi Power ! @TonyMantuano @GallagherWayChi https://t.co/AIBW3E778M

— Joe Maddon (@CubsJoeMadd) July 11, 2019
Allow me to be the visionary: Yesterday, I wrote about a bunch of new rules and regulations being implemented in the Atlantic League for the second half of the season. Among those, was an increase in base size from 15" x 15" (225 sq. in.) to 18" x 18" (324 sq. in.). While this is going to give players a bunch more surface area to grab onto or reach for when they slide (imagine what Javier Baez could do when they implement these things in the MLB), I can already see the injuries being tallied. These things will inevitably cause guys to trip, stumble and twist, and I can hear the ACLs tearing as I write. MLB, please use some common sense on this one…
The Cubs' fate: ESPN 1000's Waddle and Silvy posted a poll, asking what was most likely to happen to the Cubs in the second half. As of late last night, 52% of the vote said the Cubs would win the division, while 22% thought it would result in Maddon's firing. Still time to vote.
What is most likely to happen to #Cubs in the "2nd half" of the #MLB season?

— Silvy (@WaddleandSilvy) July 11, 2019
Cookie Monster sighting at Wrigley Field:
Our amazing Cubs Productions team has rolled out a new set of videos on our Cubs YouTube page - I was lucky enough to be asked to help out on a few of them. It was a pleasure to work with the great Cookie Monster last homestand! -GP https://t.co/QNAYq7AUvS

— Gary Pressy (@GaryPressy) July 11, 2019
David Ortiz update: David Ortiz is alive after being shot while in the Dominican Republic, but complications continue to arise with his recovery. As per a statement issued by his wife, Tiffany Ortiz, Davis has now undergone a third surgery. We wish him the best during his recovery from such a senseless act of violence.
David Ortiz underwent a third surgery today and remains at MGH. Here's a statement from his wife Tiffany Ortiz. pic.twitter.com/3qR9Vs3rLa

— Jen McCaffrey (@jcmccaffrey) July 11, 2019
Baseball Quotes: The pitcher has got only a ball. I've got a bat. So the percentage in weapons is in my favor, and I let the fellow with the ball do the fretting. -Hank Aaron
I'd walk through hell in a gasoline suit to play baseball. -Pete Rose pic.twitter.com/6k8HeTyQP3

— Baseball Quotes (@BaseballQuotes1) July 11, 2019
Cub Birthdays: Celebrating yesterday, James "Hank" Griffin (133), Harry Wolter (135), Jimmy Slagle (146), George Meakim (154), and William "Pop" Schriver (154).
NL CENTRAL SCHEDULE (June 23 – June 29, 2019)
(Wins are in green, losses in red)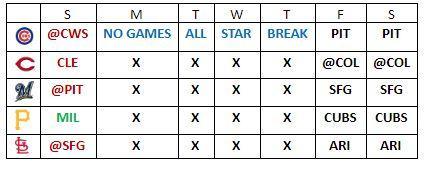 NL CENTRAL SCOREBOARD/STANDINGS