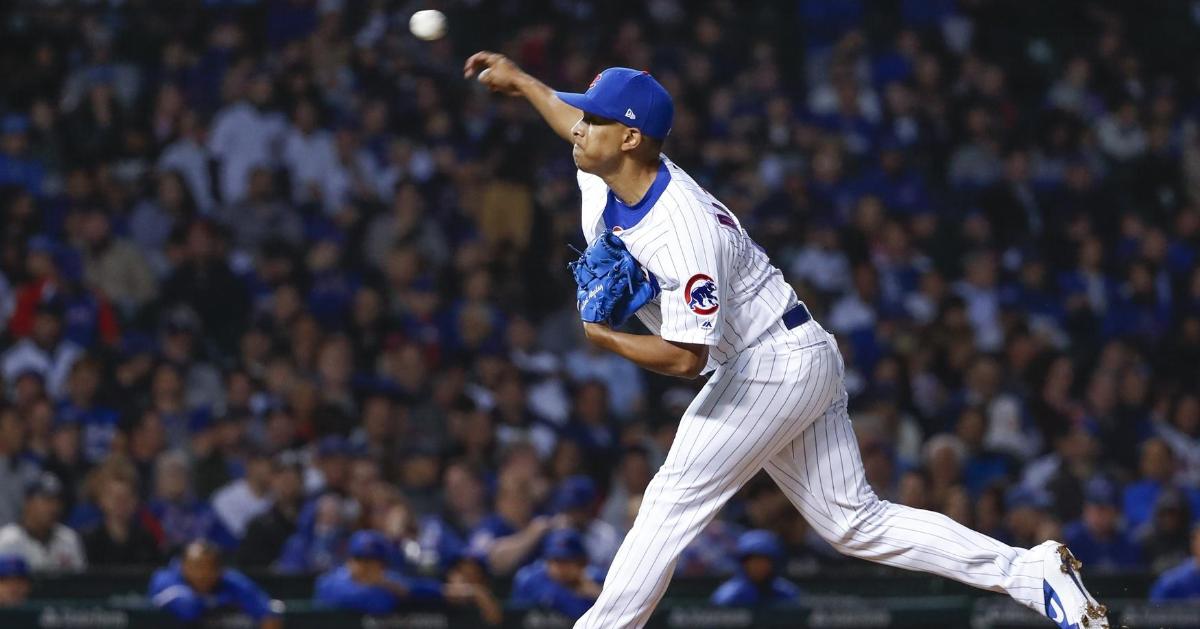 | | |
| --- | --- |
| Cubs News and Notes: Alzolay's first start, Kimbrel's status, Angel in a Cubs' uniform | |
---
| | | |
| --- | --- | --- |
| Wednesday, June 26, 2019, 11:17 AM | | |
Programming Note: I'll apologize in advance for what may turn out to be a little shorter column for the next few days, as I'm in Chicago through Saturday. Tomorrow, I'll be venturing up to Wrigley North to see Seattle try to thump the Brewers for a second straight night, then Thursday will be a day spent at Wrigley, for the Cubs/Braves finale.
My wife and son have never been to the Friendly Confines, and it's been much too long since I've been to a game (one of the things I miss most about living here). Let's hope the weather holds, and that Tyler Chatwood can get the best of the Braves and whoever they decide to send to the mound.
Next Game: Today, 1:20 PM CDT: Braves @ Cubs LHP Dallas Keuchel (0-0, 0.00 ERA) vs Yu Darvish (2-3, 4.65 ERA).
CUBS NEWS AND NOTES:
Tuesday's Game Recap:
Last night was Adbert Alzolay's first appearance as a major league starter, and things certainly didn't go quite the way they should have. Alzolay got a rude awakening when Ronald Acuna, Jr. sent Alzolay's first offering of the game sailing deep into the left field bleachers.
The Cubs threatened in the bottom of the second, with the bases juiced and only one out. Alzolay missed on a bunt, Javier Baez got caught leaning too far towards home, and after the Braves nabbed Javy, Willson Contreras was gunned down trying to take third. Ugly.
The Cubs finally got things moving in the fourth on Contreras's two-run, RBI double, giving the Cubs a 2-1 lead. That lead would hold up until the seventh, when Mike Montgomery gave up a 2-run blast, allowing the Braves to take a 3-2 lead, which is how it would end. Chicago will try tomorrow night again when Yu Darvish takes on Dallas Keuchel.
Alzolay: 4.2 IP, one hit (homer), 1 earned run, four walks, four strikeouts.

Cubs/Braves Probable Pitchers: Thursday: Braves TBD vs RHP Tyler Chatwood (3-1, 3.69 ERA).
Cubs/Reds Probable Pitchers Friday: LHP Cole Hamels (6-2, 2.92 ERA) vs RHP Sonny Gray (3-5, 4.03 ERA). Saturday: LHP Jose Quintana (4-7, 4.50 ERA) vs RHP Luis Castillo (7-2, 2.56 ERA). Sunday: LHP Jon Lester (7-5, 3.83 ERA) vs RHP Anthony DeSclafani (4-4, 4.70 ERA).
He's almost here… Even amidst a steady stream of rhetoric from Joe Maddon and Theo Epstein, I have maintained Craig Kimbrel would be in the Cub's bullpen this week by the end of the Cubs/Braves series. Kimbrel was to make his fourth AAA appearance last night.
Before the Iowa game, Theo said, "Tuesday is an important checkpoint for us to see how he's feeling. We'll get together with him and make a call after that game and see what direction we go. There's certainly a chance toward the very end of this homestand or early on the next road trip that we could be seeing him."
ICYMI: Kimbrel could be with #Cubs soon, injury updates and Joe's thoughts on dealing with media. My @dailyherald notebook: https://t.co/zu6tRyRpZL

— Bruce Miles (@BruceMiles2112) June 25, 2019
Rizzo's an Angel dressed as a Cub: Having spent time as a paramedic, I can tell you that nothing is more heart wrenching than seeing a child suffer, and it'll knock you to your knees when you watch one succumb to their injury or illness. The dedication that Anthony Rizzo and his foundation have to these kids and their families is fantastic, and I don't think for a minute that Anthony doesn't feel the hurt deep inside of himself when one of "his" kids can't fight anymore. God bless you, my friend, you're an angel to these families.
Right now Juliana's family & friends are laying her to rest.JuJu I'm so sorry we never got a chance to run the bases at Wrigley together.Tonight, when I step on the field, it will be for you. U fought so hard until the very end. My condolences to Staci, Alan & big sister Alexa ?? pic.twitter.com/kqhOJcK7wo

— Anthony Rizzo (@ARizzo44) June 25, 2019
Contreras sets Flowers straight: If you didn't see Contreras come unglued in Monday's night's game vs the Braves, you definitely missed your "Must see TV" for the night; as Contreras was relentless in his taunting and tormenting of the Braves and specifically, their catcher, Tyler Flowers. Here, Will explains a little about what happened:
"I just told him to do his job. I'll do mine."

Willson walks us through last night's drama. pic.twitter.com/ow7ufCIKwu

— Cubs Talk (@NBCSCubs) June 25, 2019
Flowers is an absolute baby, as he spent God knows how long replying to Instagram to posts about Willy's homer. If Willy hadn't given him a mental smackdown, the fans sure did, as before it was over, Flowers was offering to fight them too. First the Mets with Vargas and Callaway going ballistic on a reporter, and now Flowers calling out fans for a fight. What in the world is wrong with the water that these NL East teams are drinking?
Better hurry, Theo: It wasn't very long ago that the rumors started flying again about the Cubs' interest in reliever, Will Smith. If Theo wants him (and there's no reason that he shouldn't), he better step it up. The Dodgers are now also rumored to be in the hunt for Smith, and the last thing the Cubs want to let Los Angeles do is become even stronger. Being division rivals, the Dodgers and Giants don't trade very frequently- in fact, they do it so infrequently, that the fourth most recent deal between them involved a player by the name of Jackie Robinson, who was to have been traded to the New York Giants in 1956- that trade was later voided.
Baseball Quotes: "Let me tell you something kid; Everybody gets one chance to do something great. Most people never take the chance, either because they're too scared, or they don't recognize it when it spits on their shoes." -The Sandlot
Cub Birthdays: Celebrating yesterday, were ex-Cubs Paul Maholm (37), Aramis Ramírez (41), Michael Tucker (48), Brad Woodall (50), and posthumously, José Ortiz (72) and Bill Phyle (144).
NL CENTRAL SCHEDULE (June 23 – June 29, 2019)
(Wins are in green, losses in red)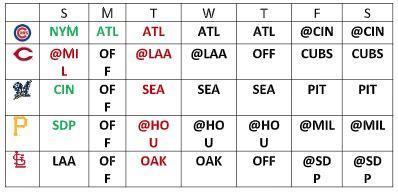 NL CENTRAL SCOREBOARD/STANDINGS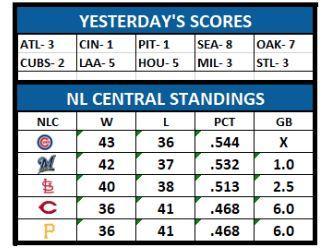 Tags: Cubs Baseball
,
Adbert Alzolay
,
Tyler Chatwood
,
Yu Darvish
,
,
Willson Contreras
,
Mike Montgomery
,
Cole Hamels
,
Jose Quintana
,
,
Anthony Rizzo
,
Joe Maddon
,
Theo Epstein