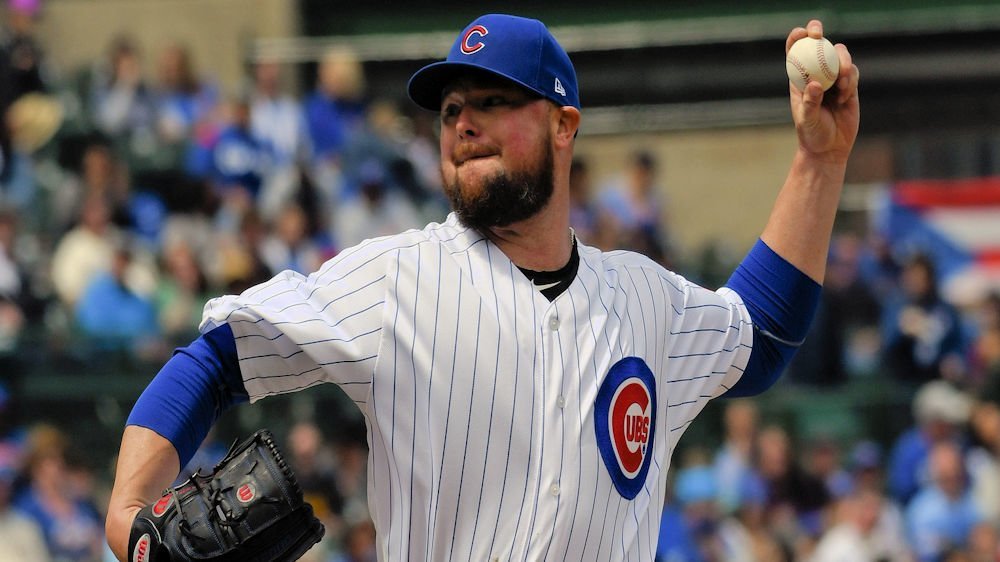 | | |
| --- | --- |
| Cubs News and Notes: CarGo's debut, Lester on point, smart parents, draft results, more | |
---
Next Game: Today, 7:05 PM CDT: Rockies @ Cubs. RHP Kyle Hendricks (5-4, 3.09 ERA) vs RHP Jeff Hoffman (1-1, 7.20 ERA).
CUBS NEWS AND NOTES:
Monday's Game Recap:
After a 1-5 road trip which ended with being swept by the Cardinals, this is exactly what the Cubs needed more than anything; an all-around, dominant win, with all components firing on all cylinders. OK, so Jon Lester gave up a run in the seventh- trivial in the grand scheme of things.
As I predicted this weekend, the Cubs welcomed a new face today. Outfielder Carlos Gonzalez who was promoted from AAA Iowa after just one game and Jim Adduci was optioned back to Triple-A. In his debut as a Chicago Cub, Gonzalez went 1 for 3, drew a walk and scored a run, but somehow it seems as though his presence may have been enough to ignite the Cubs offense (more on CarGo below).
The Cubs only stranded a total of six men on base, and for a much welcome change, went 4 for eight with runners in scoring position. They exploded for five runs and four hits in the seventh, including a pair of solo-shots from Javier Baez and Jason Heyward. For a change, the homers complimented the game, served as insurance runs, and the Cubs were far from dependent on the long-ball.
So, what about Big-Jon? One word: Brilliant. Lester found his mojo and lasted seven solid innings yesterday, holding the Halos to just one run on four hits and a walk, while fanning a total of six. Things got a little ugly for Lester in the seventh, but he pitched himself out of two jams (bases were loaded twice), thanks in part to a fantastic catch by Gonzalez who was handling right field. For a while, Lester looked as though he could go all the way, but his pitch count started running a little high in the seventh, and Jon finished his day with 108 pitches.
I admit that I panicked a little when Carl Edwards, Jr. and Kyle Ryan started warming up in the seventh after Lester got in trouble. Those guys have both been sporadic at best and undependable at worst, and at that point, I wasn't even sure a five-run lead was going to be good enough. Edwards ended up pitching the eighth, and to his credit he was flawless. Ryan never saw action yesterday though, as the game was finished by Dillon Maples who also looked good.
Final score: Cubs-8, Angels-1. Bring on the Rockies.

QUESTION OF THE DAY: Is Carlos Gonzalez who the Cubs needed to jumpstart their offense?
Cubs/Rockies Probable Pitchers: Wednesday, 7:05 PM CDT: RHP Yu Darvish (2-3, 5.02 ERA) vs RHP German Marquez (6-2, 3.48 ERA). Thursday, 1:20 PM CDT: LHP Jose Quintana (4-4, 3.73 ERA) vs. RHP Jon Gray (4-4, 4.52 ERA). As usual, I'll have a series preview for you later today.
Goodbye, slumps: Willson Contreras: Went 2 for 4, ended an 0-22 streak, solo-homer, RBI, scored twice, struck out once. Javier Baez: 2 for 4, solo-homer, scored twice, 3 RBI, only one strikeout. Jason Heyward: 2 for 4, scored once, RBI, solo-homer, zero strikeouts. Jon Lester: 7.0 IP, 1 ER, helped himself out (offensively) with a single in the fifth and drew a walk in the sixth. Lester was also, finally, getting a break from the home-plate ump, who was giving Jon the corners of the zone- this in itself is a victory. Carl Edwards, Jr.: 1.0 IP, no hits, no runs, no walks, two strikeouts.
Gonzalez on Cubs/Rockies: When Len Kasper asked Gonzalez in the post-game interview about facing his old team starting tomorrow, Gonzalez said, "It's always good to see friends, but tomorrow we're on different sides."
Btw the Cubs open a three-game series against Carlos Gonzalez's old team, the Rockies, tomorrow at Wrigley Field.

CarGo doesn't know what how he'll feel when he plays against them. pic.twitter.com/PL67e2hHAI

— Madeline Kenney (@madkenney) June 4, 2019
Interesting strategy: Angels manager, Brad Ausmus, used an interesting approach in yesterday's Angels/Cubs game- his starter didn't start pitching until the second inning. Initially, I thought that I'd fed you misinformation on the Angels starter in my series preview, as (former Cub) Trevor Cahill was slated to start, but instead, righty, Cam Bedrosian took the mound in the first.
Jim Deshaies went on to explain that according to Fangraphs, starting pitchers will generally do better when they don't start until the second inning. This tactic is supposed to accomplish two things: (1) It causes the pitcher to start the game deeper in the opposing team's batting order, avoiding a potentially rough first inning. (2) Because the starter doesn't actually "start" the game, Fangraphs theorizes that he's more likely to accrue a win, as he is no longer subjected to a minimum of five innings to qualify for a W.
Cahill desperately needed a win, as he entered the game with a 2-5 record and 6.92 ERA, but the plan backfired, as the Cubs rocked Cahill for six hits, 5 ER and two walks in 4.1 innings, which ultimately earned him the loss.
2019 MLB Amateur Draft: Last night (7:00 PM Eastern) marked the start of the Amateur Draft for 2019. Rounds 1 & 2 were held last night; Round 3- through Round 10 will be held today and Rounds 11-40 will be held tomorrow. The Cubs picked 27th in the first round, following every NLC team except Milwaukee, who picked 28th.
The Cubs chose RHP Ryan Jensen (Fresno State) in the first round and 2B Chase Strumpf (UCLA). For a complete recap of how the Cubs and the rest of the NL Central drafted, see my Odds & Ends column, which should post soon.
The #Cubs tonight selected RHP Ryan Jensen out of Fresno State University with the 27th pick in the 2019 First-Year Player Draft.#EverybodyIn pic.twitter.com/lSqmVbijzS

— Chicago Cubs (@Cubs) June 4, 2019
The Cubs drafted Chase Strumpf while he was on deck. He followed up with this pic.twitter.com/odCGLnTAG0

— Teddy Cahill (@tedcahill) June 4, 2019
Is Kimbrel the answer? Most people would agree that with Brandon Morrow perpetually unable to pitch and Pedro Strop going back and forth between injury and bad outings, the Cubs need to sign a legitimate closer; most believe Craig Kimbrel is the ticket to salvation. Is he though? While I would agree that the Cubs need a closer, Kimbrel's presence in the last week (through Sunday's game in St. Louis) would have done them little, if any good, as the Cubs weren't scoring runs.
Smart Mom: In the wake of the terrible accident involving the child who was struck when Albert Almora, Jr. fouled a ball into the stands last week in Houston, it's nice to know that some parents are now becoming proactive and taking precautions to minimize the risk of injury.
@Cubs Seen at Wrigley today- This mom is responsible, practical and smart. That is an actual Liitle League batting helmet, so it's bound to provide the Liitle Man with some protection. pic.twitter.com/C5JYir7hz1

— Ken Allison (@KenAllison18) June 4, 2019
Cub Birthdays: Celebrating yesterday, were ex-Cubs Munenori Kawasaki (38), Steve Smyth (41), José Molina (44), Robert Machado (46), and posthumously, John Dobbs (144).
NL CENTRAL SCHEDULE (June 2 – June 8, 2019)
(Wins are in green, losses in red)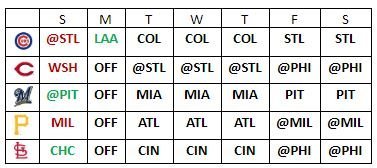 NL CENTRAL SCOREBOARD/STANDINGS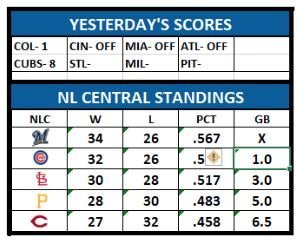 Tags: Cubs Baseball
,
Kyle Hendricks
,
,
Jim Adduci
,
,
Jason Heyward
,
Kyle Ryan
,
Dillon Maples
,
Yu Darvish
,
Jose Quintana
,
Willson Contreras
,
Trevor Cahill
,
Brandon Morrow
,
Pedro Strop
,
Munenori Kawasaki