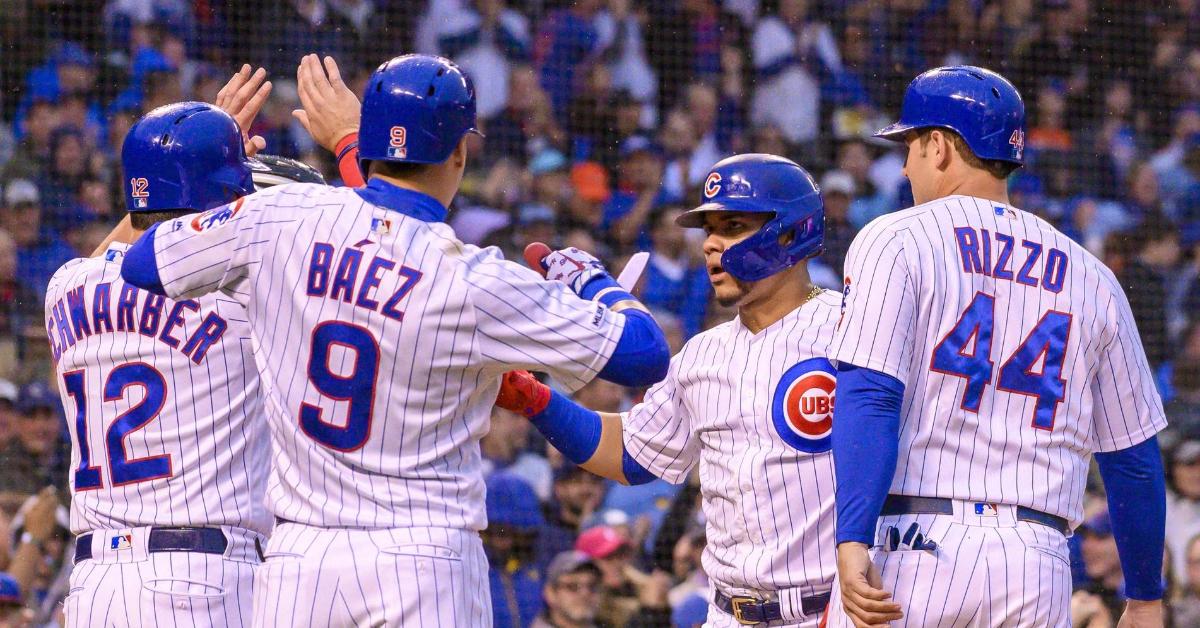 | | |
| --- | --- |
| Cubs News and Notes: Contreras' huge night, Bote's smash, Hendricks injury update, more | |
---
Next Game: Today, 7:05 PM CDT: Mets @ Cubs RHP Walker Locket (0-0, 0.00 ERA) vs RHP Tyler Chatwood (3-1, 3.60 ERA).
CUBS NEWS AND NOTES:
Wednesday's Game Recap:
The Cubs blew several opportunities Tuesday night, with consequences ranging from a loss to the White Sox, to missing a chance to recapture first place from Milwaukee while also putting distance between themselves and the rest of the NL Central.
A struggling Jon Lester took the mound last night to battle Sox ace, Lucas Giolito, in the second and final game in this round of the Crosstown Classic- a game with implications reaching far beyond the standings. While newer Cubs fans who are far away from Chicago may not be able to understand fully, this rivalry is, to Chicagoans, every bit as significant as the Cubs/Cards, even if the Sox are in the AL.
Channeling his inner Kyle Schwarber, White Sox CF Leury Garcia took Lester's first pitch of the game and dropped it in the left field bleachers, putting the South-Siders up 1-0. That lead wouldn't last, as the Cubs got busy from the get-go, with Kyle Schwarber taking Giolito's first pitch and ripping it for a double to the right. The Cubs would take advantage of a pair of walks to load the bases, bringing Willson Contreras to the plate, who came through, depositing a ball in the left field basket for a grand-slam. Cubs up 4-1.
Contreras wasn't happy with the first homer, so he upped the ante with a second (solo) in the third, to put the Cubs up 5-1 in the third. McCann's homer in the fourth would negate one run; then the Sox pecked at Lester until the scored another.
Into the bottom of the fifth, and you can now add David Bote to the home run list, as he drove a solo-shot into the center-field.
The Cubs' bullpen managed to hold, despite Brad Brach allowing a two-out triple in the eighth, but the Cubs weren't satisfied yet. After Addison Russell singled in the bottom of the eighth, the Cubbies added that final gut-punch, as Schwarber doubled to score Russell from first. I've watched a lot of Cubs games in my time, but I never have, and I mean never, seen Russell move so fast, as he did rounding third and headed for home on that play.
Lester got beat-up on a little, but overall a great night for the Northside and their team, as the Cubs win decisively, 7-3.

Cubs/Mets Probable Pitchers: Thursday: Mets TBD vs RHP Tyler Chatwood (3-1, 3.60 ERA). Friday: Mets TBD vs LHP Yu Darvish (2-3, 4.65 ERA). Saturday: Zack Wheeler (5-4, 4.87 ERA) vs LHP Jose Quintana (4-6, 3.87 ERA). Sunday: RHP Jacob deGrom (3-6, 3.38 ERA) vs LHP Cole Hamels (6-4, 2.98 ERA).
Joe Maddon: Speaking about batting average and the two-strike approach, the Cubs' skipper offered this: "The things we are teaching our hitters and other clubs doing the same as far as using the whole field and two-strike approach has to begin in the minor leagues."
Craig Kimbrel: While one AAA start was enough for Carlos Gonzalez to hop a flight from Iowa to Chicago, Craig Kimbrel will take a little longer. Kimbrel is scheduled to make his second appearance with the I-Cubs on Friday. (I still think he'll be in Chicago on the 24th for the start of the Braves series)
Blast from the past: Words of advice: If you're going to pick a fight, it's always best to make sure you have what it takes…
#OTD in 2003, Paul Wilson wished he didn't go after Kyle Farnsworth. pic.twitter.com/p90dbAX0tu

— Cubs Talk (@NBCSCubs) June 19, 2019
Last place Cubs? "Last place" isn't a term that Cubs' fans have heard or used in quite a few years, and don't panic- at least it's not the last place in the standings. The Cubs do, however, rank last in the NL in terms of batting average with runners in scoring position. While this may not cause them to finish last in the Central, I promise it'll cause them not to finish first, if they don't figure out how to correct it.
Cubs Notes 6/19/2019: The Cubs have played 36 games decided by two or fewer runs this season. They are tied for 4th most in the N.L. and tied for 6th most in the majors. The Cubs are 16-20 in games decided by 2 or fewer runs and 23-13 in all other games.
Milestone for Hamels: If there was any high-note in Tuesday night's loss to the Sox, Cole Hamels hit a milestone- his 2,500th strikeout.
Cole Hamels became the 10th LHP in MLB history to record 2,500 strikeouts, but he's happiest about doing so in front of fans that appreciate it. #AuthenticFan pic.twitter.com/dZ7O1flnNP

— Cubs Talk (@NBCSCubs) June 19, 2019
Kyle Hendricks: According to Jed Hoyer, Kyle Hendricks has been diagnosed with a shoulder impingement. "I feel like we got ahead of it," Hoyer said. "We're not sure how much time he'll miss, but we'll try to take it slow and take the length of the season into account." . There is currently speculation that Hendricks could be out until the All-Star break (certainly NOT what the Cubs need).
Who's turn is it? I'll be addressing this in my Cubs/Mets series preview (posting tomorrow), but I saw a tweet from The Athletic this morning that caught my eye- "Forget the relief pitching, what about the Cubs' slumping offense? The Cubs should hit a lot of homers, and they're undoubtedly great. But they also need to find other ways to score runs."
Heyward/Kimbrel: Jason Heyward and Kimbrel have been friends for a long time- 2010, when they each made debuts for Atlanta, to be exact. J-Hey says that as he was helping to try to recruit Kimbrel for the Cubs, that he told him, "You deserve to play in a place like [Wrigley Field]."
"Net" Gain: In the wake of the horrific and saddening scene at Minute Maid Park last month, when Albert Almora fouled a ball into the stands injuring a child, Guaranteed Rate Field (White Sox) has vowed to extend their netting, from foul-pole to foul-pole, before the end of this summer.
Baseball Quotes: "Guessing what the pitcher is going to throw is eighty percent of being a successful hitter. The other twenty percent is just execution." -Hank Aaron
Cub Birthdays: Celebrating yesterday, was ex-Cub Blake Parker (34).
Latest from the Summer Stove:
Blue Jays: The Blue jays look determined to deal a righty- Marcus Stroman, before the trade deadline. Stroman's got potential, but somehow that talent seems to have trouble shining through. This year, he's got a respectable 3.23 ERA, but his 4-9 record hasn't done the jays any favors.

Upgrade Your Account
Unlock premium boards and exclusive features (e.g. ad-free) by upgrading your account today.
Upgrade Now

Tags: Cubs Baseball
,
Willson Contreras
,
Tyler Chatwood
,
,
Kyle Schwarber
,
David Bote
,
Addison Russell
,
Yu Darvish
,
Jose Quintana
,
Cole Hamels
,
Kyle Hendricks
,
Jason Heyward
,
Joe Maddon