| | |
| --- | --- |
| Cubs News and Notes: Cubs now tied for second, FO Promotion, Injury updates, more | |
---
| | | |
| --- | --- | --- |
| Thursday, September 12, 2019, 7:51 AM | | |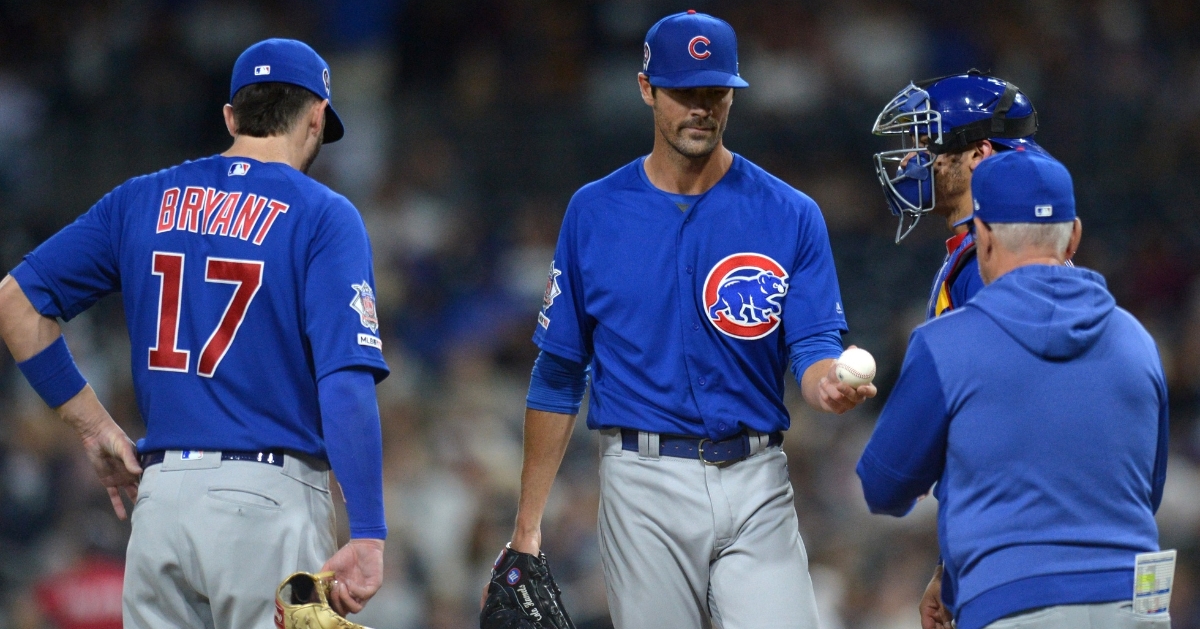 Next Game: Thursday: RHP Yu Darvish (5-6, 4.12 ERA) vs RHP Dinelson Lamet (2-4, 3.95 ERA). Game information: 2:40 PM CDT; Televised on NBC Sports Chicago.
Wednesday's Game Recap:
If you saw Tuesday night's game, then you're probably still furious; if you didn't see it, count your blessings. Sufficed it to say, it wasn't pretty at the end. Last night Cole Hamels took the mound to square off against Chris Paddack and the Padres in game two of this four game set.
The Cubs blew their first opportunity in the second, when Anthony Rizzo tripled to start the inning, and the Cubs couldn't score him from third.
It would take until the fifth, but the Padres finally broke the 0-0 tie with Margot's home run to left. Cubs trail 1-0.
Rockies take down Cardinals 2-1. Another big opportunity for Cubs to close gap in NL Central tonight.

— Tim Stebbins (@tim_stebbins) September 12, 2019
The Padres would (literally) steal another run in the sixth. Joe Maddon pulled James Norwood for another one of his matchup games, then replaced him with Brad Wieck. Totally distracted by the runner on first (Urias), Wieck paid no attention to France, who was on third. France broke for home, and all Wieck had to do was step off and toss the ball to Willson Contreras, but instead, he air-mailed it. Padres up 2-0.
Next, Duane Underwood Jr. would find trouble in the seventh, giving up another pair of runs, making it 4-0 Padres. Which is how it would finish. Another very ugly loss for Chicago.
The Cards lost, but once again the Cubs couldn't capitalize. In the meantime, Milwaukee beat Miami, and they're now tied with Chicago for second place in the NL Central.
CUBS NEWS AND NOTES
Cubs/Pirates Probable Pitchers: Friday: LHP Jon Lester (12-10, 4.51 ERA) vs LHP Steven Brault (4-4, 4.13 ERA). Game information: 3:05 PM CDT; Televised on NBC Sports Chicago and MLB Network (out of market only). Saturday: RHP Kyle Hendricks (10-9, 3.33 ERA) vs RHP Trevor Williams (7-6, 5.21 ERA). Game information: 1:20 PM CDT; Televised on NBC Sports Chicago and MLB Network (out of market only). Sunday: LHP Jose Quintana (13-8, 4.00 ERA) vs RHP Mitch Keller (1-3, 8.18ERA). Game information: 1:20 PM CDT; Televised on WGN and SAP WGN.
Injury Update: The Cubs say there is still no clear plan for Craig Kimbrel. The Cubs' closer played catch from flat ground on Tuesday, then again yesterday. The next step will be a bullpen session, but the Cubs say he will not be activated tonight as originally planned.
Mason on Kimbrel: "there is no finish line" pic.twitter.com/2hAeO13Ri8

— Mark Gonzales (@MDGonzales) September 12, 2019
No new news on Javier Baez today, but the Cubs say that Addison Russell will not play tonight either and that he'll be evaluated again when the team gets back to Chicago. If all this isn't enough, Ben Zobrist is now day-to-day with a knee issue.
All I can say, is that when my "injury update" section exceeds the length of my game recap, the Cubs have officially hit rock bottom.
Cubs making changes: No, no… they didn't fire Joe Maddon, nor did they trade Albert Almora Jr. or Kris Bryant, but the Cubs did announce today that Senior Vice President of Amateur Scouting and Player Development, Jason McLeod, will be transitioned to the role of Senior Vice President of Player Personnel. McLeod will be instrumental in "all aspects of roster construction and the day-to-day workings of the Major League club." I told you folks; big changes are coming.
The #Cubs today named Jason McLeod Senior VP of Player Personnel. pic.twitter.com/o8BFlnbD4u

— Chicago Cubs (@Cubs) September 11, 2019
Jason McLeod was asked if new role meant he's not interested in Boston's top job should they come calling. "I still aspire to someday get into that type of position. I do aspire to someday lead an organization."
Cubs outright Taylor Davis: After being designated for assignment last week to make room for Danny Hultzen, Taylor Davis has cleared waivers and been outrighted to Triple-A Iowa.
Less tolerant Joe? Just 24 hours after declaring that he was managing in "playoff mode" (we all know how last night's "playoff mode" strategy played out), Joe Maddon now says that he's going to be "less tolerant" with relievers going forward.
Gasp! Does this mean that he's not going to allow Steve Cishek to walk guys around 360 feet of basepaths? Or maybe it means that he's going to be changing pitchers even more frequently than he does now?
Thanks, Kyle: Some of you know, some don't, but I spent about seven years as a paramedic in Ohio (1998-2005). I worked on 9/11 that year, and even those of us who weren't in New York, fought back tears for the ones who were. Due to our high call volume, the company that I worked for could only spare one ambulance and two medics to help at Ground Zero, but there wasn't a single one of us who didn't want to be there, no matter how dangerous or grotesque. Thanks for remembering, Kyle, it affected all of us.
To all the innocent lives lost, first responders and service men and women. #NeverForgot #NeverForgotten pic.twitter.com/EYUoH7AfzB

— Kyle Schwarber (@kschwarb12) September 12, 2019
Chavez done: Former Cub, Jesse Chavez, underwent surgery this week. To remove "loose bodies" from his pitching elbow. The expected recovery time is approximately eight weeks, and he is expected to be able to pitch when spring training starts.
Sosa's response to 9/11: In the first home game after the 9/11 attacks occurred, Sammy Sosa belted a homer to right. As he passed first base, he grabbed a small American flag and waved it as he rounded the bases. I may not agree with a lot of things Sosa did, but that was absolutely top notch.
Sammy Sosa carries an American flag around the bases in the Cubs first home game following the September 11th attacks.

pic.twitter.com/JwWPvzBoYp

— Baseball Quotes (@BaseballQuotes1) September 11, 2019
Baseball Quotes: "Guessing what the pitcher is going to throw is 80% of being a successful hitter. The other 20% is just execution." -Hank Aaron
Baseball, it is said, is only a game. True. And the Grand Canyon is only a hole in Arizona. -George Will pic.twitter.com/SrSbHmjyIf

— Baseball Quotes (@BaseballQuotes1) September 10, 2019
Cubs Birthdays: Celebrating yesterday, were ex-Cubs Andrew Cashner (33) and posthumously, Mike Gordon (66), Larry Cox (72), Dave Roberts (75), Eddie Miksis (93), Barney Olsen (100), Ray Grimes (126), and Con Daily (155).
THIS WEEK'S NL CENTRAL SCHEDULE:
(Wins in green, losses in red)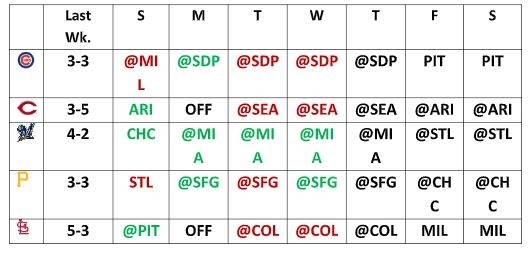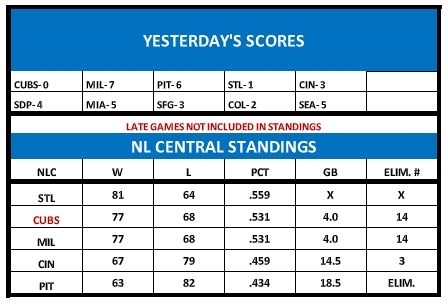 Tags: Cubs Baseball
,
Yu Darvish
,
Cole Hamels
,
Anthony Rizzo
,
James Norwood
,
Willson Contreras
,
Duane Underwood
,
,
Kyle Hendricks
,
Jose Quintana
,
,
Addison Russell
,
Ben Zobrist
,
Albert Almora Jr
,
,
Taylor Davis
,
Steve Cishek
,
Kyle Schwarber
,
Joe Maddon