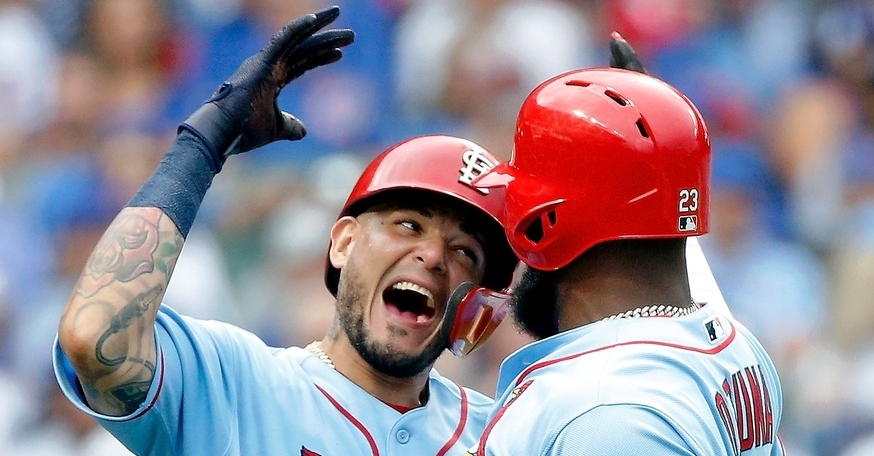 | | |
| --- | --- |
| Cubs News and Notes: Cubs plummet further, WGN signing off at Wrigley, Maddon talk, more | |
---
Next Game: Sunday: RHP Yu Darvish (6-7, 4.02 ERA) vs. Miles Mikolas (9-14, 4.29 ERA). Game information: 1:20 PM CDT; Televised on NBC Sports Chicago and TBS (out of market only).
Saturday's Game Recap:
I think the Cards may have driven the final nail in the Cubs' coffin on Friday, but there are still seven games to play, so let's enjoy them for what they're worth. Just five days ago, the Cubs chances of making the playoffs were near 76.7%; as they entered play yesterday, they had only a 21.3% chance of seeing October.
Yesterday it was game three of four at Wrigley, with Jose Quintana facing Dakota Hudson and the Cards.
St. Louis wasted no time in the first, jumping out to a 1-0 lead, when Edman tripled, then scored on Goldschmidt's groundout. Birds up 1-0.
Nicholas Castellanos would manage to tally his 58th double in the bottom of the first, followed by Kris Bryant's walk, then Kyle Schwarber did the same. With the bases loaded and one away, Zo drew a walk to force in the first run for Chicago.
Nicholas Castellanos picks up his 58th double of the year!

It's just the 10th time in @MLB history a player has hit 58 doubles in a single season. pic.twitter.com/qHxE2owGwi

— Chicago Cubs (@Cubs) September 21, 2019
At this point, Hudson had hurled 25 pitches for one out. Hudson would next walk Caratini, forcing in a run, then Jason Heyward would hit a sac-fly to score Schwarber. The inning would finally end on a hard-hit, long flyball to the right by Nico Hoerner. That kid may not be finding hits, but he's damn sure making hard contact. Cubs lead 3-1 after one.
Q would hold the Cards in the second, with a little defensive help from Zo.
WGN has aired Cubs games since 1948. Today marks the final Wrigley Field telecast for the station. pic.twitter.com/tls6SfTT15

— Jordan Bastian (@MLBastian) September 21, 2019
Anthony Rizzo would crank a one-out double in the second, but the Cubs couldn't cash in. Rizz was obviously struggling with his ankle a little, but good to see that he's strong enough and healed enough to stretch a single into two. Cubs lead 3-1 after two.
The Cards would get one back on Goldschmidt's sac-fly to the left in the third. Cubs still lead 3-2.
Q wouldn't escape the fourth inning. He'd get himself into a base-load jam with only one away, then Ravelo (PH for Hudson) hit a solid single to center, scoring the tying run. Maddon said he needed Q to go deep yesterday, but he was done after 4.1 innings and replaced by lefty, Danny Hultzen.
Hultzen would give up a two-RBI single to Dexter Fowler, making it 5-3 Cards, before it was over.
The Cubs would fight back in the fourth. Nico Hoerner beat out a would-be double play, setting himself up to score on Ian Happ's game-tying homerun (443 feet) to straight-away center. Game tied 5-5 after four.
.@ihapp_1 ties it up with his 5th career pinch-hit homer!#EverybodyIn pic.twitter.com/VJIfCduMAk

— Chicago Cubs (@Cubs) September 21, 2019
In the bottom of the sixth, the Cubs would take a 6-5 lead on Nico Hoerner's (3rd career) homerun to the left.
.@nico_hoerner for the lead! #EverybodyIn pic.twitter.com/licz26Wun5

— Chicago Cubs (@Cubs) September 21, 2019
Another lead by the Cards in the seventh, as Marcell Ozuna cranked a two-run homer.
Ben Zobrist would double in the seventh, and then the Cubs would take another lead on another jack… by Tony Kemp- his first as a Cub. (Yes, really…Tony Kemp).
Baseball gonna baseball. #KempinAintEasy pic.twitter.com/iVRSn2UO1q

— Chicago Cubs (@Cubs) September 21, 2019
The Cubs would protect their lead through eight, and then it was Craig Kimbrel on the mound for the ninth. Man, I like Kimbrel a lot, but this was ugly. Yadi Molina took Kimbrel's first pitch and deposited into the left-field bleachers, then on the very next pitch, DeJong hit one so similar, that for a second, I thought it was a replay. Nope. Cards lead 9-8, and the Cubs offense couldn't rally in the ninth.
The Cubs have now lost five straight and are now down 6.0 games in the division. If this keeps up, they'll be battling the Reds for who gets fourth place. So much for the 2-2 series split that I predicted. If the Cards can complete the sweep, the Cubs will be eliminated tomorrow. Unbelievable.
Rizzo on magnitude of loss: pic.twitter.com/BM2DVvbBnm

— Mark Gonzales (@MDGonzales) September 21, 2019
CUBS NEWS AND NOTES
The Cubs will have tomorrow off, before making the final push against the Pirates and Cardinals (again), in a pair of away series.
Cubs/Pirates Probable Pitchers: Tuesday: LHP Jon Lester (13-10, 4.51 ERA) vs RHP Mitch Keller (1-5, 7.74 ERA). Game information: 6:05 PM CDT; Televised on NBC Sports Chicago. Wednesday: RHP Kyle Hendricks (11-9, 3.26 ERA) vs RHP Joe Musgrove (10-12, 4.52 ERA). Game information: 6:05 PM CDT; Televised on WGN. Thursday: LHP Jose Quintana (13-8, 4.55 ERA) vs RHP Steven Brault (4-5, 4.98 ERA). Game information: 6:05 PM CDT; Televised on NBC Sports Chicago.
NL Wild Card Race: As the Cubs continue to backslide, the Brewers are making the most of their opportunity to gain ground on Chicago, the Mets, and Phils. Right now, Chicago's in so much trouble at this point, not even Johnny Cochran could get them out of it.
WSH +0.5
MIL --
Cubs 3.0 GB
NYM 4.5 GB
PHI 5.5 GB
ARI 5.5 GB
The end of an era: Although WGN will have their final Cubs' broadcast next week, yesterday marked their final Wrigley Field broadcast. WGN has been carrying Cubs' games since 1948.
WGN has aired Cubs games since 1948. Today marks the final Wrigley Field telecast for the station. pic.twitter.com/tls6SfTT15

— Jordan Bastian (@MLBastian) September 21, 2019
Offense or pitching? Is the Cubs' offense that bad, o r are the Cards pitchers that good? I was leaning toward giving St. Louis a lot of credit until I saw this stat. (Thanks, Tony, and just when I couldn't feel any worse about another loss to St. Louis…)
Look at these individual stat lines for Cubs players Friday:

Rizzo: 1-for-2,

BB
Castellanos: 2-for-3, 2B, BB
Schwarber: 2-for-4, 2B
Heyward: 2-for-3, BB

That's 4 guys in the lineup who combined to make just 5 outs in 15 plate appearances. And yet they scored just 1 run.

— Tony Andracki (@TonyAndracki23) September 20, 2019
Maddon: At this point, I think the general fan consensus is that this will be Maddon's last year with the Cubs. An ESPN 1000 poll yesterday asked if the Cubs would regret letting Maddon go. The results seem to be about 50-50, with a slightly larger number saying "yes."
Will #Cubs regret letting go of Joe Maddon?

— ESPN 1000 (@ESPN1000) September 21, 2019
I understand why people think this may backfire, but this team just isn't performing for Joe anymore. Maddon seems to do his best with younger players, and I think the Cubs' players have simply outgrown him.
Joe Maddon: "Every one, in a singular fashion, is must-win. You really don't want to give up any more ground right now. So yes, these are all one day at a time, they're almost like all seventh games that we're playing right now."
The full quote from Cubs manager Joe Maddon pregame about having eight must-win games ahead... pic.twitter.com/mcqxNCT36a

— Jordan Bastian (@MLBastian) September 21, 2019
Maddon on the bullpen: Maddon says the bullpen has been "outstanding," but let's examine that for a second. The Cubs' bullpen currently ranks 3rd in the NL, which is certainly good, but they rank 10th in the National League in saves. As Jesse Rogers points out, they seem to be somewhere between good and awful.
That isn't the point. Is it good enough to win a championship? A division? A WC? Forget that loser mentality 'its better than what it used to be around here.' They tanked for 3 years, dont forget that. https://t.co/rVvJvBdoWM

— Jesse Rogers (@ESPNChiCubs) September 21, 2019
Javy's trying: Javier Baez still remains available as a pinch-runner. He attempted to hit in the cage yesterday, but Maddon says, "He's been trying. It's just still not there yet." Javy's biggest issue with the thumb is that he has trouble squeezing his glove shut when he tries to field. Update: He struck out in a surprise pinch-hit role to end the game on Saturday.
Also, injury-related, the Cubs had nothing new to offer on Cole Hamels and his shoulder fatigue.
Daily Doubles: Nicholas Castellanos is on fire with the doubles. Now at 58, only he and nine others in MLB history share that honor. He's still got time to become the all-time leader, but he's going to need a couple of two-double games somewhere in there.
Another day, another double.

67: Webb (1931)
64: Burns (1926), Medwick (1936)
63: Greenberg (1934)
62: Waner (1932)
60: Gehringer (1936)
59: Helton (2000), Klein (1930), Speaker (1923)
58: NICK CASTELLANOS (2019)

— Jordan Bastian (@MLBastian) September 21, 2019
Bastian on Rizzo: Jordan Bastian's description of Anthony Rizzo's day at the plate yesterday is priceless.
Ol' One Leg has three hits today, including a hustle double in the second inning. He has five hits and a walk since ditching the walking boot and scooter.

— Jordan Bastian (@MLBastian) September 21, 2019
I'll take two, Tom: Tom Ricketts decided to visit the bleachers on Friday, tossing hot dogs to hungry fans.
@DOM_Frederic people of left field are hungry for the playoffs pic.twitter.com/pmBqwsrpBb

— Nick McQ (@mcq_nick12) September 20, 2019
Cool move, but I wonder if he's trying to show anyone in particular (insert your favorite name) what their job with the Cubs maybe next season.
Baseball Quotes: "I've been pretty lucky with neighbors. But back in 1998, I lived, like, literally next door to Wrigley Field in Chicago. And I had, like, 50,000 bad neighbors spread out for one summer. I'm a diehard Cubs fan, but living right next to the ballpark, it's just - as you're trying to go to sleep, you can just, like, hear urination." -Ike Barinholtz, Comedian
It took me seventeen years to get three thousand hits in baseball. I did it in one afternoon on the golf course. -Hank Aaron pic.twitter.com/lyIBHIscNv

— Baseball Quotes (@BaseballQuotes1) September 21, 2019
Cubs Birthdays: Celebrating yesterday, were ex-Cubs Doug Davis (44) and Jim Todd (72).

Tags: Cubs Baseball
,
Yu Darvish
,
Jose Quintana
,
,
Kyle Schwarber
,
Jason Heyward
,
Anthony Rizzo
,
Dexter Fowler
,
,
Ben Zobrist
,
,
Kyle Hendricks
,
,
Cole Hamels
,
Joe Maddon