| | |
| --- | --- |
| Cubs News and Notes: Cubs send catcher to Red Sox, El Mago, Puppies, more | |
---
| | | |
| --- | --- | --- |
| Monday, March 23, 2020, 6:13 PM | | |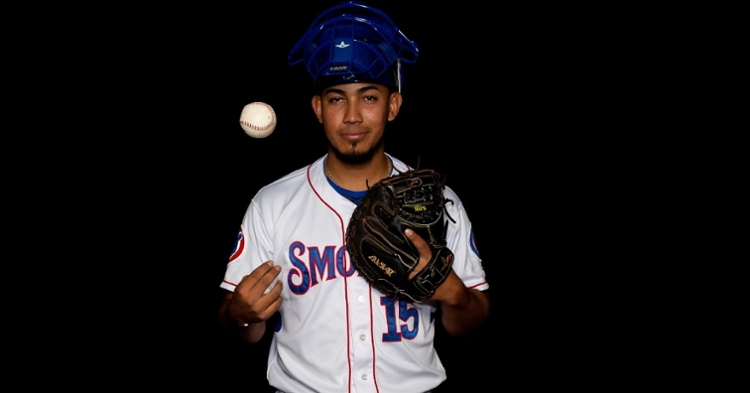 CUBS NEWS AND NOTES
Opening Day: Postponed indefinitely.
Cubs trade catcher: This morning, the Cubs sent minor league catching prospect Jhonny Pereda packing for his new home in Boston. Pereda constitutes "the player to be named later" in the January deal that sent RHP Travis Lakins to the Cubs. Lakins is no longer with Chicago, as he became a waiver claim (Orioles) after just ten days with the Cubbies.
Pereda wasn't terrible, but nor did he show a ton of Major League potential. Granted, he's only 23, but seven years in the minors have failed to produce nothing much than a potential backup catcher. From what I saw of Pereda this spring, his hitting had improved some (.333/400/.444), but he was limited to only ten plate appearances (9 AB). Defensively, Pereda seemed to rack up the errors, playing mostly catcher, but also making appearances at first and third base.
Pereda was a homegrown talent, beginning his career in the Venezuelan League after being drafted by the Cubs in 2013. Cubs' catching prospect PJ Higgins seems to be making real progress. Higgins was raking this spring, slashing .320/.469/.600 with an OPS of 1.069.
El Mago: Javy Baez is some sort of freak of nature. Watch as he runs an unbelievable distance to make a sliding grab on a pop foul. Insane.
Tweeting Javy Báez videos every day until baseball returns day 9/?

Javy covers an INSANE amount of ground to make the sliding catch in foul territory. #cubs pic.twitter.com/SvMTG4kPeE

— Cubs Insider (@realcubsinsider) March 22, 2020
Dog days: Albert Almora and his wife Krystal discuss dog ownership and their Luna. The Almora's are active within the Humane Society community and have a charity for animals.
It's #NationalPuppyDay ??@albertalmora's pup, Luna, gave us the biggest smile from our #ProPetsNBC series...so of course we want to show her off again ??

Reply with a photo of YOUR #Cubs loving pup with #AuthenticFan! pic.twitter.com/lgPlHTrF9p

— Cubs Talk (@NBCSCubs) March 23, 2020
Who ya stuck with? NBC Sports Chicago posted one of those tweets where pictures fly by at a mile a minute. They suggested clicking, and whoever's picture came up is who you'd be quarantined with. Silly, but fun. Next, they asked what you two would talk about.
Pause the GIF to see which Chicago athlete or coach you're quarantined with.

What activities are you two gonna do? pic.twitter.com/sGvh2nnd6o

— NBC Sports Chicago (@NBCSChicago) March 23, 2020
I wound up with David Ross on my first try – I'm good with that. I swear I could pick that man's brains for hours. I'd ask about his career and the World Series home run that signified the end of it. I ask about his time with ESPN and what it was like to work next to Theo Epstein and Jed Hoyer in the front office.
Then we'd talk about his manager's job, making sure he gave me the real story (all the gossip) on Joe Maddon, his tenure, and what really caused his demise. I'd absolutely pick his brain about the Cubs 2020 spring training and what the roster would look like whenever baseball finally resumes.
We'd talk about the starting rotation, the bullpen, and who that 26th man will be. I'd ask him to reconsider using Kris Bryant at leadoff, then beg him to use Ian Happ. Last year, you wouldn't have caught me dead, saying that Happ should even be on the team, much less leading off, but hey – Rossy doesn't know that (wink).
Now, what in the world are we going to talk about tomorrow?
Puppies including Kevin Rizzo: Who doesn't like puppy videos and pics?
The #NationalPuppyDay content you deserve. pic.twitter.com/Y5wBtIbJ1L

— Chicago Cubs (@Cubs) March 23, 2020
I heard it's #NationalPuppyDay! Share your @cubs dog photos below! ???? pic.twitter.com/OcrBZhubx3

— Clark the Cub (@ClarktheCub) March 23, 2020
Fun pic of Jose Cardenal: Check out his ride and the afro.
The league leader in penny farthing riding: @cubs José Cardenal ????! The longtime OF enjoyed his best of 18 #MLB seasons at the plate in '75 w North Siders, batting .317 125 OPS+. His @sabr bio https://t.co/owkNHBvh0y pic.twitter.com/CJqnDkNgEc

— SABR BioProject (@SABRbioproject) March 23, 2020
Cubs' Birthdays: Celebrating yesterday, were ex-Cubs Dexter Joel Peralta (44), Mike Remlinger (54), Pat Bourque (73), and posthumously, Johnny Moore (118), Cy Slapnicka (134), and George "Peaches" Graham (143).
Baseball Quotes: "Slump? I'm not in a slump. I'm just not hitting." - Yogi Berra
After I hit a home run I had a habit of running the bases with my head down.

I figured the pitcher already felt bad enough without me showing him up rounding the bases. -Mickey Mantle pic.twitter.com/5PvosCRAoY

— Baseball Quotes (@BaseballQuotes1) March 21, 2020
MLB News and Notes:
Pirates: MLB teams and players are doing their best to help people out in this crazy time. Players from the Pirates ordered 400 pizzas and sent them to a local hospital to show appreciation to the medical staff—hat's off to you, Pittsburgh.
Pirates players purchased 400+ pizzas (plus pasta) from Slice on Broadway and Pizzeria Davide today and had it delivered to Allegheny General Hospital for lunch.

Players came up with the idea on their own to show support for hospital workers and a couple local businesses. pic.twitter.com/MGroxlS8bM

— Adam Berry (@adamdberry) March 23, 2020