| | |
| --- | --- |
| Cubs News and Notes: Cubs stun Cards, Craig Kimbrel's bullpen at Wrigley, more | |
---
| | | |
| --- | --- | --- |
| Sunday, June 9, 2019, 7:37 AM | | |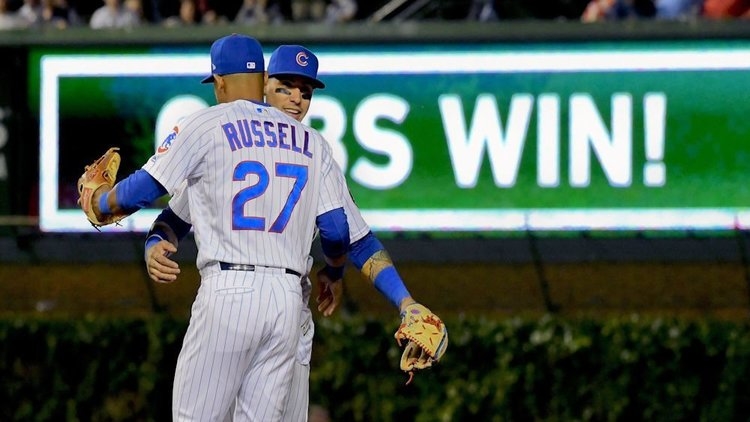 Next Game: Today, 6:05 PM CDT: Cardinals @ Cubs: RHP Adam Wainwright (5-5, ERA) vs Kyle Hendricks (6-4, 3.16 ERA).
CUBS NEWS AND NOTES:
Saturday's Game Recap:
In game two of their 3-game set with the Cards, Jon Lester took to the mound to square-off against Red Birds' righty, Jack Flaherty. This initially didn't look like it was going to be an excellent night for Lester, as he gave up four runs (and two home runs) in the top of the first. Lester settled down, and the Cubs dug in behind him, and their perseverance paid off.
Down 4-0 in the bottom of the first, the Cubs immediately grabbed a pair of runs to cut the lead in half. They'd tack on a run in the third, then tied in the fourth, courtesy of Kyle Schwarber's solo blast to right. The Cubs finally broke it wide open in the sixth on Victor Caratini's bases-loaded, pinch-hit, bases-clearing double. Just for good measure, the Cubs tallied yet another in the seventh, putting them up 9-4 (which is how it would end).
Jon Lester ended up lasting 6.0 innings on precisely 100 pitches, which is nothing short of amazing, as he hurled 36 times in the first inning alone. Kyle Ryan took care of business in the seventh, then Brandon Kintzler in the eighth, followed by Tyler Chatwood who (sort of) struck out the side in the ninth. Kolten Wong swung at a high and inside third strike, which would have ended it, but the ball got past Willson Contreras, and Wong was able to reach first. Chatty would get the next man on a ground ball to second to end the game.
Jon Lester: 6.0 IP, five hits, four earned runs, two walks, six strikeouts. Kyle Ryan: 1.0 IP, 0 runs, two strikeouts. Brandon Kintzler: 1.0 IP, 0 runs, one strikeout. Tyler Chatwood: 1.0 IP, 0 runs, 3 strikeouts. Cubs went 4 for 14 (.286) with RISP.
Tomorrow at 6:05 PM CDT (ESPN)m Chicago will attempt their second sweep of the Cards in just over a month.

Cubs/Rockies Probable Pitchers: Monday, 7:40 PM: RHP Yu Darvish (2-3, 4.88 ERA) vs RHP German Marquez (6-3, 4.07 ERA). Tuesday, 7:40 PM: LHP Jose Quintana (4-5, 3.77 ERA) vs Rockies TBD. Wednesday, 2:10 PM: LHP Cole Hamels (5-2, 3.24 ERA). vs RHP Antonio Senzatela (5-4, 4.95 ERA).
Today's question: Now that the Cubs have an official closer in Craig Kimbrel, what is the next area that they need to fortify?
The #Cubs have won 5 of the last 6 games!#EverybodyIn pic.twitter.com/EOobsMIJwH

— Chicago Cubs (@Cubs) June 9, 2019
Lock the gates! After Kolten Wong's single in the first inning, the Cards failed to get a ball out of the infield for the remainder of the game. By my count, they only had two baserunners after the first. One reached on Kris Bryant's error, the other on a drop-third strike in the ninth. At one point, the Cubs pitchers had retired 17 straight Cardinals.
Kimbrel in the pen: Don't get too excited; he's not ready yet, but (as scheduled) Craig Kimbrel threw his first bullpen at Wrigley before yesterday's game. He didn't have his jersey on- just a Cubs' t-shirt and the uniform pants, but it was good seeing him in pinstripes. He definitely looks like he put on some pounds during his hiatus.
Gotta love history: After allowing four runs in the 1st inning, the Cubs buckled down and held the Cards scoreless for the remainder. The last time they allowed 4+ runs in the top of the 1st and then shut out their opponent after that while scoring 9+ runs, was on April 15, 1921... also against the Cards.
Maddon/Hamels on Kimbrel: As the hype continues to build for Craig Kimbrel's inaugural appearance as a Cub, Joe Maddon and Cole Hamels weigh in.
"When he would come in...you pretty much knew the game was over."@ColeHamels and Joe Maddon are glad Craig Kimbrel is on their side now. pic.twitter.com/ISjz7h08NQ

— Cubs Talk (@NBCSCubs) June 8, 2019
Fizzled out: Since April 25 (34 games, 88 plate appearances), Daniel Descalso is slashing .105/.207/.171 with one homer. Ouch.
Patrick Mooney: Yesterday, in a subscription-based article, Patrick Mooney weighed in on the Cubs/Kimbrel signing, and offered the following: "It's absurd that it took until early June for Craig Kimbrel to sign and the Cubs needed Ben Zobrist's salary to make it happen. But after 29 other teams let the Cubs swoop in and land a potential Hall of Famer, all Kimbrel wants to do is win."
Quote of the day: "Life is not a spectator sport. If you're going to spend your whole life in the grandstand just watching what goes on, in my opinion, you're wasting your life." -Jackie Robinson
Cub Birthdays: Celebrating yesterday, were ex-Cubs Terrance Gore (28) and posthumously, Tim Donahue (149) and Tom Lee (157).
NL CENTRAL SCHEDULE (June 2 – June 8, 2019)
(Wins are in green, losses in red)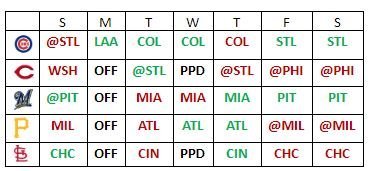 NL CENTRAL SCOREBOARD/STANDINGS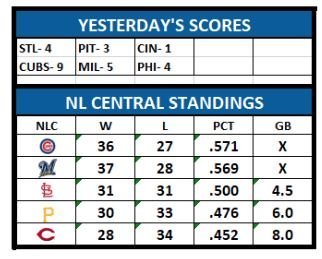 Tags: Cubs Baseball
,
Kyle Hendricks
,
,
Kyle Schwarber
,
Victor Caratini
,
Kyle Ryan
,
Brandon Kintzler
,
Tyler Chatwood
,
Willson Contreras
,
Yu Darvish
,
Jose Quintana
,
Cole Hamels
,
,
Daniel Descalso
,
Ben Zobrist
,
Joe Maddon