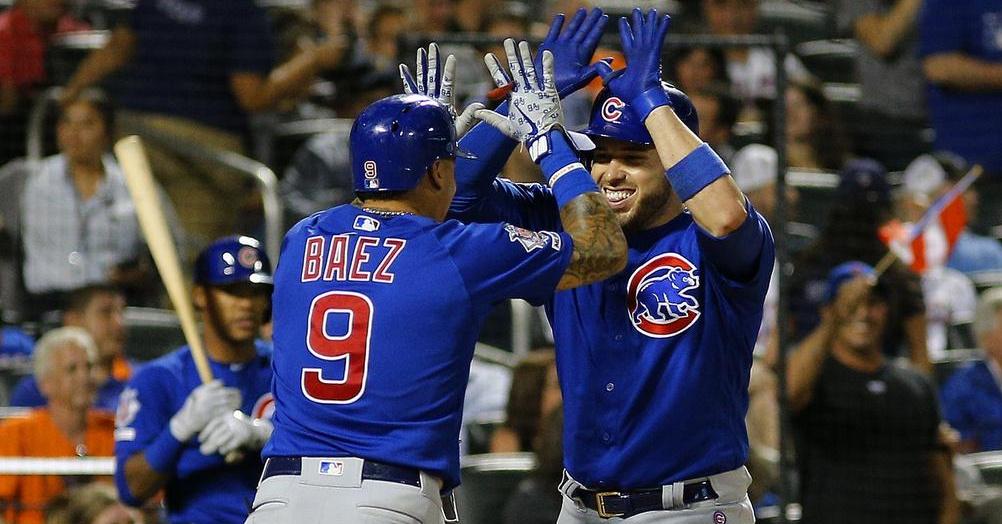 | | |
| --- | --- |
| Cubs News and Notes: Fly the Sweep, Contreras update, Epstein speaks, Lee Smith Day, more | |
---
| | | |
| --- | --- | --- |
| Friday, August 30, 2019, 8:55 AM | | |
Next Game: Friday: LHP Jose Quintana (11-8, 4.05 ERA) vs RHP Chase Anderson (6-3, 4.34 ERA). Game information: 1:20 PM CDT; WGN, SAP WGN, MLB Network (out of market only).
Yesterday's Game Recap:
I'm impressed. The Cubs won two out of three going into last night, setting new 2019 records for road streak wins (4) and consecutive wins at Citi Field (I'll still call it Shea Stadium), with the number of wins (prior to the game) standing at six.
It only took Jon Lester eight pitches to put the Mets up 1-0, as Davis blasted a fastball to straight-away center, but Victor Caratini would die it up in the second with a monstrous smash to right. Game tied 1-1.
.@VictorCaratini's game-tying blast!#EverybodyIn pic.twitter.com/WkwdMSDLy5

— Chicago Cubs (@Cubs) August 29, 2019
For the next several innings, it was the "Lester and deGrom Show," with neither pitcher allowing another run through the sixth frame. Through the sixth, deGrom had given up just one hit, while Lester had given up a total of five. That all changed in the top of the seventh.
Kris Bryant reached on an infield single, then Javier Baez would poke a single up the middle that eluded everyone near its path. If one homerun is good, two are better, and that's precisely what Caratini did, to put the Cubs up 4-1. Watch the bat drop- he all but put the bat in the lap of Mets' catcher, Wilson Ramos. #HomerunPimp
Have yourself an evening, @VictorCaratini!#EverybodyIn pic.twitter.com/JXYuyD1yEA

— Chicago Cubs (@Cubs) August 30, 2019
Tyler Chatwood would secure the seventh inning, Brandon Kintzler would hold down the eighth, and Craig Kimbrel would notch another save. Cubs win this one 4-1, complete the sweep and head home for an afternoon game with the Brewers this afternoon.
#Cubs sweep Mets behind Caratini's two-homer game.

Recap: https://t.co/4ZnFxcjii7 #EverybodyIn pic.twitter.com/NqP4lWDiWA

— Chicago Cubs (@Cubs) August 30, 2019
Man of my word: Oh yeah, before I forget… When I predicted the Cubs would lose this series 2-1, a reader on Twitter challenged me to a bet, claiming that the Cubs would sweep. When I told him that if anyone swept, it would be the Mets, he offered to plaster my face on his profile for a week if the Cubs got swept (I wouldn't wish that on anyone). In turn, I told him I'd give him a mention in the column if the Cubs swept.
@KenAllison18 you may spell my name Eddie Shovan ??

— #Cubsfam?? ?????????? (@Eddie_Shovan) August 30, 2019
OK, Eddie Shovan, you win- and yes, you're a god- I never mind losing bets like this though. Want a part time job writing my series predictions?
CUBS NEWS AND NOTES
Cubs/Mets Probable Pitchers: Saturday: LHP Cole Hamels (7-4, 3.73 ERA) vs RHP Zach Davies (8-7, 3.90 ERA). Game information: 1:20 PM CDT; NBC Sports Chicago. Sunday: RHP Yu Darvish (5-6, 4.25 ERA) vs LHP Gio Gonzalez (2-2, 4.34 ERA). Game information: 1:20 PM CDT; NBC Sports Chicago.
Javy extension: While the Cubs didn't stand in the way of a rumor circulating yesterday about their willingness to listen to offers on Kris Bryant this winter, chatter also says that they've also reportedly began considering trying to get an extension in place for Javier Báez.
(Please note, the following Theo Epstein quotes came from his appearance on the Bernstein & McKnight Show- 670 The Score).
Theo on Castellanos: "He is an example of the kind of acquisition we've tried to make."
You've got him Theo, and he'll be the backbone of the Cubs' offense for a good while- IF you re-sign him. Let's hope that quote echoes and resonates through Epstein's mind until he starts locking down the winning pieces for 2020.
Theo on the season: "I think it's pretty clear what's a stake. A lot of work from the players, from the staff, has gone into making this a successful season. We all feel like we should be winning divisions and competing into October."
Theo on Contreras: Theo says that all is going well with Willson Contreras, and that he had on-field activities yesterday. Next stop: Iowa for a rehab game on Friday. The Cubs say the plan is for Willy to catch 2-3 innings in that game.
Contreras taking some hacks pic.twitter.com/nmC5ZcHzpV

— Mark Gonzales (@MDGonzales) August 29, 2019
Chili Davis: The short-lived Cubs' hitting coach from 2018 (now the hitting coach for the Mets) had some things to say when interviewed during the Cubs/Mets series in NY. "The Chicago experience is something that I'd rather put behind me. It didn't work. Let's just leave it at that." Davis also spoke about his personality clashes with some of the players, stating, "I was too outspoken."
Fangraphs Update: New day, new Fangraphs update. After coming in on Wednesday with a 73.6% chance of making the playoffs, the Cubs win over NY raided their chances to 78.4%. Great that the Cubs are trending upward, though 78.4% still only equates to a "high C" in the gradebook.
Playoff chances, per ESPN MLB page:
Nationals 97.1%
Cubs 78.4%
Mets 19.6%
Phillies 7.7%
Brewers 11.4%
D-Backs 2.4%

— Buster Olney (@Buster_ESPN) August 29, 2019
Lee Smith Day: The Cubs have announced that Sunday will be Lee Smith Day, celebrating the Hall of Famer's 180 saves with the Cubs. The day will also mark the 39th anniversary (to the day) that Smith made his major league debut.
Smith's Hall of Fame plaque will be on display at Wrigley Field for fans to view until the seventh inning.

— Mark Gonzales (@MDGonzales) August 29, 2019
Among the festivities, Smith will throw out the first pitch, lead the song with his family in the seventh-inning stretch, and the Cubs plan to hoist a flag with the number 180 on it. The Cubs will undoubtedly also be raising a flag with #46 on it. However, Pedro Strop currently owns that number. Festivities begin at 12:40 PM Central.
Victor's victory: I always liked Victor Caratini. I thought it was great that after being sent back to Iowa, he stood up for himself and told Theo that he's outgrown the minors and that he deserved a shot to be in Chicago. He's made the most of it, playing first base as needed, and stepping up to fill the shoes of Willson Contreras, when Willy went down with the hamstring injury. Oh, and lest we forget his 4.0 innings on the mound…
When Caratini suffered a broken hamate bone (located in the hand) earlier this year, he completed his at-bat before being removed from the game. He underwent surgery, attacked his rehab, and returned ahead of schedule. He's been an offensive beast, and he's brought out the best in Yu Darvish. How much more can you ask out of a kid?
Cubs' History 101: On this date back in 2002, The Cubbies had a switch hitter named Mark Bellhorn who accomplished something nearly impossible- he had homers from each side of the plate in the same inning. What are the odds?
#WindyCityLegends: 17 years ago #OTD, MARK BELLHORN (caps necessary) homered from both sides of the plate...in the same inning ??

(@Wintrust) pic.twitter.com/yey6sc6l8Z

— Cubs Talk (@NBCSCubs) August 29, 2019
Baseball Quotes: "In baseball, my theory is to strive for consistency, not to worry about the numbers. If you dwell on statistics, you get shortsighted, and if you aim for consistency, the numbers will be there at the end." -Tom Seaver
The one constant through all the years has been baseball. America has rolled by like an army of steamrollers. It's been erased like a blackboard, rebuilt, and erased again.

But baseball has marked the time. This field, this game, is a part of our past. -Field of Dreams pic.twitter.com/UJs1XXtWID

— Baseball Quotes (@BaseballQuotes1) August 29, 2019
Cubs Birthdays: Celebrating yesterday, were ex-Cubs Logan Watkins (30), Anthony Recker (36), Henry Blanco (48), and posthumously, Dave Cole (88) and Ensign Cottrell (131).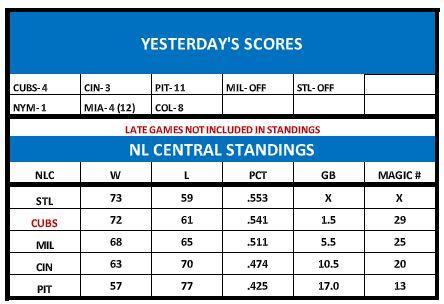 Tags: Cubs Baseball
,
Victor Caratini
,
Jose Quintana
,
,
,
,
Tyler Chatwood
,
Brandon Kintzler
,
Cole Hamels
,
Yu Darvish
,
Willson Contreras
,
Pedro Strop
,
Henry Blanco
,
Theo Epstein
,
Chili Davis