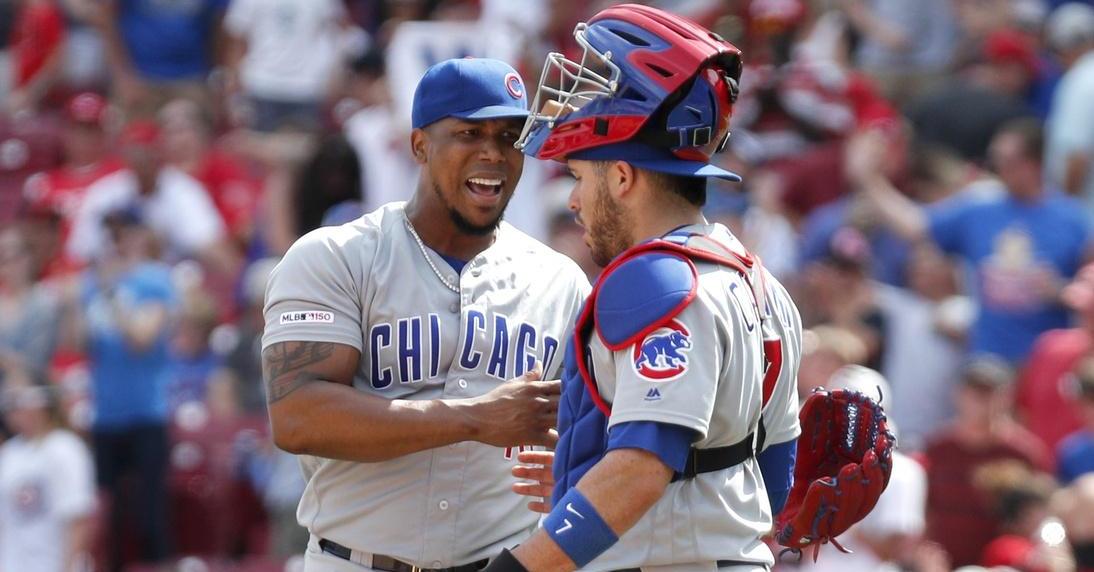 | | |
| --- | --- |
| Cubs News and Notes: Fly the W, Maddon's future, Schwarbs heating up, Big Z's return, more | |
---
Next Game: Tuesday: LHP Jose Quintana (10-7, 4.23 ERA) vs LHP Jason Vargas (6-6, 4.09 ERA). Game time 6:05 PM CDT; NBC Sports Chicago, MLB Network (out of market only).
Sunday's Game Recap:
After a hideously ugly loss on Saturday, the Cubs found themselves in a position where the best they could do was settle for a tie in their series with the Reds. This marks the 11th straight road series that the Cubs have either lost or tied. This is not conducive to winning a pennant or making a run in October.
It was smooth sailing for Big Jon and the Cubs through the first two innings. The Cubs didn't score, but then again, neither did the Reds; that would change in the third. After Senzel singled, he'd steal second and come all the way home on Votto's double, to put the Reds up 1-0. Next, after issuing a two-out walk to Suarez (and by the way, Jon had more than a few choice words for home plate ump, Angel Hernandez, over the ball-four call), Lester proceeded to give up a single to Aquino, making it 2-0 Reds.
While the Cubs remained scoreless through five (they never even had a man reach second base), the Reds grabbed yet another run in the fifth when Lester gave up a solo shot to Eugenio Suarez with two gone. Reds lead 3-0. I'll admit, my initial reaction was "Oh, $#!@, here we go again."
The Cubs would finally hit pay dirt in the sixth when Jason Heyward scored from second on Javier Baez's double. Cubs down 3-1.
Good news: While the Reds were done scoring for the day, the Cubs weren't.
The Cubs would finally get after it in the seventh, beginning with Ian Happ's double to left-center. I felt terrible for Happ on this one, as he missed a home run by what looked to be about three inches- so close that it warranted a replay review. Victor Caratini would manage to move Happ to third, then Ian would score on Tony Kemp's groundout to the right side.
With two away, Jason Heyward would leg-out an infield single, followed by Nick Castellanos' single. At this point, David Bell replaced Castillo with
Michael Lorenzen; a move that he'd soon regret. Hello, Kris Bryant. Cubs up 5-3.
KB for the lead! #KBoom#EverybodyIn pic.twitter.com/HEKO8E7Bkc

— Chicago Cubs (@Cubs) August 11, 2019
Ian Happ may have gotten cheated by a few inches in the seventh, but he'd find redemption in the eighth.
I'm like that. ??#EverybodyIn pic.twitter.com/SEvHbgh176

— Chicago Cubs (@Cubs) August 11, 2019
Up by three runs and lacking most of his bullpen experience, Joe Maddon would give Pedro Strop the closing duties. As soon as Strop put a man on base, Tommy Hottovy was calling the bullpen, getting another arm ready, signifying that Strop isn't back in Joe's circle of trust, at least not quite yet.
Fortunately, Strop held, earning himself his 11th save, while Rowan Wick was credited with the win. Final score 6-3 Cubs.
Bryant's clutch homer leads #Cubs to victory in series finale.

Recap: https://t.co/tQvdSLqovd #EverybodyIn pic.twitter.com/nL5euHS5Fh

— Chicago Cubs (@Cubs) August 11, 2019
CUBS NEWS AND NOTES
Cubs/Phillies Probable Pitchers: Wednesday: LHP Cole Hamels (6-3, 3.09 ERA) vs RHP Aaron Nola (10-3, 3.67 ERA). Game time 6:05 PM; NBC Sports Chicago, ESPN, ESPN (out of market only). Thursday: RHP Yu Darvish (4-6, 4.43 ERA) vs. RHP Drew Smyly (2-6, 6.96 ERA). Game time 6:05 PM CDT; WGN, MLB Network (out of market only).
KB on the comeback: Here's Cubs' third baseman Kris Bryant, discussing the Cubs' come from behind victory over the Reds yesterday.
Bryant on comeback win over Reds. pic.twitter.com/aY33SDY4dV

— Paul Sullivan (@PWSullivan) August 11, 2019
Are you blind? Just before Suarez's blast off of Lester, Joey Votto (who'd just struck out) could be heard screaming at Angel Hernandez from the Reds dugout… for those who don't know the umps very well, Angel (in addition to being just God-awful), is also loathed by most MLB players.
While the calls (pictured below) worked out great for the Cubs' pitchers, remember… that knife cuts both ways.
All strike three calls from Angel Hernandez on Joey Votto today pic.twitter.com/YkNt0MzJQD

— Jeremy Frank (@MLBRandomStats) August 11, 2019
Maddon in 2020? Do you think Joe Maddon will return as the Cubs' skipper next year? Well, Joe does.
Joe Maddon Believes He'll Manage Cubs Beyond 2019 https://t.co/rkrjXLlxcw pic.twitter.com/Fj2hLwjyfF

— MLB Trade Rumors (@mlbtraderumors) August 11, 2019
I've made no secret out of my feelings on the matter. Maddon has been excellent, but I believe the Cubs need something more. Not that things going astray have been all Joe's fault- not hardly, but I genuinely sense some disconnect between him, the team and perhaps with Theo and the ownership. Something hasn't been right all year, and maybe it has a lot to do with the tension of not being offered an extension, but whatever it is, things just haven't clicked with any consistency.
I do believe Joe will finish the season as if Theo was going to change managers mid-stream, he'd have done it coming out of the All-Star break. Maybe he's hoping Joe can turn it around somehow, or perhaps he doesn't have a reliable (or available) replacement. I wish things could click for the last six weeks of the season, and I hope the Cubs can travel deep into October, but whether Joe's fault or not, I don't see it happening, and unfortunately, he'll inevitably become the fall guy.
"Unbelievable": Reds announcer, Thom Brennaman, was none too pleased when KB took Lorenzen deep in the seventh yesterday, giving the Cubs their first lead of the day. "Unbelievable," he exclaimed, "UN-BEE-LIEVABLE!" Hey Thom? I feel your pain, buddy. I'd been saying that same thing for two straight days until yesterday.
We live for Thom Brennaman tears pic.twitter.com/FGSilJMQK9

— Cubs Talk (@NBCSCubs) August 11, 2019
Relying on the rookies? Pedro Strop keeps suffering recurrent injuries and has struggled all year when he is healthy. Craig Kimbrel's out with a knee issue, and Brandon Kintzler is fighting a pectoral strain. Steve Cishek, also very unreliable at times, has now hit the IL for a hip issue. Who's left? Well, Joe Maddon seems to think this is the chance for someone- maybe Kyle Ryan- to not only shine but to carry the team. "Who knows? ... Maybe more than one of these guys can be the guy," Joe Maddon said. "Opportunity is there for some people, and now is the time to take advantage of it."
Schwarbs heating up: Kyle Schwarber may not have been the answer for the Cubs' leadoff man position (although for a brief time, I thought maybe he'd be the guy), but he is definitely contributing. Granted, he's not always making solid contact, but it's impressive that he has lowered his strikeout rate (since the break) to an incredible 12.4% (ironically, his walk rate is exactly the same through 89 plate appearances, before yesterday's game).
Almost at 100 PA's since the All Star Break for Kyle Schwarber and wow. Look at these numbers. BB & K% are identical.
wRC+ = 159 (22nd in MLB)
OPS = 1.029 (19th in MLB)
9 HRs - T9th
All of this with a BABIP of .196
More of this plz. @BleacherNation @TonyAndracki23 @thekapman pic.twitter.com/ver5Azusrc

— Brandon Spinner WAFF (@wxSpinner89) August 11, 2019
Zambrano's return: Former Cubs' slugger (oh, and he pitches too) Carlos Zambrano has been talking about trying to make a comeback for two years; he's now taken his next step toward achieving his goal. No, it's not the Cubs, nor is it MLB or any Cubs minor league affiliate- Zambrano is pitching for the Chicago Dogs (Man, I love that name…). Will Big Z make it back to the majors at age 38, especially after spending seven years out of baseball? I'm skeptical, but it would make for a great story if he does. Go get 'em, Z.
BREAKING: We have a new starting pitcher for tomorrow's game.

It's Carlos Zambrano.#TakeABite pic.twitter.com/rKBJnDzkIC

— Chicago Dogs (@TheChicagoDogs) August 10, 2019
Zo's comeback: Joe Maddon thinks that utility man Ben Zobrist will be a leadoff candidate once he returns to the big league club.
Maddon says: 1. Heyward still leadoff man, at least until Zobrist is back. 2. "Anybody" can close tonight, maybe even Wick. 3. Jon Lester is fine and not the "weakest link" of the staff. "That's just Jon being himself... He actually believes that, which is not true."

— Paul Sullivan (@PWSullivan) August 10, 2019
Cubs' History On August 11, 2003, Kerry Wood made history. After leaving the Cubs in 2009, Wood would return to Chicago in 2011 and eventually finish his 14-year career in 2012 with a total of 1,582 K's.
On this date in 2003, Kerry Wood became the youngest pitcher in Major League history to reach 1,000 career strikeouts (134 games) #Cubs

— ChicagoCubsOnline (@TheCCO) August 11, 2019
Baseball Quotes: "In baseball, you can't kill the clock. You've got to give the other man his chance. That's why this is the greatest game. -Earl Weaver
In life, so many things are taken for granted, but one thing I can honestly say is that I took every day, enjoyed the game of putting on that uniform and playing the great game of baseball. -Wade Boggs pic.twitter.com/s7bbu7OBQ4

— Baseball Quotes (@BaseballQuotes1) August 10, 2019
Cubs Birthdays: Celebrating yesterday, were ex-Cubs Andrew Lorraine (47) and posthumously, Bob Scheffing (106), Louis "Bobo" Newsom (112), Karl Adams (128), and Pete Knisely (135).
THIS WEEK'S NL CENTRAL SCHEDULE:
(Wins in green, losses in red)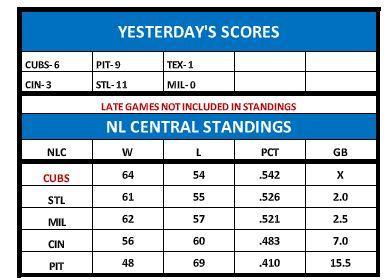 Tags: Cubs Baseball
,
Jose Quintana
,
Jason Heyward
,
,
,
Victor Caratini
,
,
Pedro Strop
,
Rowan Wick
,
Cole Hamels
,
Yu Darvish
,
Brandon Kintzler
,
Steve Cishek
,
Kyle Ryan
,
Kyle Schwarber
,
Joe Maddon
,
Tommy Hottovy