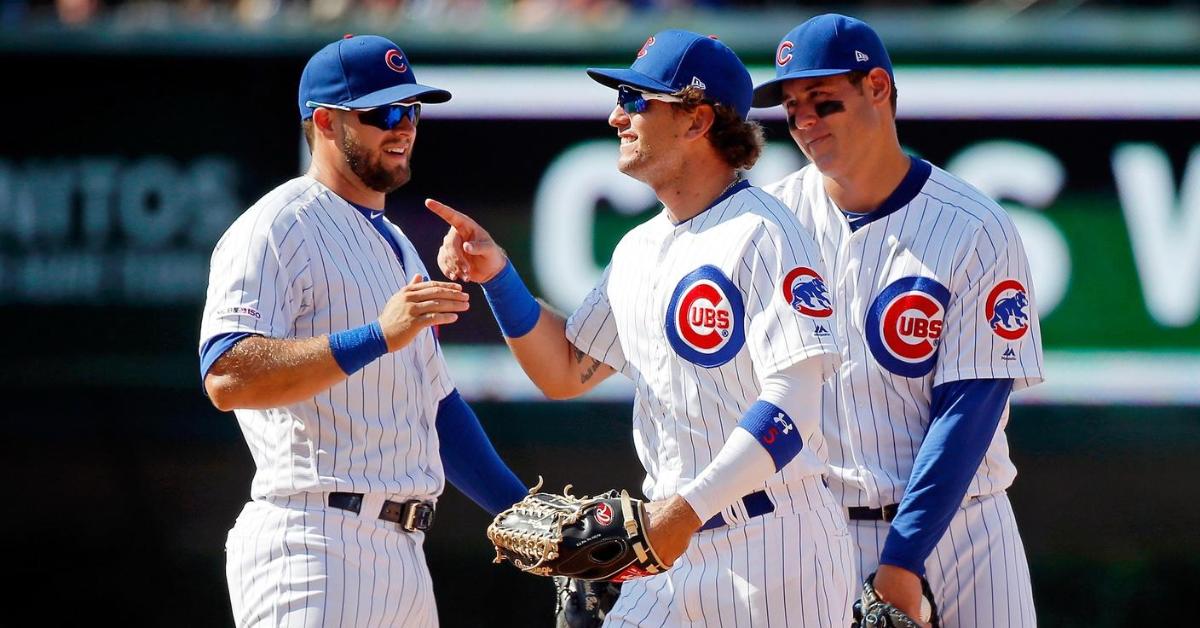 | | |
| --- | --- |
| Cubs News and Notes: Fly the W, Mills to start, Maddon's future, Schwarbs at leadoff, more | |
---
| | | |
| --- | --- | --- |
| Sunday, July 14, 2019, 8:11 AM | | |
Next Game: Today, 1:20 PM CDT: Pirates at Cubs. LHP Jose Quintana (6-7, 4.19 ERA) vs RHP Trevor Williams (3-2, 4.54 ERA).
Saturday's Game Recap:
Although it was just one game, Friday's win over Pittsburgh was a step in the right direction. The Cubs exhibited both teamwork and patience in their 4-3 victory and didn't fold when the pressure was mounting. Hoping to build off of that win, Jon Lester took the mound yesterday to face Jordan Lyles and the Pirates, as the Cubs looked to add to their divisional lead, which stood at 1.5 games before yesterday's outing.
I thought the Cubs played a good game, offensively, on Friday, but dear Lord, yesterday was amazing, and that was before the first inning ended. Hits, walks, a home run by Willson Contreras and a two-RBI single by Lester had the Cubs up 6-0, and Lyles only lasted 2/3 of an inning before being yanked.
Removing any doubt as to whether or not the #Cubs batted around in the 1st.#EverybodyIn pic.twitter.com/BWbFOoXtaD

— Chicago Cubs (@Cubs) July 13, 2019
The Cubs' 1st inning:

12 batters
7 runs
5 hits
4 walks
4-for-6 w/ RISP#EverybodyIn pic.twitter.com/BAQUfqcdPV

— Chicago Cubs (@Cubs) July 13, 2019
Big Jon just missed hitting a homerun in the first and settled for a long single. He didn't miss in the third, though.
.@JLester34 has homered in each of the last three seasons! #PitchersWhoRake #EverybodyIn pic.twitter.com/IB21x2KRZF

— Chicago Cubs (@Cubs) July 13, 2019
The Cubs would score another pair in the fourth on Addison Russell's hit, making the score 10-0 Cubs, and concluding their scoring for the day.
The Pirates would peck at the lead, scoring a run in the 5th, 6th, 7th and 8th (three of those coming from solo-home runs), but that's all they get, with the day ending on one of the best 6-4-3 double-plays that you'll ever see.
A little magic to end it. ??? pic.twitter.com/FBfperRUwY

— Chicago Cubs (@Cubs) July 13, 2019
Final score: Pirates-4; Cubs-10.
Jon Lester: 6.2 IP, eight hits, 3 ER (2 HR), 0 walks, six strikeouts.

CUBS NEWS AND NOTES:
Cubs/Reds Probable Pitchers: Monday, 7:05 PM: RHP Luis Castillo (8-3, 2.29 ERA) vs RHP Kyle Hendricks (7-7, 3.49 ERA). Tuesday, 7:05 PM: RHP Anthony DeSclafani (5-4, 4.26 ERA) vs RHP Alec Mills (0-1, 5.48 ERA). Wednesday, 2:20 PM: RHP Sonny Gray (5-5, 3.42 ERA) vs RHP Yu Darvish (2-4, 4.72 ERA).
Hello, second-half: You've heard it forever; the Cubs are a great second half team. Well, they've indeed started that way, anyway. With the win yesterday, Chicago secured its first series win in over a month and ensured that they'd stay at least 1.5 games ahead of Milwaukee. When they play baseball this way, they're not dependent on other teams losing (though it helps), and their lead in the division seems more valid somehow. I saw something different these last two days- the Cubs finally look as though they're playing like a team, as opposed to playing as nine individuals. Long way to go guys, but it's a good start.
Mills to start: Well, I have no idea why in the world Joe Maddon would bypass Tyler Chatwood (again), in favor of starting Alec Mills on Tuesday, but he is.
Alec Mills to come up from Iowa to start Tuesday for #Cubs

— Bruce Miles (@BruceMiles2112) July 13, 2019
Mills is just coming off an IL stint for an arm injury, and rather than to work him out of the pen, Joe's shooting for another stressful day with the Reds. Pitchers seem to be coming out of Iowa much improved this season, so I guess we'll see, but I'm left wondering who's getting sent down, and it had better not be Robel Garcia.
Maddon on the future: When Joe Maddon was asked about how he views the rest of the season and the team's future after 2019, Maddon said, "That's not a good way to look at it, from our perspective... That would be very unhealthy. You need to continue to work on it [on] day by day basis. Things will happen as they're supposed to happen. To create more gravity about a moment, I don't think that necessarily ever works."
Maddon on Schwarber: Speaking about Kyle Schwarber's OBP which is now down to an ugly .317, Joe Maddon says, "The biggest thing for me, is to accept his walks. That's what will get him going again, more than anything." The Cubs have quite the situation here, as Schwarber has been the best leadoff man this season (and yes, that includes Ben Zobrist), but they certainly cannot continue to rely on a leadoff man who's slashing .224/.317/.451.
Meet the Electronic Zone: Here's a sneak peek at what a call by the electronic strike zone looks like. I'd hoped that this would ensure the accuracy of calls, but now I'm wondering…
A called third strike by the Trackman system/robot umpires in the Atlantic League. pic.twitter.com/eBO74kNcqi

— Baseball Quotes (@BaseballQuotes1) July 13, 2019
Is Theo to blame? The Cubs have changed pitching coaches, hitting coaches, strategies and players, but little has changed throughout the course of 2019. We know Tom Ricketts isn't going anywhere, leaving Theo Epstein and Joe Maddon as the sole people to now shoulder the blame. Maddon has to play the hand he's dealt, but Theo is the one who deals the cards, and he is frequently able to buy himself a new deck. ESPN 1000 asks a very tough question:
Theo is fine as long as he can outspend his mistakes.

— ESPN 1000 (@ESPN1000) July 13, 2019
Hamels on the mend: Cole Hamels, still sidelined from a left-oblique strain that he suffered on June 30th, started playing catch from flat ground on Friday and Saturday. The Cubs have not yet determined who will take Hamels start, next time around.
Net gain: In the wake of the tragedy involving a foul ball from Albert Almora Jr.'s bat that injured a little girl in Houston, teams have started to erect netting from foul-pole to foul-pole. The White Sox had it done over the All-Star break, and now the Orioles have committed to doing the same.
All 30 teams will eventually have netting from foul pole to foul pole in part because of the potential for legal liability. A team's possible defense in a lawsuit frayed if it's one of very few teams -- or the only team -- that doesn't extend its netting. https://t.co/12MtA8rgEf

— Buster Olney (@Buster_ESPN) July 13, 2019
Earlier this week, Commissioner Rob Manfred was on ESPN 1000, and despite being asked three separate times, refused to commit to mandating that this become a rule, citing the different layouts of the stadiums and the difficulty of doing so in some of those.
While I was initially against it, I was able to see two games in two days a couple of weeks back, with both sets of seats behind the netting, and it didn't bother me at all. The nets will undoubtedly quell injuries to fans, which is first and foremost, but it's also going to affect (eliminate) those plays where players make a fantastic catch while diving into the stands.
Furthermore, when a ball touches netting, it is considered a dead-ball, which is going to eliminate a ton of foul-outs, but again, safety first.
The tribute continues: In their first game back from the break, The Angels paid tribute (in more ways than one) to former teammate, Tyler Skaggs, who died earlier this month. It started with every player wearing #45 with Skaggs' name, and Tyler's mom throwing out the first pitch, but what the Halos accomplished, in the end, was both priceless and heartwarming. A combined no-hitter against Seattle, followed by every member of the Angels removing his jersey and laying it on the mound.
Skaggs, who died July 1, would have turned 28 yesterday. No cause of death has been determined, but suicide and foul play have been ruled out.
No words. #45 pic.twitter.com/MmytNT6cW4

— Eric Kay (@EKay2121) July 13, 2019
For Tyler. pic.twitter.com/yJLRnfv7c9

— Los Angeles Angels (@Angels) July 13, 2019
By the way, the last time a combined no-hitter was thrown in California, was on July 13, 1991 (Oakland vs. Baltimore)- the same day Tyler Skaggs was born, and the irony and oddities didn't stop there…
The story will give you chills.

• Tyler Skaggs' mother throws first pitch
(Angels throw no-hitter)

• Trout hits HR exactly 454 ft
(Skaggs wore No. 45)

• Franchise's 11th no-hitter
(Skaggs wore No. 11 in HS)

• Score 7 runs in 1st, 13 runs total
(Skaggs birthday is 7/13) pic.twitter.com/d5tb0yH5hD

— CBS Sports (@CBSSports) July 13, 2019
Baseball Quotes: "I'm a guy who just wanted to see his name in the lineup every day. To me, baseball was a passion to the point of obsession." -Brooks Robinson
Don't you have any reserve players?

No.

What about that guy over there eating sunblock? -The Benchwarmers pic.twitter.com/lQmcbPaaJQ

— Baseball Quotes (@BaseballQuotes1) July 12, 2019
Cub Birthdays: Celebrating yesterday, were ex-Cubs DJ LeMahieu (31), Bill Caudill (63), Jack Aker (79), and posthumously, Don Bryant (78), Frank Hiller (99), Clarence "Footsie" Blair (119), Gene Packard (132), John O'Brien (153), and George Bradley (167).

Tags: Cubs Baseball
,
Jose Quintana
,
,
Willson Contreras
,
Addison Russell
,
Kyle Hendricks
,
,
Yu Darvish
,
Tyler Chatwood
,
Robel Garcia
,
Kyle Schwarber
,
Ben Zobrist
,
Cole Hamels
,
Albert Almora Jr
,
Joe Maddon
,
Theo Epstein