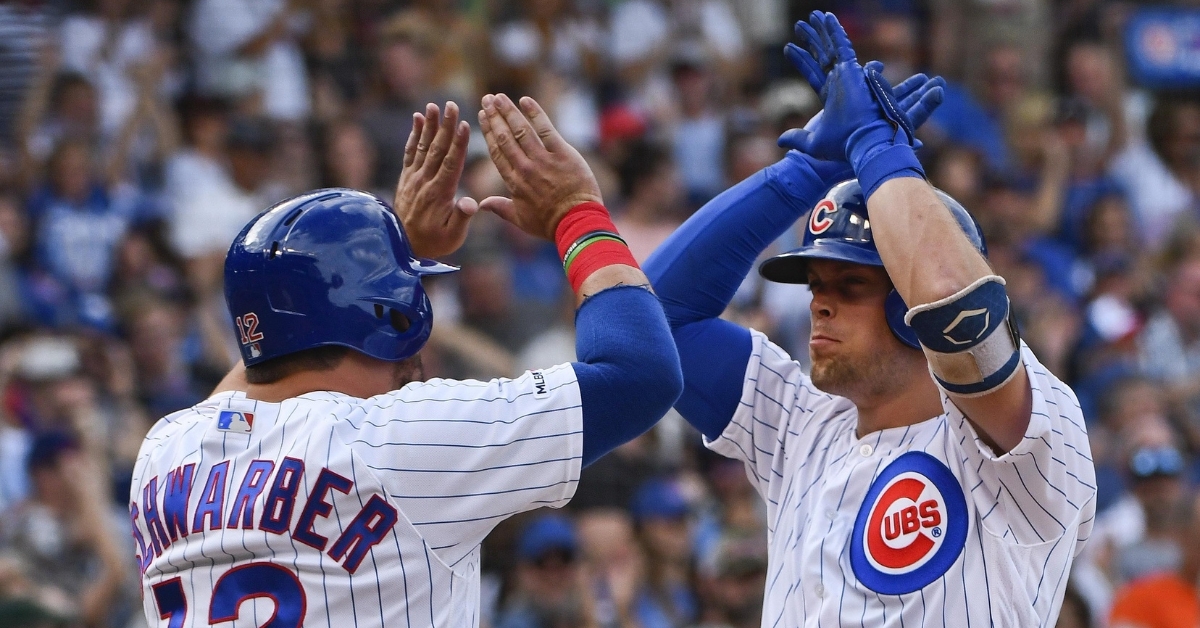 | | |
| --- | --- |
| Cubs News and Notes: Fly the W, Roster moves, K-mania, Manager rumors, Standings, more | |
---
| | | |
| --- | --- | --- |
| Saturday, September 14, 2019, 8:12 AM | | |
Next Game: Saturday: RHP Kyle Hendricks (10-9, 3.33 ERA) vs RHP James Marvel (0-1, 3.60 ERA). Game information: 1:20 PM CDT; Televised on NBC Sports Chicago and MLB Network (out of market only).
Friday's Game Recap:
Woohoo (heavy sarcasm added), the Cubs managed to salvage a split against a team they should've destroyed. The good news is that they're finally done with the road for the next ten games, the bad news is that they have nothing, but divisional games left this year. Last night, they opened a three-game set with Pittsburgh.
The Pirates took an early lead on walks, hits and a comedy of errors in the first. Newman led off with a single, then Lester went 3-2 on Reynolds. Jon Lester's next pitch was ball four, but with Newman running, Willson Contreras (not knowing it was ball four) then air-mailed a ball to second, and Newman took third. When Albert Almora Jr. threw off his mark, Newman score and Reynolds took second. Next, Reyes would triple with two men on, to make it 3-0. The ensuing double would make it 4-0 before Lester finally got out of the inning after his 34th pitch.
The Cubs would bite back in the first when Nicholas Castellanos homered to the left with Anthony Rizzo on base (single).
Nicholas Castellanos matches his career high with home run No. 26.

15 have come with the #Cubs. #EverybodyIn pic.twitter.com/rMGVyzVoRb

— Chicago Cubs (@Cubs) September 13, 2019
And then Willson Contreras clobbered one…
Well struck, Willy!#EverybodyIn pic.twitter.com/9ERYGcAe3X

— Chicago Cubs (@Cubs) September 13, 2019
And then after Kyle Schwarber doubled, Nico Hoerner would homer in his first at-bat in his first-ever game at Wrigley. POW.
The first career home run for @nico_hoerner in his first Wrigley Field game!#EverybodyIn pic.twitter.com/jMuBjVM0nT

— Chicago Cubs (@Cubs) September 13, 2019
Let's see… that makes it 5-3 Cubs at the end of one. If you thought Lester's 34-pitch inning was bad, Brault threw 35. At this rate, both starters will be nearing 100 pitches after three innings, and the final score should be 40-36 Cubs. Who needs football?
The Pirates would try to grab one in the third, but Contreras took a laser from David Bote and applied the tag for the third out. The ruling was challenged by Clint Hurdle but was upheld.
I'm guessing Contreras felt guilty that throwing error in the 1st, as he belted the homer, but then he decided to make up for it, with his second dinger of the day. Cubs up 6-4 Cubs after three.
.@WContreras40 has 915 feet of home run distance through two at-bats.#EverybodyIn pic.twitter.com/HAGGXHY81y

— Chicago Cubs (@Cubs) September 13, 2019
Oh, but that was just the beginning… Bote walked, Albert Almora Jr. singled and Lester walked, which would bring up the greatest leadoff man ever. Hurdle probably should've gotten Brault out of there, but nope; Pow. Goodbye. Cubs up 10-6 in the third- and still nobody out at this point.
There's something about Tony. #GLHOAT #TeamRizzo#EverybodyIn pic.twitter.com/dy33mDPJIg

— Chicago Cubs (@Cubs) September 13, 2019
Hurdle would pull Brault and put McRae in, then three walks to Castellanos, Kris Bryant, and Contreras would load them again with two out. Unfortunately, Kyle Schwarber- the 11th man to bat in the inning would fan. Cubs up 10-4.
Rut-roh, the Pirates would grab three more in the fifth, which would end Lester's day. 10-7 Cubs.
If I wrote in detail what the Cubs did in the bottom of the fifth, you'd be reading this until Sunday, so here are the highlights: The Cubs didn't even have a baserunner until there was two-away, then all hell broke loose.
KB would have been the third out, but a challenge by Maddon overturned the play. Contreras singled, Schwarber HBP, Hoerner RBI single, Bote walked, Jason Heyward doubled, Tony Kemp singled, Rizz singled, Castellanos doubled (#50) and KB lines out to end the inning. Total 7 runs; Cubs up 17 - 7 after 5.
Fine, two 5-run innings and one 7-run inning.

Also, Nicholas Castellanos has 50 doubles this season. pic.twitter.com/yM8Uoseges

— Chicago Cubs (@Cubs) September 13, 2019
The Bucs would grab one more in the eighth, but that wouldn't even put a dent in the Cubs' day. Final score: Cubs-17; Pirates-8.
Sing the song, Fly the W and sign Nico Hoerner to an extension.
What a home debut! @nico_hoerner is the first Cub since at least 1908 with multiple four-RBI games in his first five MLB contests. #EverybodyIn pic.twitter.com/OYl2xVt8Qv

— Chicago Cubs (@Cubs) September 14, 2019
CUBS NEWS AND NOTES
Cubs/Pirates Probable Pitchers: Sunday: LHP Jose Quintana (13-8, 4.00 ERA) vs RHP Trevor Williams (7-6, 5.21 ERA). Game information: 1:20 PM CDT; Televised on WGN and SAP WGN.
Cubs/Reds Probable Pitchers: Monday: LHP Cole Hamels (7-7, ERA) vs RHP Sonny Gray (10-7, ERA). Game information: 7:05 PM CDT; Televised on NBC Sports Chicago. Tuesday: RHP Yu Darvish (6-6, 3.97 ERA) vs RHP Tyler Mahle (2-11, 5.11 ERA). Game information: 7:05 PM CDT; Televised on ABC-7 and ESPN. Wednesday: LHP Jon Lester (12-10, ERA) vs RHP Luis Castillo (14-6, ERA). Game information: 7:05 PM CDT; Televised on WGN and SAP WGN.
NL Wild Card race: How the Phillies wound up with a Friday off, I'll never know, but every other team in the wild card race (besides the Cubs) lost last night. Not only does this mean that the Cubs have breathing room over Milwaukee, but they are also- once again- now in sole possession of second place.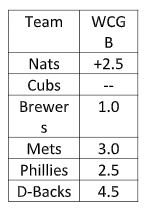 Roster Moves: Yesterday, the Cubs recalled right-hander, Dillon Maples. No corresponding move was made, and the Cubs' roster now stands at 37.
Darvish's newest weapon: The Padres went 0 for 7 with seven strikeouts against Yu Darvish when he threw his new knuckle curve (taught to him by Craig Kimbrel). After Tommy John surgery, Darvish he had lost his hard curve which had been his best pitch. With the knuckle curve, Yu says that he feels like he now has his best pitch back.
Darvish: no issues with forearm pic.twitter.com/cUjXQxXuyp

— Mark Gonzales (@MDGonzales) September 13, 2019
K-mania: Thursday's game marked only the second time since at least 1913 that the Cubs struck out at least 19 batters in a nine-inning game; the only other time was Kerry Wood's 20-K game.
Here comes trouble: Scott Boras spoke yesterday about the upcoming free-agency status of the Cubs' offensive savior this season- Nicholas Castellanos. Boras is already posturing to rake big bucks for Castellanos, and he's not likely to let the Cubs retain him cheaply. The Cubs will have some extra money this year, which I'll be discussing in an end of the year, multi-part article, but whether they'll be able to retain Castellanos, is yet to be seen.
According to MLB Trade Rumors, "Unsurprisingly, though, Boras doesn't seem as if he's willing to give the Cubs a discount [on Castellanos]. Well, big shock there. I've only been saying this since the minute Nicholas landed in the Cubs' clubhouse. After the Kris Bryant incident, Boras is not going to let the Cubs retain any of his clients, without bleeding them dry.
"He's the youngest free agent, and he doesn't have a qualifying offer. "So I would say he's in position to be optimally observed because he fits, really, the M.O. of any team — whether you're a rebuilding club, because of his age, whether you're a club that's close to winning and wants to win, or whether you're a club that is an existing top-eight club that's going to compete for the World Series. He's one of those guys that fits all clubs."
Tension in the Pirates' camp: According to MLB Trade Rumors' article, Pirates closer, Felipe Vazquez and pitcher, Kyle Crick, wound up in a brawl on Monday. The following is copied from the article, which says Vazquez was the aggressor: "The altercation began when Crick declined to turn off music that was playing at his locker when Vazquez asked him to, according to Wilborn. Vazquez then threw the initial punch at Crick after challenging Crick to hit him first. Both players wound up suffering injuries – Crick had to undergo season-ending finger surgery, while Vazquez needed stitches on his nose – and incurring team-imposed fines. The Pirates docked Vazquez $10K and Crick $2,500, but Crick [said that] he's filing a grievance because he was acting in self-defense." According to Crick,
"If we were on the street, this would've been assault," Crick said. "I got swung at twice before I swung back." Play nice, boys…
One would think that the Pirates' discourse might just play into them cooling off a little bit (on the field), which may play into the Cubs' favor, but instead, Pittsburgh had previously won three of their last four, and four of their last seven.
BREAKING NEWS: Albert Almora Jr. cut his hair

— Jordan Bastian (@MLBastian) September 13, 2019
Darvish's second half: I'm not sure what got into Yu Darvish when the second-half began, but I definitely like it: 66.1 IP, 2.44 ERA, 93 strikeouts, only six walks, a WHIP of 0.78 and he holds his opponents to a .191 batting average.
Amazing dexterity to throw 14 baseballs at once. But, hard to believe Ty France couldn't foul off at least one. https://t.co/ZQUj4NO0l0

— Jordan Bastian (@MLBastian) September 13, 2019
Who's next? With the likelihood of Joe Maddon being released becoming more and more likely (especially if the Cubs fail to make the playoffs), Ken Rosenthal suggests the two front runners for the job would be either Joe Girardi or David Ross. Not that those two names are new, the pair have been talked about as the likely successor to Maddon's for a year, but according to Rosenthal, the Cubs much prefer the idea of David Ross, despite him having no coaching or managerial experience.
Rizzo wins: Even when Ben Zobrist returns from his knee injury, he won't be batting leadoff- he'll be shuffled down in the order, as Anthony Rizzo has now been named the Cubs' leadoff man.
Maddon said he plans on sticking with Rizzo as Cubs leadoff hitter indefinitely. When Zobrist gets back into starting lineup, he will hit in the middle of the order.

— Tony Andracki (@TonyAndracki23) September 13, 2019
Injuries taking a toll: The injury bug has bitten the NL Central hard in the last week. First, the Cubs lost Javier Baez with a broken thumb, next Yelich broke his knee with a foul ball, and now, Cincinnati has lost Nick Senzel to a torn right labrum (shoulder).
Baseball Quotes: "Baseball is a lot like life. It's a day-to-day existence, full of ups and downs. You make the most of your opportunities in baseball as you do in life." -Ernie Harwell
Our lives are not determined by what happens to us but how we react to what happens, not by what life brings us but the attitude we bring to life. -Wade Boggs pic.twitter.com/mTgBCwCbmI

— Baseball Quotes (@BaseballQuotes1) September 13, 2019
Cubs Birthdays: Celebrating yesterday, were ex-Cubs Wade Miller (43), Greg Hibbard (55), and posthumously, Harold "Rabbit" Warstler (116), John Kelleher (126), and Walter "Dutch" Ruether (126).
THIS WEEK'S NL CENTRAL SCHEDULE:
(Wins in green, losses in red)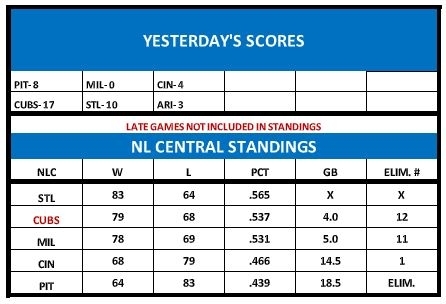 Tags: Cubs Baseball
,
Kyle Hendricks
,
,
Willson Contreras
,
Albert Almora Jr
,
Anthony Rizzo
,
Kyle Schwarber
,
David Bote
,
,
Jason Heyward
,
Jose Quintana
,
Cole Hamels
,
Yu Darvish
,
Dillon Maples
,
David Ross
,
Ben Zobrist
,
,
Joe Maddon