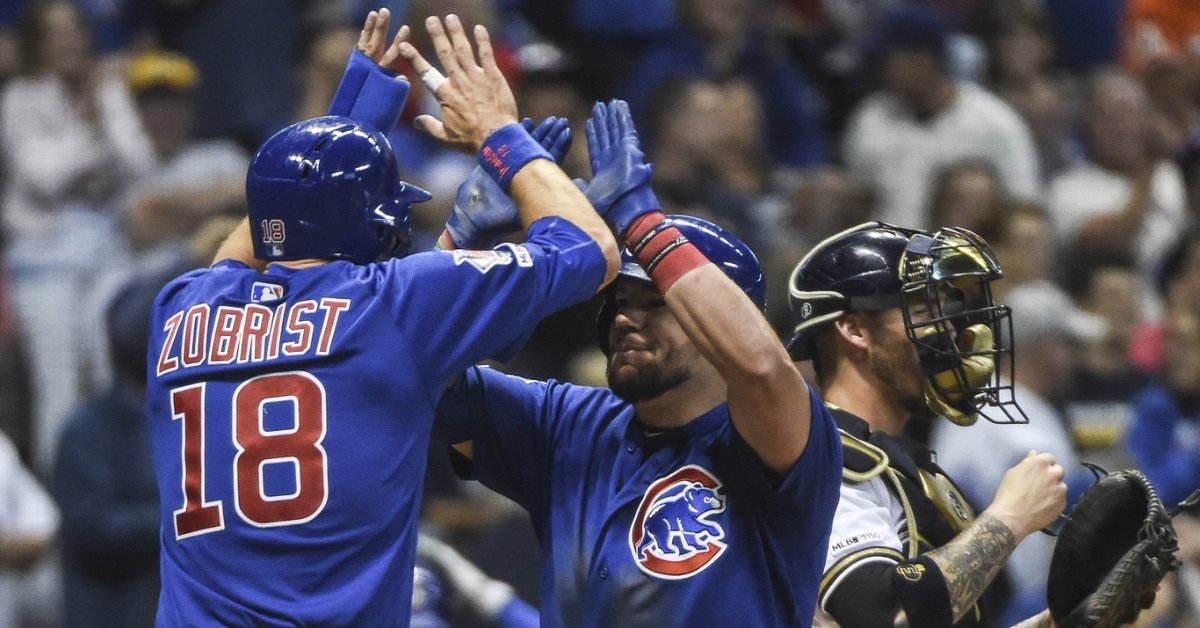 | | |
| --- | --- |
| Cubs News and Notes: Fly the W, Zo and Willy phenomenal, Kimbrel injured, KB update, more | |
---
| | | |
| --- | --- | --- |
| Friday, September 6, 2019, 8:01 AM | | |
Next Game: Friday: LHP Cole Hamels (7-5, 3.69 ERA) vs RHP Zach Davies (8-7, 3.76 ERA). Game information: 7:10 PM CDT; Televised on NBC Sports Chicago.
Thursday's Game Recap:
Coming off a two-game sweep of the Mariners, the Cubs ventured up to Wrigley North to try their luck against the Brewers in a four-game road set. Jose Quintana would get the start for game one, facing off against Milwaukee righty, Chase Anderson. The Cubs added Kris Bryant to the lineup, but Javier Baez became a late scratch, due to lingering thumb soreness. Before Javy being scratched, Theo had this to say:
Theo Epstein, on the Cubs' having their lineup intact:

"Everyone's talking about the lineup today and how exciting it is and satisfying to see those names together. And it's true. We're looking forward to satisfying and exciting box scores. The result, that's more important."

— Jordan Bastian (@MLBastian) September 5, 2019
The Cubs would cash in on a leadoff walk by Ben Zobrist when Willson Contreras hit a two-out double to the left.
.@WContreras40's two-out double puts us ahead in the 1st! #EverybodyIn pic.twitter.com/W1qgM2oiMv

— Chicago Cubs (@Cubs) September 5, 2019
The lead wouldn't last, as Hernan Perez took Q deep with a man on. 2-1 Brewers after one.
Q had to work himself out of a serious jam in the third, and his team would reward him for it in the fourth. Willson Contreras jacked a leadoff home run to the right (#23), backed up by Kyle Schwarber's double. The next three would go in order, but the Cubs did manage to tie it 2-2.
Willy the Beast!#EverybodyIn pic.twitter.com/ZsRmbTE6DF

— Chicago Cubs (@Cubs) September 6, 2019
Craig Counsell would cut Anderson's night short, replacing him to start the fifth (Jackson). The Cubs would retake the lead in the inning, beginning with another walk by Zo. Castellanos would follow that up with a single, then Anthony Rizzo hit a one-out double to score both of them. The Cubs would load them up again with an intentional walk to Schwarbs and then Russell who was hit by a pitch, but Jason Heyward (now 0 for his last 31), would fan to end the inning. 4-2 Cubs after 4-½.
One swing of the bat by Yasmani Grandal would tie it 4-4- in the bottom of the fifth.
Davis Bote would start the sixth with a single, followed by Ben Zobrist's single (Ben is now 2 for 2 with two walks and has scored three runs). KB would draw a walk to load the bases, then Rizzo's sac-fly would score Bote. The Cubs weren't even close to being done.
Willson Contreras would make it 3 for four on the night with a swinging bunt to load them again, then Schwarbs launched this monster (#33). Cubs up 9-4.
WHO NEEDS TOUCHDOWNS?#EverybodyIn pic.twitter.com/UV180nIh8h

— Chicago Cubs (@Cubs) September 6, 2019
Brad Wieck would give up a solo shot to Spangenberg to make it 9-5 after six.
The Cubs would fail to score in the seventh. However, a single by J-Hey would break his streak, and another single by Zobrist would add to his. In the eighth, it would be Willson Contreras who added another double to his stats (making him 4 for 5), but once again, the Cubs failed to push anything across. Cubs still lead 9-5.
David Bote's bomb in the ninth would make it 10-5, which is how this one ends.
Extra point.#EverybodyIn pic.twitter.com/xrkrpWC990

— Chicago Cubs (@Cubs) September 6, 2019
Fly the W, sing the song. Cubs stay 2-½ back, as the Cards clobbered San Francisco again.

CUBS NEWS AND NOTES
Cubs/Brewers Probable Pitchers: Saturday: RHP Yu Darvish (5-6, 4.25 ERA) vs LHP Gio Gonzalez (2-2, 4.14 ERA). Game information: 6:10PM CDT; Televised on WGN. Sunday: RHP Kyle Hendricks (9-9, 3.47 ERA) vs RHP Adrian Houser (6-5, 3.52 ERA). Game information: 1:10 PM CDT; Televised on NBC Sports Chicago.
Q and the Crew: Last night marked the 15th time since the 2017 All-Star break that Jose Quintana has started against the Brewers. This is the most that any starter has faced an opponent since the break-in 2017, and no other starter has faced the Brewers more than nine times in that span (Kyle Hendricks and Jack Flaherty of the Cards have nine each).
Yu Darvish Update: Yu Darvish played some catch in the outfield, before throwing a bullpen session yesterday, trying to gauge how his forearm tightness is progressing. Darvish missed his last start due to this issue, which has reportedly been going on for a month.
Darvish felt good in his bullpen, Cubs pitching coach Tommy Hottovy said, and he's still on track to start Saturday. Cubs will be cautious of the forearm injury and Darvish's innings in general this year, but all signs positive at the moment.

— Tony Andracki (@TonyAndracki23) September 5, 2019
Roster Moves: Yesterday, the Cubs optioned catcher, Taylor Davis to Triple-A Iowa. I was surprised that the team had called him up, especially when expecting Willson Contreras to be activated from the IL. Carrying three catchers is questionable (unless they all hit like Contreras and Victor Caratini), but carrying four is insane. Cubs' roster now at 34.
Kimbrel to the IL The Cubs placed closer, Craig Kimbrel on the IL yesterday with right elbow inflammation (retroactive to Monday). Kimbrel has already had an MRI, and thankfully, it was negative. This is certainly not what the Cubs needed at this point in the year, as bullpen by committee hasn't precisely worked for Joe Maddon. Joe seems to find some humor in the situation, though I'm not sure how.
Maddon with "Match Game" reference for Kimbrel replacement pic.twitter.com/aA7PwvMFzk

— Mark Gonzales (@MDGonzales) September 5, 2019
Kimbrel's velocity was up after returning from the IL in early August (knee injury), but it dropped again Sunday, which is when he reported discomfort in the elbow. According to Theo Epstein, "Sometimes when you have a lower-body injury, you come back from that and, full exertion, sometimes you can compensate in other areas." With Kimbrel's exit to the IL, the Cubs have once again recalled David Bote.
Theo on Kimbrel pic.twitter.com/2j3oTCd3XQ

— Mark Gonzales (@MDGonzales) September 5, 2019
Bam-Bam goes Boom-Boom.: Kyle Schwarber in now only one of three Cubs' left-handed hitters with 33 homers in a season. He joins Bill Nicholson (33 homers in 1944) and Billy Williams who hit 33 in 1964, 34 in 1965, 42 in 1970 and 37 in 1972 (Billy was the man). Since August second, Schwarbs has hit .294 with five doubles, a triple, nine homers, 23 RBI, a .394 OBP and a 1.088 OPS.
Bryant's knee injury: Kris Bryant says that his knee is something that he'll have to manage for the rest of the season. KB says that when he's in the batter's box or playing the field, he doesn't have any issues, but says that when he goes hard into a bag or hit hits first with his right leg, it tends to flare upon him.
Zo and Willy rake: How this for a night? Ben Zobrist: 3 for 3, 2 walks, three runs scored- batting average has catapulted to .270. Willson Contreras, 4 for 5, 2 RBI, two runs scored. Honorable mention to Bam-Bam who went 2 for 3 with a grand slam, one walk, 4 RBI.
Last Man Standing: Not that the playoff picture hasn't been crystal clear for every division except the NL Central, but it's starting to become official. While all five teams remain alive (in theory, anyway) in the NLC, that isn't the case elsewhere in MLB.
In the NL East Miami has now been eliminated. In the NL West, only the Dodgers and Arizona remain alive, with the D-Back's elimination number now down to four. Turning to the American League: In the AL West, only Houston and Oakland remain, although the A's are 9.0 games back. The AL Central is down to just Minnesota and Cleveland, with the Indians 5.5 games back, and the Yankees, Rays and Red Sox (in that order) remain alive in the AL East.
The Panda's hibernation: There are just some players that you tend to enjoy watching, no matter who's uniform they wear- Pablo Sandoval- aka The Panda- is one of those guys. Unfortunately, the season is over for the Panda, as he's now undergone Tommy John (and other arthroscopic) surgery, Sandoval was having one of the best seasons of his career, slashing .268/.313/.507 with 14 homers.
Baseball Quotes: "Speed is a great asset, but it's greater when it's combined with quickness - and there's a big difference. -Ty Cobb
If I keep taking my good swings, swing at the right pitches, good things will happen. -Aaron Judge pic.twitter.com/fBfIqAeU2M

— Baseball Quotes (@BaseballQuotes1) August 12, 2019
Cubs Birthdays: Celebrating yesterday, were ex-Cubs Tyler Colvin (34), Jeff Stevens (36), Cliff Bartosh (40), Candy Maldonado (59), and posthumously, Albert "Lefty" Leifield (136) and Ed Stein (150).
Also, a very happy 90th birthday to Chicagoan, lifelong Cub fan, and one of my favorite comedians of all time, Happy Birthday Bob Newhart! Hope you have a great day Bob! -GP @BobNewhart pic.twitter.com/J8fpFwc5vR

— Gary Pressy (@GaryPressy) September 5, 2019
THIS WEEK'S NL CENTRAL SCHEDULE:
(Wins in green, losses in red)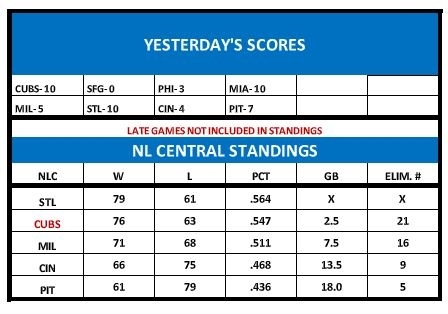 Tags: Cubs Baseball
,
Cole Hamels
,
Jose Quintana
,
,
,
Ben Zobrist
,
Willson Contreras
,
Kyle Schwarber
,
Anthony Rizzo
,
Jason Heyward
,
David Bote
,
Yu Darvish
,
Kyle Hendricks
,
Taylor Davis
,
Victor Caratini
,
Joe Maddon
,
Theo Epstein
,
Tommy Hottovy