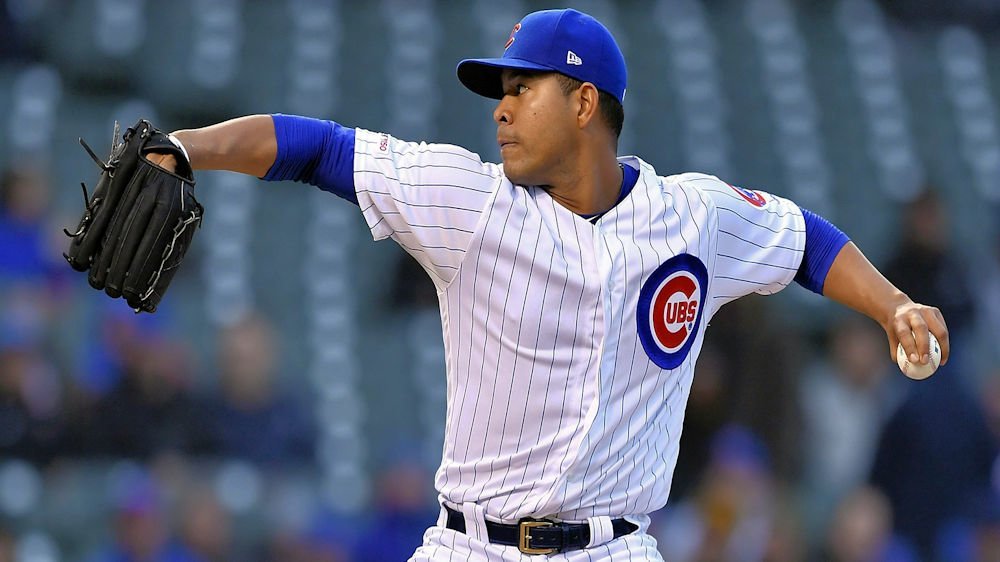 | | |
| --- | --- |
| Cubs News and Notes: Fly the W, Zobrist returning, Maddon on Rizzo, Contreras update, more | |
---
Next Game: Saturday: LHP Cole Hamels (7-4, 3.73 ERA) vs RHP Zach Davies (8-7, 3.90 ERA). Game information: 1:20 PM CDT; NBC Sports Chicago.
Yesterday's Game Recap:
After a surprising road-sweep over the Mets, the Cubs returned to NL Central action at Wrigley yesterday, hosting the Brewers for what could be a very pivotal three-game set. For the Cubs, it was José Quintana, while Chase Anderson took the hill for the Crew.
José Quintana would send the Crew down in order in the first, and then the Cubs pounced- hard. Ian Happ took the first pitch he saw and dumped it into the well in right field for a double. Two pitches later, Nicholas Castellanos would deposit Anderson's third pitch of the game into the left-centerfield bleachers.
Philosophize this.#EverybodyIn pic.twitter.com/NCYb5mYqZT

— Chicago Cubs (@Cubs) August 30, 2019
Víctor Caratini would single but get thrown out trying to stretch it into a double, and Kyle Schwarber would double, but the Cubs would only get two. Nice to see them rake four hits in the first though. Cubs up 2-0.
The Cubs got back after it in the second, this time with a double by David Bote, then an RBI double José Quintana.
Hardest-hit ball I've ever seen in my life. #EverybodyIn pic.twitter.com/FT7qIKvty8

— Chicago Cubs (@Cubs) August 30, 2019
After Happ reached on a fielder's choice (Quintana caught between second and third), Nick Castellanos did it again. 5-0 Cubs. (Dear Theo, I'm going to have a conniption if you don't re-sign this guy.)
Nicholas, did you see what they're saying about you on Twitter?

Nope. pic.twitter.com/8u33z6iE4A

— Chicago Cubs (@Cubs) August 30, 2019
Q would get himself into a bind in the fourth, as the Brewers had the bases jammed and only one out. A pair of strikeouts (Piña and Pérez) would solve that issue. Cubs up 5-0.
The Cubs would tack on a run in the seventh when Caratini's RBI single scored David Bote from third. 6-0, Cubbies.
Pedro Strop would blow the shutout, allowing the Brewers to grab a run in the eighth, but it wouldn't matter in the grand scheme of things.
In the bottom of the eighth, Kyle Schwarber would belt number 32 of the season to right, making it 7-1, which is how it would end.
Home run No. 32 for @kschwarb12!#EverybodyIn pic.twitter.com/Iz6SqVsgNa

— Chicago Cubs (@Cubs) August 30, 2019
Castellanos belts two homers as #Cubs win 4th straight.

Recap: https://t.co/5jXswdFTaR #EverybodyIn pic.twitter.com/IZrEzWFyxu

— Chicago Cubs (@Cubs) August 30, 2019
CUBS NEWS AND NOTES
Cubs/Mets Probable Pitchers: Sunday: RHP Yu Darvish (5-6, 4.25 ERA) vs LHP Gio González (2-2, 4.34 ERA). Game information: 1:20 PM CDT; NBC Sports Chicago.
Roster Moves: The Cubs activated Cole Hamels from the paternity list, and in a corresponding move, optioned RHP James Norwood to Iowa. Congratulations to Cole and his wife, and props to Mrs. Hamels for timing this around Cole's off days!
The Cubs will also be activating Ben Zobrist on Sunday. Because Zo hits better from the left, Joe Maddon says that he may not use him in the lineup against LHP Gio González that day and may wait until Monday. Maddon also says that he won't hesitate to use Zo in the leadoff spot, despite his batting
stats being down.
It's almost Zo-Time! ?? pic.twitter.com/F6UcQplUyk

— Cubs Talk (@NBCSCubs) August 30, 2019
Nick being Nick: The batting statistics are phenomenal, but the energy that Nick Castellanos produces daily is just insane. How could this not be infectious?
Bat slam?
Bat spike?
Bat thwomp?

Nicholas Castellanos redefines the game every day. pic.twitter.com/BVqLPcV8vD

— Chicago Cubs (@Cubs) August 30, 2019
Castellanos on the "bat-spike": "I don't really have an explanation. I didn't mean to do that or anything. It just came out. I don't know, that's just how I felt like expressing myself in that moment. I was looking to the guys and doing what I did."
When asked if he considered himself a "home run hitter," Castellanos replied, "I don't consider myself anything other than just somebody who loves to hit - kick high, swing hard, ya know?" As Castellanos took the field for the third, he tipped his cap (and took a quick bow) to the crowd in the right-field bleachers, who were still acknowledging his second homer of the day.
Maddon on Rizzo: Maddon says he still doesn't know precisely when Anthony Rizzo may return to the lineup.
"It's not starting lineup-worthy yet, but he's getting better. That's all I really know."
Welcome back, Willy: In Willson Contreras' first at-bat for Iowa last night, he was plunked with an 82-mph changeup. Contreras finished the night 0-1 (hard flyout to the left).
Final word on Tyler Skaggs: After being found dead in a Dallas motel room on July 1, The Tarrant County Medical Examiner's Office said in a report released Friday that Skaggs had the painkillers fentanyl and oxycodone, along with alcohol, in his system.
According to a statement released by the Skaggs family, a team employee has also been implicated in Skaggs' death. Part of the statement reads as follows: "We are grateful for the work of the detectives in the Southlake Police Department and their ongoing investigation into the circumstances surrounding Tyler's death. We were shocked to learn that it may involve an employee of the Los Angeles Angels. We will not rest until we learn the truth about how Tyler came into possession of these narcotics, including who supplied them. To that end, we have hired attorney Rusty Hardin to assist us."
Click here for the full story, written by ESPN News Services.
Dodgers take a huge hit: It's that time of the year again when you need to keep an eye on the entire league, as the playoffs are now just a month away. The Dodgers have dominated the National League this year, and even more specifically, the NL West, but they suffered a huge loss this week, as Max Muncy hit the IL with a fractured wrist. Muncy was hit with a pitch on Wednesday night.
Baseball Quotes: "A lot of guys like to ice up their arm. Still, other fellas think that heat is the way to go. But I, have discovered the secret, Henry...hot ice! I heat up...the ice cubes! It's the best of both worlds!" -Rookie of the Year
Fans don't boo nobodies. -Reggie Jackson pic.twitter.com/cQQh1iHakV

— Baseball Quotes (@BaseballQuotes1) August 29, 2019
Cubs Birthdays: Celebrating yesterday, were ex-Cubs Sean Marshall (37), Todd Wellemeyer (41), Marlon Byrd (42), Carmen Fanzone (78), and posthumously, Hazen "Kiki" Cuyler (121), Tom Seaton (132), and Cal McVey (170).

Upgrade Your Account
Unlock premium boards and exclusive features (e.g. ad-free) by upgrading your account today.
Upgrade Now

Tags: Cubs Baseball
,
Cole Hamels
,
,
Kyle Schwarber
,
David Bote
,
Pedro Strop
,
Yu Darvish
,
James Norwood
,
Ben Zobrist
,
Anthony Rizzo
,
Willson Contreras
,
Joe Maddon