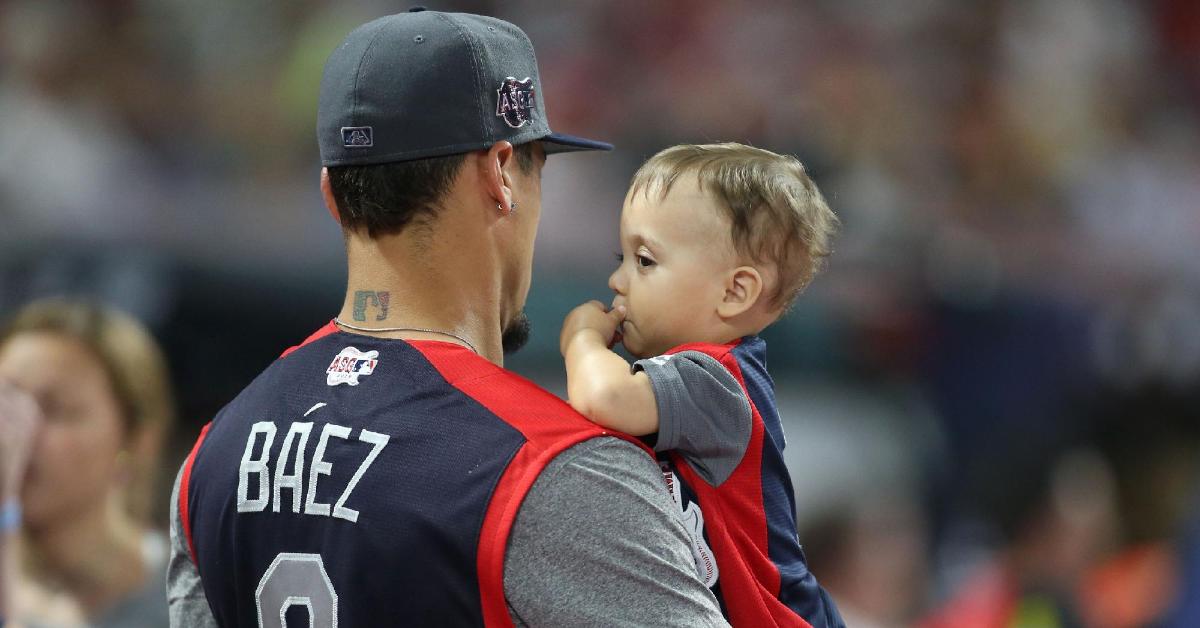 | | |
| --- | --- |
| Cubs News and Notes: It's all about All-Stars and maybe some trades | |
---
| | | |
| --- | --- | --- |
| Tuesday, July 9, 2019, 8:09 AM | | |
Next Game: Friday, 1:20 PM CDT: Pirates at Cubs. RHP Yu Darvish (2-4, 5.01 ERA) vs RHP Chris Archer (3-6, 5.49 ERA).
CUBS NEWS AND NOTES:
Cubs/Pirates Probable Pitchers We've hit the much needed All-Star break, with the AS Game to be played, Tuesday, July 9, 2019, at 6:30 PM Central.
The Cubs will resume action on Friday, at 1:20 PM, as they host the Pirates at Wrigley.
Pitchers expected: Friday: RHP Yu Darvish (2-4, 5.01 ERA) vs. RHP Chris Archer (3-6, 5.49 ERA). Saturday, 1:20 PM: LHP Jon Lester (8-6, 3.72 ERA) vs. RHP Jordan Lyles (5-5, 4.36 ERA). Sunday, 1:20 PM: LHP Jose Quintana (6-7, 4.19 ERA) vs. RHP Trevor Williams (3-2, 4.54 ERA).
Leave your troubles behind: The Cubs will represent the NL All-Stars in three different ways this year, with Willson Contreras catching, Kris Bryant at third and Javier Baez at short. This says so much for a team who's struggled so badly this season…
#ElMago is batting 2nd and ready to put on a show! pic.twitter.com/Bh9eskzxOV

— Chicago Cubs (@Cubs) July 8, 2019
.@WContreras40 is living his dream! pic.twitter.com/6GOMYtJldZ

— Chicago Cubs (@Cubs) July 8, 2019
We're ready to make you proud, #Cubs fans! pic.twitter.com/N8VMafWocO

— Chicago Cubs (@Cubs) July 8, 2019
The Cubs All-Star selections are headed to Cleveland! Kris Bryant, Javier Baez, Wilson Contreras, and company are all smiles. pic.twitter.com/6KGf8fP2DO

— Cubs Live (@Cubs_Live) July 8, 2019
Pennant Poll: MLB Trade Rumors posted a poll, asking who'd win the NL and AL pennants this year. As of yesterday morning, 55.09% of voters said the Dodgers took the NL, with only 5.46% voting for the Cubs. The Braves got 18.42%, and Milwaukee sits in third place with 5.96% (10, 796 total votes). In the AL, it was the Yankees with 44.6% of the vote, followed by the Astros (27.48%) and the Twins with 11.54% (10, 585 total votes).
We'd like to officially predict Vlad Jr. will win the HR Derby.

— Chicago Cubs (@Cubs) July 9, 2019
It took 4 1/2 minutes, then 60 seconds, then a pair of three-swing bonus rounds, but Vladimir Guerrero Jr. prevails over Joc Pederson in the Home Run Derby seminfinals, 40-39.

That was awesome.

— Jeff Passan (@JeffPassan) July 9, 2019
Thank you for a moment we won't forget. #HRDerby pic.twitter.com/af4glEuxfM

— MLB (@MLB) July 9, 2019
How does Peralta sound? Teams now have just 22 days to complete all trades, as the rules have changed this year, to a single deadline (July 31), and the Cubs are now reported to be showing interest in D-Backs' outfielder, David Peralta. It's unclear yet, whether Arizona will sell, but speculation says they may. Peralta just hit the 10-day IL with shoulder inflammation, but they do expect the slugger to return healthy, before the deadline. Peralta is slashing .289/.352/.476, with an OPS of .828, nine homers, and 44 RBI.
Mike Trout on Javy: You know the Cubs have a pretty good guy in Javy when even Mr. Trout says he the one to watch. Tell 'em, Mike-
These are all great points you make, @MikeTrout.

(@javy23baez) pic.twitter.com/K6dBaSfPP9

— Chicago Cubs (@Cubs) July 8, 2019
More from your All-Stars: The All-Star game means something different to every player who takes the field. Here's KB's and Willy's takes:
#Cubs All-Stars @WContreras40, @javy23baez and @KrisBryant_23 sound ready for another Midsummer Classic! pic.twitter.com/GfOiMRsgo9

— Cubs Talk (@NBCSCubs) July 8, 2019
Dee Gordon? There are rumors and rumblings that things aren't going well for Dee Gordon in Seattle, and some speculate that he may fit in with the Cubs. Gordon is owed $20M for his contract that ends in 2021, so it's unlikely that the Cubs would strike any deal which would cause them to assume the total salary, but Jerry Dipoto is a guy who likes to make things happen, and Theo's always willing to listen.
I stumbled upon an interesting Mariners' blog written by a guy named Joe E. Doyle. Joe discusses several interesting trade scenarios involving the Cubs and Mariners for Gordon. Give Joe's article a read- interesting stuff.
The Big Hurt: Frank Thomas says that KB's remark about not being able to pinpoint what the Cubs can do to improve offensively, signals trouble. "It's just letting me know that there's a disconnect in that clubhouse, somewhere," Thomas said. "And you've got to find it because this team is built to win a World Series this year."
They call him El Mago: If you've never read a subtitled video in your life, read this one, as Javy explains his life of baseball.
They call @javy23baez "El Mago."

The Magician. ?? pic.twitter.com/kZ2xCRLcDm

— MLB (@MLB) July 8, 2019
Francisco Lindor and Javy: It would require El Mago moving back to second base, but boy, what I wouldn't do to see both of these guys in a Cubs uniform.
Caption this. pic.twitter.com/HhzvKW1xKM

— Chicago Cubs (@Cubs) July 8, 2019
Mad-Bum to the enemy: While the Cubs look to shore up their pitching, rumors say the Brewers and Madison Bumgarner are engaging in talks.
Baseball Quotes: "How to hit home runs: I swing as hard as I can, and I try to swing right through the ball. The harder you grip the bat, the more you can swing it through the ball, and the farther the ball will go. I swing big, with everything I've got. I hit big, or I miss big." -Babe Ruth
Cub Birthdays: Celebrating Monday, were ex-Cubs Jaime García (33), Bobby Ayala (50), Jerome Walton (54), Ken Patterson (55), Al Spangler (86), and posthumously, Charlie Gilbert (100), Harold "Rowdy" Elliott (129), and Herbert "Buttons" Briggs (144).
NL CENTRAL SCHEDULE (June 23 – June 29, 2019)
(Wins are in green, losses in red)