| | |
| --- | --- |
| Cubs News and Notes: J-Hey rolling, Bryant playing at MVP level, Alzolay's injury, more | |
---
| | | |
| --- | --- | --- |
| Friday, July 19, 2019, 8:16 AM | | |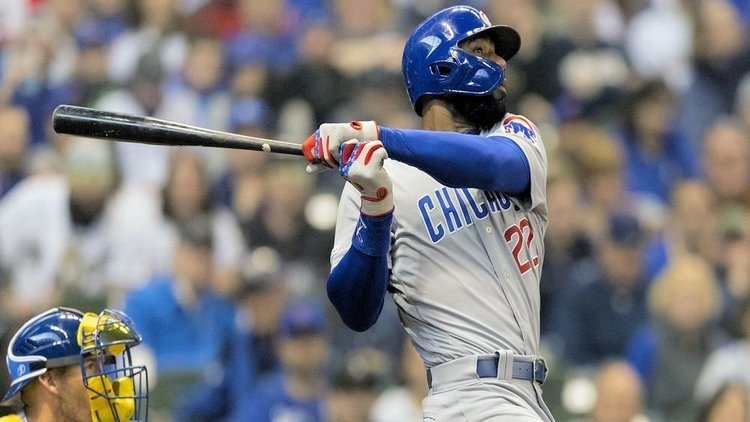 Next Game: Today, 1:20 PM: LHP Eric Lauer (5-7, 4.04 ERA) vs LHP Jon Lester (9-6, 3.74 ERA).
Friday's Game Preview:
The Cubs will look to add to their division lead tonight, as they host the Padres for a weekend set, before flying to the West coast to meet the Giants. Jon Lester has gotten hot again, but Eric Lauer has also pitched well as of late, which may make this game a bit of a pitcher's duel. If the Cubs put on their thinking caps and bring their offense, they should prevail in this one, and a series win is absolutely in order.
Check out CubsHQ's full preview here.
Cubs News, Notes and Commentary
It's amazing how much slower the news is when the Cubs are off. You'd think with the trade deadline nearing, stories, rumors and news would be coming out of every corner of the internet, but not so much…
Padres/Cubs Probable Pitchers: Saturday, 1:20 PM: LHP Joey Lucchesi (7-4, 3.92 ERA) vs LHP Jose Quintana (7-7, 4.21 ERA). Sunday, 1:20 PM: RHP Cal Quantrill (2-2, 4.21 ERA) vs RHP Kyle Hendricks (7-7, 3.46 ERA).
J-Hey is hot: Jason Heyward is undoubtedly having his best season, not only as a Cub but also, statistically speaking, since 2012. Gold-Glove defense and his bat is smoking hot.
J-Hey is having his best season, statistically, since 2012.

Will he keep it rolling for the rest of the 2nd half? pic.twitter.com/OTLz2EVAL7

— Cubs Talk (@NBCSCubs) July 18, 2019
Joe! Leave the batting order be: I've said a million times that Joe Maddon messes with success when he messes with the batting order. David Kaplan has pulled some interesting stats to demonstrate just that.
Here are Kris Bryant's numbers since June 9th: 132 PA's: .360/.462/.631 1.093 OPS 184 wRC+ and .455 wOBA.

Batting 3rd ONLY: .424/.537/.909
1.446 OPS 259 wRC+ & .570 wOBA.#Ridiculous
Memo to Joe: KEEP HIM IN THE 3 hole!

— David Kaplan (@thekapman) July 18, 2019
(A little more on Kris Bryant later…)
Lester gets an autograph: Once, when I was a kid, I remember asking my dad if he'd ever met anyone famous. "No, he replied, "but a lot of famous people have met me." I guess he was trying to teach me that celebrities were just people, nothing different than the rest of us- a point Jon Lester recently made to cancer-stricken teen, Ashlyn Clark.
Before Wednesday night's game with the Reds, Jon Lester invited Ashlyn and her family to a game, but there was a hitch; Big-Jon wanted her to autograph a ball for him. Although nervous, Ashlyn obliged, and of course, Jon signed one for her as well.
"It just shows you how great people are".

Jon Lester invited Ashlyn Clark and her family to Wrigley Field for a game, and an autograph. Hers.@MarkFreundTV and @SamLozada report from Chicago. @Cubs @JLester34 pic.twitter.com/zi6tBQt41X

— Keith Murphy (@MurphyKeith) July 17, 2019
Alzolay injured: After being tagged (Wednesday night) with five runs on a half-dozen hits and five walks in 3.2 innings, Adbert Alzolay, one of the Cubs' top prospects, left the game with an injury. The Iowa Cubs are currently describing the injury as "slight biceps tendonitis," but offered no timetable for his return, as of yet. Stay tuned, and we'll keep you updated.
Ryan an asset? For weeks, no, …make that months, I cringed every time I saw Kyle Ryan warming in the bullpen, sometimes almost feeling as though Joe Maddon was about to use the equivalent of a position player on the mound. He was terrible, but something has changed.
As of late, Ryan has been so much better- at least comparatively speaking, that now the Cubs are reportedly not feeling as urgent about needing left-handed help in the pen. This may, according to Tony Andracki (NBS Sports Chicago), allow the Cubs more flexibility in looking for other needs as the trade deadline approaches.
Kyle Ryan has emerged as a reliable lefty in the Cubs bullpen, which gives the organization at least some flexibility ahead of the MLB trade deadline:https://t.co/wM5PuwfKqw

— Mountain Dewde (@TonyAndracki23) July 18, 2019
The impending KB crisis: Nobody disputes it: The Cubs toyed with Kris Bryant's service time, which is not something that bodes well down the road, especially when Scott Boras is your agent. As the time continues to draw slowly closer for KB to be able to elect free agency, the Cubs have yet to attempt to try resigning him (at least recently)- something that will only get tougher as Kris's numbers continue to improve.
How good is KB right now? @TonyAndracki23 and @Kelly_Crull discuss that, Yu Darvish, and Cole Hamels' status on the latest #Cubs Talk Podcast ??: https://t.co/HEnjjsVSkD pic.twitter.com/H5GYIHwOGF

— Cubs Talk (@NBCSCubs) July 18, 2019
In offensive WAR in 2019 @KrisBryant_23 is tied for 5th best in all of baseball. Better realize how special this guy is. I'm amazed at how many people take him for granted. Versatility is a huge plus and the great person he is means Cubs need to get signed long term ASAP.

— David Kaplan (@thekapman) July 18, 2019
Cubs gain a lefty-reliever in Iowa: Danny Hultzen's story is interesting. A promising young lefty, who blew out his arm while trying to pitch through injuries, in an attempt to make it to the show. Now, 29-years old, Hultzen, the Cubs' #2 overall, 2011 draft pick is making his comeback. He's been rehabbing in Iowa for a while, but the I-Cubs have now activated him, with his first outing having come on Wednesday. In 3.2 innings, Hultzen allowed only a pair of baserunners (one hit, one walk), while holding the opposition scoreless. Theo Epstein says that Hultzen still has hurdles to clear, but that the Cubs view him internally as having a real chance to make it to the majors.
Yu Darvish: "I'm 120% right now." Enough said.
tattoo this on our forehead pic.twitter.com/dq6C0c0EYY

— Cubs Talk (@NBCSCubs) July 17, 2019
Tired of lousy calls? New York Yankees manager, Aaron Boone, saw one too many bad calls in their game with the Rays. Boone laid into the home-plate ump (Brennan) on a level that speaks for all of us, even defending the Rays pitcher that was getting cheated on some of the calls. I'll forewarn you- this video does contain strong language, but if you can tolerate an F-bomb (or 12), it is priceless.
Boone's rant to the ump is fantastic. pic.twitter.com/nHpbyEvXKx

— Jomboy (@Jomboy_) July 18, 2019
Baseball Quotes: "If a guy hits .300 every year, what does he have to look forward to? I always tried to stay around .190, with three or four RBI. And I tried to get them all in September. That way, I always had something to talk about during the winter." -Bob Uecker
We need three kinds of pitching: left handed, right handed, and relief. -Whitey Herzog pic.twitter.com/yCDYvNp1N2

— Baseball Quotes (@BaseballQuotes1) July 18, 2019
Cubs Birthdays: Celebrating yesterday, were ex-Cubs (posthumously) John "Larry" McLean (138) and Larry Hoffman (141).
THIS WEEK'S NL CENTRAL SCEHEDULE:
(Wins are in green, losses in red)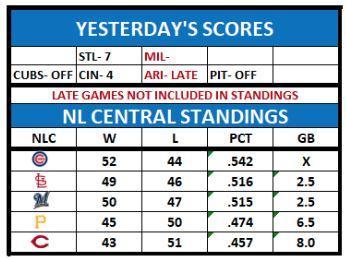 Tags: Cubs Baseball
,
Jason Heyward
,
,
Jose Quintana
,
Kyle Hendricks
,
,
Adbert Alzolay
,
Kyle Ryan
,
Yu Darvish
,
Cole Hamels
,
Joe Maddon
,
Theo Epstein