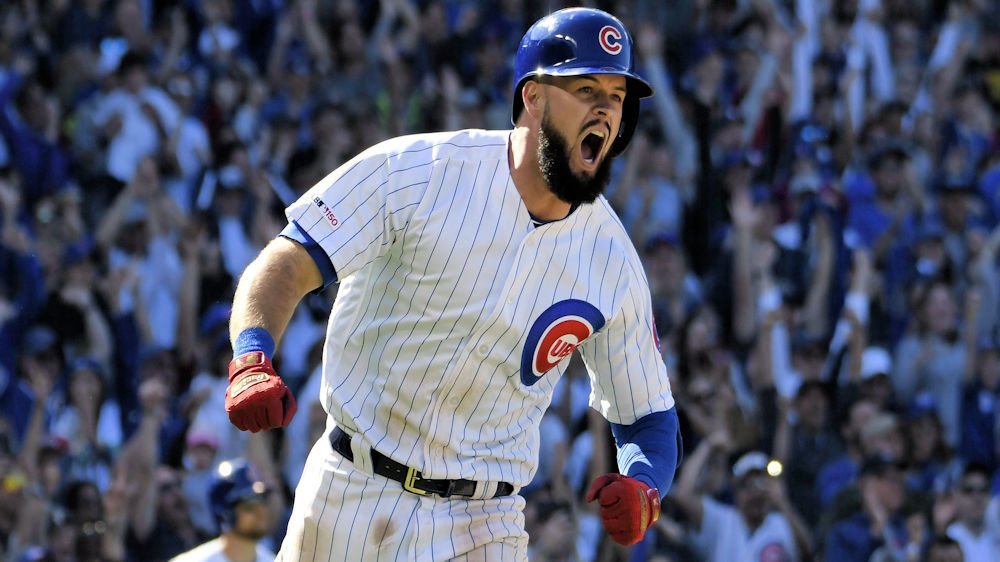 | | |
| --- | --- |
| Cubs News and Notes: Maddon on Zo's future, Power Bote, Kimbrel signing, more | |
---
| | | |
| --- | --- | --- |
| Friday, June 7, 2019, 8:33 AM | | |
Next Game: Today, 1:20 PM CDT: Cardinals @ Cubs. RHP Miles Mikolas (4-5, 4.41 ERA) vs LHP Cole Hamels (4-2, 3.62 ERA).
CUBS NEWS AND NOTES:
Wednesday's Game Recap:
Looking for a series sweep and their fourth-straight win, the Cubs sent LHP Jose Quintana (4-4, 3.73 ERA) to the mound yesterday afternoon. Q was initially supposed to face RHP Jon Gray for the Rockies, but in a last minute change, manager Bud Black elected to give RHP Jason Lambert his major league debut.
The Cubs had been on a holy tear the last few days since Carlos Gonzalez joined the team, but Gonzalez would be benched yesterday, as would Jason Heyward. As for pitching, despite giving up three runs, Jose Quintana looked fantastic for 7.1 innings, but an insanely good debut performance by Lambert would prevent the sweep and earn Lambert his first win.
Down 2-0 in the sixth, the Cubs finally got on the board courtesy of a Kris Bryant double, followed shortly after that by Javier Baez's RBI single. Colorado would add an insurance run in the seventh, which ended the scoring for the day. Final: Rockies-3; Cubs-1.
Final Lines: Quintana (L): 7.1 IP, six hits, three earned runs, 0 walks, four strikeouts. Lambert (W): 7.0 IP, four hits, 1 earned run, one walk, nine strikeouts.

QUESTION OF THE DAY: How soon do you think Kimbrel can get himself ready and join up with the team? (I know what Maddon and the media saying, but I would like to hear what you think.)
Cubs/Cardinals Probable Pitchers: Saturday, 6:15 PM: RHP Jack Flaherty (4-3, 3.76 ERA) vs LHP Jon Lester (4-4, 3.32 ERA). Sunday, 6:05 PM: RHP Adam Wainwright (5-5, 4.34 ERA) vs RHP Kyle Hendricks (6-4, 3.16 ERA).
Coincidence? Carlos Gonzalez has now had three starts as a Cub. During those starts, the Cubs went 3-0, amassed a total of 29 hits, scored 23 runs and went 10 for 22 (.455) with runners in scoring position. Maddon elected to bench Gonzalez yesterday. The Cubs' final numbers reflected a loss, five hits, one run, and the team went 1 for 6 (.167) with RISP. Coincidence? You decide.
Really, Joe? Joe Maddon chatted with with media during pre-game on Thursday, and to be quite honest, some of Maddon's remarks sort of left me confused (the ones that I'm referring to are underlined in the quote below).
"It's just the way this world rotates sometimes. I haven't really pieced it that way. It's just a matter of what's happening right now with us. It's obviously horribly unfortunate what Zo is going through right now, but I haven't really tied those two things together. It's just the way it is. … Maybe [it's being in] the present tense, maybe the ability to accept what's happening - that's where I'm at with all this. Of course, there is a correlation, I would imagine. But we're still hoping for the best for Zo and if Kimbrel's here partly because of that, so be it. But that's just the way the world's rotating on June 6. That's pretty much it."
I guess it was mostly the "… so be it" part that irritated me, as it sounded as though Joe was saying, "Shame what's happening to Zo, but hey, I got my closer." I may not agree with Joe Maddon, but I've always known him to be a caring individual, and I couldn't believe he'd be so cavalier, especially about someone like Ben Zobrist. I chat with Tony Andracki fairly often, and I was compelled to ask him about the comments. Tony assured me that it didn't come out cold or harsh, but I'd be a liar if I said I wasn't still a little shocked by what Maddon said.
Power Boat-ee: After Wednesday night's game, two things became even more clear: The Cubs got a steal on David Bote's extension, and Bote could have held out for a lot more money from Chicago. Going 4 for 4 with a monstrous homer and an RBI double the other night, Bote became the first Cub to rake 7 RBI in a single game since Ryne Sandberg did it on June 23, 1984. Bote is the also the first player hitting eighth to do so for the Cubs, since June 11, 1967, Adolfo Phillips).
Bote now boasts an average of .289, with seven homers and 30 RBI, not to mention his team-leading, .866 OPS. I said this last year (shortly after his first appearance), and I'll repeat it: This kid is fire.
.@Cubs scored 9 runs last night.

.@DavidBote13 drove in 7 of them. #TipOfTheCap pic.twitter.com/1ttxZiKBjE

— MLB (@MLB) June 6, 2019
Gearing up for Kimbrel: As the excitement and anticipation heighten following the news of Craig Kimbrel's signing, Doug Glanville explains just what makes Kimbrel so effective.
"He's been the most dominant closer since Mariano Rivera."@dougglanville tells us what makes Craig Kimbrel so effective at the end of games. pic.twitter.com/WpbOORT8hj

— Cubs Talk (@NBCSCubs) June 6, 2019
We signed who? Following last night's game, NBC Sports Chicago asked David Bote and Anthony Rizzo how learned the news of Craig Kimbrel's deal with the Cubs. Bote was shocked, while Rizzo is just hilarious in his initial response. Jesse Rogers reported that the bullpen learned of the signing courtesy of Kyle Schwarber, who went out to left field and put his arm out like Kimbrel does. They figured it out from there. "That's when I knew," Steve Cishek said. "We got him." Cishek went on to say, "Adding a piece like this ensures we're built to win. It's exciting."
#Cubs players told reporters how they heard about Craig Kimbrel. @ARizzo44 had his sources...??

What was your reaction when the news broke yesterday? pic.twitter.com/LjgkDdLaAc

— Cubs Talk (@NBCSCubs) June 6, 2019
Baseball Quotes: I wish Babe had gotten his wish- there'd be a lot fewer problems in this country, and a ton of happy kids.
I won't be happy until we have every boy in America between the ages of six and sixteen wearing a glove and swinging a bat. -Babe Ruth pic.twitter.com/k4UvGCGJaX

— Baseball Quotes (@BaseballQuotes1) June 6, 2019
And maybe one more quote from a familiar and current face…
No matter what you've accomplished, keep pushing to get better. Don't let 'good enough' be good enough. -Kris Bryant pic.twitter.com/zr4ci4nbZb

— Baseball Quotes (@BaseballQuotes1) June 6, 2019
Cub Birthdays: Celebrating yesterday, were ex-Cubs Brooks Kieschnick (47) and posthumously, Bob Talbot (91), Ray Pierce (122), Bill Lange (148), and Jim St. Vrain (148). Yesterday also marked other "births" of sorts. First, it was the day that Javier Baez's MLB career was born. The Cubs drafted Baez #9 overall on June 6, 2011. Two years later, on June 6, 2013, another star's career was launched, as the Cubs drafted Kris Bryant as the second overall pick.
NL CENTRAL SCHEDULE (June 2 – June 8, 2019)
(Wins are in green, losses in red)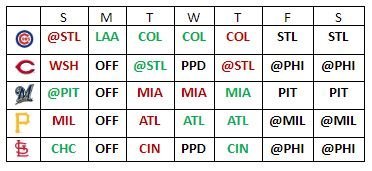 NL CENTRAL SCOREBOARD/STANDINGS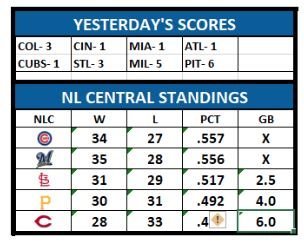 Tags: Cubs Baseball
,
Cole Hamels
,
Jose Quintana
,
Jason Heyward
,
,
,
,
Kyle Hendricks
,
Ben Zobrist
,
David Bote
,
Anthony Rizzo
,
Kyle Schwarber
,
Steve Cishek
,
Joe Maddon