| | |
| --- | --- |
| Cubs News and Notes: Mike Montgomery traded, Heyward impressive, trade rumors, more | |
---
| | | |
| --- | --- | --- |
| Tuesday, July 16, 2019, 7:52 AM | | |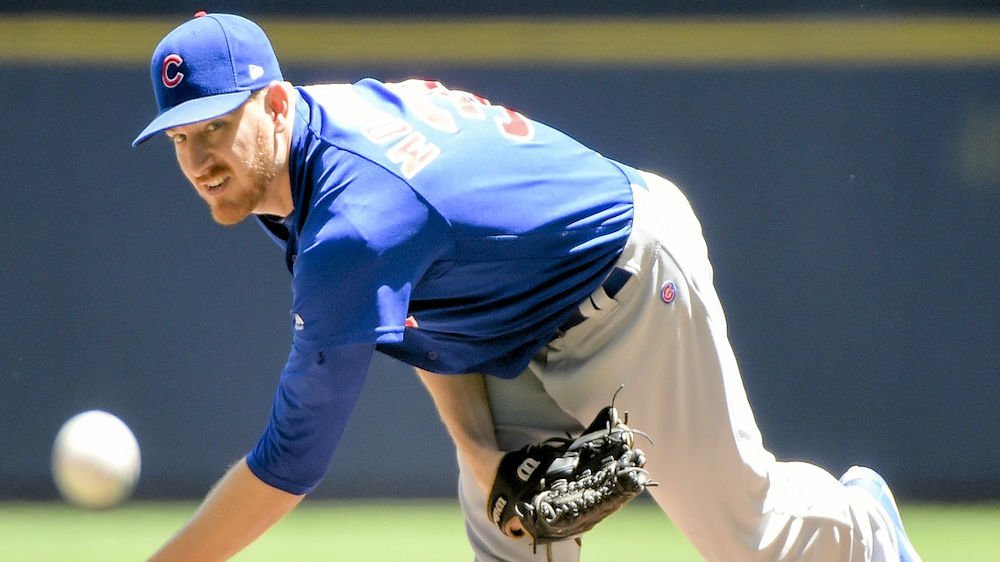 Next Game: Today, 7:05 PM CDT: Reds at Cubs. RHP Anthony DeSclafani (5-4, 4.26 ERA) vs RHP Alec Mills (0-1, 5.48 ERA).
Monday's Game Recap:
The Cubs, looking for their fourth-straight W, sent the Professor to work last night; his opponent, Reds' righty, Luis Castillo.
Hendricks would give up a gopher-ball in the first to Eugenio Suarez, but Cincinnati's 1-0 lead wouldn't last long.
Castillo would get through the first and second innings without harm, but in the third, Kyle Schwarber tied it up with a monstrous, 426 foot (110 mph exit velocity) Schwar-bomb to left-center.
Home run No. 20 on the year for @kschwarb12! #EverybodyIn pic.twitter.com/uovvoataDN

— Chicago Cubs (@Cubs) July 16, 2019
The Cubs would then go ahead in the fourth, on a combination of walks, hits, groundballs and a wild pitch, putting them up 3-1.
The fastest kid on the block. pic.twitter.com/peGLxlRDkq

— Chicago Cubs (@Cubs) July 16, 2019
Yasiel Puig would get the Reds back in it with his homer in the sixth, and Curt Casali would tie it at 3-3 in the seventh with a solo shot to the left (off of Steve Cishek). The Reds weren't quite finished though, grabbing one more run and taking a 4-3 lead.
Randy Rosario and Brad Brach would team-up to allow another pair in the eighth, putting the Cubs down 6-3, which is just the way it would end.

CUBS NEWS, NOTES AND COMMENTARY
Reds/Cubs Probable Pitchers: Wednesday, 2:20 PM: RHP Sonny Gray (5-5, 3.42 ERA) vs RHP Yu Darvish (2-4, 4.72 ERA).
Padres/Cubs Probable Pitchers: Friday, 1:20 PM: LHP Joey Lucchesi (7-4, 3.92 ERA) vs LHP Jon Lester (9-6, 3.74 ERA). Saturday, 1:20 PM: RHP Cal Quantrill (2-2, 4.21 ERA). vs LHP Jose Quintana (7-7, 4.21 ERA). Sunday, 1:20 PM: RHP Chris Paddack (5-4, 2.84 ERA) vs RHP Kyle Hendricks (7-7, 3.49 ERA).
Montgomery traded: The Cubs parted ways with lefty, Mike Montgomery yesterday, but who they got in exchange may spell trouble for Victor Caratini: Catcher, Martin Maldonado. The Cubs won't carry three catchers of that caliber, and Caratini doesn't deserve to be optioned, which tells me either he's now trade bait, or Theo plans on slinging Maldonado to someone else in exchange for either a leadoff man or a lefty. Stay tuned; this is about to get interesting (and maybe a little frustrating). Maldonado is currently slashing .224/.288/.359- certainly not what the Cubs need.
Montgomery said the following to reporters after the trade went down:
"It's tough because I felt like I've given everything to Chicago that I could. Remembering times like the parade and different things, you get those emotions going through your head and you understand what kind of impact you had on a lot of people's lives here."
Epstein thanks Montgomery for all that he did for the Cubs:
"I want to thank Mike Montgomery for everything he did in a Cubs uniform. Obviously, you can't talk about his contributions without talking about getting the last out of that World Series that changed everybody's life."
With Mike Montgomery traded to Kansas City, the Cubs now have 12 active players left from their 25-man 2016 World Series roster (plus Ben Zobrist on the restricted list).

— Patrick Mooney (@PJ_Mooney) July 16, 2019
Filed to ESPN, posting shortly, Mike Montgomery confirmed to me he asked to be traded very early this season: "From a career perspective, looking at how it was taking shape, I thought I was best suited to be a starter."

— Jesse Rogers (@ESPNChiCubs) July 16, 2019
Hendricks on Montgomery: pic.twitter.com/986JOnsmmH

— Mark Gonzales (@MDGonzales) July 16, 2019
More of the same: I'll be the first to say that the Cubs came out of the gate looking great after the break, but the problem is, they don't do it consistently. After a decisive sweep of the Pirates last weekend, they blew what should have been an easy win against Cincinnati last night. They now hold a 2.0 game lead, as the Cardinals won last night, replacing the Brewers in the second-place spot. A win would have left the Cubs up 3.0 games, but instead, it is now the Cardinals who are within striking distance. I don't see tomorrow going any better for Chicago with Mills on the mound, making last night's loss all the more frustrating.
Chicago failed on almost every front last night- the bullpen was terrible again, giving up a total of four runs (3 ER), the offense went a mere 1 for 11 with runners in scoring position, all while the defense committed a pair of errors. Losses are going to happen, but never should a team of this caliber lose a lead and a game in such an ugly fashion.
J-Hey-Hey: I'd imagine at least half of you are too young to understand the "Hey! Hey!" reference, but that was Jack Brickhouse's homerun slug-line back in the day. Anyway, Jason Heyward is now on pace to hit 26 dingers this year, tying his three-year total in a Cubs uniform.
Maddon on Cubs' needs: When asked about his thoughts on the Cubs acquiring a "real" leadoff man, Joe Maddon commented that he thought the Cubs would have that on their thing to do, as they moved closer to the trade deadline. As he answered, Maddon reflected, saying that Ben Zobrist was the ultimate guy for that job, but he then ventured back to the here and now, saying that having the Cubs sign a leadoff man would provide an immense advantage.
Careful what you wish for Just about a week or so ago, the Cubs had a scout at Nationals Park, who was reportedly eyeing KC's Whit Merrifield. There's little doubt that the Cubs could use his bat, but the Royals' asking price is pretty steep: Three big-league-ready players. I'm not sure who they may want, but even if you factored Ian Happ and Addison Russell into that equation, they'd still need to come up with one more.
Latest On Cubs' Trade Deadline Focus https://t.co/9nZmUOrjAq pic.twitter.com/DuVRgoVXQm

— MLB Trade Rumors (@mlbtraderumors) July 15, 2019
Let's go, Theo: Recently, talk has surfaced with interest in LHP Will Smith (Giants), but if the Cubs want him, they'd better get busy, as the Brewers are now courting him.
If the Brewers buy… https://t.co/AsRLMJl4AZ

— Ken Rosenthal (@Ken_Rosenthal) July 15, 2019
The weak spots: I can always count on my friend, Tony Andracki (NBC Sports Chicago) to come up with interesting stats. Tony decided to look at the Cubs' OPS based on position, rather than by individual players. It's evident that in terms of offense the Cubs do have a problem with second-baseman and centerfielders producing at the plate (though I believe Daniel Descalso has dragged that number down tremendously for the 2B position).
Cubs offensive production by position (entering Monday):

C - .946 OPS (1st in MLB)
1B - .898 (6)
2B - .675 (21)
3B - .837 (11)
SS - .895 (3)
LF - .824 (11)
CF - .698 (19)
RF - .838 (10)

— Tony Andracki (@TonyAndracki23) July 15, 2019
Cubs also getting just a .582 OPS out of their pinch-hitters, which ranks 26th in MLB.

Rank 22nd in MLB in OPS out of the leadoff spot (.723) and 23rd in OBP out of No. 1 hitters (.310)

— Tony Andracki (@TonyAndracki23) July 15, 2019
Cubs' Notes: Entering play yesterday, the Cubs had won their last four home games, making them 15-7 in the previous 22 home games since 5/25. The Cubs are now 32-16 (.667) at Wrigley in 2019, which ranks second in the N.L. (Dodgers, 37-12/.755), and fourth in the majors. The bad news is, the Cubs are 18-27 on the road, 6-16 in their last 22 road games since 5/27. The Cubs' 3.27 ERA at Wrigley, is the 2nd lowest home ERA in the majors, trailing only the Dodgers (2.61 ERA).
Baseball Quotes: "I am more valuable to my team hitting .330 than swinging for home runs." -Roberto Clemente
As long as I can compete, I won't quit. -Cal Ripken Jr pic.twitter.com/NfrLUgc7Qi

— Baseball Quotes (@BaseballQuotes1) July 15, 2019
Cubs Birthdays: Celebrating yesterday, were Cubs' quality assurance coach, Chris Denorfia (39), and ex-Cubs (posthumously), Bob Will (88), Bruce Edwards (96), and Eugene "Bubbles" Hargrave (127).
THIS WEEK'S NL CENTRAL SCEHEDULE:
(Wins are in green, losses in red)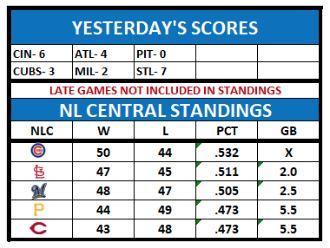 Tags: Cubs Baseball
,
,
Kyle Schwarber
,
Steve Cishek
,
Randy Rosario
,
Yu Darvish
,
,
Jose Quintana
,
Kyle Hendricks
,
Mike Montgomery
,
Victor Caratini
,
Jason Heyward
,
Ben Zobrist
,
,
Addison Russell
,
Daniel Descalso
,
Joe Maddon
,
Chris Denorfia