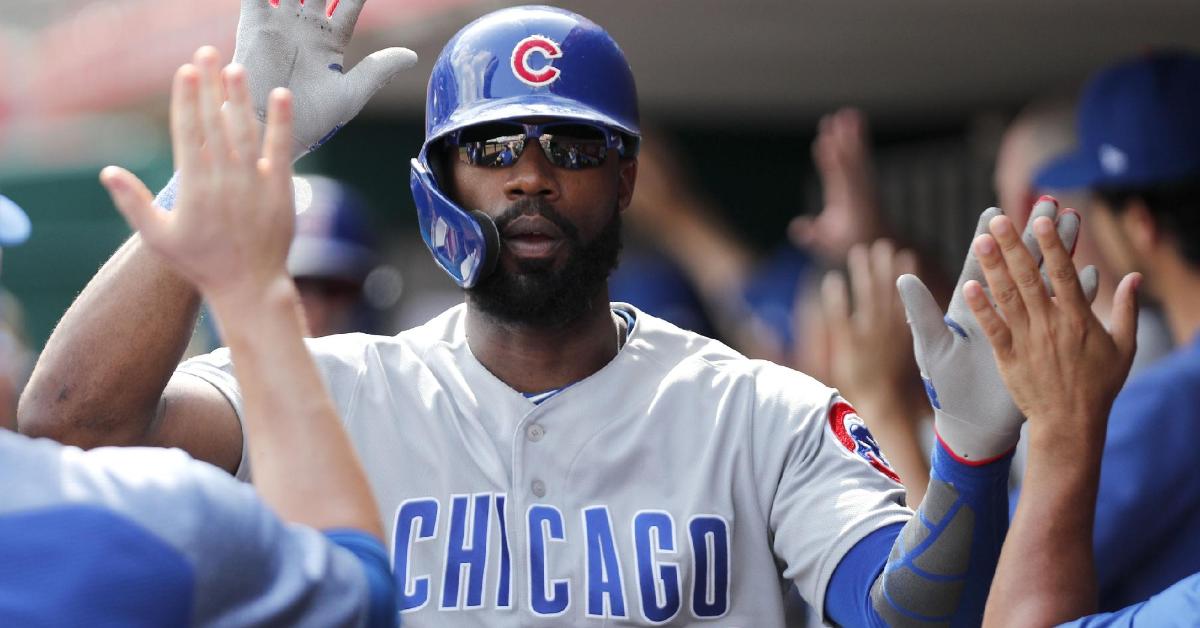 | | |
| --- | --- |
| Cubs News and Notes: Professor is back, J-Hey's series, Interfering fans, KB the All-Star | |
---
| | | |
| --- | --- | --- |
| Monday, July 1, 2019, 8:03 AM | | |
Next Game: Today, 6:05 PM CDT: Cubs @ Pirates RHP Adbert Alzolay (1-0, 2.08 ERA) vs RHP Trevor Williams (2-2, 4.25 ERA).
CUBS NEWS AND NOTES:
Hoping to salvage their first series in three meetings with the Reds this season, Big Jon Lester took the mound yesterday to face Reds righty, Anthony DeSclafani.
It wouldn't take the Reds long to jump out to a 3-0 lead, capitalizing on a walk, then a fielding error by Kyle Schwarber in first. With two on and nobody out, Lester served up what would become a three-run, 457-foot smash to center by Eugenio Suarez.
The Cubs threatened in the third, with runners on second and third and two away, when a fan reached out over the left field wall and interfered with a foul ball hit by Anthony Rizzo. As left-fielder, Phillip Ervin prepared to attempt a play, the fan reached out and contacted Ervin's glove. After a challenge, the umps ruled it fan-interference, Rizzo was called out, the fan was thrown out, and the inning ended with the Cubs still scoreless.
After drawing a walk in the sixth, Yasiel Puig would score on a bloop single to the right by Ervin, putting the Reds up 4-0.
The Cubs would finally get on the board in the sixth after Addison Russell doubled, then scored on Albert Almora Jr.'s single. The Cubs would then make it interesting in the seventh, climbing to within one run, after Kyle Schwarber went deep to left (his 18th) with a two-run blast.
Leave it to the bullpen to destroy a comeback opportunity for the Cubs. By the time the eighth inning ended, the Cubs' pen had given up four runs, making the score 8-3.
Jason Heyward would hit a two-out, three-run homer in the ninth, to make it 8-6, but that's as close as it would get for Chicago.

Cubs/Pirates Probable Pitchers Tuesday: RHP Kyle Hendricks (7-5, 3.36 ERA) vs. RHP Joe Musgrove (6-7, 4.27). Wednesday: RHP Yu Darvish (2-4, 4.98 ERA) vs. RHP Chris Archer (3-6, 5.50). Thursday: ?LHP Jose Quintana (5-7, 4.21 ERA) vs. RHP Jordan Lyles (5-4, 3.71).
Cubs' pitching: Jon Lester didn't have a bad day yesterday (save for the homer by Suarez), but the Cubs gave him no run support- an all too familiar theme. Lester's line: 5.2 IP, five hits, four runs (3 earned), two walks, eight strikeouts. The bullpen (Rowan Wick, Dillon Maples, Kyle Ryan) combined for four hits, four earned runs, one walk, and just one strikeout. Wick plunked Peraza, and then Maples also nailed him for the second time in two days.
Classes resume: The Cubs announced Sunday morning that the Professor, Kyle Hendricks, would skip a rehab start and return to the lineup on Tuesday to face the Pirates. Great news for the Cubs, as there isn't any telling how long Cole Hamels may be out.
Losing month: Yesterday's game served as the rubber match for the month, as the Cubs entered play with a 14-14 record for June. With the loss, the Cubs finished the month under .500 for the first time since May of 2017. The Cubs are now 3-6 vs. Cincinnati this year.
J-Hey's play: Entering play on Sunday, Jason Heyward was batting .330 (34-for-103) with a .951 OPS in his last 30 games, dating back to May 28. His 13 homers this season are his most in a single season as a Cub and his most since hitting 13 with STL in 2015.
J-Hey is ON FIRE! ??????

Three-run blast gets the Cubs within two in the 9th inning pic.twitter.com/zYTjfd2qUt

— Cubs Talk (@NBCSCubs) June 30, 2019
Bryce Harper: .243/.362/.457, 113 wRC+

Jason Heyward: .270/.358/.463, 113 wRC+ pic.twitter.com/z4xBu5YXDu

— Bleacher Nation (@BleacherNation) June 30, 2019
In addition to unbelievable offense this series, J-Hey also exhibited that Gold Glove defense. The video below shows him robbing Nick Senzel of a homerun in the seventh inning yesterday. Senzel showed his appreciation with a tip of the batting helmet as he returned to the dugout.:
J-Hey brings one back! pic.twitter.com/wsP28gZ9vu

— Chicago Cubs (@Cubs) June 30, 2019
Welcome, KB: Joining teammates Javier Baez and Willson Contreras, Kris Bryant has now been named to this year's NL All-Star team.
Bryant on All-Star selection pic.twitter.com/IoCYtaT0vp

— Mark Gonzales (@MDGonzales) June 30, 2019
Safety netting: After the incident with Almora hitting the child with a foul ball in Houston, I took the stance that netting around the park would interfere with the experience of the game. I suggested that fans- especially those with small children needed to be more vigilant and that perhaps it should be mandated that they sit in areas already protected by netting.
After seeing both the Cubs (vs. Braves) and Brewers (vs. Mariners) play last week, I've changed my stance a little. In both instances, our seats were situated behind the netting, and I guess you don't even see it once you're into watching the game- sort of like not noticing the frames of your eyeglasses after wearing them for a while.
While the nets would certainly save injury (which is by far the most important reason for their use), they'd also cut down on fan-interference, as seen in yesterday's game (flashing back to Steve Bartman as I type). There is a downside though- those nets will also inevitably cut down on a lot of stellar defensive plays, as players will no longer be able to reach into the seats, but of course, safety first.
Maddon on fan-interference call: According to Jesse Rogers (ESPN), "Maddon was not happy with the fan interference call. Kept telling reporters to call New York and get an explanation because he's tired of getting fined: 'I want my grandkids to go to college,' he said very sarcastically."
Congrats, Tommy: Former Cub, Tommy La Stella, has been named as an alternate for the AL All-Star team this year. After yesterday's game, Kris Bryant added, "That's such a perfect story and couldn't have happened to a better guy. One of my favorite teammates and people to be around."
I see a lot of people saying that he should have been this good with the Cubs, but that goes to show you what playing every day can do for a guy. I wish him the best.
Baseball Quotes: "The ballplayer who loses his head, who can't keep his cool, is worse than no ballplayer at all." -Lou Gehrig
Cub Birthdays: Celebrating yesterday, were ex-Cubs Mark Grudzielanek (49), Doug d'Ascenzo (55), and posthumously, Paul Toth (84), Joe Stephenson (98), Johnny Hudson (107), Davy Jones (139), and Jocko Flynn (155).
NL CENTRAL SCHEDULE (June 30 – July 6, 2019)
(Wins are in green, losses in red)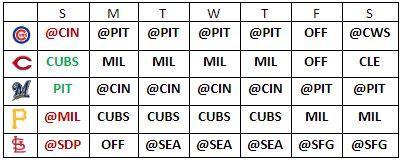 NL CENTRAL SCOREBOARD/STANDINGS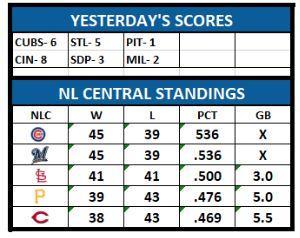 Tags: Cubs Baseball
,
Jason Heyward
,
Adbert Alzolay
,
,
Kyle Schwarber
,
Anthony Rizzo
,
Addison Russell
,
Albert Almora Jr
,
Kyle Hendricks
,
Yu Darvish
,
Jose Quintana
,
Rowan Wick
,
Dillon Maples
,
Kyle Ryan
,
Cole Hamels
,
,
Willson Contreras
,
,
Tommy La Stella