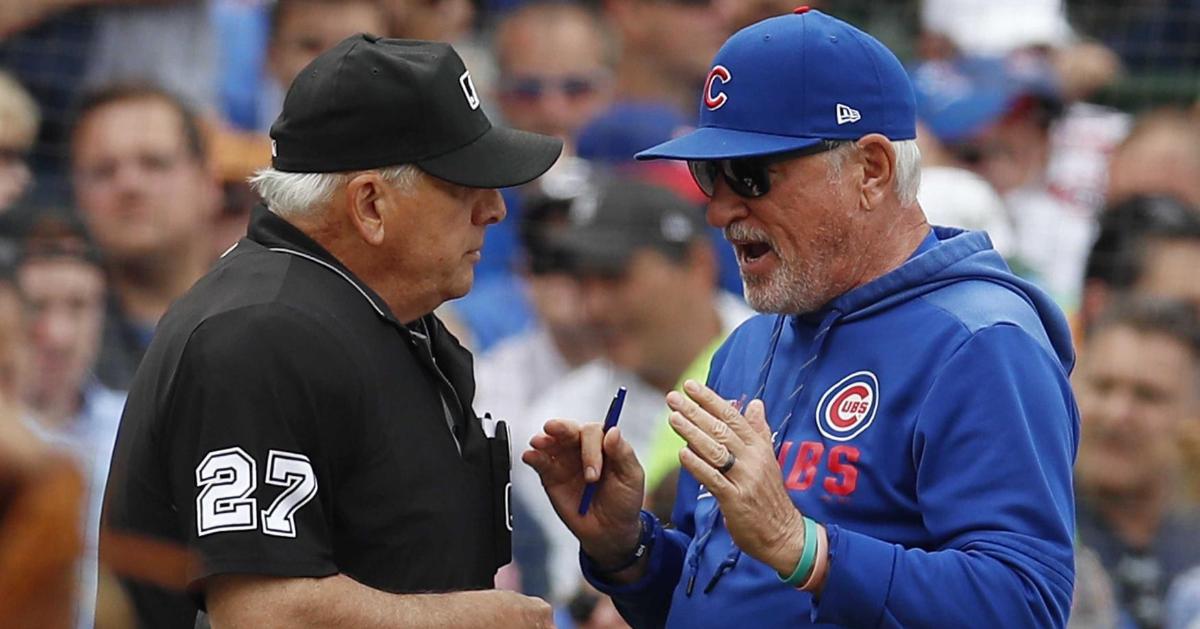 | | |
| --- | --- |
| Cubs News and Notes: Props to Yu, Rizzo's blunder, Javy's the man, highlights, more | |
---
| | | |
| --- | --- | --- |
| Saturday, June 22, 2019, 7:51 AM | | |
Next Game: Today, 1:20 PM CDT: Mets @ Cubs Zack Wheeler (5-4, 4.87 ERA) vs LHP Jose Quintana (4-6, 3.87 ERA).
CUBS NEWS AND NOTES:
Friday's Game Recap:
Riding the wave from back-to-back wins, Yu Darvish- still looking for his first win at Wrigley- took the mound to face Mets' lefty, Jason Vargas.
If you were a non-partisan fan who just happened to wind up in the stands at Wrigley yesterday, this was a pretty good game, as the teams fought back and forth throughout. For the Cubs and their fans, however, it was a frustrating loss in a game which could have (and should have) been easily won.
Darvish gave up a run in the second, but the Cubs battled right back, first overcoming the deficit, and then taking a one-run lead on Darvish's solid, RBI single to the right. The Mets would retake the lead in the third, when Darvish coughed up a gopher-ball to McNeil with a man on, putting the Mets up 3-2.
Addison Russell to the rescue in the fifth, delivering a two-run smash to the left (his 5th of the year) to put the Cubs up 4-3, but Michael Conforto would answer in the sixth with a solo shot to tie things up at 4-4.
Into the seventh and Joe Maddon makes the fatal decision to bring in Brad Brach, who promptly gave up a hit which would end up being the winning run, after his replacement, Mike Montgomery, allowed an RBI hit. Final score: Mets-5; Cubs-4.

Cubs/Mets Probable Pitchers: Sunday: RHP Jacob deGrom (3-6, 3.38 ERA) vs LHP Cole Hamels (6-4, 2.98 ERA).
Cubs/Braves Probable Pitchers: Monday: RHP Julio Teheran (5-5, 3.40 ERA) vs LHP Jon Lester (6-5, 4.13 ERA). Tuesday: LHP Max Fried (8-3, 4.03 ERA) vs Cubs TBD. Wednesday: LHP Dallas Keuchel (0-0, 0.00 ERA) vs RHP Yu Darvish (2-3, 4.65 ERA). Thursday: RHP Mike Foltynewicz (2-5, 5.53 ERA) vs LHP Jose Quintana (4-6, 3.87 ERA).
Yu Darvish Talk about not being able to catch a break, Darvish has now gone 10-straight outings without a decision, and still hasn't won in Wrigley Field.
Props to Yu: Darvish didn't have the greatest day on the mound (6.0 IP, four hits, two homers, 4 ER, two walks and 6 K), but he was on fire at the plate. Darvish went 2 for two yesterday, with an RBI and a run scored, raising his batting average from .038 (pre-game) to .107 post-game (his OPS is now .210).
.@faridyu takes matters into his own hands. #EverybodyIn pic.twitter.com/eEuTdtEeWw

— Chicago Cubs (@Cubs) June 21, 2019
Why Brach? At this point, I have no idea why Maddon insists on going to Brach, especially in tight situations. His ERA was 6.18 when he entered the game yesterday (even worse before it was over), yet somehow, he's in there day after day, very seldom with positive results. My dad used to have a saying which Joe Maddon would probably benefit from if he only kept it in mind. He always said, "The best thing about beating your head against a brick wall, is that it feels really damn good when you finally stop." Please Theo, can the Cubs just move on from Brach?
Brad Brach has now allowed 20 ER on 31 hits and 22 walks in 28.1 innings for the Cubs this season.

His season ERA is now 6.35, but he also entered today with a 3.89 FIP and 4.89 xFIP, so at least some of it is bad luck.

— Tony Andracki (@TonyAndracki23) June 21, 2019
Anthony Rizzo: Very seldom do you see Anthony Rizzo make a mistake, but he had a doozy yesterday. Just as the Cubs started to rally in the eighth (with two out), Rizzo stood on first base, after singling. Willson Contreras hit a little Texas-Leaguer that fell into shallow left, and rather to anchor himself securely at second, Rizz elected to break for third, then abruptly stop, getting himself caught right in the middle of the two bases, becoming dead-meat after a short run down.
Name: Anthony Rizzo
Age: 29
Location: No Man's Land pic.twitter.com/Uvs57Biwvj

— SNY (@SNYtv) June 21, 2019
Cubs reaction to Alzolay: Alzolay's new teammates were impressed with the rookie on Thursday night. After he the jotters settled down, Alzolay looked commanding on the hill, eager to hurl pitch after pitch. Here's how the clubhouse felt.
After the game, Alzolay went back to his hotel and said he had to remind himself it wasn't all a dream.

— Tony Andracki (@TonyAndracki23) June 21, 2019
"He was the happiest pitcher on the face of the Earth."

We're still applauding @adbert29 after his #Cubs debut last night. ?????? pic.twitter.com/jlj5MhlfGw

— Cubs Talk (@NBCSCubs) June 21, 2019
Tyler Chatwood's mind-games Even when he couldn't throw a strike last year to save his life, I never argued that Tyler Chatwood wasn't a good ballplayer in every other aspect of the game. He fields well, bats like a DH, bunts better than anyone on the team and is smart on the basepaths. Chatwood reached on a walk Thursday night and pulled off a stunt that would make you think that Javier Baez was giving him lessons.
Len Kasper was just about to say, "Chatwood is taking off for second," when he abruptly stopped short after uttering just, "Chatwood." Somehow, Chatty made a false-break for second, but in the process, got so far into the head of Mets' reliever, Wilmer Font, that he caused Font to balk, giving Chatwood the free trip to the next station.
Cubs pitcher Chatwood draws a walk, then pretends to steal and gets Font to balk. Brodie you watching? #EverybodyIn #LGM pic.twitter.com/YzwnUZNqw1

— Over The Top Sports (@OverTheTopSport) June 21, 2019
Willson Contreras Mic'd up: There are a few subtitles here, as Willson is initially speaking Spanish, but a good look at the Cubs' catcher during a practice session.
Willson Contreras mic'd up for the #Cubs YouTube channel. Check it out:https://t.co/2dV0gR4d2g

— Tim Stebbins (@tim_stebbins) June 21, 2019
Javy's the man: I never understood women crying in the presence of Elvis Presley or the Beatles back in the '60s, but I get it when a young fan meets his childhood hero. Watch how much time Javier Baez takes with this kid- it's heartwarming.
.@javy23baez: fan favorite. This is awesome. #BiggerThanBaseball

(via @OzzieGuillen) pic.twitter.com/DpDIHHJ1p0

— MLB (@MLB) June 21, 2019
Maddon/Descalso: Joe Maddon and Daniel Descalso shared an elevator at the motel, during the Cubs' trip to Los Angeles recently. Maddon obviously knows that Descalso may be a little down about his lack of contributions at the plate, and offered this to help reassure him: 'By the end of the year, you're going to be really important to us, and you're going to feel that thing at the plate again, and you're going to start hitting. You're going to start contributing again. Just please stay solvent and know that I know this also."
Glad I'm not the only one who sees this: I wrote in a commentary a month or so back (and of course my colleague, Dan Marich, thought I was an idiot), that the idea of assigning wins, losses and saves to pitchers really didn't say much. Case and Point: Lester could give up 15 runs in an inning, but if the Cubs score 20 before Jon comes out (after five innings), He'd get the win- certainly not a "winning" performance. Next, Hendricks could pitch a one-run, one-hitter through eight innings, but if the Cubs didn't score a pair of runs, The Professor would take the loss. Doesn't really seem fair.
Pitcher wins, pitcher losses and no-decisions aren't worth much in the statistical scheme of things, but this is definitely an interesting fluke within Darvish's season log. https://t.co/EfnTVpGzRr

— Jordan Bastian (@MLBastian) June 21, 2019
A single, multi-national MLB team? Believe it or not, the Tampa Rays are proposing a plan which would have them playing a part of their home games in the Tampa-St. Pete area, with the remainder being played in Montreal. I wrote about this more in depth in an "Odds and Ends" column that should post soon.
Baseball Quotes: "I don't want to play golf. When I hit a ball, I want someone else to go chase it." -Rogers Hornsby
Cub Birthdays: Celebrating yesterday, were ex-Cubs Jeff Baker (38), Donovan Osborne (50), Rick Sutcliffe (63), and posthumously, Jackie Collum (92) and Matt Kilroy (153).
Latest from the Summer Stove:
Reds: I've been saying it since January: Watch out for Cincinnati this year. They've now started to charge, already assuming fourth place in the Central, while sending the Pirates to the basement, and I think the Cardinals will be next. Although they've gotten on the winning-path (a win in Texas, then a sweep of the Astros, followed by a decisive, pair of victories against the Brewers in Milwaukee), the Reds are in the market for even more hitting power, but not just any slugger, they want one who's controllable.
NL CENTRAL SCHEDULE (June 16 – June 22, 2019)
(Wins are in green, losses in red)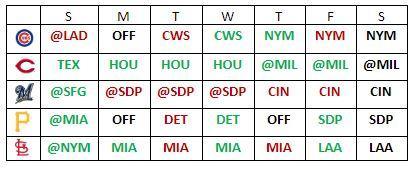 NL CENTRAL SCOREBOARD/STANDINGS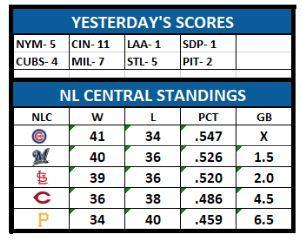 Tags: Cubs Baseball
,
Yu Darvish
,
Jose Quintana
,
Addison Russell
,
Mike Montgomery
,
Cole Hamels
,
,
Anthony Rizzo
,
Willson Contreras
,
Tyler Chatwood
,
,
Daniel Descalso
,
Joe Maddon