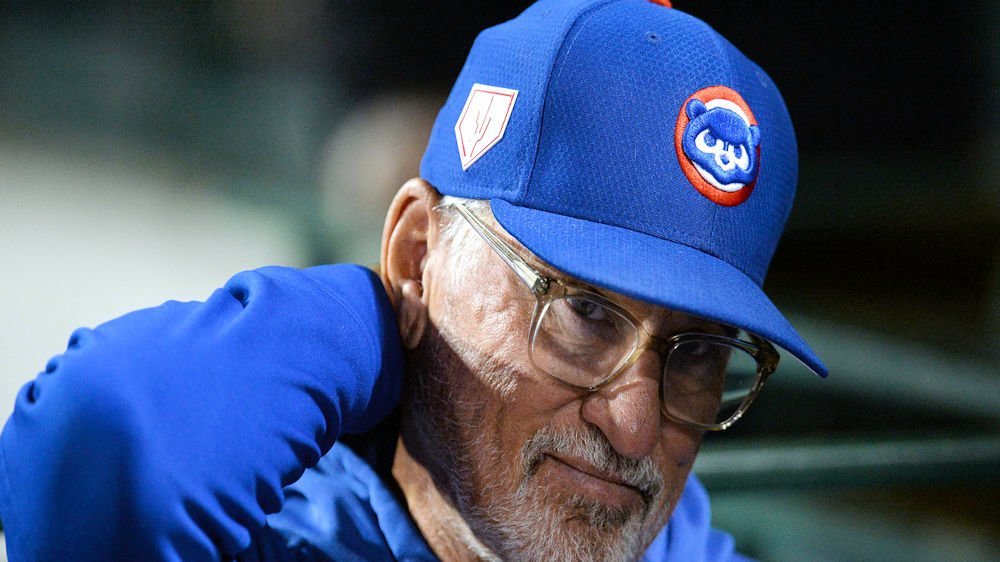 | | |
| --- | --- |
| Cubs Odds and Ends: Maddon's madness, Happ and Zo's return, roster conundrum | |
---
| | | |
| --- | --- | --- |
| Saturday, July 27, 2019, 3:59 PM | | |
Maddon's Madness
Funny, I used this same title for a bullet the last time I wrote an Odds and Ends commentary, yet it was so appropriate, that I felt justified in using it again.
I'll agree that Joe Maddon isn't the guy who strikes out at the plate, the guy who puts runners on base, or the guy who commits the errors in the field, but he is the guy who's charged with fielding a lineup and batting order which should produce wins; but isn't. The Epstein would be hard-pressed to trade and DFA all the guys who've been underperforming, so the Cubs must make the best out of the roster they have.
Signing Craig Kimbrel was a tremendous step in improving the team, but to need a closer, you generally have to be winning when the ninth inning comes around- something the Cubs seem to have difficulty doing.
The Cubs need a manager who can make the most out of this roster, one who can exploit the strengths of the team, rather than to showcase the weaknesses, and while I hate to say it, Joe just doesn't seem to be that guy anymore.
I hear the comments coming already, "Ken, do you know the first thing about managing a professional baseball team? Do you know what's being said behind the scenes?" No, but then again, I don't know all the parts in a clock, and I'm still able to tell time. It doesn't matter what it is you manage, as management is nothing more than delegating responsibility to the appropriate people, and Maddon just isn't doing that anymore.
To bring Pedro Strop in on Friday night, especially considering the circumstances, was a move that will forever boggle my mind. He pulled Kyle Hendricks after the fifth inning, as Hendricks was working on a shutout and a two-hitter, with the Cubs ahead 2-0- a move that made little sense, even if Maddon attempted to justify it.
"He's at 90 pitches right there, and he's going to be back on regular rest," Maddon said. "They had (Christian) Yelich, (Yasmani) Grandal and (Mike) Moustakas coming up. So, it worked out well. Everything worked. We just hit too many guys and walked too many guys." Although the Professor was running a high pitch count and running on regular rest, there was no logical explanation for not letting him start (or complete) the sixth, so long as he could do so in 15 pitches or less- which is average. Going 105-110 pitches was not going to preclude Hendricks from pitching again in a five-day rotation, and the Cubs are off on Monday, so that excuse doesn't wash with me.
This team is a team who should be able to turn in a 95-100 win season, and yet (as of Saturday) they're on pace to win 86- 1/2 games, falling below that "outlandish" prediction that PECOTA made over the winter.
"Minimal changes won't help"
As I said earlier, signing Kimbrel was a definitive step toward trying to win, but the team isn't getting themselves into a position for Kimbrel to even pitch. Yes, in theory, the addition of Derek Holland should help some, but again, you can't set the season on one man's shoulders.
In what appears to be a move of desperation, the Cubs recalled Ian Happ from Iowa on Friday, but Happ is certainly not the answer either.
Calling up Ian Happ was a "Theo move" of:

— ESPN 1000 (@ESPN1000) July 27, 2019
While everyone cheers his accomplishments in Des Moines, the fact remains that his numbers down there are representative of his MLB career stats. Happ hasn't improved he's probably worsened; let me explain.
Because Happ was a major-leaguer for two years, he should be killing it in the minors, but since his numbers are equal to those in his major league career, he's performing at the same personal level, but doing so in a league that doesn't feature top-of-the-line professionals, as he was used to seeing. Theo (and the fans) are heralding Happ's stats in July as some great awakening for him, but the fact of the matter is- he had one good month out of the four months he's been there.
It was great that Ben Zobrist had announced his intent to return, as I think there needs to be some closure dating back to May when Zo took leave to handle his family matters, but I don't see Ben being productive on the field, though he may be a significant benefit in the clubhouse. Zo reportedly worked on his baseball skills while on his sabbatical, but is one month in Iowa going to be enough to reproduce the Zo of recent years past?
Will Ben Zobrist solve the #Cubs 2B/Leadoff needs?

— ESPN 1000 (@ESPN1000) July 27, 2019
With Zo's return targeted for September, it may be too late for him to make any real impact on the field, and I still wouldn't be surprised to see him retire this year, especially if he finds that he can't produce out of the gate. That one's not on Ben though if he fails, as his family comes first.
Even more prominent than the question of who the Cubs need to acquire, is the question surrounding who the Cubs need part ways with. At this point, I'd say Martin Maldonado needs to go, despite Epstein announcing that the Cubs would be carrying three catchers. Daniel Descalso has been dead weight for three months and (unfortunately) I think Strop has lost his confidence. Funny that it seems the Cubs' biggest issues are with veterans, but guys age and they all wake up one day realizing that they just don't have what it takes anymore.
I implore Theo to get aggressive- if not now, then certainly over the winter, as this team, for some unknown reason, is no longer able to play like a real contender. Players come and go, but the Cubs have declined steadily since winning the World Series, and if they want any shot at another one, some painful changes need to be made.
Roster moves
As the Cubs prepare for the arrival of Cole Hamels, Derek Holland, (eventually) Ben Zobrist and whoever else Theo may acquire in the next few days; players are going to have to be optioned, traded or released. The problem is that many have little trade value right now, most of those that need to have no minor league options remaining, and a DFA (ultimately resulting in a release) means that the Cubs eat a chunk of the salary. In short, this is a bit of a mess.
Neither Maldonado, Descalso, Brad Brach, Strop or Kyle Ryan can be optioned due to service time or other technicalities. Ryan does have options, but because he's previously been outrighted, he can elect to choose immediate free-agency if the Cubs attempt to option him again. Ryan has improved to the point he may be valuable down the stretch, but what about the rest?
The Cubs are unlikely to part with Strop before this winter and utilizing a DFA for the remainder would be costly. I don't think Happ stays up when players start returning unless they trade either Albert Almora Jr. or Kyle Schwarber, but even then, I think it would be a mistake.
You know that the solid core (Anthony Rizzo, Kris Bryant, Javier Baez, Willson Contreras, and the starting rotation) won't be going anywhere, nor will David Bote, as he just signed an extension and continues to prove his worth. This whole scenario may spell trouble for Robel Garcia, although optioning Addison Russell may have bought him some time as well. I think optioning Garcia would be a tremendous mistake, as Happ, though more versatile, doesn't play the infield, as well as Robel, does, nor does he hit as well.
This reminds me of that person who buries himself in credit card debt, then tries to furiously shuffle money around, all while going further into the hole. The Cubs are maxed out on options and some of the players they have- much like that maxed-out credit card, are relatively useless, though they continue accruing interest.
Time to wrap this one up… I need to go find an aspirin.

Tags: Cubs Baseball
,
,
Pedro Strop
,
Kyle Hendricks
,
Ben Zobrist
,
Daniel Descalso
,
Cole Hamels
,
Kyle Ryan
,
Albert Almora Jr
,
Kyle Schwarber
,
Anthony Rizzo
,
,
,
Willson Contreras
,
David Bote
,
Robel Garcia
,
Addison Russell
,
Joe Maddon