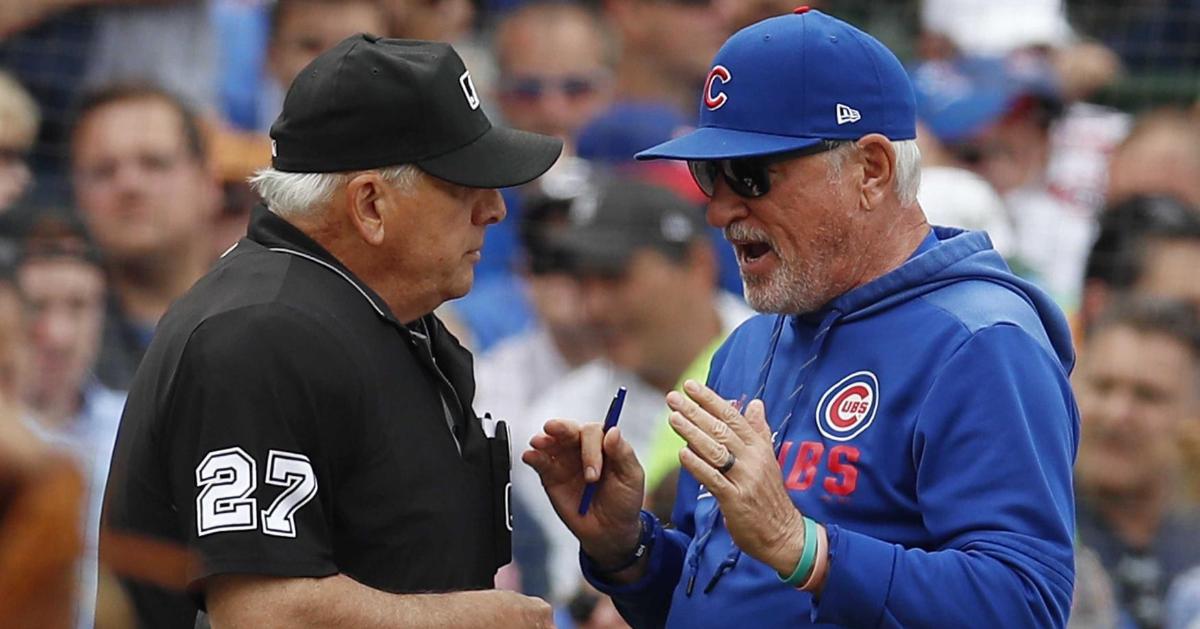 | | |
| --- | --- |
| Cubs Odds and Ends: More on Joe Maddon, NL Central Hot Stove rumors | |
---
| | | |
| --- | --- | --- |
| Sunday, July 28, 2019, 7:16 PM | | |
Occasionally, I see readers, especially on Facebook commenting that they feel that I'm too critical in my articles, analysis, or that I'm somehow not a real fan of the Cubs. Nothing could be further from the truth.
Maybe I should tell you a little about me...
All my life, (in the workplace) I've had to figure out solutions to problems. As a paramedic, I went to work every day knowing that at any time, it could be me and a patient in what amounted to a "Game-7" for me. If I won, they'd live; when I lost... well, I think you know how those ended. I couldn't afford to have a bad day, and I wasn't allowed to be tired. There was no "pulling me out of the game," if things weren't going well, and playing ".500 ball" wasn't acceptable. My focus is on winning; it was then, it is now.
I've been a die-hard fan for almost 50 years, but (now more than ever) I watch games from a different perspective than most. Baseball isn't just a game to me anymore, and some days, I really hate that it's not that way.
I've always been a guy who looks at how to improve things, and I loathe underperformance in anything in life. I guess I tend to watch more from an owner's point of view, although knowing some people in the business, helps me to understand all sides. I watch with my head more than my heart, which is why I can say (for example), "Trade Kris Bryant while you can. He's got a ton of trade value, and he'll never re-sign as a free agent. He's already turned a down $200M extension offer, and with the season he's having, Scott Boras will only demand more."
Not that I want Bryant to leave- far from it, as he's a great ballplayer and is one of only a couple things that are right with this team, but I look to the future, and not always the here and now, as the here and now looks rather bleak for this year.
As a writer, I can't (and won't) ever be that Johnny Rah-Rah guy who says to you, "Hey, the Cubs are in great shape, and they will win the World Series again this year," when, in reality, they are playing like a third-place team. I want to see another World Series win in my time, and if it's going to happen, you have to expect painful changes to made at times. That's neither about me being harsh nor critical; it's about being realistic.
Why is it Joe's fault?
Joe Maddon has done amazing things with the Cubs, and he's accomplished those in a short amount of time. From everything I know of Joe (from insiders), he's one of the kindest, most down to earth, caring men that you'll ever meet. He took a terrible team and built them into World Series Champions in two years; for that, Cubs fans will be forever grateful.
I think this team has somehow outgrown Maddon, even if the players say they still enjoy playing for him. There's an apparent disconnect, even if subliminally, and you can see the frustration on everyone's face- including Maddon's, as they flash pictures of him in the dugout looking bewildered over why things continue to go wrong. I don't know if his heart isn't in it anymore, but I really can't blame him for that, especially with his future in question, now more than ever.
I've said it 100 times before- Maddon isn't the guy who pitches poorly, strikes out, or commits errors. Why then, people ask, do I place so much responsibility for the losses on Joe? Well, because he's the manager would be the short answer.
Joe has the ultimate control at all times, making him ultimately responsible for the outcomes. If he wants Jon Lester out of the game, then he's out (although I have been told that Jon has more say than most). If he thinks (thought) that Daniel Descalso was the guy to pinch-hit, then Descalso grabbed a helmet and a bat. Brandon Kintzler may be mowing guys down with minimal pitches, but when Joe decides he wants a lefty, Brandon hits the shower. The only thing players can control (somewhat) is their performance on the field- but Joe determines when, if and for how long they're allowed to perform.
Players play with strategy dictated by the dugout. If Joe wants Anthony Rizzo to attempt to steal home, then Rizzo needs to get ready to run. Javier Baez doesn't elect to play shortstop from shallow-right, Joe orders him to be there.
Hell, if Joe decided that Albert Almora Jr. was to be the starting pitcher today, Bert would be in the pen warming up during the pregame- so realize, Joe is the one who controls what happens.
People will rant and rave about the lineup or batting order being screwy, then blame Willson Contreras for going 0-4 from the leadoff spot. There is nothing wrong with blame (aka assigning accountability), but you have to know where to place it.
It's never anything personal with me. I have no reason to dislike Joe Maddon (the man), but I have every right (and reason) to dislike the decisions that he makes as a manager.
NL Central Trade Rumors
NL Central Trade rumors: How does Theo Epstein proceed when everything seems to be malfunctioning? The Cubs are reportedly staying vigilant in the hunt for three pieces (leadoff man, second baseman and lefty relievers), though little remains accomplished, save for acquiring Derek Holland the other day.
I think the Cubs needs to configure most of their needs from what they have now- concerning the second base slot and leadoff hitter- then focus like hell on acquiring bullpen help. Fear not, Craig Kimbrel will return to form, but the Cubs have to get a string of games put together where Kimbrel is needed regularly, as he'll never get into the "go-mode" pitching once a week.
Slashing the dead weight in the bullpen is vital, but how do you choose from almost every player in there? Nearly no one has been dependable, yet all are professionals, leading me to believe this is as much a mismanagement issue as it is anything else.
Not that the Cubs could use another catcher, but due to problems with their starting rotation, the Brewers may be shopping Yasmani Grandal. Furthermore, per Ken Rosenthal, Mike Moustakas may also be an option if Grandal is to stay put. While the Cubs would benefit significantly from acquiring Moose, the Brewers would never sell to Chicago. Still, this may pay dividends to the Cubs down the line, as that'll be two Brewer bats that are out of commission.
Scary to think the Cubs could be sellers by the time the deadline rolls around in just a couple of days, but the truth is, they've been declining steadily since 2016.
The Reds , disappointed in their winter signings, may also be sellers, putting Yasiel Puig, Tanner Roarke, Amir Garrett and Scooter Gennett on the trading block.
Yasiel Puig, Scooter Gennett Among Reds Who Are "In Play" https://t.co/yJz7FOk1Xy pic.twitter.com/T8RH2mrxje

— MLB Trade Rumors (@mlbtraderumors) July 28, 2019
Gennett has struggled offensively since returning from the IL (groin injury), and Puig… well, according to Pedro Strop, "He's just stupid." Another off-season acquisition, Alex Wood, has finally been reinstated from the IL, which may help Cincinnati some, but not enough to overcome a disappointing season to date.
The Pirates are undoubtedly the most off-balance team in the NL Central, yet there haven't been very many rumblings about what they plan to do. Much like the Cubs (and Reds) they have a plethora of talent, yet they sit ten games out of first place.
Meanwhile, the Cards have emerged from third-place, assumed the lead in the division, and seem willing to stand pat.
I know one thing- July 31 can't come fast enough. Whether the Cubs buy, sell, trade or stand pat, at least, it'll be over until December.

Tags: Cubs Baseball
,
,
,
Daniel Descalso
,
Brandon Kintzler
,
Anthony Rizzo
,
,
Albert Almora Jr
,
Willson Contreras
,
Pedro Strop
,
Joe Maddon
,
Theo Epstein