| | |
| --- | --- |
| Cubs, Pirates make history in riveting finale of low-scoring series | |
---
| | | |
| --- | --- | --- |
| Sunday, August 19, 2018, 6:04 PM | | |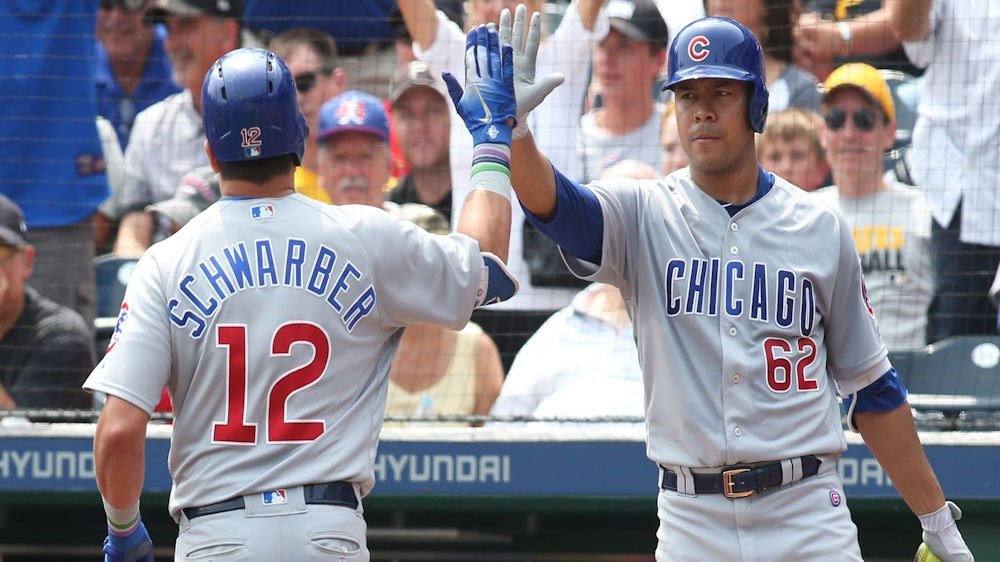 PITTSBURGH — In symbolic fashion, the Chicago Cubs (71-52) lost their series finale with the Pittsburgh Pirates (63-62) on a solo home run to cap off a four-game set in which the Cubs scored all four of their runs via solo homers. Becoming the first team in the live-ball era to score only one run in all four matchups of a four-game set via four different solo bombs, the Cubs were ironically done in by the Pirates' lone home run of the entire series.
Losing 2-1 in 11 innings on Sunday, the Cubs fell on a walk-off dinger hit by the Pirates' Adam Frazier off reliever Brandon Kintzler after the Cubs wasted a couple of opportunities to bring runs across in the top half of the 11th. The game was ultimately defined by clutch defense and blown chances on offense by both teams, with a combined 38 runners getting left stranded on base.
For the fourth game in a row, the Cubs scored their lone run of the contest on an early-inning round-tripper. Left fielder Kyle Schwarber, who went on to pull off several impressive plays on defense, skied a 412-footer to right field to lead off the second inning, which marked Schwarber's 22nd bomb and 50th RBI of the season. It also served as the only run allowed by Pirates starting pitcher Jameson Taillon, who struck out eight in six innings on the bump.
Watching @kschwarb12 demolish a baseball will never get old. #EverybodyIn pic.twitter.com/IxnyxHC0L5

— Chicago Cubs (@Cubs) August 19, 2018
The Pirates were unable to string together much offensive consistency in the early innings but finally got to Cubs starting pitcher Jose Quintana in the bottom of the sixth. The first three Pirate hitters of the inning all reached base, including Gregory Polanco, who batted an RBI double to chase Quintana from the game. Quintana exited having given up one run on four hits and two walks in five innings pitched.
Entering with runners on second and third and no outs, Cubs reliever Carl Edwards, Jr., prevented the Pirates from taking the lead by drawing three outs in four at-bats. First, a fielder's choice groundout resulted in first baseman Anthony Rizzo throwing a base runner out at home. Edwards, Jr., then walked a batter to put runners on the corners with one out, but he composed himself and tallied two straight flyouts after that to escape the jam.
More risky base running cost the Pirates in the seventh, as Kevin Newman attempted to come around from first base to score on a two-out double to deep left. Schwarber fielded the ball and gunned a bullet into shortstop Javier Baez, who proceeded to send a perfect relay throw home that enabled catcher Willson Contreras to tag Newman out. Pirates manager Clint Hurdle challenged the call, feeling that Contreras illegally blocked the plate. However, the call stood, and the game remained tied at 1-1.
August 19, 2018
The Cubs' adept defense paid off again in the bottom of the ninth, as the decision to use a five-man infield resulted in a clutch double play. After reliever Pedro Strop issued a walk and a hit by pitch in consecutive at-bats to load the bases with one out, Baez, who was manning second base, backhanded a grounder hit by Corey Dickcerson and pitched the ball to right fielder Ben Zobrist at second base to set up the rarely seen 4-9-3 double play.
Beautiful turn by the *squints at box score* right fielder. pic.twitter.com/6C6VyOo8Hg

— Chicago Cubs (@Cubs) August 19, 2018
Strop was bailed out once more in extra innings, as Schwarber made a catch at the wall to prevent Marte from hitting a walk-off home run to lead off the bottom of the 10th. Polanco followed that up with a one-out double, but he was left stranded. After that, the Cubs put together their own offensive letdown.
In the top of the 11th, shortstop Addison Russell swatted a one-out ground-rule double down the right-field line which featured fan interference that limited Russell to just two bases. Russell made it to third base soon after anyway, as he took the bag on a wild pitch that came with runners on first and second. With Russell at third, Contreras then proceeded to show bunt at the dish, but an overly eager Russell was picked off by Pirates catcher Elias Diaz after Contreras pulled his bat back and took a pitch.
Even after Russell was picked off at third base, the Cubs garnered another decent scoring chance when Contreras and Jason Heyward were both walked with two outs to juice the bases. However, pinch hitter Albert Almora, Jr., then struck out looking to end the half-inning, and the Cubs came up empty-handed. That set the stage for Frazier's walk-off blast, which came with two outs in the bottom of the 11th and dropped Kintzler to 1-3 overall. Pirates reliever Richard Rodriguez tallied the win to improve to 3-2 on the year.
Riverwalk Walkoff! #RAISEIT pic.twitter.com/6K4LdONQVT

— Pirates (@Pirates) August 19, 2018
A historic series in terms of lackluster run production, the four-game set at PNC Park was the first four-game affair in 60 years in which fewer than 10 runs were scored. A grand total of nine runs were pushed across over the course of the four contests, and Sunday's 2-1 walk-off win for Pittsburgh made the series a 2-2 split.