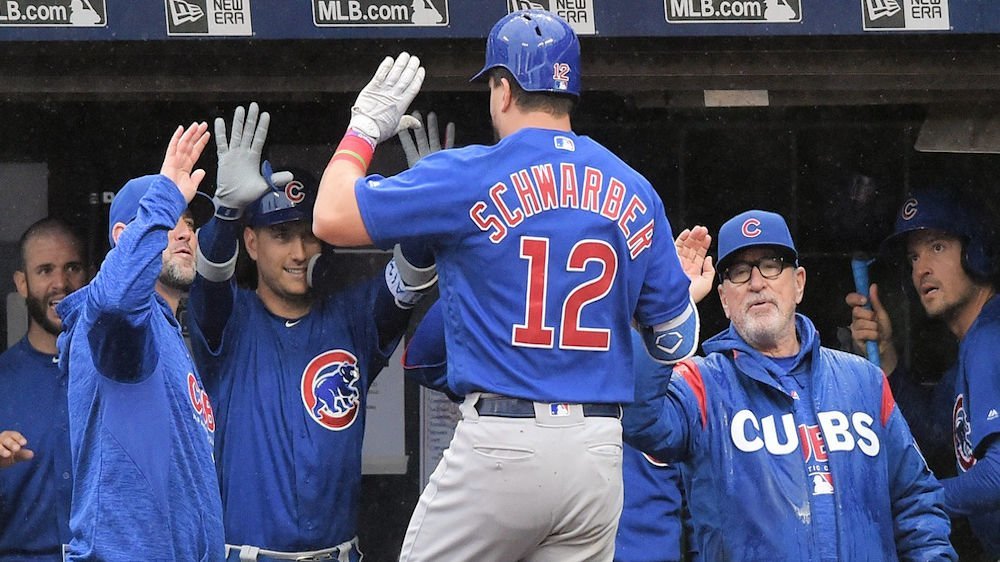 | | |
| --- | --- |
| Cubs Report Card after 50 games | |
---
| | | |
| --- | --- | --- |
| Tuesday, May 29, 2018, 9:38 AM | | |
Here we are at Memorial Day, almost at the 1/3 mark in the schedule. This part of the season is when teams who expect to contend take inventory and start to assess their deficiencies with two months until the July 31 trade deadline. For the Cubs, who sit at 28-22, 4.5 games behind the division-leading Milwaukee Brewers it has been a wild ride of uneven play, mostly from the starting rotation and the ever-changing starting lineup. The bullpen has been rock solid but has had to bail out a starting staff that continues to produce short starts. So let's take a trip around the bases through the first 50 games, and see what it has revealed.
Kyle Hendricks (3.16 ERA) and Jon Lester (2.37 ERA) have been the only two consistent starters. Jose Quintana (4.78 ERA) has yet to justify the trade bounty the Cubs sent across town to the White Sox last summer, Yu Darvish is still a complete mystery, and Tyler Chatwood has thrown more pitches over the on deck circle than home plate walking 45 batters in 48 1/3 innings. Theo Epstein could have saved $38 million and just put Mike Montgomery in the fifth spot as evident by his Memorial Day two-hit performance in Pittsburgh. The bullpen has been outstanding, Carl Edwards, Jr and Steve Cishek are locking down the late innings, and Brandow Morrow is proving you don't have to shell out $50 million for a closer, as he has been nearly perfect in save chances (11/12) to go along with a 100 mph wipeout fastball. The have to get spots 3-5 secure in the rotation soon or they might be shopping for another starter at the deadline. There are also some young arms in the minors, most notably RHP Adbert Alzolay, who sports a 98 mph fastball, to go with an array of off speed stuff.
The lineup has been extremely inconsistent, they are 6-0 when Albert Almora, Jr. and Javier Baez hit first and second. They are 21-10 with Almora in the lineup, 7-12 with him on the bench. Which begs the question: Why is Joe Maddon leaving Almora, who is hitting .324 and creating his own nightly highlight reel in center on the bench and putting Ian Happ, an infielder hitting .244 in his place? Happ cost them the game in center on Saturday as he failed to make a catch that would be difficult for anyone, let alone an infielder. Almora makes things happen at the top of the lineup and can catch anything if it stays in the park. On some days it's been Happ, followed by Kyle Shwarber and Heyward at the bottom of the lineup, which on some days is four automatic outs if you include the pitcher. Heyward defense is starting to suffer, and if he isn't going to hit, then I believe you can't continue to start him. Zobrist has been terrific in right field, so a combination of other platoon players is possible. This team has yet to prove they can hit solid starting pitching. Even though the stats say, they are second in the league in runs scored its misleading. They scored a total of nine runs in a weekend sweep of the Brewers in April, and one run in two games against the Indians at home. The numbers are inflated if you include seven games versus Miami, five versus Cincinnati, and three against the White Sox. Over the last ten days, they were 15/100 with RISP for a .150 average!
I believe this group will have to find an internal solution amongst themselves because the farm system has been thinned out by all the recent trades and I don't think Theo will weaken it to help this group. Sustaining a reliable farm system is the key to long-term major league success as evidenced by the Cubs recent success. Big paydays are coming for some of the roster, and it will be impossible to keep everyone, so keeping the farm strong is a must.
The Cubs are currently 4.5 games behind a streaking Brewer club, and last year the North Siders were 6.5 out at the All-Star break. This club is playing better than last year's club at this point in the season, but the Brewers are also proving to be better than last year making the challenge in the Central Division much more difficult. Milwaukee also has many more pieces to deal with a loaded farm system, and I don't think they will fade like last year.
Bottom line: It's time to stop messing around, and get consistent because the National League has plenty of good young teams that have mirrored the Cubs development, like Philadelphia and Atlanta. These young teams saw what the Cubs did in '15 and '16 and are poised to battle along with the rest of the league to provide a compelling summer of baseball!

Tags: Cubs Baseball
,
Kyle Hendricks
,
,
Jose Quintana
,
Yu Darvish
,
Tyler Chatwood
,
Mike Montgomery
,
Steve Cishek
,
,
,
Joe Maddon
,
Theo Epstein