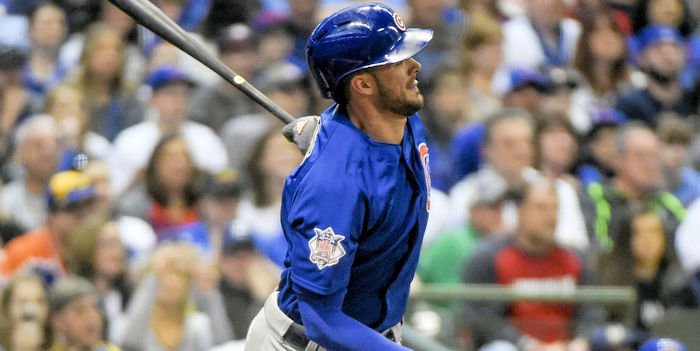 | | |
| --- | --- |
| Cubs collect 17 hits en route to big win over Brewers | |
---
MILWAUKEE -- A night after a sickening loss in extra innings, the Chicago Cubs showed no signs of despair or fatigue at the plate, as they used their bats to overcome an early 0-2 hole and defeat the Milwaukee Brewers at Miller Park. Marking the season debut of reigning National League ERA king Kyle Hendricks, Game 2 of the divisional series was not exactly a pitching duel. Hendricks and Brewers starter Tommy Milone both gave up four earned runs, but the Cubs were able to use their remarkable 17-hit total to propel them to an impressive 11-6 victory.
The Brewers have served as a thorn in the Cubs' side since late last season, with the Brew Crew winning six of the last seven contests between the two entering tonight. In many of those Milwaukee victories, big hits played a significant role, and tonight was no exception. Hendricks allowed only five hits in his six innings on the hill, but three of them were run-producing extra-base hits, including two home runs.
Brewers second baseman Jonathan Villar, who is off to a hot start this season, led off the bottom of the first with a solo shot to straightaway center, his second homer of 2017. Hendricks proceeded to give up two more hits in the immediate aftermath of incurring the damage by Villar, as an ensuing single was followed by an RBI double from third baseman Travis Shaw. Hendricks was able to compose himself, though, and sit down the next three batters in order.
Though the Cubs were slow to the punch at the dish, the third inning saw their bats come alive, with three runs crossing the plate. Following a one-out single, sluggers Kyle Schwarber and Kris Bryant hit back-to-back doubles off of Milone, the latter of which cleared the bases to knot the score up at two runs apiece. Then, after Bryant reached third on a grounder, right fielder Ben Zobrist brought him home on a fielder's choice groundout that provided the Cubs with a 3-2 lead.
Bryant found himself in a slump to start the season, not collecting a single hit in the Cubs' opening series. However, the 2016 National League MVP appeared to settle into a groove tonight, garnering three RBI on a 3-6 hitting performance. In the inning after his two-run double, Bryant drove in another run with a single to center, making the score 4-2 in favor of the Cubs.
Brewers shortstop Nick Franklin made Bryant's RBI single moot, though, with a two-run round-tripper in the bottom half of the fourth, the second home run of the night allowed by Hendricks. Interestingly enough, Hendricks was arguably more effective with the bat in his hands than the ball on Saturday, as he was 2-3 with an RBI. One of several Cubs pitchers with a knack for the hitting game, Hendricks has helped the Cubs' pitchers compile a batting average of around .400 to start the season, which has been a major catalyst for the North Siders thus far.
Hendricks was part of the offensive action in a two-run fifth inning for Chicago, as he and Albert Almora both hustled on the basepath and reached first on infield singles that drove in one run apiece. Leading 6-4 at that point, the Cubs never looked back, adding five additional runs over the course of the remaining four innings to embarrass the Brewers.
Almora, who had two RBI on three hits, delivered with a single to center in the seventh that scored Cubs second baseman Javier Baez, placing the Cubs up 7-4 and putting a bow on a woeful appearance by Brewers reliever Jhan Mariñez, who allowed three runs to score in only 2.1 innings pitched. His replacement, Brent Suter, fared no better, giving up four runs in the eighth inning to put the game out of reach for Milwaukee.
Suter struggled from the get-go, with Bryant doubling off of him in the first at-bat of the eighth. Bryant took third soon after because of a wild pitch by Suter, but Bryant was then thrown out while riskily attempting to score on a grounder to short. With that being said, the mulligan that Suter received was not reciprocated with better pitching, as he walked two consecutive batters to load the bases.
Cubs catcher Willson Contreras, with his only hit of the evening, took advantage of the bases-loaded situation by driving two runners home on a double to left-center. Baez next added to the Cubs' already-gaudy run total by scoring another run via a single to center that chased Suter from the game with the Cubs leading 11-4. The Brewers were able to add two meaningless runs on a two-run homer by catcher Jett Bandy in the bottom of the ninth off of Cubs reliever Justin Grimm, but the damage that Milwaukee had already suffered was too much to overcome.
Winning 11-6, the Cubs garnered their highest single-game run total of the young season in a matchup that saw several key Cub hitters come alive. Shortstop Addison Russell was one such hitter, as he went 3-4 with one walk and two runs scored. In what was perhaps the best game of his Major League career thus far, Almora was 3-4 on the night with one walk and his first two RBI of 2017, in addition to producing an impressive diving catch in shallow center that prevented a run from scoring in the fifth.
Despite the four runs allowed, Hendricks (1-0) walked away victorious in his first start of the year tonight, striking out six batters in the process. Milone, on the other hand, was not so lucky to escape the plague of his four runs allowed unscathed, as he had a major hand in the Brewers' 11-6 blowout loss, lasting a meager four innings before being pulled. Mariñez was handed the official loss for his seventh-inning struggles, though, dropping him to 0-2 overall.
After being outscored 11-6 and outhit 17-7, the Brewers (2-4) will have their work cut out for them as they attempt to rebound in the rubber match of this National League Central clash tomorrow against the Cubs (3-2). In a game slated to start at 1:10 PM CST, Chicago's Jake Arrieta (1-0) will face off against Milwaukee's Zach Davies (0-1) on the bump. The Sunday afternoon matchup will serve as the final contest for the Cubs before their highly-anticipated first game back at Wrigley Field since winning the 2016 World Series title.
.@kylehendricks28's 2nd hit of the night drives in @Addison_Russell!#Cubs lead 5-4 in the 5th. pic.twitter.com/kNzFgCxQXq

— Chicago Cubs (@Cubs) April 9, 2017
.@albertalmora's infield knock brings home @javy23baez! #Cubs lead 6-4 in the 5th. pic.twitter.com/hnEDl54UWm

— Chicago Cubs (@Cubs) April 9, 2017
Albert in the Outfield. pic.twitter.com/9NWsu1kEpo

— Chicago Cubs (@Cubs) April 9, 2017
.@WContreras40's bases-loaded double brings home a pair in the 8th!#Cubs lead 9-4. pic.twitter.com/mfOYX3amYc

— Chicago Cubs (@Cubs) April 9, 2017
April 9, 2017

Upgrade Your Account
Unlock premium boards and exclusive features (e.g. ad-free) by upgrading your account today.
Upgrade Now