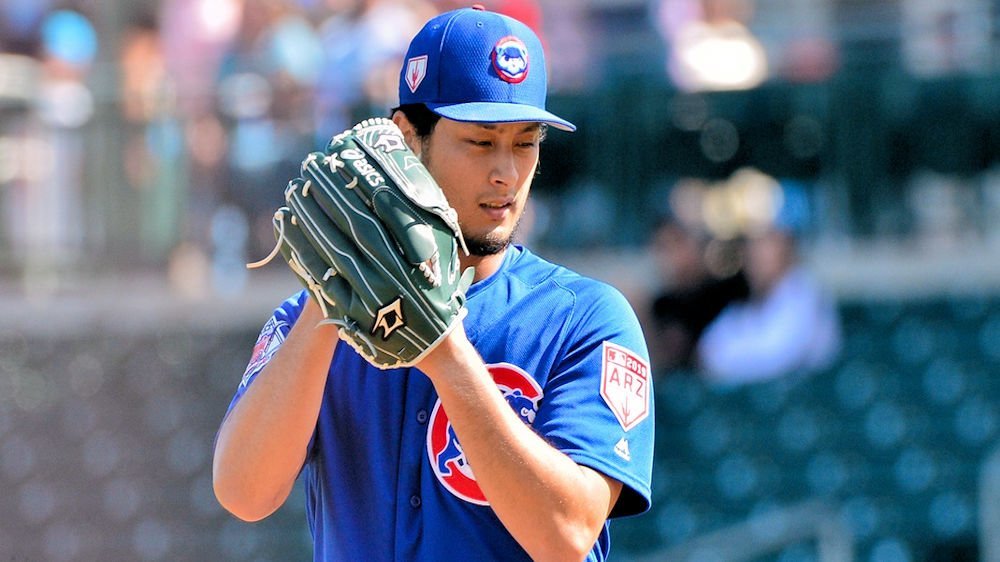 | | |
| --- | --- |
| Cubs embarrass White Sox, El Mago on no-look tags, Schwarbs' patience, and MLB notes | |
---
Upcoming games: March 4, 3:05 PM EST: Cubs @ Reds (Santillan vs Alec Mills); March 5, 3:10 PM: Cubs @ Angels (Pitchers TBD).
Cubs' Opening Day: 24 days. (March 28 @ Rangers)
Sunday's Game Recap: Yu Darvish got his second start of the spring today, as the Cubs stayed home to host the ailing White Sox. Facing off against Sox starter, LHP Manny Banuelos, who closely resembled the 2018 version of Tyler Chatwood, issued four walks in the first inning. The Cubs would score 10 runs in the first three innings and win the game easily by a final score of 13-4.

Cubs win!

Final: #Cubs 13, White Sox 4. pic.twitter.com/TsPYhS1e7u

— Chicago Cubs (@Cubs) March 3, 2019
Javy Baez: During an interview with MLB Network, Javy Baez discussed his signature "no-look tag." "When I was young, I would try to confuse the runners," Baez said to reporter Robert Flores. "One of my coaches said I should get to the bag earlier and act like the ball isn't coming and last-second drop the tag. I started doing it and got really good at it."
.@RoFlo (like most of us) loves those no-look @javy23baez tags!

Catch a replay of the @Cubs' day on #30Clubs30Days at 12pm ET. pic.twitter.com/hLQLceCMy5

— MLB Network (@MLBNetwork) March 3, 2019
Kyle Schwarber: Patience is a virtue. With his two walks yesterday, Schwarber now has nine walks this season, collecting at least one in each of the six games he's played thus far. His OBP for the spring is .750, and his walk-rate now stands at around 50%.
Yu Darvish: "I'm the best right now in my career," Darvish said. Why? "Because I'm throwing 97, my slider was really good and my split was good, too. That's the best stuff in my life."
Kris Bryant: Joe Maddon isn't ruling out that Bryant could see some starts in the outfield this year for certain games/matchups. Maddon talked to KB about it and Bryant replied, No, I'm fine. I'm fine with it all."
Tyler Chatwood: According to Mark Gonzalez of the Chicago Tribune, "Tyler Chatwood isn't a lock to make their roster this season."
Gonzalez suggests that a trade may be possible if the Cubs eat a big chunk of Chatty's remaining $25.2M salary, but I don't think he's going anywhere. Chatwood has been strong in five innings of work this spring, throwing no wild pitches and issuing only one walk so far. I have a renewed faith in Chatwood (credit to Tommy Hottovy for "fixing" him), and there's only one caveat that I see. Last year Joe Maddon's son told me that Chatwood looked fantastic in spring training, but the wheels fell off when the regular season began.
Jason Heyward: Although he was in camp, and participated in yesterday's workout, Heyward is still reportedly under the weather.
Xavier Cedeno: The Cubs' newly acquired left-hander, Xavier Cedeno, is dealing with a left wrist issue. He's resumed playing catch but has fallen behind the other bullpen candidates for a roster spot.
To close, or not to close: Joe Maddon says that he doesn't want to commit to a set closer. Pedro Strop will be the main guy until Morrow returns, but Maddon says, "When you say, 'You're the guy,' then it kind of handcuffs you."
Signings: The Cubs have now signed all 17 of their pre-arbitration players, a group that includes Willson Contreras ($684,000), Albert Almora Jr. ($615,500) and Ian Happ ($603,500).
Luke Farrell: In Saturday's Rangers vs. Giants game, former Cub pitcher, Luke Farrell, took a line drive to the jaw in the ninth inning. Farrell went to the ground but walked off under his own power before being taken to a local emergency room for treatment. The team has since confirmed that his jaw was broken. Farrell was scheduled to see a dentist and specialist yesterday.
Attendance Record: Drawing a crowd of 16,069, the Cubs set a Cactus League attendance record yesterday, when they faced the White Sox at Sloan Park.
Thank you, #Cubs fans!

We've set another Cactus League single-game attendance record with today's crowd of 16,069! pic.twitter.com/mp2bhXaccv

— Chicago Cubs (@Cubs) March 3, 2019
Saturday's Scoreboard: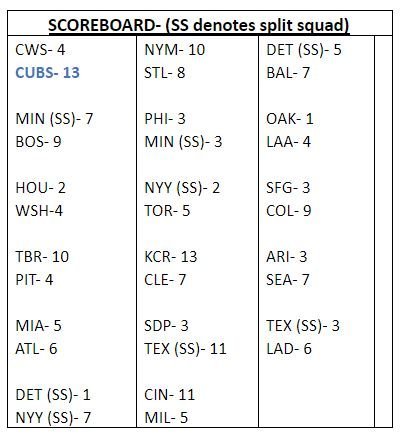 Monday's games (EST): 1:05 PM: STL @ DET, HOU (SS) @ ATL, BAL @ MIN, WSH @ MIA, NYM (SS) @ HOU (SS), BOS @ NYM (SS). 3:05 PM: CUBS @ CIN (SS), LAD @ SFG, COL @ TEX, LAA @ CWS. 3:10 PM: CLE @ SDP, CIN (SS) @ D-BACKS.
Tuesday's games (EST): 1:05 PM: BOS @ WSH, PIT @ BAL, TOR @ DET, TBR (SS) @ MIN, ATL @ NYY, STL @ PHI, NYM @ MIA. 3:05 PM: CWS (SS) @ CLE, TEX @ OAK, SDP (SS) @ CWS (SS). 3:1- PM: CUBS @ LAA, MIL @ COL, SEA @ SDP (SS). 6:05 PM: USF BULLS @ TBR. 8:05 PM: ARI @ KCR.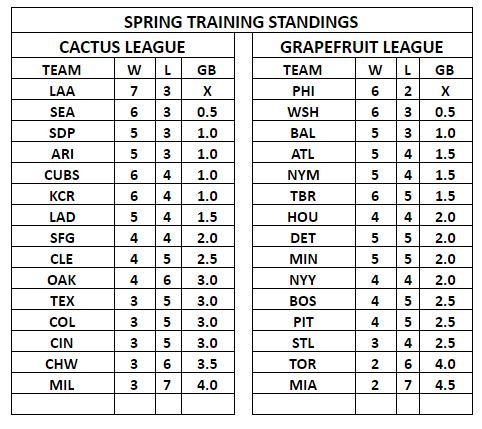 Other news from around MLB:
Brewers: Milwaukee's recently acquired reliever, Bobby Wahl, has suffered a torn ACL and will miss all of the 2019 season. Wahl was injured on March 1st (fourth inning) in the Brewers loss to Seattle. The Brewers picked up Wahl this winter as part of the trade that sent Keone Broxton to the Mets.
Giants: SF has claimed righty, Merandy Gonzalez, off outright waivers from Miami.
Phillies: After announcing Harper's signing on Saturday, the Phillies have declared that the "Harper Era" has started. The team has sold more than 220,000 tickets since they snagged Harper on a 13-year deal ($360M). The Phillies are now asking, "Does this look like stupid money?"
Rangers: Texas has acquired OF Zack Granite from the Twins in exchange for RHP Xavier Moore and cash. Texas has placed OF Scott Heineman on the 60-day IL.

Tags: Cubs Baseball
,
,
Yu Darvish
,
Tyler Chatwood
,
Kyle Schwarber
,
,
Jason Heyward
,
Xavier Cedeno
,
Pedro Strop
,
Willson Contreras
,
Albert Almora Jr
,
,
Joe Maddon
,
Tommy Hottovy