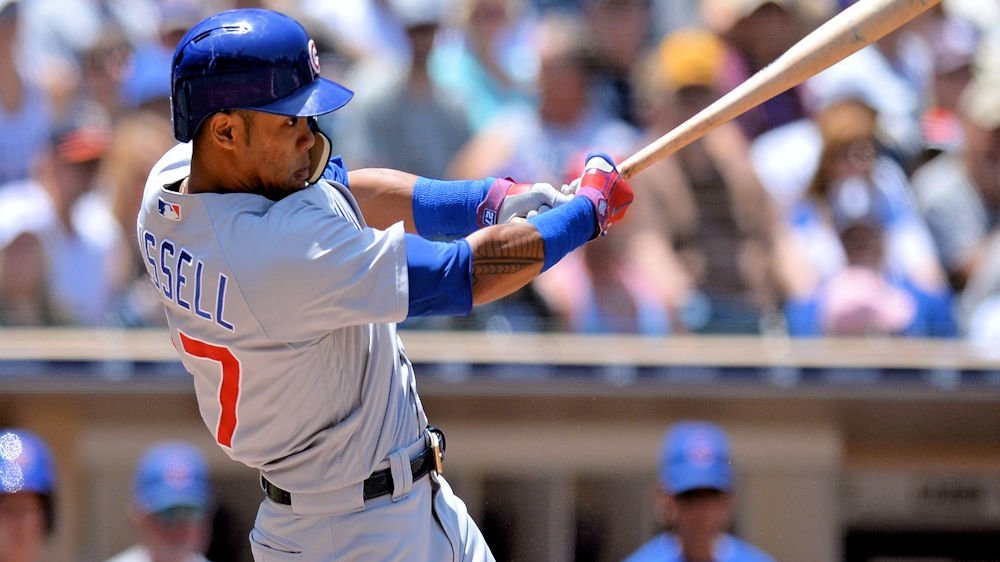 | | |
| --- | --- |
| Cubs fall to Rockies, Russell to lose playing time, Cubs' leprechaun, and MLB notes | |
---
| | | |
| --- | --- | --- |
| Monday, March 18, 2019, 7:15 AM | | |
Upcoming Cubs games (Central time): March 18: OFF. March 19th (split-squad). Game 1- 3:05 PM (Central): Mariners (minor league affiliate) at Cubs (LHP Marco Gonzalez vs. Cubs TBD). Game 2- 8:05 PM: Cubs at Royals (Pitchers TBD). March 20th- 9:05 PM: Dodgers @ Cubs (Pitchers TBD)
Cubs' Opening Day: 10 days. March 28 @ Rangers; (Lester vs TBD). Game time: 3:05 PM Central. (WGN, MLB.TV).
Cubs' Home Opener: 21 Days. April 8 vs. Pirates: Game time: 1:20 PM Central. (ABC-7, MLB.TV)
Sunday's Game Recap: Jose Quintana would get the start for the Cubs, against Rockies righty, Chad Bettis. Quintana would struggle in the fourth and Duensing would get rocked in the sixth, in the Cubs 7-2 loss.

Addison Russell:Despite having a good spring training, it's just about time for the reality of the remaining suspension time (29 games) to kick in. Joe Maddon says that he will be tapering Addison Russell's playing time, to be able to focus more on the players who will be breaking camp with the team.
Ian Happ: Joe Maddon says that he's never seen Ian Happ swing a bat as well as he has this spring. "I see a flatter, more functional swing left-handed and right-handed," Maddon said. "I've never seen him swing the bat that well." Happ said Saturday, "I've proven a lot in my first two years."
Self-confidence is a good thing, and encouragement from your manager helps, but Happ is not having a good spring from an offensive standpoint. As of Saturday, his stats reflected a slash line of just .143/.205/.195 (6 for 41), and although he has a pair of doubles and three walks, his eight strikeouts mean that he's still striking at a rate of 18.2%, although that is improved from last year's 36.15% rate.
Pep-talk: The Cubs minor-leaguers got a treat yesterday, courtesy of Rick Sutcliffe, who arranged a pep-talk from Cole Hamels and Kris Bryant.
Taylor Davis: The Cubs' third-string catcher took to Instagram yesterday, to answer questions from the fans:
Did you miss @Beanz_TD's Instagram take over yesterday? We've got you covered ?? pic.twitter.com/rJPoTGamZz

— Iowa Cubs (@IowaCubs) March 17, 2019
Incredible Hulk? Nope, not the Hulk, it's just the Cubs strength and conditioning coach, Tim Buss. Somebody (perhaps Buss, himself), got the bright idea to paint him green, put him in a denim Speedo, and have him lead the workout yesterday. The green doesn't bother me, but a denim Speedo? Welcome to Camp Maddon.
Happy St. Paddy's Day from Cubs camp, where strength and conditioning coach Tim Buss is painted green and leading stretch in a denim speedo. pic.twitter.com/TkBexdPjiS

— Jordan Bastian (@MLBastian) March 17, 2019
Cub Birthdays: Celebrating yesterday were ex-Cubs Scott Downs (43), Bill Mueller (48), Jerry Tabb (67), and posthumously, Hank Sauer (102), Harold "Hy" van den Berg (113), Charlie Root (120), Bill Gannon (146), and Fred Pfeffer (159).
Sunday's Scoreboard: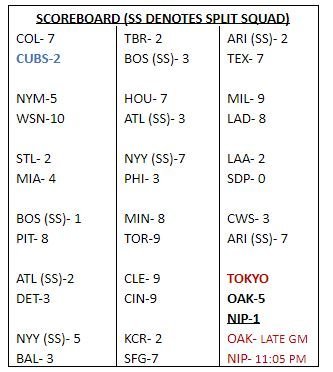 MONDAY (EST): 6:05 AM: SEA @ YOMIURI GIANTS (Tokyo Dome). 1:05 PM: BOS @ MIN, MIA @ WSH (SS), PIT @ TBR, BAL @ DET (SS), PHI @ STL, DET (SS) @ TOR, WSH (SS) @ NYM. 4:05 PM: SDP @ CLE, SFG @ CWS, CIN @ COL. 6:05 PM: NYY @ ATL. 10:05 PM: LAD @ KCR.
TUESDAY (EST): 1:05 PM: TOR @ BOS, NYM @ MIA, DET @ PIT, WSH @ ATL, TBR @ NYY, MIN @ BAL, PHI @ HOU. 4:05 PM: SEA @ CUBS, TEX (SS) @ MIL. 9:05 PM: CUBS @ KCR, CWS @ CIN, COL @ LAA (SS). 9:40 PM: SDP @ ARI. 10:05 PM: CLE @ LAD.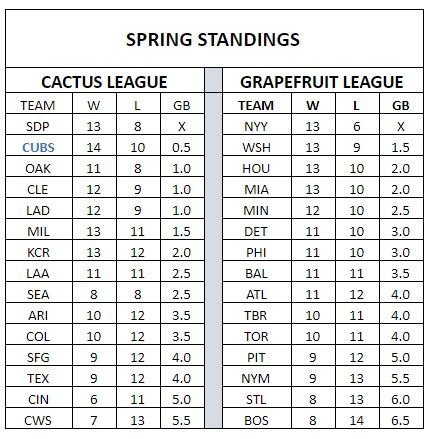 News from around MLB:
Astros: Manager, AJ Hinch, was suspended for yesterday's game against Atlanta and was fined an undisclosed amount for an incident with umpire, Angel Hernandez, during the Astros' game on Friday (TERRIBLE ump, by the way). The incident stemmed from a previous incident between the two. Hinch released this statement: "I'm very passionate about our players and our team, but on Friday night I made some emotional comments that took attention away from the play on the field. I take responsibility for my actions and comments and accept the league's decision. I will serve the suspension [Sunday]."
Blue Jays: Toronto has acquired right-hander, Jason Adam from the Royals, for cash. The team also says that 2B Devon Travis underwent arthroscopic surgery to repair a small meniscus tear in his left knee, and will be reassessed in 4-6 weeks, while they have lost RHP Mark Leiter Jr. to Tommy John surgery.
Dodgers: LA says Corey Seager will be ready for Opening Day, despite not appearing in a spring training game.
Rockies: Colorado has released OF Michael Saunders.
Yankees: NY will be without CF Aaron Hicks on Opening Day due to back stiffness.