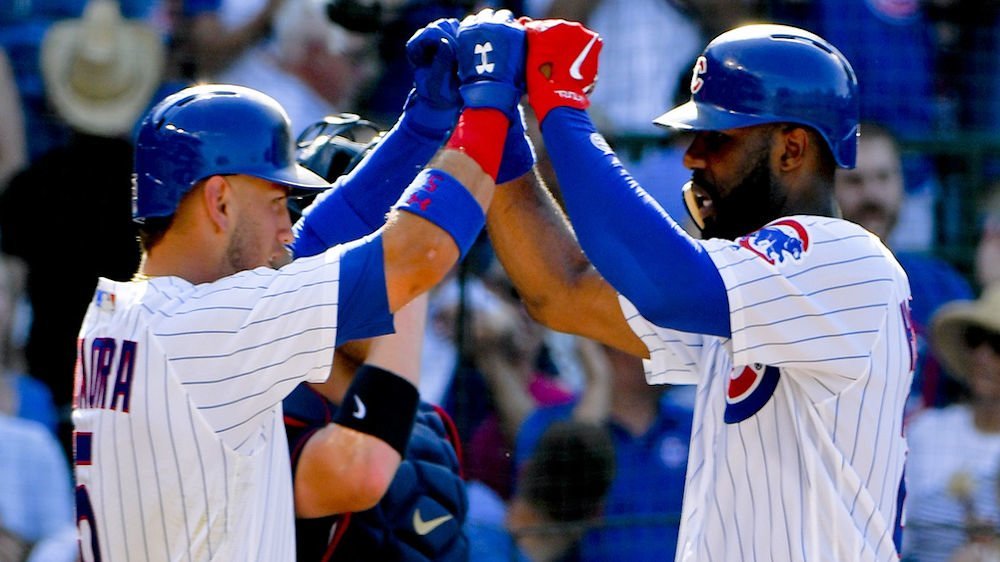 | | |
| --- | --- |
| Cubs odds and ends: Leadoff ideas, game scenarios, rotation and hitting stats, more | |
---
| | | |
| --- | --- | --- |
| Tuesday, April 16, 2019, 4:25 PM | | |
Sometimes thoughts and bullets are a little too long for my daily column, but not nearly long enough to write a commentary about. I sat down Monday afternoon and put together a list of some of odds and ends regarding the Cubs' 2019 season. Please note, statistics were current as of yesterday before the game started.
Now leading off…
More than any other complaint, I see the fans begging for a set leadoff man, and I can't say that I disagree. Who would that be though? Daniel Descalso, who seems to be reasonably consistent? Jason Heyward, who's on absolute fire? Maybe Anthony Rizzo, the self-proclaimed "greatest leadoff man ever"? I took a look at how each of the Cubs has performed in various positions in the batting order. (2018 stats were used for everyone except Mark Zagunis (due to limited MLB time in 2018, I used his 2019 stats). As a bonus, I went through the roster and checked the leaders for each batting order position- the leaders are in red.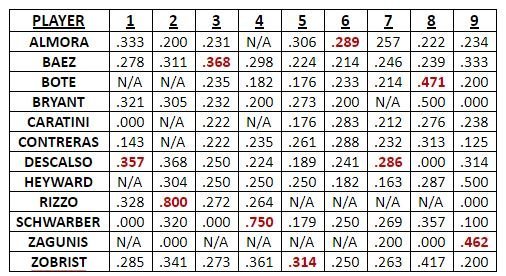 From the looks of things, Descalso would/should be the man, but considering his limited starts, (in order) Albert Almora, Jr., Anthony Rizzo, and Kris Bryant would be the next best choices.
Favorable game scenarios
The Cubs seem to be losing no matter when they play, but certainly, they have to either be better at home or away, during the day or at night. Here's a breakdown of how they've performed, based on their schedule. Their best shot at winning appears to be day games at Wrigley, while the last thing the Cubs need to be doing is playing night games anywhere, but especially not on the road.

A little about the rotation
As I mentioned in my column this morning, Kyle Hendricks has seen his opponents' batting average against him climb steadily over the years. Here's a look at how well batters have hit against the other members of the rotation over the past five years (worst years of the five are in red):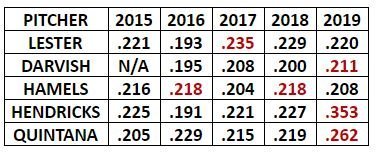 Rotation needs to go deeper
Currently, the Cubs' starting rotation is averaging just over five innings per start, with Cole Hamels and Jose Quintana lead the pack with an eight-inning and seven-inning start between them. Hendricks has never seen the fifth inning this season, and Yu Darvish has once (Monday). In fairness to the rotation, if you take out Jon Lester's two-inning appearance the night he was injured, the average starter goes just under 5-1/2 innings, but that is still far from optimal.
Individual averages are as follows:
Lester: (excluding the night of his injury): Two starts, average of 6 innings per start.
Darvish: Three starts, average of 4 innings per start.
Hamels: Three starts, average of 6.1 innings per start.
Hendricks: Three starts, average of just over 4-1/3 innings per start.
Quintana: Three starts, average of just over 4-1/2 innings per start.
With an ailing bullpen, the Cubs' rotation must go deeper in the games for the team to be successful, and no less than six innings should be acceptable. It makes little sense for Joe Maddon to pull an ineffective starter out after three innings, just to be replaced by a parade of relievers who are equally as bad or worse.
Let's hear it for the offense
Despite a recent rash of painful slumps by Anthony Rizzo (.192), Kris Bryant (.231), Albert Almora, Jr. (.244) and Kyle Schwarber (.192), the Cubs' offense is otherwise alive and well. The Cubs are currently batting .302 as a team, and even when including the pitchers, the entire team is batting .272.
The Cubs have already tallied 86 runs on 134 hits this year, which includes 24 doubles and 23 homers. Jason Heyward has already smoked four homers this year, as compared to a total of eight for all of 2018. While they're still a little weak in the stolen base department, thus far, they've swiped 9 and attempted 12, which is good enough to rank 2nd in the NL. Considering that they only had 66 total swipes last year, they are already on pace to steal 104 bags on 139 attempts. The biggest concern is the strikeout rate, which currently stands at 23.4% (including pitchers), while the walk-rate stands at 11.15% for the entire team.
Reliever fever
Some days I swear Joe Maddon is competing for some trophy for using the most relievers possible. Pitchers throwing quality innings are getting yanked, putting more pressure on an already frayed and frazzled bullpen. In only nine out of 15 games has the starter gone 5 innings or more, and only five times has the starter completed a sixth inning or more.
Series 1- Cubs @ Rangers (3 games): Starters: 13.2 innings, then a total of 12 relievers for 11.2 innings.
Series 2- Cubs @ Atlanta (3 games): Starters 14.1 innings, then a total of 12 relievers for 9.2 innings.
Series 3: Cubs @ Milwaukee: Starters 13 innings, then a total of 12 relievers for 12 innings.
Series 4- Pittsburgh @ Cubs: Starters 14.1 innings, then a total of 10 relievers for 12.2 innings.
Series 5- Angels @ Cubs (2 games due to weather): Starters 13 innings, then a total of 7 relievers for five innings.
Series 6- Cubs @ Marlins (1 game thus far): Darvish 5.2 innings, then a total of 3 relievers for 3.1 IP.
All told, Maddon has now used a total of 62 relievers in 15 games, to cover a total of 54.1 innings. This means that he's averaging 4.13 relief appearances per game, at a rate of just 0.88 innings per appearance. Is he that worried about what they can handle effectively? Is the bullpen really that bad? For the sake of the season, let's hope not.
OK, chew on those numbers for a couple of days, then I'll have the next edition of my stats and ratings feature on Thursday. Don't forget to check out my daily column "Cubs' Corner," Dustin's feature, "Down on the farm," Cole's game recaps, and Dan's miscellaneous rants. As always, thanks for being a part of CubsHQ.

Tags: Cubs Baseball
,
Daniel Descalso
,
Jason Heyward
,
Anthony Rizzo
,
Mark Zagunis
,
,
Kyle Hendricks
,
Cole Hamels
,
Jose Quintana
,
Yu Darvish
,
,
Kyle Schwarber
,
Joe Maddon