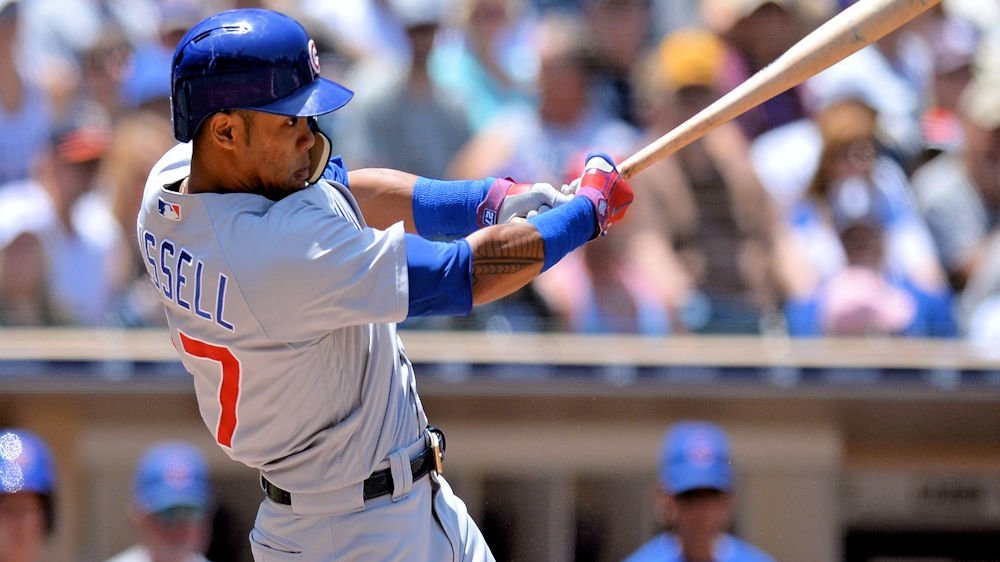 | | |
| --- | --- |
| Cubs rally comes up short against Royals | |
---
| | | |
| --- | --- | --- |
| Wednesday, March 20, 2019, 8:26 AM | | |
GAME 2: Cubs (15-10) @ Royals (13-12)
After taking one from a Mariners' minor league team this afternoon, the other half of the Cubs traveled to Surprise Stadium this evening, to meet the Royals. A new face took the mound for the Cubs; 24-year-old, right-hander, Thomas Hatch, while the Royals sent righty, Jakob Junis (0-1, 7.36 ERA) to the hill.
Hatch's inaugural outing didn't go smoothly, as he allowed eight runs (7 ER) in just two innings. That was all the Royals needed, as they'd need to outscore the Cubs by a final of 8-6.
T1: (KCR RHP Junis) Albert Almora, Jr. would get things started with a bloop single to left. Cristhian Adames' grounder to first would advance Almora to second; then he'd take third on a wild pitch. David Bote's lineout left it up to Victor Caratini who struck out to end the inning.
B1: Cubs' minor leaguer, RHP Thomas Hatch, got his first taste of MLB action tonight, and while he started strong, it wouldn't last. A pop-foul-out and groundout would start his night, followed by a walk, single, two-run double, single, walk. The inning finally ended on a pop-out, and with the Royals up 3-0.
T2: (KCR RHP Junis) Addison Russell would groundout to start the inning, followed by Jim Adduci's walk. Johnny Field would fan, and Adduci would be thrown out trying to steal second to end the frame. Cubs trail 3-0.
B2: Hatch would get off to a rough start in the second, giving up a leadoff double to speed-demon, Billy Hamilton. On the ensuing play, a ball would take a bad hop on Russell (error), scoring Hamilton, who never even slowed down. A sliding catch by Field would give Hatch his first out, but then he'd plunk the next guy. An RBI single would be followed by a three-run blast, putting the Cubs down 8-0. A pair of fly balls would finally end the inning.
T3: (KCR RHP Junis) Mark Zagunis would get the Cubs on the board with a leadoff dinger to right-center, but a pair of groundouts (Jared Young, Almora) would give the Cubs two-away before Adames walked. Bote and Caratini would single, eventually scoring Adames, but Russell would ground out to end the inning. Cubs trail 8-2.
B3: Mercifully, Joe Maddon sent RHP Allen Webster to work, and despite a leadoff double, the runner would be stranded after a pair of groundouts and a flyout.
T4: (KCR RHP Junis) Despite Adduci's single, the next three go down in order (Field, Zagunis Young) Cubs trail 8-2.
B4: Lefty, Randy Rosario opened with a strikeout and groundout, before issuing a walk, followed by a strikeout to end the frame.
T5: (KCR RHP Junis) Cubs go in order: Almora (strikeout), Adames (flyout), Bote (line-out).
B5: Righty, Dillon Maples, would get his turn, walking the leadoff man, then throwing two wild pitches to advance him to third. He'd issue another walk, before getting a gift from the home-plate ump on a bad call for a strikeout. Maples would escape damage on strike-em-out, throw-em-out (Caratini-Russell-Adduci) to end the inning. Cubs still trail 8-2
T6: (KCR RHP Ellis) Caratini's leadoff triple would be followed by Russell's strikeout, but Adduci's walk would help keep the Cubs alive. Johnny Field liner to right would be mishandled (E-9), scoring two and advancing Field to third. The inning would end on Zagunis' strikeout, followed by Young's flyout. Cubs trail 8-4.
B6: Righty, Rowan Wick, gave up a leadoff double, but followed that with a strikeout, flyout and groundout to hold KC scoreless.
T7: (KCR RHP Zimmer) Almora's flyout would be followed by Adames' single (replaced by PR Cristian Donahue). Bote would walk (replaced by PR Trent Giambrone), the Miguel Amaya's single would score Donahue and advance Giambrone to third. Russell would hit into a 5-4-3 double-play to end the inning. Cubs trail 8-5.
B7: RHP James Norwood would get a leadoff groundout, but he, too, would issue a walk, before a nice 5-4-3 double-play (Donahue- Zack Short- Yasiel Balaguert) would end the inning.
T8: (KCR RHP Boxberger) Balaguert's leadoff single would be wasted after Field flied out, Zagunis lined out, followed by a pitching change (LHP Diekman) who would get Young to groundout. Cubs still trail 8-5.
B8: Lefty, Jordan Minch would handle the eighth, issuing a leadoff walk, followed by a force-out. The next man would reach on a single, followed by a pair of strikeouts to end the frame.
T9: (KCR RHP Diekman) Wynton Bernard would leadoff with a walk, followed by Donahue's ground out. Following a pitching change (RHP Peralta), Giambrone would hit a liner back to the mound, which was deflected by the pitcher. In the confusion, Bernard would score, and Giambrone would wind up at second on a throwing error by the catcher. Amaya's walk would put the tying run on base, but Zack short's flyout would leave the Cubs with just one chance. Balaguert would ground out to end the game. Final score: Cubs 6; KC-8.
The Cubs will return to Sloan Park tomorrow night to host the Dodgers at 9:05 PM Central. The Dodgers have not announced their starter, but Joe Maddon will be sending veteran lefty, Cole Hamels (2-0, 5.00 ERA), to the mound. This game will be televised on NBC Sports Chicago, MLB.TV and SportsNet LA for those of you on the west coast.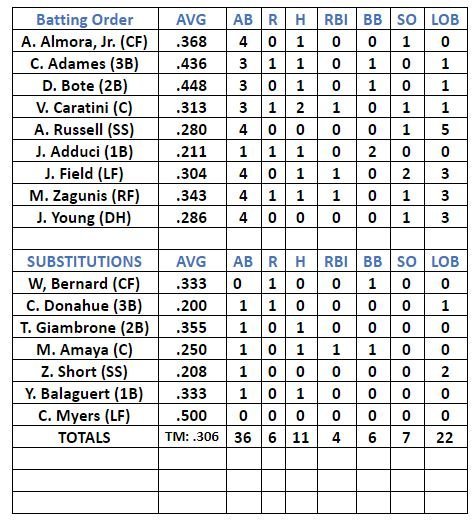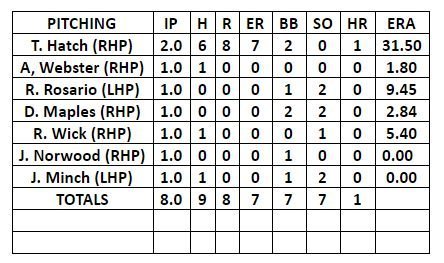 Game 1: Mariners (8-8) @ Cubs (14-10): Yu Darvish (1-0, 2.45 ERA) got the start this afternoon for the Cubs, while righty, Nabil Crismatt (0-0, 0.00 ERA) to the mound for the Mariners.
Darvish would go 4.2 innings, allowing 2 ER on five hits and two walks, while striking out six. Offensively, Darvish would also earn himself an RBI hit in his two at-bats. Also pitching today for the Cubs: Carl Edwards, Jr. 0.2 IP), Mike Montgomery (0.2IP), Matt Carasiti (1.0 IP) and Tyler Chatwood (2.0 IP).
The Cubs would trail 1-0 early but would immediately catch up in the bottom of the second, then take the lead and add insurance runs in the third, never looking back. Kyle Schwarber, Jason Heyward, Ian Happ, Willson Contreras and Yu Darvish would all tally an RBI each. Turning to the substitution players, prospect, Nico Hoerner would prove he was human with a strikeout, but Chesny Young would homer to add to the lead in the Cubs 6-4 victory.
The game wasn't without a little drama though. Yu Darvish had to be pulled early due to a blister on his ring-finger, but that was just the start. After Bryant and Contreras were plunked earlier in the game, not to mention Contreras also having to evade another close pitch, Carl Edwards, Jr. let one fly, hitting Austin Nola in the back. Contreras and Nola had words, but Edwards was ejected by umpire, Alfonso Marquez.

Before leaving with a blister, Yu Darvish K'd 6 batters in his 4th Spring Training start. pic.twitter.com/2TAXFJ2onP

— Cubs Talk (@NBCSCubs) March 20, 2019
Yu Darvish says he doesn't think his blister is that big of deal. He's planning to play catch tomorrow and throw bullpen on Thursday. #Cubs pic.twitter.com/N4xdnCgi0o

— Madeline Kenney (@madkenney) March 19, 2019
Final: #Cubs 6, Mariners 4#flythew pic.twitter.com/vON2TY2M3P

— CubsHQ (@ChicagoCubsHQ) March 19, 2019

Tags: Cubs Baseball
,
David Bote
,
Victor Caratini
,
Addison Russell
,
Mark Zagunis
,
Randy Rosario
,
Dillon Maples
,
Rowan Wick
,
James Norwood
,
Cole Hamels
,
Joe Maddon