| | |
| --- | --- |
| Cubs' season ends as Rockies win 13-inning duel in Wild Card Game | |
---
| | | |
| --- | --- | --- |
| Wednesday, October 3, 2018, 1:32 AM | | |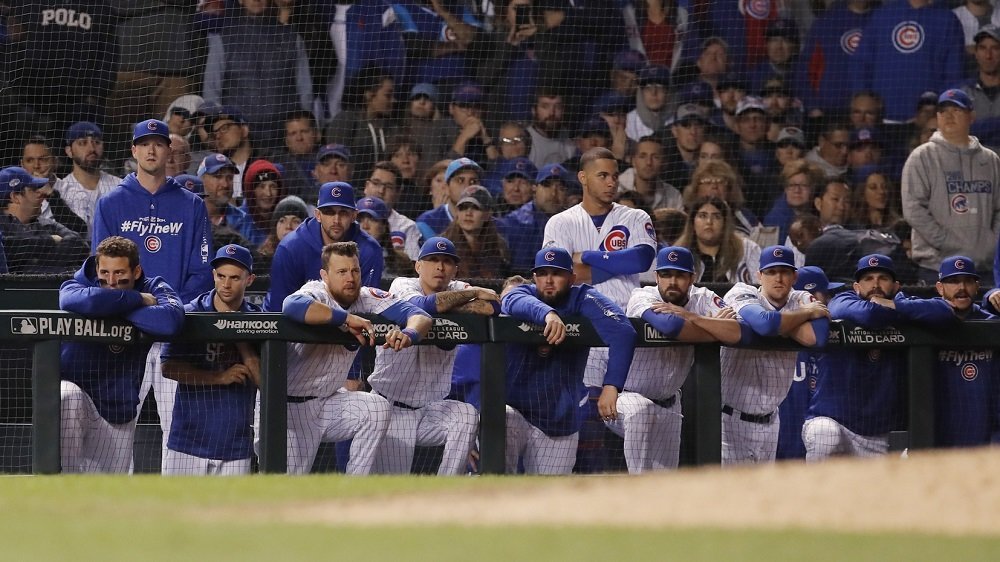 CHICAGO — The longest postseason game in the history of Wrigley Field brought with it plenty of excitement, as the Chicago Cubs faced off against the Colorado Rockies in the National League Wild Card Game at the Friendly Confines on Tuesday. Both clubs were forced to play in the win-or-go-home matchup after losing their respective division tiebreakers on Monday. Highlighted by dominant performances from starting pitchers Kyle Freeland of the Rockies and Jon Lester of the Cubs, the matchup lasted 13 innings, with the Rockies coming out on top by a final score of 2-1 to advance to the NLDS and end the Cubs' season.
Lester's only legitimate struggles came in the first two at-bats of the game. After walking Charlie Blackmon to lead off the opening frame, Lester gave up a ground-rule double to D.J. LeMahieu that was blasted into the ivy in deep left field. Blackmon would have scored easily had play not been blown dead with the ball getting trapped in the vegetation.
The Rockies scored soon afterward anyway, though, as Nolan Arenado hit a sacrifice fly to center field that plated Blackmon. LeMahieu tagged up and took third base on the fly ball. However, Lester settled down and tallied two straight swinging strikeouts to escape the jam without suffering any additional damage. Lester's efforts were aided in the second inning, as Cubs center fielder Albert Almora made a leaping grab into the ivy-covered wall to rob Rockies right fielder David Dahl of an extra-base hit.
Make a play, fire up the crowd. #WildCard pic.twitter.com/82kReExanE

— MLB (@MLB) October 3, 2018
Leading off for the Cubs, veteran Ben Zobrist started the Chicago offense off on the right foot with a single up the middle to begin the bottom of the first. That proved to be fool's gold, as Freeland went on to dominate for most of his start. In fact, Freeland did not even have a three-ball count until he walked pinch hitter Ian Happ to lead off the bottom of the sixth.
After giving up a run in the first, Lester came into his own and put together a marvelous start. Amassing a career postseason-high nine strikeouts, Lester gave up a couple of essentially meaningless doubles after the top of the first and pitched six innings before being pulled having thrown 86 pitches. Meanwhile, Lester was provided with no run support, with Chicago's first true scoring opportunity coming after Happ pinch hit for Lester in the bottom of the sixth.
No #postseason pressure for @JLester34. #WildCard pic.twitter.com/5m2ZbTdb6g

— MLB (@MLB) October 3, 2018
With one out in the bottom half of the sixth frame, the Cubs caught a break, as the wind led to Dahl misplaying a popup hit by Kris Bryant. Happ took second on the single, but the North Siders' luck was short-lived, as Anthony Rizzo grounded into an inning-ending double play in the next at-bat. Rockies first baseman Ian Desmond went on to start off the seventh with a single but inexplicably attempted to tag up and advance to second on a routine flyout to left after that. Bryant, who started in left field on the night, threw Desmond out with ease, and the Rockies wound up going scoreless in the inning.
No chance. ??#WildCard pic.twitter.com/NFtvesNZOL

— MLB (@MLB) October 3, 2018
Freeland saw his outstanding start come to an end in the bottom of the seventh. After Almora obtained a one-out single, Daniel Murphy nearly came up with a single of his own. Rockies shortstop Trevor Story had other ideas and made a diving snag of the liner to out Murphy. Rockies skipper Bud Black then opted to pull Freeland in favor of reliever Adam Ottavino.
We are out of Story puns. ?? #WildCard pic.twitter.com/mAeviDhLaB

— MLB (@MLB) October 3, 2018
Ottavino was all over the place early on in his appearance. On his very first toss from the mound, Ottavino threw a wild pitch that let Almora take second base. Willson Contreras then tabbed a walk, and, after that, pinch hitter Tommy La Stella drew a catcher's interference, which he is known for doing. That momentum was lost mere minutes later, when Jason Heyward came in to bat and ended up striking out swinging on a low, outside pitch.
ESCAPE ARTIST. #WildCard pic.twitter.com/l3iPyzMOp7

— MLB (@MLB) October 3, 2018
The Cubs finally came through in the eighth to tie the game up at 1-1. Black interestingly decided to leave Ottavino in the game after his shaky seventh-inning stint, and it culminated in superstar Cubs infielder Javier Baez smacking a clutch RBI double. With two outs, Rizzo hit a single to center, which led to Cubs manager Joe Maddon sending speedy pinch runner Terrance Gore into the game. Gore proceeded to waste no time at all in stealing second base.
Then, on an 0-2 count, Baez hit a pitch thrown right down the pipe into the gap between left and center for a two-out double that ushered Gore in to score. Baez's two-bagger marked the first hit of the year given up by Ottavino when he boasted an 0-2 count. In the regular season, opposing hitters were 0-36 against Ottavino in such situations.
Get clutch. pic.twitter.com/eNlmuRcWnh

— Chicago Cubs (@Cubs) October 3, 2018
Former Cubs and current Rockies closer Wade Davis entered the contest at that point, and, following a steal of third base by Baez, he attained an inning-ending strikeout of Almora. Pedro Strop pitched the next inning for the Cubs. Strop, who injured his hamstring while running out a ground ball two and a half weeks prior to the Wild Card Game, toed the rubber for the first time since suffering his mid-September ailment and pitched a scoreless ninth.
Welcome back, @pstrop46! pic.twitter.com/47hrb6IyKa

— Chicago Cubs (@Cubs) October 3, 2018
Maddon turned to two starters in relief spots in extra innings. Cole Hamels pitched the 10th and 11th innings without giving up a run. Bryant, then at third base, nearly cost Hamels and the Cubs by choosing to go to second base on a fielder's choice with two outs in the 11th, as the runner beat out the throw, but Hamels stayed composed and picked up the third out one pitch later.
During the bottom of the 11th, the Cubs experienced success at the plate against Rockies reliever Seung-hwan Oh but came up empty-handed in terms of runs. Baez accrued a base on balls to start it off and then took second on a sacrifice bunt. After an intentional walk of Murphy, Contreras grounded to Arenado, who tagged Baez out on the basepaths. Perhaps in a display of gamesmanship, Baez hugged Arenado to help prevent a possible double play from taking place but made it seem as though he was merely trying to maintain his balance.
Playoff baseball always produces unique moments... like opponents sharing a hug in between bases. Nolan Arenado meet Javy Baez. pic.twitter.com/6ZQd1Inpjn

— Troy Hirsch (@troyhirschfox5) October 3, 2018
A groundout ensued, which paved the way for a scoreless 12th. Chicago reliever Justin Wilson faced just one batter before Cubs starter Kyle Hendricks entered in relief. Hendricks pitched perfectly before getting taken for a two-out rally in the 13th. Trevor Story and Gerardo Parra each hit a two-out single, which set the stage for backup catcher Tony Wolters to come up with the hit of his life. Driving a base knock to center, Wolters plated Story to put the Rockies up 2-1.
Tony. Wolters. ??#WildCard pic.twitter.com/o1eHguo8AP

— MLB (@MLB) October 3, 2018
In the bottom of the 13th, Colorado relief pitcher Scott Oberg struck out the side to secure the 2-1 victory for the Rockies, who won a playoff game for the first time in nine years. Appropriately, the final half-inning was not without drama, as a Rockies challenge overturned a call that could have possibly incited a Cubs comeback.
Gore led off the inning and, during his at-bat, was ruled to have been hit by an inside pitch. Strangely enough, home-plate umpire Chris Guccione took the brunt of the bad pitch, as it drilled him in the shoulder. After Guccione was able to shake off the pain, Black challenged the ruling of Gore being hit by the pitch. The Rockies had already unsuccessfully challenged a separate call earlier in the game, but in the postseason, teams receive two challenges. Having the additional challenge paid off for Colorado, as replay revealed to the umpiring crew that the pitch just missed grazing Gore. As a result, Gore was sent back to the plate, where he struck out swinging on the very next pitch.
#Cubs challenge call that Terrance Gore is not hit by pitch in the 13th; call confirmed, not hit by pitch.

Powered by @Mitel. pic.twitter.com/3tACWYDZ8O

— MLB Replay (@MLBReplays) October 3, 2018
Oberg received the win, and Hendricks, who threw 24 pitches in relief, was handed the loss. With only six hits and not a single walk in 13 innings of action, the Cubs' offense put a fitting bow on a lackluster final month of the season. Going 1-6 with runners in scoring position and leaving 10 batters stranded, Chicago limped out of the playoffs shockingly early for a team that was the cream of the crop in the National League for most of the regular season.
Rocktoberfest. pic.twitter.com/reaw07mehx

— MLB (@MLB) October 3, 2018

Tags: Cubs Baseball
,
,
Ben Zobrist
,
Ian Happ
,
,
Anthony Rizzo
,
Willson Contreras
,
Tommy La Stella
,
Jason Heyward
,
,
Wade Davis
,
Pedro Strop
,
Justin Wilson
,
Kyle Hendricks
,
Joe Maddon