| | |
| --- | --- |
| Cubs swept by Cards, Hamels phenomenal, Gonzalez hitting in Iowa, more | |
---
| | | |
| --- | --- | --- |
| Monday, June 3, 2019, 7:48 AM | | |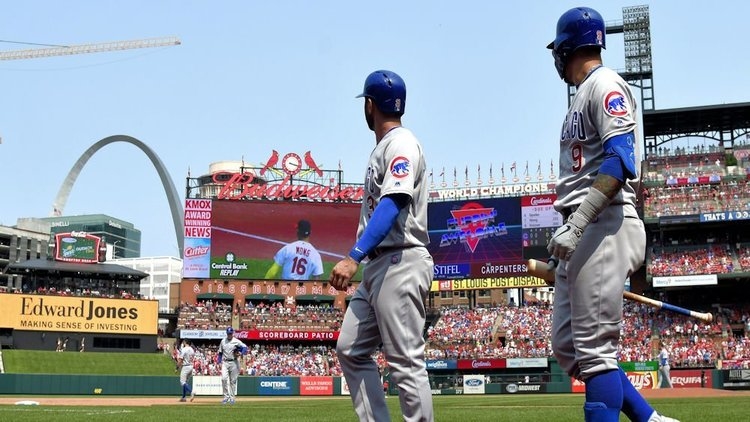 Next Game: Today, 3:05 PM CDT: Angels @ Cubs. LHP Jon Lester (3-4, 3.59 ERA) vs RHP Trevor Cahill (2-5, 6.92 ERA).
CUBS NEWS AND NOTES:
Sunday's Game Recap: After sweeping the Cards in early May, the Cubs sought to avoid the sweep in this series. Yesterday it was Cole Hamels (4-1, 4.02 ERA) vs. Adam Wainwright (4-5, 4.94 ERA). Talk about a pitching duel. By the end of the seventh, Wainwright had only allowed one hit (and that didn't come until the sixth from Kris Bryant), and Cole Hamels had only allowed two hits- but unfortunately, the Cards were able to grab an unearned run in the fifth.
Had the Cubs produced any offense, a complete game for Hamels would have been in play, as he finished the day (7.0 innings) on just 84 pitches. Cards' manager, Mike Schildt, got a little risky, allowing Wainwright, complete the eighth, despite the Cubs threatening. He held though and finished his day on 126 pitches.
Moving into the bottom of the eighth, Brad Brach took the mound for Chicago and managed to put a man on. After Mike Montgomery replaced brach, Matt Carpenter promptly smoked a ball and gathered an RBI, as the Cards got an insurance run. The Cubs did manage to get a run on the board in the ninth, but that's the way it would end folks: Cards-2; Cubs-1, and St. Louis gets the sweep.

Cubs/Rockies Probable Pitchers: Tuesday: RHP Kyle Hendricks (5-4, 3.09 ERA) vs RHP Jeff Hoffman (1-1, 7.20 ERA). Wednesday: RHP Yu Darvish (2-3, 5.02 ERA) vs RHP German Marquez (6-2, 3.48 ERA). Thursday: LHP Jose Quintana (4-4, 3.73 ERA) vs RHP Jon Gray (4-4, 4.52 ERA).
Cole Hamels: Unfortunately, the Cubs couldn't produce any run support for Cole Hamels yesterday, causing an impressive outing for him to go to waste. Hamels final line: 7.0 IP, two hits, one run (0 earned runs), two walks, four strikeouts and he induced a pair of double plays.
QUESTION OF THE DAY: Which is the more significant issue for the Cubs right now: Pitching or hitting with RISP? I posted this question in the form of a social media poll yesterday, and fans undoubtedly feel that hitting is the bigger issue right now (as of 6:00 PM last night, almost 85% of 150 votes). The Cubs can't bring Carlos Gonzales up fast enough at this point. (see below)
He's already working: Here's your first glimpse of Carlos Gonzalez (aka CarGo). Let's get him hitting and get him up to Chicago. By the way, Gonzalez's first hit as a Cub yesterday (Iowa version) was a solo-homerun. CarGo went 2 for four yesterday.
Meanwhile...@CarGo5 goes yard for his first hit as a member of the @IowaCubs ???? pic.twitter.com/HFEvp1Genw

— Cubs Talk (@NBCSCubs) June 2, 2019
Rizzo on hitting with RISP: "It's not like we're in here moping around and 'poor us, we can't get a hit right now with a runner in scoring position.' We're doing our best; we're just falling short."
Javy on his heel and the road trip:
Easy come, easy go: Joe Maddon says he's had "zero discussions" with the Cubs' front office regarding Craig Kimbrel, but that's not to say that there haven't been discussions. When asked if Kimbrel would be like a Christmas gift in July, Maddon replied, "The Christmas gift will be getting Strop back."
Jason McLeod: Earlier this week, Cubs' Senior Vice President of Player Development and Amateur Scouting, Jason McLeod, was interviewed by MLB's Jordan Bastian. Discussing today's MLB Amateur Draft, McLeod says, "We know we need to infuse more talent."
Stats I'd rather not know: Tony Andracki (NBC Sports Chicago) points out that since Kyle Ryan appeared for the Cubs loss to the Marlins, he's allowed 12 hits and eight runs (7 ER) in seven innings. In that span, he's given up six runs in 13 appearances. Lest we forget the offensive struggles (blissfully clouded over by the recent barrage of home runs): In the first 32 games this year, the Cubs batted .284 with runners in scoring position (through May 6). Since that time (24 games), they're hitting just .167 with runners in scoring position (.175 BABIP).
Up and coming: In his last three starts, Cubs prospect, Adbert Alzolay, has posted the following: 17 IP, 6 H, 2 R, 23 K, 2 BB (1 IBB), a 1.06 ERA, an opponent's batting average of .103, a .254 OPS, 68% strikes, 56% grounders, 18% swinging strikes, 8 baserunners in 60 batters faced. With the likelihood that Cole Hamels (and possibly Jose Quintana) may be done in Chicago after this season, this is definitely something to look forward to.
Congratulation: Congratulations to Leo Kasper (Len's son) who graduated high school yesterday.
Cub Birthdays: Celebrating yesterday, were ex-Cubs Steve Rain (44), Neifi Pérez (46), Lee Gregory (81), and posthumously, Larry Jackson (88).
NL CENTRAL SCHEDULE (June 2 – June 8, 2019)
(Wins are in green, losses in red)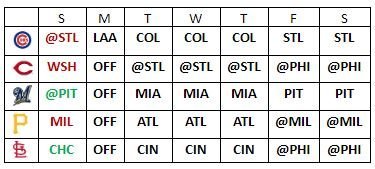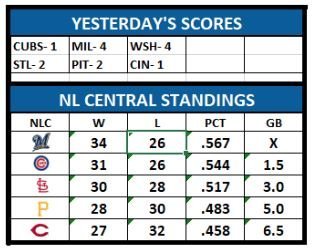 Tags: Cubs Baseball
,
,
Trevor Cahill
,
Cole Hamels
,
,
Mike Montgomery
,
Kyle Hendricks
,
Yu Darvish
,
Jose Quintana
,
Kyle Ryan
,
Adbert Alzolay
,
Joe Maddon