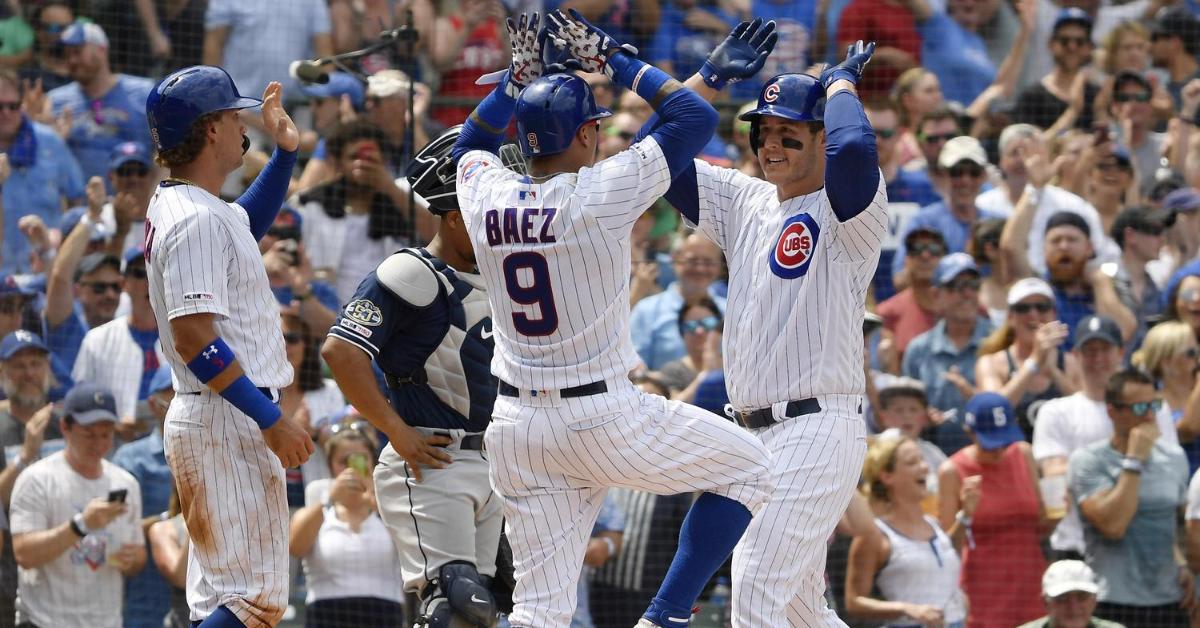 | | |
| --- | --- |
| Cubs vs. Athletics Series Preview: TV times, Starting pitchers, Predictions, more | |
---
| | | |
| --- | --- | --- |
| Monday, August 5, 2019, 1:51 PM | | |
On paper, the A's beat the Cubs in this series, but the Wrigley Field factor certainly counts for something. I never worry a whole bunch when the Cubs are home, as they seem to have winning there, down to a science. Still, Oakland is no soft team, and as they continue to try to chase down Houston, they sit just a half-game behind Minnesota out of the wildcard spot.
Injury Report:
CUBS: Willson Contreras: (hamstring); Daniel Descalso: 10-day IL (ankle): Pedro Strop: 10-day IL (neck); Craig Kimbrel: 10-day IL (knee inflammation) Ben Zobrist: Day-to-day, as he attempts a comeback.
A'S: Ramon Laureano (shin); Sean Manaea (shoulder); Josh Phegley (thumb); Stephen Piscotty (knee); Marco Estrada (back); Frankie Montas (suspension- 80 games for testing positive for performance enhancing drugs).
The Pitching
Oakland has just about everything in terms of pitching, as they rank in the top five (American League) in just about every measurable category there is. Somehow, the one place they seem to struggle is when it comes to strikeouts, which will undoubtedly benefit a Cubs' offense which likes to swing.
In my opinion, the jury remains out for the Cubs, regarding pitching. There's no doubt that the starters are just about as reliable as they come, but despite twisting, turning and tweaking the bullpen before the trade deadline, the Cubs still look frail in the latter innings.
The Offense
While the A's have pitching, their batting stats rank (mostly) in the bottom half of the AL. Pitching does help to keep a team in games though, a lesson the Cubs could undoubtedly benefit from learning.
When the Cubs signed Nicholas Castellanos, they expected him to hit. Period. Castellanos, while not tearing up the batting average stats, is steadily making solid contact, and you can't ask for more. Castellanos consistently puts the ball in play, and he seldom makes weak contact- a formula that is bound to result in hits.
Nick is only one man though, and the team (or fan) that pins their hopes on an offensive turnaround with the addition of a single bat, is foolish. Much like what has been the case all season, the Cubs are getting very sporadic (or maybe I should say inconsistent) output from the top half of the order, which will never win games consistently. They're much too dependent on the long-ball to produce runs (47.9% of their RBI have come from homers at this point), and they seem to struggle with the concept of merely putting the ball in play- but this is an area that Castellanos should help in. \
Mound Matchups
Monday: RHP Kyle Hendricks (8-8, 3.07 ERA) vs RHP Chris Bassitt (7-5, 3.84 ERA). Game time 7:05 PM CDT; WGN, SAP WGN, (ESPN out of market only), ESPN.
The Cubs know very little about Chris Bassitt, but two players have faced him: Nicholas Castellanos (11 times for a .364 average) and Tony Kemp (0 for 1). In four starts since the break, Bassitt has pitched to an ERA of 2.35, posting a 2-1 record, while holding his opponents to a .202 average. Look for a lot of right-handed batters in Joe Maddon's lineups tonight, as lefties have batted just .187 against him this season.
The professor has seen a total of three of Oakland's guys in the past (Davis, Piscotty, and Semien) and though the sample size isn't huge (combined 35 at-bats), the trio has clobbered him for a pair of homers and six RBI.
Hendricks has been impressive since returning from the IL, coming off a seven-inning, scoreless effort in St. Louis. Kyle finished July with a 2.25 ERA (35 K, nine walks), while his home record stands at 4-2, with a 1.89 ERA.
Tuesday: LHP Jon Lester (9-7, 3.86 ERA) vs LHP Brett Anderson (9-7, 4.04 ERA). Game time 7:05 PM CDT; NBC Sports Chicago, MLB Network (out of market only).
Anderson has only seen a total of five Cubs in the past (Nick Castellanos, Javier Baez, Anthony Rizzo, Jason Heyward, and Tony Kemp), but he's fared reasonably well against them. Rizz is 2 for four against him, while Castellanos has gone 2 for 6.
Big Jon rules the roost at Wrigley, and there's no reason to think that he won't perform well against Oakland. Lester is 6-2 with a 2.95 ERA in 11 starts at home this year but was clobbered by the Cards during his last outing (five runs in as many innings). Jon Lester has seen a few of the A's in the past, and except for Davis (.273 in 11 at-bats), he's done well against them.
Wednesday: LHP Jose Quintana (9-7, 4.40 ERA) vs RHP Homer Bailey (9-7, 5.20 ERA). Game time 1:20 PM CDT; WGN, SAP WGN, TBS, TBS (Out of market only) and MLB TV.
In Bailey's previous ten starts at the Friendly Confines, he's posted a winning record of 5-3 with a 3.79 ERA, but he's struggling, despite a winning record this year. With an ERA over 5.00, he's serving up too many pitches that hang over the plate, and the Cubs should be able to take advantage of him, so long as they attack him early in the count.
The Cubs saw a ton of Homer Bailey when he was with the Reds, and, for the most part, they've massacred him, though Javy has been unable to hit him in 10 at-bats. Also, Castellanos has only managed to post a .125 average against Bailey in 8 at bats. However, Rizzo and J-Hey, as the pair have teamed up for a .444 batting average with a combined three dingers and 10 RBI in 29 at-bats against Bailey.
Q has faced only have of the A's roster, again with mixed results. He'll need to pitch very carefully to Semien, Pinder, and Davis, as in their combined19 in bats, they've done well, with Davis taking Q deep in the past.
Tonight will be A's 1st visit to Wrigley since June 15-17, 2010. The #Cubs lineup that June 17:
2B Theriot
3B Baker
CF Byrd
1B D-Lee
RF Nady
LF Soriano
C Soto
SS Castro
P Randy Wells

— Carrie Muskat (@CarrieMuskat) August 5, 2019
Series Prediction:
I think the Cubs do well again this series, despite Oakland playing as well as they have been. I can't see a sweep, however, as I worry about tonight's matchup. While I'm also somewhat concerned about the Cubs facing Anderson, I can't see them losing both games. Cubs take the series 2-1.
Next up: Cubs vs. Reds (in Cincinnati) for a four-game set, which begins on Thursday.

Upgrade Your Account
Unlock premium boards and exclusive features (e.g. ad-free) by upgrading your account today.
Upgrade Now

Tags: Cubs Baseball
,
Willson Contreras
,
Daniel Descalso
,
Pedro Strop
,
Ben Zobrist
,
Kyle Hendricks
,
,
Brett Anderson
,
,
Anthony Rizzo
,
Jason Heyward
,
Jose Quintana
,
Joe Maddon