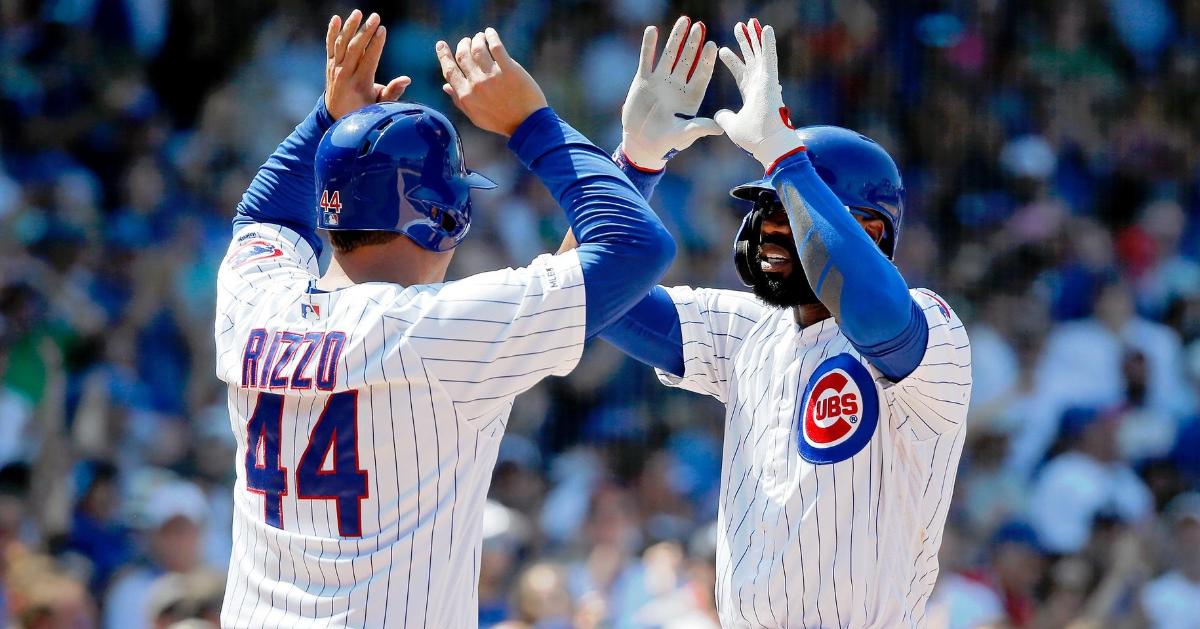 | | |
| --- | --- |
| Cubs vs. Brewers Series Preview: TV times, Starting pitchers, Predictions, more | |
---
| | | |
| --- | --- | --- |
| Friday, August 30, 2019, 11:30 AM | | |
Back to Wrigley Field for a three-game set with Milwaukee, the Cubs now face a situation where every series has become do or die. While the Cubs' offense and pitching went on a three-day hiatus while playing Washington at home, the Cardinals quietly, but decisively assumed first place in the NL Central.
Based on the standings, there will be no Game 163 this year, at least not so far as the Cubs and Brewers are concerned, and if the Cards don't start losing (combined with Cubs' wins) there may not be any action for the Cubs past the end of September.
Injury Report:
CUBS: Anthony Rizzo (day-to-day, back injury)' Willson Contreras (hamstring); Daniel Descalso (ankle): Steve Cishek; Allen Webster (arm); Ben Zobrist: (Day-to-day, restricted list).
BREWERS: Jeremy Jeffress (hip); Corey Knebel (elbow), Mike Moustakas (wrist), Brandon Woodruff (oblique); Adrian Houser (hip).
Series Overview:
Earlier this season, Milwaukee was expected to be a team in the thick of things come September, but the Brewers have now fallen off the pace. Just 4-6 over their last ten, Milwaukee took a beating from St. Louis earlier this week. Milwaukee did manage to take the final game of their set with the Cards, and with a day off yesterday, they'll be both hungry and rested when they show up at the Friendly Confines.
Much like the Cubs, every game has become do or die for Milwaukee, as their elimination number (now 25) continues to dwindle by the day. While they must do damage to the Cubs-- or risk falling out of the race altogether-- they'll be playing short-handed, both offensively and defensively. They've lost power at the plate with Moustakas injured, and the pen has taken a tremendous blow with both Jeffress and Knebel down.
I think the Cubs are going to show up for this series, just about as determined as a team can be, especially after a short (but successful) road trip. They'll surely be determined to erase the taste of being clobbered at home last weekend and having a successful series against Milwaukee. Even if (God forbid) Milwaukee manages to pull off a sweep, they'll still not be able to assume second place, but with nearly half of their remaining games against either Milwaukee or St. Louis, the Cubs are going to have to fight to move up- and stay up- in the standings.
The Cubs should be gaining Ben Zobrist for this series, though I'm honestly not sure what Zo is going to be able to contribute in the field or at the plate. I'd hoped his poor batting statistics early in the season were due to his looming family crisis, but several games in all levels of minor league action have failed to produce even so-so stats.
With the rosters expanding, Joe Maddon will have a lot of extra options, but the question is- will he deploy them properly? It always seems as Joe views this as little league, where everybody is guaranteed some playing time, and although it's highly unlikely that he'll do so, Maddon needs to bear down and field his best players.
Mound Matchups
Friday: LHP Jose Quintana (11-8, 4.05 ERA) vs RHP Chase Anderson (6-3, 4.34 ERA). Game information: 1:20 PM CDT; WGN, SAP WGN, MLB Network (out of market only).
Chase Anderson can be tough, but the outing before last, he was clobbered for ten runs in 2.1 innings against the Nationals (sounds vaguely familiar). In his previous outing (vs. Arizona) Anderson threw five scoreless frames.
Anderson has faced Chicago twice this year (April 5 and July 27), with Brewers winning both games. He was pulled after just three innings in the first game (1 ER allowed), but in the second game vs. Chicago, Anderson lasted 5.0 innings, while giving up just a pair of earned runs. Both of those outings were at Miller Park.
The Brewers have knocked Jose Quintana around quite a bit, dating back to his first outing against them (in Milwaukee) on April 5. Joe Maddon let his lefty get pummeled for eight runs in just three innings that day. Since that time, Q has faced the Crew three other times, allowing a total of eight earned runs in 15.1 innings of work. During Q's four outings against Milwaukee, the Cubs have posted a 2-2 record.
Q's never been overly flashy, but he is, as I like to call him, quietly solid. The Cubs have gone 8-2 over Quintana's last ten starts, and Quintana has grinded out 58.2 innings over that stretch. The thing about Q, is that he stays healthy, he remains composed, and he gets it done; you can't ask much more from the guy.
Saturday: LHP Cole Hamels (7-4, 3.73 ERA) vs RHP Zach Davies (8-7, 3.90 ERA). Game information: 1:20 PM CDT; NBC Sports Chicago.
Cole Hamels has been in a rut, and it isn't much else he and the Cubs can do but acknowledge it and hope he snaps out of it. Over his last four starts, he's only managed to go a total of 16 innings, including a two-inning outing against his former teammates in Philly, who clobbered him for eight runs before Hamels could record the sixth out.
Hamels did manage to last five innings in his previous outing (vs. WSH) and made it through six innings against the Giants, but over those two outings he gave up five earned runs (12 hits), including three homers.
There is a silver lining here, though. In three starts against the Brewers this season, the Cubs have posted a 3-0 record with Cole on the hill, and during those outings, Hamels is averaging 6.0 innings per start.
The Cubs are 3-1 in Zach Davies' four starts against them this season, and Davies hasn't had a quality start in his last five outings (two of those against Chicago). Averaging just over 4.5 innings per start in his previous five outings, Davies has coughed up 23 runs in only 22 innings of work.
Sunday: RHP Yu Darvish (5-6, 4.25 ERA) vs LHP Gio Gonzalez (2-2, 4.34 ERA). Game information: 1:20 PM CDT; NBC Sports Chicago.
Yu Darvish has been an animal in the second half, and even his staunchest critics (I was one last season) have had to reassess their opinions. Darvish just completed a run of facing 125+ batters before finally walking one (vs. the Mets) on Tuesday night.
Yu Darvish this season:

First 5 batters faced: 3 walks
Last 251 batters faced: 3 walks#Cubs

— Christopher Kamka (@ckamka) August 28, 2019
His breaking pitches are sick, and he's in full command of his arsenal at this point, spelling nothing but trouble and scoreless innings for his opponents.
.@faridyu's 2nd half ERA: 2.93#EverybodyIn pic.twitter.com/49MqjpvBTb

— Chicago Cubs (@Cubs) August 28, 2019
If there's a downside still present in Darvish's game, it's his propensity to give up home runs. Since July, Darvish has only given up a total of 19 runs, but 15 of those have come from dingers.
In three starts against the Cubs this year, Gio has given up just three runs total; he was however blasted by the Cards for eight runs in two innings during his last outing, so he can be vulnerable. There'll be an interesting decision for Joe Maddon to make in this game, as Victor Caratini usually catches for Darvish, but Jonathan Lucroy is the only one who's had sustained success against Gonzalez (.545 average in 11 AB). For the record, Caratini has never faced Gonzalez.
Series Prediction:
This series is tough to call. Both teams most likely feel as though they need to avenge themselves after getting blown out in their last home series, both are fighting to stay alive in the standings, and both aspire to catch the Cards.
When I break this down, I can see a Cubs' sweep being a possibility, though I think they'll find a snag in one of the games, forcing them to settle for a 2-1 series win.
If anyone but Darvish were pitching against the Brewers with Gonzalez on the mound, I'd score that one in Milwaukee's favor, but for as tough as Gonzalez is, Darvish has been better, so with the right run support, the Cubs win that one.
Cole Hamels vs. Zach Davies worries me, as Hamels has been slumping, but then again, the Brewers have knocked Quintana around a bunch. I don't see the Cubs losing both of those games, though which one they stumble in remains to be seen.
Next up, a two-game set with the Mariners, then the Cubs take a day off before heading up to Wrigley North to face Milwaukee again.

Tags: Cubs Baseball
,
Anthony Rizzo
,
Willson Contreras
,
Daniel Descalso
,
Steve Cishek
,
Ben Zobrist
,
Jose Quintana
,
Cole Hamels
,
Yu Darvish
,
Victor Caratini
,
Joe Maddon