| | |
| --- | --- |
| Cubs vs. Brewers Series Preview: TV times, Starting pitchers, Predictions, more | |
---
| | | |
| --- | --- | --- |
| Wednesday, September 4, 2019, 6:05 PM | | |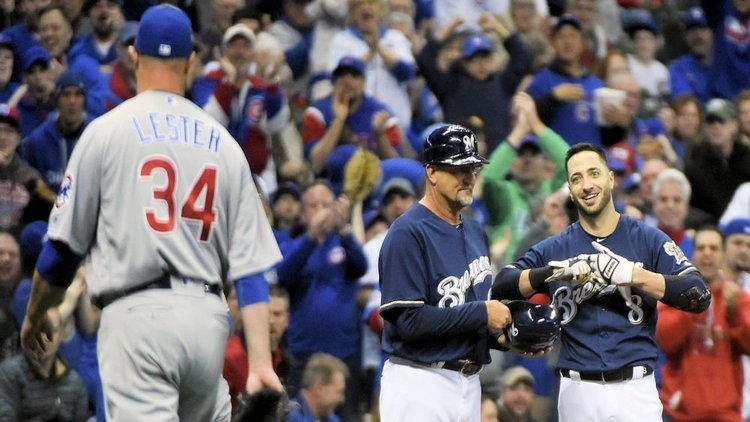 Here we go again- but this will be the last time the Cubs see the Brewers in 2019. Despite dropping two out of three to the Brewers at Wrigley Field last weekend, the Cubs are still 8-7 when facing the Crew, but the final four will be played at Wrigley North, where the Cubs have posted a losing 2-4 record for 2019.
While the Cubs continue to chase St. Louis- who seems to refuse to lose lately- the Brewers continue to pursue the Cubs. With their elimination number now at 19, Milwaukee finds itself in third place in the NL Central (7.0 games back), but in fourth place (4.0 games out) for a wildcard spot, trailing the Phillies (2.5 games back), as well as the Nationals and Diamondbacks who are each 3.5 games back.
Meanwhile, the Cubs are still holding onto second place in the division, trailing the Cardinals, but Chicago does hold a 2.5 game lead in the National League Wildcard race.
Injury Report:
CUBS: Anthony Rizzo (day-to-day back issues); Javier Baez (day-to-day thumb/neck injury); Kris Bryant (day-to-day knee injury); Allen Webster (arm); Yu Darvish (day-to-day forearm tightness).
BREWERS: Ryan Braun (day-to-day back issues); Lorenzo Cain (day-to-day knee); Keston Hiura (hamstring); Corey Knebel (elbow); Bobby Wahl (knee); Brandon Woodruff (oblique).
Series Overview:
One can only hope that last week's results against the Brewers aren't indicative of how this plays out. Last weekend, the Cubs faced Anderson, Davies, and Gonzalez at Wrigley, and managed to drop two of the three. Meanwhile, the Cards were chopping away at the Reds, leaving the Cubs 3.0 games back, as the weekend series concluded.
I hate to sound like a broken record, but this series is a must-win for the Cubs- in fact, each of the seven-remaining series (including this one) from now until the end of the season are must-win situations for Chicago. In addition to merely earning the opportunity to compete in October, the Cubs need to establish some dominant game plan, as their competition will be stiff.
Mound Matchups
Thursday: LHP Jose Quintana (12-8, 3.90 ERA) vs Chase Anderson (6-4, 4.58 ERA). Game information: 6:10 PM CDT; Televised on NBC Sports Chicago.
After losing two in a row to the Brewers with Quintana on the mound, Q has led the Cubs to victory in each of his last three starts against Milwaukee. In his last start (August 30th), Quintana lasted 5.2 scoreless innings, while giving up four hits and a pair of walks.
The Brewers have hit Quintana well, raising Q's ERA to 5.54 when facing Milwaukee. All told, in five starts, Q has lasted 26 innings and given up a total of 16 runs. However, if you factor out his first start of the season against Milwaukee (8 ER over just 3.0 innings), Quintana's ERA drops to a respectable 3.13.
Last time out, Anderson squared off Quintana on August 30 at Wrigley, and the Cubs clobbered him. In four innings of work, Chicago attacked to the tune of five earned runs on seven hits (2 HR), with a walk and one batter plunked, for four innings.
Over his three starts against the Cubs, Anderson has lasted just 12 innings, while allowing a total of eight earned runs (ERA of 6.00 vs. Cubs).
Friday: LHP Cole Hamels (7-5, 3.69 ERA) vs RHP Zach Davies (8-7, 3.76 ERA). Game information: 7:10 PM CDT; Televised on NBC Sports Chicago.
Cole Hamels has struggled for the last month, giving up a total of 19 earned runs over his last five starts (total of 22 innings pitched), making his ERA for that period an astronomical 7.77. Dating back to August 14, the Cubs have lost three of Hamels' last four outings, being outscored by a total of 23-11.
In four starts against Milwaukee this season, the Cubs have gone 3-1, outscoring the Brewers 20-12. Cole's last outing against Milwaukee came on August 31, a game that resulted in a 2-0 loss by Chicago. Overall, Hamels has done exceptionally well against the Crew, as he's managed to last a total of 24 innings in four starts, during which time he's allowed only four earned runs (ERA of 1.50).
Davies has taken the mound a total of five times against the Cubs this year, resulting in a 2-3 record for Milwaukee. Over those starts (25.2 innings total), Davies has allowed 14 runs (13 earned runs), giving him an ERA of 4.56 vs. the Cubs. Davies had one awful outing against Chicago on July 28th, when he was hung out to dry by Craig Counsell, who allowed his young righty to get pummeled for seven earned runs in five innings.
Saturday: RHP Yu Darvish (5-6, 4.25 ERA) vs LHP Gio Gonzalez (2-2, 4.14 ERA). Game information: 6:10 PM CDT; Televised on WGN.
Yu has unfortunately become a big question mark for the cubs again. While his stuff is as good (or better) as it's ever been, Darvish has been fighting tightness in his right forearm for nearly a month. As a precaution, the Cubs scratched him from his last scheduled start (September 1st vs. Milwaukee), but Joe Maddon says, that at least for now, Darvish is expected to take the mound for this game. If Darvish fails to start, the Cubs will undoubtedly look to either Tyler Chatwood or Adbert Alzolay, who was recently recalled from Iowa.
In his one outing against the Brewers this season (August 4th), Darvish led the Cubs to a 7-2 win, while lasting five innings and allowing only one earned run (eight strikeouts).
The Brewers are 3-1 during Gonzalez's four starts against Chicago, and the Crew has outscored the Cubbies 17-6 in those games. Overall, Gonzalez has lasted 19.1 innings in his four starts vs. Chicago, and he's held the Cubs to just three earned runs- good enough for a 1.40 ERA.
The Cubs have issues hitting lefties, and with Javier Baez struggling, they're down another potentially powerful bat. To make matters worse, over the last 14 days, Kris Bryant is batting just .196, while Nicholas Castellanos has hit only .214 over the previous week. David Bote has been strong but has had minimal appearances, and Albert Almora Jr. is batting .167 over the last month. Addison Russell has been so-so, but he won't be enough to save the Cubs against Gio.
To win this game, Chicago will need help from both sides of the plate- a concept which has been elusive for the majority of the season when facing southpaws.
Sunday: RHP Kyle Hendricks (9-9, 3.47 ERA) vs RHP Adrian Houser (6-5, 3.52 ERA). Game information: 1:10 PM CDT; Televised on NBC Sports Chicago.
Ah, the Professor. Kyle's had just two starts against the Crew this year, and the Cubs have lost both, but fear not, the last loss (played in Milwaukee) was on the bullpen's tab, as Hendricks worked five scoreless innings. Overall, Hendricks has lasted 9.1 innings in his two starts against Milwaukee, allowing a total of four earned runs (3.86 ERA) and striking out nine.
Kyle's counterpart for the finale will be a 26-year old righty, Adrian Houser, who's faced the Cubs four times in 2019. However, three of those appearances have been as a reliever. In his one start (August 4th), the Cubs tagged Houser for four earned runs over five innings. In three relief appearances, Houser has pitched a total of 3.2 innings against Chicago, allowing two earned runs. All-inclusive, Houser has an ERA of 6.48 against the Cubs, with a 7.20 ERA as a starter. Cubs should win this one easily.
Series Prediction:
I'm leaning toward a 2-2 split in this series. While the Cubs have won eight out of 15 against Milwaukee this season, that includes a 6-3 record while playing in Chicago. With a road record of 2-4 against the Crew, and Milwaukee desperate to climb back into the playoff scene, I think the Brewers fight for their lives and split the series.
The matchups on Friday and Saturday are the two that concern me the most. Hamels has been knocked around some, and Davies has been a thorn in Chicago's rump, despite his losing record against them. Gio Gonzalez has been a beast (though the Cubs rattled him some last weekend), and Yu Darvish is questionable for his start. I think that all adds up to a pair of losses for Chicago, although I do see them beating Anderson (Friday) and Houser on Sunday.
Next up: The Cubs jet west, to take on the Padres in San Diego for four games.

Tags: Cubs Baseball
,
Anthony Rizzo
,
Willson Contreras
,
Jose Quintana
,
Cole Hamels
,
Yu Darvish
,
Tyler Chatwood
,
Adbert Alzolay
,
,
,
David Bote
,
Albert Almora Jr
,
Addison Russell
,
Kyle Hendricks
,
Joe Maddon