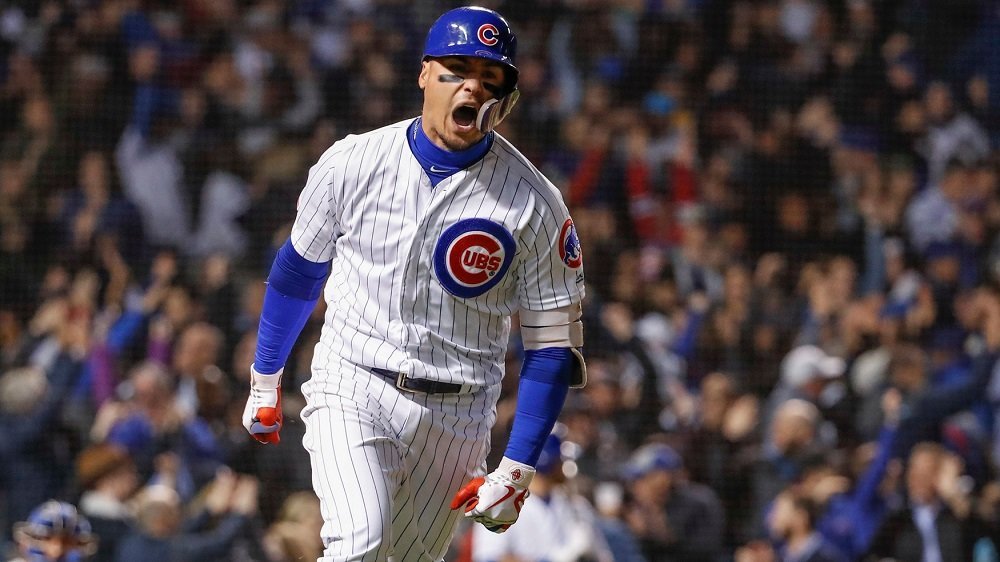 | | |
| --- | --- |
| Cubs vs. Cardinals Series Preview: TV times, Starting pitchers, Predictions, more | |
---
| | | |
| --- | --- | --- |
| Friday, June 7, 2019, 1:17 PM | | |
Here we go again: Cubs vs. Cards, this time at Wrigley.
For my sake, the Cubs need to clobber St. Louis this weekend, as it's not easy being a 48-year Cubs' fan and living in southwest Missouri. It wasn't very pleasurable to walk into my son's school on Tuesday and listen to the secretary who promptly reminded me of last week's smack-down- thankfully the principal wasn't there, or it would've been worse. Aside from me having to endure that brutality, there's that other little matter of the Cubs needing to start placing some distance between themselves and the rest of the NL Central, to avoid the situation (Game-163) that they faced last year.
Injury Report:
The Cards are staying reasonably healthy, though they're down one huge name for this series: Yadier Molina. Currently, on the 10-Day IL, Molina suffered a right thumb tendon strain, and there is now no timetable for his return. The Cards are also short a reliever (Mike Mayers), who's on the 10-Day IL with a right shoulder lat strain. Mayers hasn't done much for the Birds, posting an 0-1 record with a 5.40 ERA after eight appearances this season. Closer Brett Cecil also remains on the IL (60-Day) due to left carpal tunnel syndrome. Cecil has not appeared in a game this season.
Nothing new to report for the Cubs in the way of injuries. Allen Webster remains on the 10-Day IL with an arm injury, Brandon Morrow remains on the 60-Day IL (elbow), and Xavier Cedeno is on the 10-Day IL with a wrist inflammation. Ben Zobrist remains on the restricted list due to his indefinite leave.
The Pitching
When the Cubs were swept in St. Louis last week, the starters consisted of Yu Darvish, Jose Quintana, and Cole Hamels. Although Hamels will pitch again in this series, he'll be joined this time by Jon Lester and Kyle Hendricks. Just my opinion, but I don't think you can't ask for a better set of starters.
After a weak month of May, the Cubs rotation has seemed to get back on track just as quickly as they got off of it. Lester's and Hamel's last two starts were works of art, and the Professor pitched a gem in his previous two outings.
Last time around, Cards' manager, Mike Shildt switched his rotation around so that Miles Mikolas would pitch against Chicago in the series opener in St. Louis. Originally scheduled to pitch on Sunday, was backup starter, Genesis Cabrera, but thanks to a rainout on Wednesday night, Shildt was once again able to juggle his rotation, so that the same rotation (Mikolas, Wainwright, and Flaherty) that swept the Cubs just a week ago will be facing them again. This makes the third time that Flaherty and Wainwright will have seen the Cubs this season.
The Offense
St. Louis has had a goofy, dysfunctional and "boring" offense all year long. They have a ton of talent, but much like the Cubs in the recent past, they often fail to capitalize when they need to do so the most. They do have a +18 run differential (very much inferior to the Cubs' +55), yet somehow, they've managed to cling to third place. They've been as high as first place this season (for like 38 minutes, as I recall), and they've spent time in the basement, but they always seem one step away from pulling it together and causing some real damage.
Save for yesterday, the Cubs' offense is back to looking strong, predominantly thanks to Carlos Gonzalez. With the completion of yesterday's game, Gonzalez (in his four starts as a Cub) has gone just 2 for 9 (.222) at the plate but has still contributed with a double, 2 RBI and two walks, as well as scoring three runs and making a couple of nice defensive plays. More importantly, since his arrival, the team started hitting, scoring and hitting with runners in scoring position. Joe Maddon elected to bench Gonzalez yesterday, and the final score reflected the difference he seems to make.
With a trio of right-handers coming at them this weekend, I'd have to imagine that CarGo will get playing time, while Albert Almora Jr. gets some more time on the bench, but then again, there's never any telling what Joe Maddon's mindset maybe by the time the sun rises in the morning.
Mound Matchups
Friday: RHP Miles Mikolas (4-5, 4.41 ERA) vs LHP Cole Hamels (4-2, 3.62 ERA). Game time 1:20 PM CDT; Televised on NBC Sports Chicago, MLBN (out of market only) and MLB TV.
A week ago, today, Mikolas manhandled the Cubs, lasting 7.0 innings, and allowing just one earned run on six hits while walking two and fanning three. Mikolas has always been somewhat problematic for Chicago, as the team has batted just .269 against him in a total of 102 at-bats. Anthony Rizzo has been the guy to hurt Mikolas the most, batting .357 against him in 14 at-bats. The Cubs' team average is somewhat falsely elevated, Daniel Descalso has gone 1 for two against him (.500), and Carlos Gonzalez has gone 3 for 6 (also .500).
When Mikolas faced the Cubs last week, it was Kris Bryant, Rizzo, Jason Heyward, Addison Russell, Victor Caratini and Almora who got the hits, while Yu Darvish collected the Cubs' only RBI on a sac-fly. Also, of note, the Cubs went 0-8 with RISP that afternoon.
Cole Hamels also had a good outing last week (Sunday) against St. Louis, as he lasted seven innings, allowing just one unearned run on a pair of hits and a pair of walks while striking out four. The Cubs offered Hamels no run support, scoring their only run in the top of the ninth, as once again, as was the theme, the Cubs went 0-4 with runners in scoring position that day.
When Hamels faces the Cards, it's always feast or famine, but the guys who have seen Cole the most (Carpenter, Gyorko, Ozuna, and Wieters) have all clobbered him. Those four have compiled a group batting average of .318 against Hamels in 62 at-bats.
Saturday: RHP Jack Flaherty (4-3, 3.76 ERA) vs LHP Jon Lester (4-4, 3.32 ERA). Game time 6:15 PM CDT; Televised on Fox and MLB TV.
Last Saturday when Flaherty faced the Cubs, Chicago managed to get to him early, but not often enough. Chicago managed to score twice, but Flaherty managed to shut them down after the second inning, during his five innings of work. He allowed the two earned runs on four hits (no walks), but he managed to take eight Cubs by strikeout. There's little doubt that Flaherty would have lasted longer, but a 3 hour and 37-minute rain delay shut him down early.
Flaherty has done well against Chicago, limiting the damage from nearly everyone but Rizzo (.636 in 11 AB). Almora has tagged him for a pair of hits in six at-bats, and Gonzalez is 1 for 2, but Russell is the only other man to bat better than .223 against Flaherty, and that sample size is small.
Jon Lester has been a beast at home. In 30-2/3 innings at Wrigley this year, Lester has posted a 1.76 ERA with 32 strikeouts versus only four walks. Jon's coming off of his best outing in over a month (last Monday vs. the Angels), and he said in a tweet, that it was definitely something to build off of.
Big-Jon is the only Cubs' starter who hasn't faced St. Louis this year, but in the past, he's done well against everyone except Ozuna, Wong, Gyorko, and Goldschmidt.
Sunday: RHP Adam Wainwright (5-5, 4.34 ERA) vs RHP Kyle Hendricks (6-4, 3.16 ERA). Game time 6:05 PM CDT; Televised (much to my dismay) on ESPN.
Wainwright also did a number on the Cubs last week (Saturday), as he lasted 8.0 innings and allowed no runs on two hits, though he did walk a total of 7 men while fanning eight. Bryant, Heyward, Rizzo, and Russell are the keys to success against Wainwright, as that quartet has produced a batting average of .280 against him in a combined 105 at-bats, which have netted a pair of home runs (Rizzo, Bryant) and a total of 19 RBI.
It took Kyle Hendricks a handful of starts to find his groove, but he's been outrageously good ever since. Since May 3, Hendricks has posted a 5-0 record, a 2.09 ERA, struck out 47 and walked only six. Fowler, Wong, and Ozuna are the only real problem spots for Hendricks in the Cards' roster, with Ozuna hitting .346 against him in 26 at-bats.
Hendricks faced the Cardinals on May 3rd, and the Professor lasted the full nine innings, for the Cubs' first and only complete game of 2019. In that outing, Hendricks only fanned three, but walked no one and allowed only four hits on a total of 81 pitches.
Series Prediction:
Let's see… In early May the Cubs swept the Cards at Wrigley. Last week, the Cards swept the Cubs at Busch Stadium. This week they're back at Wrigley. Does anybody have a broom that I can borrow? I think the Cubs make the Cards look bad this weekend and sweep the series. Next stop: Denver for a three-game set with the Rockies.

Tags: Cubs Baseball
,
Brandon Morrow
,
Xavier Cedeno
,
Ben Zobrist
,
Yu Darvish
,
Jose Quintana
,
Cole Hamels
,
,
Kyle Hendricks
,
Albert Almora Jr
,
Anthony Rizzo
,
Daniel Descalso
,
,
Jason Heyward
,
Addison Russell
,
Victor Caratini
,
Joe Maddon