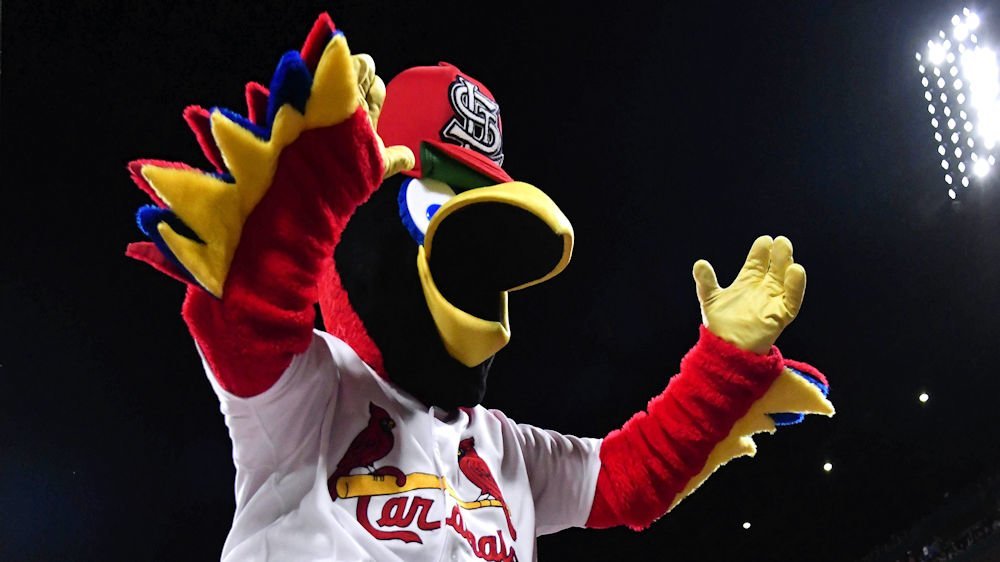 | | |
| --- | --- |
| Cubs vs. Cards Series Preview: TV times, Starting pitchers, Predictions, more | |
---
| | | |
| --- | --- | --- |
| Friday, September 27, 2019, 2:38 PM | | |
Injury Report:
CUBS: Javier Baez (thumb); Craig Kimbrel (day-today elbow); Anthony Rizzo (limited use- ankle sprain); Kris Bryant (ankle sprain); Brandon Kintzler (thumb).
CARDS: Matt Wieters (calf strain); Jordan Hicks (elbow); Tony Cingrani (shoulder); Lane Thomas (fractured wrist).
Series Overview:
After watching the Cubs get demolished over the last week and a half, nothing seems to be going right, and I don't see a reason for things to change now. It wouldn't at all surprise me to see Maddon use a roster which looks more like a spring training effort, than it does a team trying to win, but do expect to see Nicholas Castellanos and Kyle Schwarber in action (at least part-time), as they continue to chase milestones.
With the Cubs officially eliminated from any shot at a playoff berth, it makes sense that Maddon treats the final three games as a set of scrimmages while resting his injured players. Why risk a more severe injury to Javier Baez's thumb? He won't be the MVP this season, and it doesn't matter if he blasts four home runs in a game- the Cubs are still out. The same could be said for the ankles belonging to Anthony Rizzo and Kris Bryant, Craig Kimbrel's elbow, Brandon Kintzler's oblique, Yu Darvish's forearm, and so on.
The Cardinals have fought hard to get to where they are today, and like it or not, so has Milwaukee. About the only team that would benefit from the Cubs playing at 100% during this series would be the Brewers, as they still have a shot at winning the NL Central, and the Cubs could very well act as the ultimate spoiler for St. Louis- not likely though, considering that Joes already said that he "doesn't give a sh--" about the Brewers and their fans "bitching." That could be Maddon's best quote all year.
Mound Matchups
Friday: RHP Alec Mills (1-0, 2.90 ERA) vs RHP Dakota Hudson (16-7, 3.45 ERA). Game information: 7:15 PM CDT; Televised on WGN.
Mills started last weekend against the Cards, with Mills lasting 4.2 innings in the Cubs 2-1 loss. Mills allowed just two hits in that outing while fanning six and walking two. I wasn't fond of this kid at first, but the more he pitches, the better he looks, and I wouldn't be surprised to see him competing for a roster spot in the rotation next spring.
This will only be Hudson's second start against Chicago this year, and the Cubs chased him out quickly in his first attempt last week. Despite the Cards ultimately winning the game, the Cubs tagged Hudson for three runs in the first, after Hudson walked four consecutive batters.
Hudson has been otherwise sharp, carrying a 16-7 record and a respectable 3.45 ERA through 31 starts this season, for 169.2 innings of work.
Saturday: LHP Cole Hamels (7-7, 3.92 ERA) vs RHP Miles Mikolas (9-14, 4.16 ERA). Game information: 6:15 PM CDT; Televised on FOX.
I'm happy to see Cole Hamels getting this start, as I'm 99% certain that it's his last as a Cub. Hamels hasn't been the same since the oblique injury, then before he could regain his footing, the shoulder stress started. It' sad how an injury can transform a player from the team's ace, into the "guy who deserves one last start," but that's part of the sport. Hamels has done wonders for this team in the year and a half that he's been a Cub, and he'll be missed.
Cole Hamels media session today was like a sales pitch for 30 teams. Says he's confident he's the guy from the first half. Stressed how well he pitches at Wrigley, that's for the Cubs or for any NL central team that's listening....

— Jesse Rogers (@ESPNChiCubs) September 26, 2019
The Cubs have gone 1-1 in Hamels two starts this year, with both games being low scoring affairs (combined total of seven runs between the two teams). Hamels has shown durability against the Cards, going 7.0 innings in his first effort, then 8.0 in his next.
Last Sunday, Mikolas faced Yu Darvish in what would be a pitching duel that saw Mikolas previous 7.2 innings, while Darvish lasted 8.1 innings in the Cubs loss. This will make Mikolas' fifth start against Chicago this year, with the Cards posting a 2-2 record during his starts.
Mikolas is no stranger to giving up runs, but he's been rather stingy with the Cubs, only allowing a total of seven runs throughout 24.1 innings.
Sunday: Cubs TBD vs Adam Wainwright (14-9, 3.98 ERA). Game information: 2:15 PM CDT; Televised on ABC-7.
Joe Maddon still hasn't announced his starter for Sunday, but the process of elimination tells me it will be Tyler Chatwood. Joe Maddon has already announced that Yu Darvish and Kyle Hendricks are shut down; Jose Quintana pitched last night, and Lester the night before. With Mills pitching Friday and Cole Hamels on Saturday, Chatty and Duane Underwood Jr. are just about his only two other choices, and Underwood threw last night.
I'd love to see Chatwood get one (good) last start, to show Maddon how much he missed the boat by using him so sparingly this year. With the exceptions of Darvish and Kyle Ryan, Chatwood is undoubtedly the most improved pitcher on the Cubs' roster, yet he's been kept behind closed (bullpen) doors. I guess there is one other option for Maddon, but that would be a bullpen game, and I don't think the Cubs want to end their season with a 28-3 loss. Damnit, Joe, put Chatwood on the mound and make this season and your tenure with the Cubs end on a happy note.
Wainwright has gotten the nod from Mike Shildt to start the final game of the regular season for the Cards, despite him getting rocked for five runs in as many innings against Arizona, during his last start.
Wainwright has faced the Cubs four times already this year, with the Cards posting a 2-2 record when he takes the hill. Although he lasted eight innings in his outing on June 2nd, the Cubs have managed to chase him out after no more than 5.2 innings in his other three attempts. During a combined total of 23 innings pitched against Chicago, the Cubs have tagged Wainwright for 12 earned runs (1 HR), while drawing 13 walks; Wainwright has fanned 17 Cubs in those starts.
Series Prediction:
I'd like to think the Cubs would win of three, if for no other reason than to end the series on a high note, but after a massive losing streak that began with the final two games against the reds, I'm just not sure what to make of this team anymore. I'll go ahead and say the Cubs win one of the three, but quite frankly, another sweep by the Cards wouldn't surprise me.
Better luck next year, but for now, in the words of the immortal Jack Brickhouse, "This ball game is aaaaaall over."

Tags: Cubs Baseball
,
,
Anthony Rizzo
,
,
Brandon Kintzler
,
Kyle Schwarber
,
Yu Darvish
,
,
Cole Hamels
,
Tyler Chatwood
,
Kyle Hendricks
,
Jose Quintana
,
Duane Underwood
,
Kyle Ryan
,
Joe Maddon