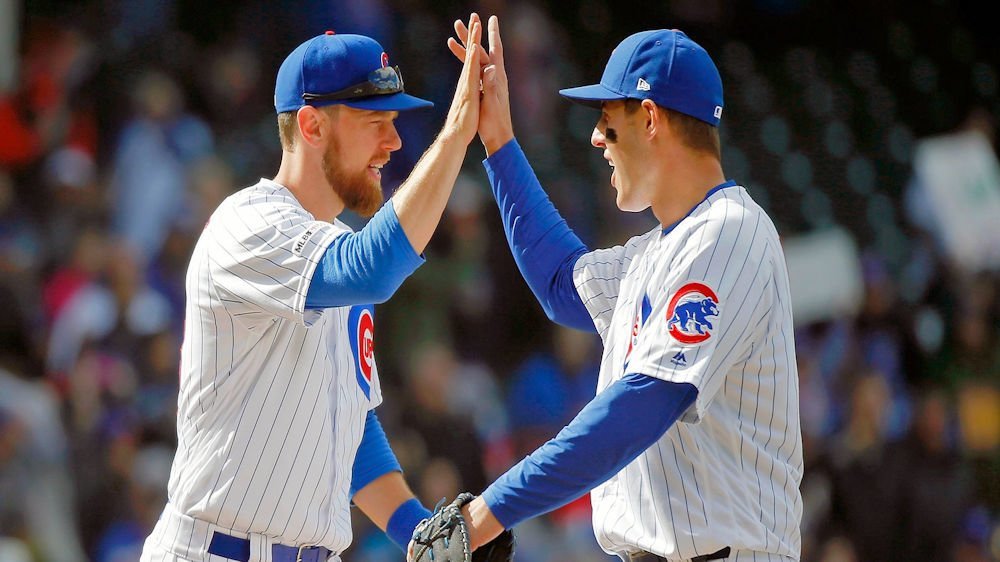 | | |
| --- | --- |
| Cubs vs Cards Series Preview: TV times, Starting pitchers, more | |
---
Time to shake up the National League Central. The Cubs, Cards, and Brewers have all been up and down the ladder in the standings this season, with each sharing at least a little time in first place (the Cubs owning the smallest piece of that pie). As of late, there hasn't been much of a change in the top 3 spots in the NLC, as the Cards have been red-hot, holding both the Cubs and Milwaukee down, while the Cubs and Milwaukee have been winning and losing in unison. That will (or at least should) change with Chicago's next homestand, as both the Cards and Brewers (with the Marlins in between) will be in town. The Cubs are either going to go way up in the ranks, or they're going to fall drastically.
For now, it's time to focus on the Cubs/Cards portion of this homestand.
Pitching
The Cubs rotation and bullpen have been insanely good as of late, save for Kyle Hendricks, and to a lesser degree, Yu Darvish- both of whom will start this weekend. With Jon Lester's 7.0 inning shutout on Wednesday night in Seattle, the Cubs starters now have an ERA of just 3.54, however, without the 5.00+ ERAs of Hendricks and Darvish, the rotation would be sitting at an ERA of 2.73. The bullpen has worked equally as hard at lowering their ERA (now 2.80), though walks still tend to be an issue. Brad Brach has already notched three wins, Pedro Strop has grabbed three saves, and collectively the pen now has a 5-3 record with a total of 5 saves.
All told, the Cubs have now allowed a total 122 runs- 108 of those earned, and both of those categories rank 4th in the NL. A big issue for the Cubs this series may be their strikeout and walk rates, that still ranks that each rank 13th in the NL.
The Cards have been solid all-around, but their offense has what has won games, as their starting rotation has been somewhat weak at times. The rotation has a collective ERA of 4.70, while their bullpen's ERA sits at a respectable 3.43. The team has allowed 126 runs (121 earned) and ranks 6 in the National League. In terms of strikeouts, the Cards rank 9th in the NL with a total of 261, while they rank 11th within walks with 111.
Mound Matchups
Friday: RHP Jack Flaherty (3-1, 4.06 ERA) vs RHP Kyle Hendricks (1-4, 5.33ERA). Game time 1:20 PM CDT; Televised on NBC Sports Chicago and MLB
Network.
If any game in this series scares me, it's this one. Hendricks has been awful in four of his five starts this season, and there have been little signs of improvement. In 25.1 innings this year, he's allowed 37 hits, 15 earned runs and issued eight walks, while striking out 24- this is not the Kyle Hendricks that fans, the Cubs, or Kyle Hendricks, himself, is used to seeing. He's seemingly lost his ability to paint the corners, and when you hang 87 mph pitches, you're going to get clobbered.
Hendricks has had some success in the past against this roster, holding the Cards to a .265 average in a total of 192 at-bats. Yairo Munoz has Hendricks' number though, as he's batted .600 against him in 5 trips to the plate. With the exceptions of Munoz, Bader, and Ozuna, Hendricks has been able to hold the rest of the team to a batting average of .205 in 161 at-bats.
The Cubs have had limited experience with Flaherty, but he's done well against those (8) that he's faced, holding them to an average of .183. Flaherty has skunked Javier Baez, Jason Heyward and Kyle Schwarber in a combined 13 at-bats.
Saturday: RHP Jack Flaherty (3-1, 4.06 ERA) vs RHP Kyle Hendricks (1-4, 5.33ERA). Game time 3:05 PM CDT; Televised on WGN, FS1 and MLB Network.
Most people refuse to see it, but Yu Darvish has been steadily improving from start to start, and he's coming off his best game of the season, allowing one run and two hits in six solid innings. Darvish has only faced four batters on the Cardinals' roster, and while Ozuna has had success (3 for 6), Darvish has completely shut down Fowler, Goldschmidt, and Wieters in a combined eight at-bats between them. If Darvish maintains his patience, control, and composure, he'll win this game, so long as he has run support.
The Cubs' offense has been all over Michael Wacha's behind in the past, batting .333 against him (10 homers) in a combined 157 at-bats. Anthony Rizzo has done the most damage, batting .487 in 39 at-bats against him with three homers and 4 RBI. Wacha has never faced David Bote, Mark Zagunis or Taylor Davis. Wacha is most susceptible in innings 1-3, but he clamps down from the fourth inning on.
Sunday: LHP Jose Quintana (3-1, 3.48 ERA) vs RHP Adam Wainwright (3-2, 3.73 ERA). Game time 6:05 PM CDT; Televised on ESPN and MLB Network.
In the series finale, what could be more fitting than seeing Jose Quintana go to work? Q has never looked better since joining the Cubs, and his 3-1 record 3.48 ERA and 38 strikeouts show it. This may be a little tougher road for Quintana, as the card shave had a lot of success against him, batting .346 against him in 110 at-bats. With the exceptions of Kolten Wong (.167), Matt Carpenter (.176) and Paul Dejong (.222), the rest f the Cards have batted .316 or better against him.
Adam Wainright has had success against the Cubs, quieting their bats to just a .190 average, although Daniel Descalso, Heyward and Zo have had some success against him. Wainwright currently has the best ERA in the rotation (.373), but he can be vulnerable. He'll give up hits faster than walks (30 vs. 12 in 31.1 IP), but he can be tagged for a long-ball, as he averages giving up a homer every six innings. The first and third innings are the time to hurt Wainwright, but he's lights-out for the rest of the first six frames.
The Offense
While the Cubs have had run differential in their favor, they're going up against a St. Louis team who also likes to punish the opposition. The Cubs currently have a run differential of +38, while the Cards are right behind them with +36. Head-to-head, the Cards hold a +9 run differential this season over the Cubs (158-149). Run differential is interesting, but what the Cubs need is more runs per 9 innings for the next three games.
This should be a good series, and I think the Cubs can win this set as well, with the downfall being Hendricks' start. If Darvish performs and Q is on point, the Cubs should take no less than 2 out of 3 this weekend. First place (pending Thursday's Cards/Nationals) game is just 3.0 games away, and this weekend could drastically change that landscape.

Tags: Cubs Baseball
,
Kyle Hendricks
,
Yu Darvish
,
,
Pedro Strop
,
,
Jason Heyward
,
Kyle Schwarber
,
Anthony Rizzo
,
David Bote
,
Mark Zagunis
,
Taylor Davis
,
Jose Quintana
,
Daniel Descalso