| | |
| --- | --- |
| Cubs vs. Giants Series Preview: TV times, Starting pitchers, Predictions, more | |
---
| | | |
| --- | --- | --- |
| Tuesday, August 20, 2019, 2:01 PM | | |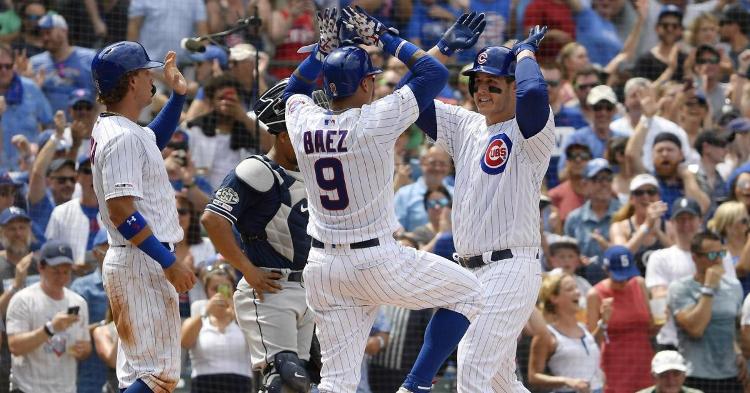 The Cubs haven't had the best run of luck lately, hell, they even dropped out of first place yesterday, and they didn't even play. Tonight, they'll open up a three-game set with a Giants team which has gone 7-3 over their last ten. The Cubs are tough at home, the Giants are good on the road, but the deciding factor may be that SF has posted a record of just 29-34 against teams with records greater than .500.
Injury Report:
CUBS: Willson Contreras (hamstring); Daniel Descalso (ankle): Steve Cishek (hip, due to be activated today); Allen Webster (arm); Ben Zobrist: Day-to-day, awaiting his opportunity to be reunited with the team.
GIANTS: Shaun Anderson (finger); Johnny Cueto (elbow); Steven Duggar (Shoulder); Pablo Sandoval (elbow).
The Pitching
The Cubs got a little bit of a boost with Craig Kimbrel returning from the IL on Sunday, and for what it's worth, Steve Cishek should be activated today. I saw a ton of people making an issue over Kimbrel giving up a homer on Sunday night (vs. the Pirates) but fear not- he's still not 100% back from his extended winter vacation.
Part of the problem is that the Cubs haven't put themselves in position to need Kimbrel, nearly as often as they should have, and when you put a closer on the shelf for extended periods, you're bound to have problems with him. Maddon didn't need to use Kimbrel on Sunday night (although I applaud that he used him), as the Cubs were up by seven runs. That was a move specifically designed to get Craig a little work in a game that was (at least theoretically) already in the books. The Cubs were off yesterday, so Maddon didn't need to worry about Kimbrel's arm being needed again before tonight, and because Kimbrel had no rehab outings, it only made sense.
Even if Dirty Craig is 100% this series, the Cubs still need to worry about a very erratic Pedro Strop, among others in the pen. Chicago's best bullpen weapon may very well be Tyler Chatwood, but for some reason, despite marked improvement, Maddon continues to use him very sparingly (Chatwood has only pitched twice this month). Yes, Chatty gets into some jams, but he generally gets himself out of them, when Maddon allows him to do so.
The Offense
At this point, I'm not sure if I'd call some of the recent roster moves strategy, desperation, or hopelessness, as very few seem to make sense. About the best sense, I can make out of the Cubs optioning David Bote, and Albert Almora Jr. is that they are trying to get both fine-tuned for the September call-ups.
I have been impressed with Ian Happ (something that's not easy for me to admit), and I hope he continues to flourish. If there's one thing the Cubs can seem to depend on as they attempt to surge forward, it's Nicholas Castellanos' bat.
In 17 games, equating to 74 plate appearances and 69 at-bats, the "Artist" has accumulated a slash line of .348/.392/.710, and an OPS of 1.102 (178 wRC+). Then there's his MLB leading 41 doubles (seven as a Cub), a half-dozen homers and eight RBI, not to mention a handful of walks. By the way, his attitude is priceless.
If what Nick brings to the plate isn't enough, his attitude and demeanor are worth every penny the Cubs are paying, and in the grand scheme of things, he's working pretty cheap this year. Several of the core members are due for arbitration this winter, and the Cubs are undoubtedly exercising Jose Quintana's $10.5M option, but they need to be earmarking a good chunk of change to re-sign Castellanos.
The Cubs still have a plethora of offensive talent, and some extra at-bats in Iowa for some of the guys may not be the worst thing in the world. When you can option two guys, who've performed as well (even only if at times) as Bote and Almora have, you know you have talent. It does surprise me some that Theo is going with a three-person bench, but at this point, I think he's throwing a Hail Mary and hoping for the best.
Mound Matchups
Tuesday: LHP Cole Hamels (6-4, 3.69 ERA) vs RHP Tyler Beede (3-7, 5.77). Game time 7:05 PM CDT; NBC Sports Chicago+.
Cole Hamels has had some issues lately, and after getting pummeled in his last outing, joked by saying that he and Jon Lester were competing for who could suck the worst. Hamels knows this is no laughing matter, as he's been tagged for 13 runs (12 earned) in his last two outings- the worst part is that those two outings only totaled five innings between them.
Hamels has done reasonably well against the Giants, although Posey has clobbered him (.462 average in 13 at-bats), as has (to a lesser extent) Scooter Gennett (.286 in seven at-bats).
Tyler Beede has also been knocked around a bit lately. He is posting an 8.49 ERA over his last five starts. The Cubs haven't seen much of Beede at all, as only Javier Baez, Kris Bryant, Anthony Rizzo, Jason Heyward, and Kyle Schwarber have ever faced him. Overall, the five have posted a .333 group average, but the sample size is small (only three at-bats each).
Wednesday: RHP Yu Darvish (4-6, 4.21 ERA) vs. Dereck Rodriguez (5-6, 4.79 ERA). Game time 7:05 PM; NBC Sports Chicago.
Who'd have thought that a year later, Yu Darvish would be the one anchoring the rotation? I certainly didn't. In his last outing (vs. Pittsburgh), Darvish pitched seven scoreless frames, while walking nobody and fanning 10. He promised he'd turn it around this year, and he has.
Stephen Vogt is the only guy to give Darvish even a little bit of an issue, batting .286 against him in 21 at-bats. The rest of the lineup has been smooth sailing, although Belt has managed to get a pair of hits in three at-bats against Darvish.
After being called up from Triple-A last week, Rodriguez showed-out with seven shutout innings against the Diamondbacks on Thursday. Rodriguez has only made one appearance against the Cubs (last July), but he managed three shutout innings, with Tony Kemp being the only (current) Cub who's ever hit him.
Thursday: RHP Kyle Hendricks ((8-9, 3.37 ERA) vs Jeff Samardzija (9-9, 3.54 ERA). Game time 1:20 PM CDT; WGN, MLB Network (out of market only).
There are only two bumps in the road for Kyle Hendricks when it comes to facing the Giants: Brandon Belt (.375 avg. in 16 at-bats) and Kevin Pillar (.400 in five at-bats), but beyond the pair, it's been smooth sailing for the Professor. Pitching at home, Hendo has posted a 4-2 record with a 1.98 ERA in 10 starts this season.
Bryant, Heyward, Rizzo and Jonathan Lucroy have posted decent batting averages against Samardzija, but that's about as far as it goes. Since July 1, Samardzija has been among the tops in MLB, posting a 2.09 ERA over his last nine starts. Samardzija spent the first seven seasons of his career with Chicago, but in three starts against them, he's 0-2 with a 6.35 ERA.
Series Prediction:
I'm going to make this prediction short and sweet; after being beaten up on like the weakling on the playground, the Cubs flex some muscle at home and the series 2-1 in decisive fashion.

Tags: Cubs Baseball
,
Willson Contreras
,
Daniel Descalso
,
Steve Cishek
,
Ben Zobrist
,
Pedro Strop
,
Tyler Chatwood
,
David Bote
,
Albert Almora Jr
,
,
Jose Quintana
,
Cole Hamels
,
,
,
,
Anthony Rizzo
,
Jason Heyward
,
Kyle Schwarber
,
Yu Darvish
,
Kyle Hendricks