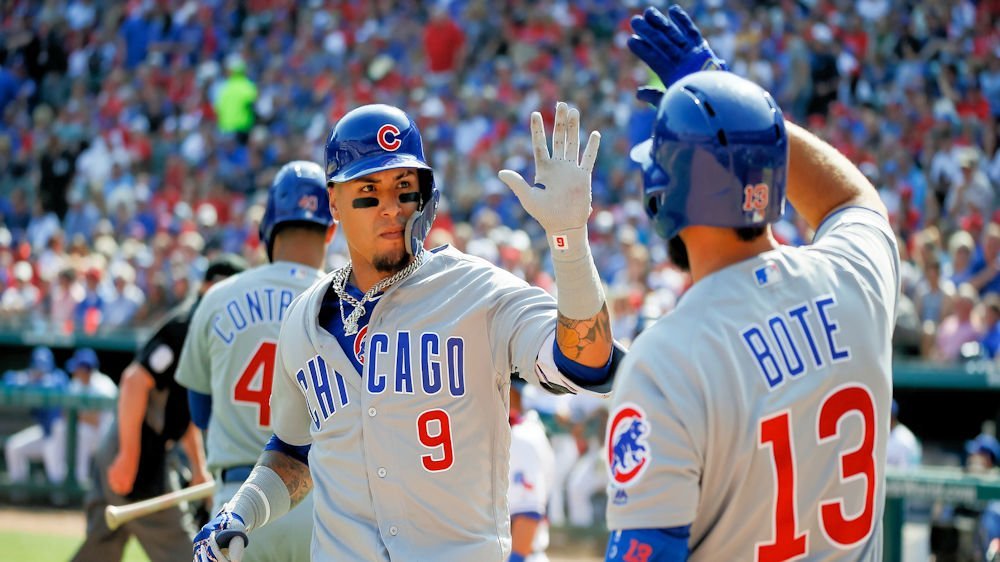 | | |
| --- | --- |
| Cubs vs. Rockies Series Preview: TV times, Starting pitchers, Predictions, more | |
---
Last week the Cubs took two of three from Colorado at Wrigley, taking their first series win in almost three weeks, and cooling the heels of a scorching Rockies team, who'd come off an eight-game winning streak. This time, they're in Denver, where homers fly out of the park left and right (oh, and center too), an environment which is perfect for the likes of Anthony Rizzo, Kris Bryant, Javier Baez and about half of the rest of the team.
This will be a bittersweet series for the newcomer, Carlos Gonzalez, at it will mark the first time he's returned to Coors Field since parting ways with the Rox after last season. During his career with the Rockies (nine seasons), CarGo hit .328/.388/.605 in his old home ballpark.
Injury Report:
The Rockies are still down a pair of closers, as former Cub, Wade Davis, remains on the10-Day IL for a left oblique strain and Harrison Musgrave is on the 60-day IL with an elbow issue. Also, on their IL are starting pitcher, Tyler Anderson (60-day- knee), and reliever, Mike Dunn (10-day, shoulder). The Rox do expect to get a rather dangerous player back this week, as Charlie Blackmon (.300/.356/.565) is likely to return to the lineup following an IL stint for a calf strain.
Knock on wood, but the Cubs have stayed reasonably healthy, incurring no new injuries as of late. In addition to the cast of regulars (Brandon Morrow, Xavier Cedeno, Tony Barnette, and Kendall Graveman), also remaining on the IL, is reliever, Allen Webster (10-day- arm).
The Pitching
The Cubs pitching has looked good for the last couple of weeks, following almost a month's worth of bad outings from nearly every pitcher on the team. Even during the sweep in St. Louis two weeks back, the pitching was excellent, it was the offense that failed to win games. This series will feature Yu Darvish, Jose Quintana and Cole Hamels for the Cubs, the three of whom have combined for a so-so 11-10 record but have logged 218 strikeouts 39 starts this year.
The Rockies are going to try and stop the Cubs with the starting rotation combination of German Marquez, Antonio Senzatela, and apparently, a pitcher who's yet to be determined for Tuesday's game. Last week (Thursday), Rockies manager, Bud Black, elected to give rookie righty, Peter Lambert his major league debut, and the kid flourished, providing 7.0 innings of one-run pitching. Lambert has not pitched since and would be rested for the start.
The Offense
The Cubs have plenty of power at the plate, and they love to hit the long-ball, but Colorado has some power of their own. With Charlie Blackmon expected to return from the IL in time for this series, the Rockies will become a lot more dangerous than they were at Wrigley.
The Cubs have done much better with situational hitting for the last week, batting 13 for 33 (.394) with runners in scoring position, and their propensity to hit the long-ball adds to their scoring. Javier Baez's homer the other day marked the Cubs 100th of the season, which also marked the fastest in team history that Chicago has reached the 100 homer milestone.
The Rockies have a solid offense and rank second in the NL in terms of runs and hits while ranking first with doubles and triples. Ironically, for the team that calls the most homerun friendly park in MLB "home," they rank 10th in homers (80).
Despite their flattering stats, the Cubs pitching managed to hold Colorado to just a .228 batting average (23 for 101) at Wrigley last week, well below their team average of .269.
Mound Matchups
Monday: RHP Yu Darvish (2-3, 4.88 ERA) vs RHP German Marquez (6-3, 4.07 ERA) Game time 6:40 PM CDT; Televised on NBC Sports Chicago and MLB TV.
The Cubs got to Marquez early and often last week, tagging him for seven hits and a walk, which were parlayed into eight runs in just 5.1 innings. Despite having a season ERA of just over 4.00, the Cubs jacked-up Marquez to the tune of a one-game, 13.50 ERA in his outing last week.
Although he only lasted 5.1 innings as well, Yu Darvish fared far better than did Marquez, when the two faced-off against each other last week. Although Darvish would get no-decision, he pitched a good game, allowing a pair of earned runs on three hits and as many walks, while striking out five, and held the Rox offense to an average of .188 (3 for 16). Darvish's walks and hits allowed have fallen steadily, and although his strikeouts per game have done the same, he's been pitching much more efficiently, and ending (most) innings a lot sooner.
Tuesday: LHP Jose Quintana (4-5, 3.77 ERA) vs TBD (0-0, ERA). Game time 6:40 PM CDT; Televised on WGN and MLB TV.
Jose Quintana pitched the Cubs/Rockies series finale at Wrigley last Thursday, and suffered the loss, though his performance was excellent. Lasting 7.1 innings, Q allowed three earned runs on six hits and walked no one, while striking out four, holding Colorado to a batting average of .273. A rough fourth inning would be Quintana's downfall that day, as he allowed a pair of runs which broke the scoreless tie.
While it remains a mystery (as of now), as to who Bud Black will trot out to the mound on Tuesday, the process of elimination says that it will be Peter Lambert again. Marquez and Senzatela have already been scheduled for this series; Gray pitched on Saturday and Hoffman threw Sunday. Kyle Freeland could be an option, but with his 2-6 record and 7.13 ERA, a start against the Cubs in Denver is unlikely, especially when considering that Freeland has coughed up 16 home run balls this season in just 12 starts.
If Lambert does get the call, this will be only his second start of his MLB career, and his first home start, but he did exceptionally well on the mound against the Cubs at Wrigley and helped his cause with a solid single while at the plate. The Cubs may fare a little better with him this time around, as at least now they have a little bit of experience with him.
Wednesday: LHP Cole Hamels (5-2, 3.24 ERA). vs RHP Antonio Senzatela (5-4, 4.95 ERA). Game time 2:10 PM CDT; Televised on NBC Sports Chicago and MLB TV.
Cole Hamels will pitch the series finale on Wednesday afternoon and is looking to build off of what was one of his best starts this year, as he pitched eight complete shutout innings against the Cards on Friday, allowing just three hits and one walk, while striking out ten on 99 pitches.
Senzatela is a bit of a mystery to the Cubs this year, as he didn't start last week in Chicago, but every Cub who's faced in the past has hit him with some success, although they haven't seen a lot of him in the past. Combined (just 39 total at-bats), the Cubs have hit Senzatela for a team average of .421, though David Bote, Victor Caratini and Carlos Gonzales have never faced him. Kris Bryant has the most established track-record, hitting him for a .286 average in 7 at-bats, while Javier Baez has been held to a .167 average in six at-bats.
Series Prediction:
Much like at Wrigley last week, I think the Cubs win this series 2-1. I'd rule out the likelihood of a Cubs' sweep for several reasons (visiting team, Blackmon's return, Darvish's propensity to challenge the strike-zone), but hey- anything can happen. Next up: The Dodgers (4-game series) at Dodger Stadium.

Upgrade Your Account
Unlock premium boards and exclusive features (e.g. ad-free) by upgrading your account today.
Upgrade Now

Tags: Cubs Baseball
,
Anthony Rizzo
,
,
,
Wade Davis
,
Brandon Morrow
,
Xavier Cedeno
,
Tony Barnette
,
Kendall Graveman
,
Yu Darvish
,
Jose Quintana
,
Cole Hamels
,
David Bote
,
Victor Caratini